One of The Kids Campus, North of Austin, Texas, American Architecture, Safe Haven Interior Images
One of The Kids Campus, North of Austin
Aug 11, 2020
One of The Kids Campus, Texas
Design: Runa Workshop
Location: Austin, Texas, USA
One of The Kids Campus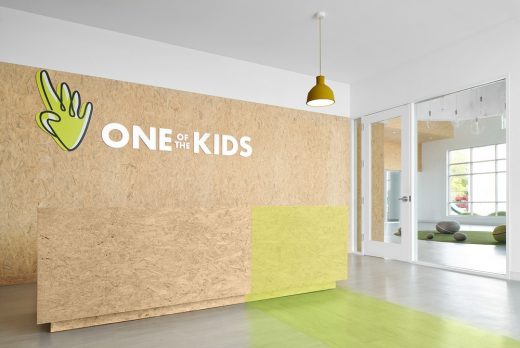 Runa Workshop believe in designing for all and designing for a cause. Located North of Austin, this special campus for children with Autism is a safe haven where kids are encouraged to grow through learning, creating, and playing.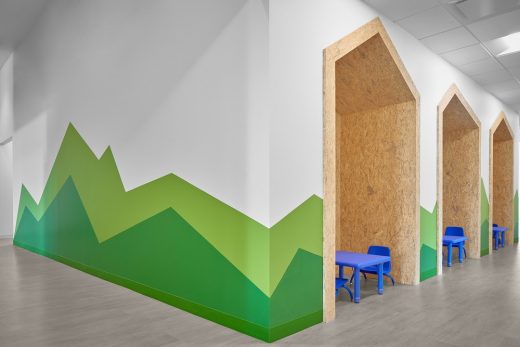 Inspired by the idea of intentional and playful wandering, our design aimed to celebrate unique ways that each individual child learns to wander through life. With a tight budget, Runa Workshop knew they had to get creative. Runa Workshop did so with great honor and care in order to bring this local family's passion project to life.
Sensory well being was at the forefront of all design conversations, ensuring every element encouraged children to explore surroundings while not feeling overwhelmed. To achieve this, Runa Workshop utilized biophilic design and brought in strong connections to nature with natural light and materials that mimicked those components, while being mindful of a tight budget.
Playful textures in materials like oriented strand boards reinforce this connection, serving as visual cues for moments of refuge. They are also incredibly cost-effective. Other elements, like turf in the play area, let kids feel like they're outdoors, while an abstract mountain range wanders through the corridors providing moments of surprise and delight.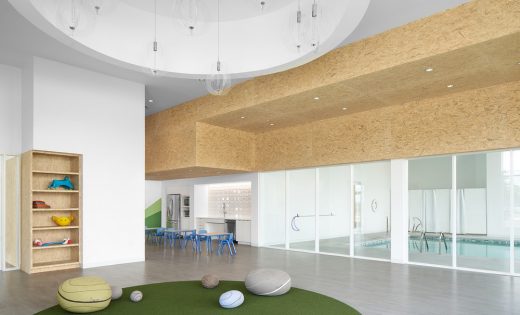 When children need a space to themselves, they can hang out in small nooks that feel like personal treehouses, or retreat to the chill room, where indirect light and dark colors help calm the mind and soothe overstimulated kids. A large indoor/outdoor play area and indoor pool are added features that strengthen children's social skills and promote the overarching mission; autonomy through discovery.
Key Challenges
Designing for children with Autism
Educating ourselves on the needs of children with Autism
Creating space for people with different needs
Environmental sensitivities
Budget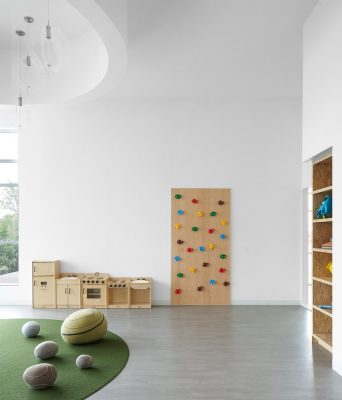 The Solutions
Nature has been proven to promote healing, so Runa Workshop incorporated biophilic design to help us achieve this connection. The architects maximized the amount of natural light in each therapy room and incorporated a view of nature or green space to tie back into the concept. The design allowed for a large space where children can interact with water and "grass" in a well-lit space while burning off excess energy so they can better focus in their therapy sessions.
Runa Workshop were very conscious of the limited budget this project had, so were strategic in the design moments and the material selection to convey the concept. Using cost-effective materials like highly textured oriented strand boards served two purposes. It allowed us to stay within budget while providing great design, as well as reinforced the connection to nature. Green tones were strategically sprinkled throughout with painted green "mountains" on the walls, and turf in the play area to mimic nature elements within the space.
A "chill room" with low lighting, dark color walls, and window shades where children can go to calm down and find peace when they become overwhelmed reiterates that this space is designed to promote safety and wellbeing. Each carefully curated moment creates intention within the space and encourages everyone to wander.
Design: Runa Workshop
Completed: 2020
Photography: Dror Baldinger AIA
One of The Kids Campus, North of Austin, Texas information / images received 110820
Architecture in Texas
Main Stay House in Austin
Design: Matt Fajkus Architecture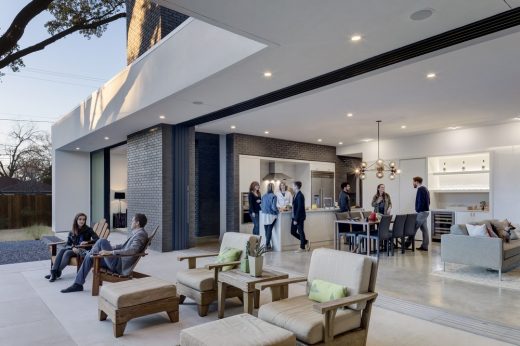 photograph : Charles Davis Smith
Tree House in Austin
Design: Matt Fajkus Architecture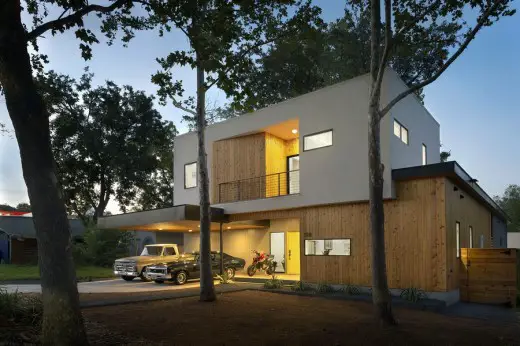 photos from Brian Mihealsick, Bryant Hill, Twist Tours
Austin Buildings
Contemporary Austin Houses – selection:
Annie Residence in Austin
Design: Bercy Chen Studio, Architects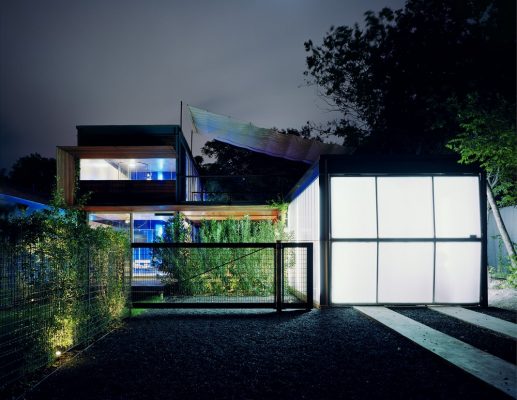 photo from architects
Carved Cube House in Austin
Design: Bercy Chen Studio, Architects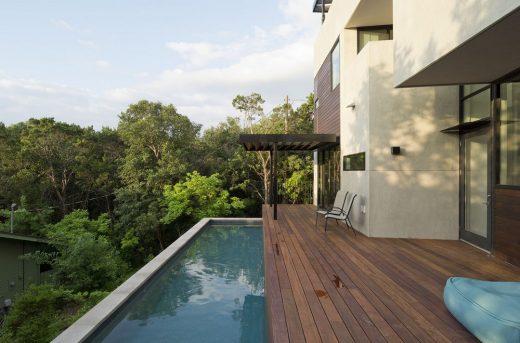 photograph: Paul Bardagjy
Cliff Dwelling in Austin
Design: Specht Harpman architects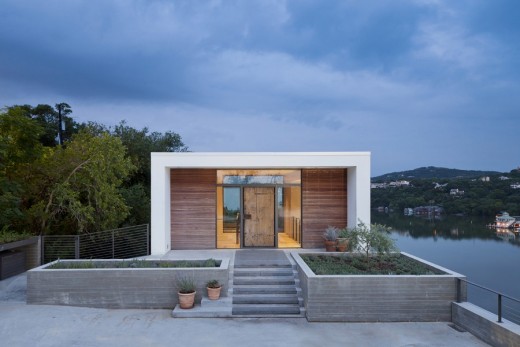 photo from architects
Winflo Pool and Cabana in Austin
Design: Chioco Design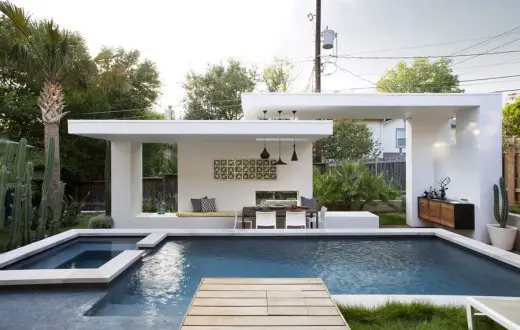 photo : Ryann Ford
West Lake Hills Residence – Austin Home
Design: Specht Harpman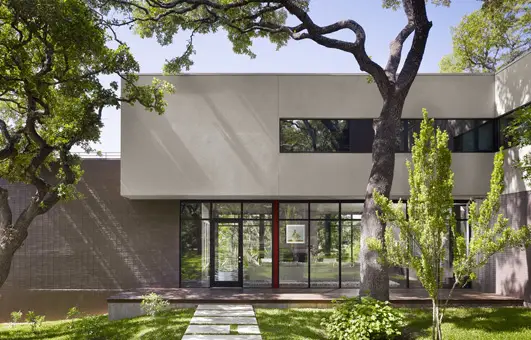 photo : Casey Dunn
Austin Buildings
Look + See Vision Care in Austin
Design: Matt Fajkus Architecture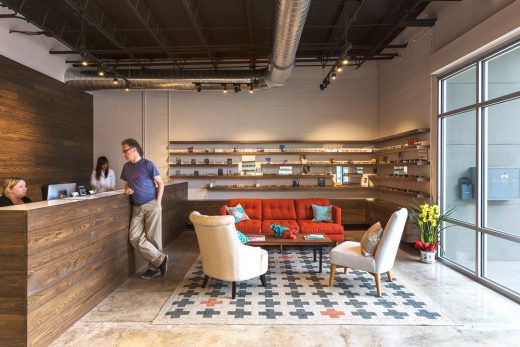 photograph : Leonid Furmansky
Observation Tower Austin
Design: Miró Rivera Architects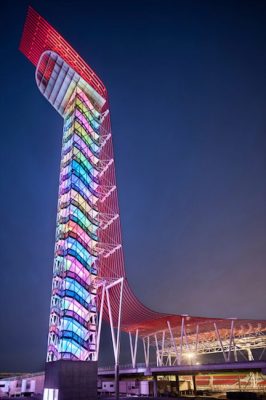 photo : Paul Finkel | Piston Design
American Architecture Design – chronological list
Comments / photos for the One of The Kids Campus, North of Austin, Texas Architecture page welcome