Taubman Museum of Art Virginia, Roanoke Architecture, US Building Design, United States Architect
Taubman Museum of Art : Roanoke Building
Virginia Architectural Development design by Randall Stout Architects, Inc., USA
Jan 12, 2009
Address: 110 Salem Ave SE, Roanoke, VA 24011, USA
Design: Randall Stout Architects, Inc.
Taubman Museum of Art Photos © Timothy Hursley:
Taubman Museum of Art Virginia
To accommodate rapid growth in its collections and programs, the Taubman Museum of Art commissioned Los Angeles based architect Randall Stout, principal of the firm of Randall Stout Architects, Inc., to design a new 81,000 square foot building commensurate with its ambition to become a gateway arts institution in western Virginia and its area of the United States. Located at one of Roanoke's most visible and historic downtown intersections, the Taubman Museum of Art is the first major purpose-built museum ever constructed in the city.
The Taubman Museum of Art building, with forms and materials chosen to pay homage to the famed Blue Ridge and Appalachian Mountains surroundings, features flexible exhibition galleries for the museum's important permanent collection of 19th and early 20th century American art, contemporary art, and decorative arts; education facilities with a studio classroom and library; a multipurpose auditorium; a flexible theatre/programming space; a café; a museum store; and outdoor terraces providing unique vistas of the city.
Taubman Museum of Art Photos © Timothy Hursley:
Site
Salem Avenue, between Market Street and Williamson Road and bounded by Norfolk Avenue to the north, in Roanoke, Virginia
Key Design Features in Taubman Museum of Art
Located on a prominent corner of Roanoke's downtown, the Taubman Museum of Art creates a gateway to the city for visitors arriving from US I581. As Roanoke's most contemporary structure, the building is also intended as a metaphorical gateway to the future as Roanoke evolves from an industrial and manufacturing economy to a technology-driven economy.
Exterior: The Taubman Museum of Art building's forms and materials evoke the drama of the surrounding mountainous landscape of the Shenandoah Valley – the Blue Ridge Mountains and Appalachian Mountains – and the industrial era building culture of the early 20th century railroad boom when Roanoke came to prominence as a switchpoint city.
Taubman Museum of Art Photos © Randall Stout Architects:
The finish on the undulating, stainless steel roof forms reflects the rich variety of color found in the sky and the seasonal landscape. Inspired by mountain streams, translucent glass surfaces emerge from the building's mass to create canopies of softly diffused light over the public spaces and gallery level. As it rises to support the stainless steel roof, a layered pattern of angular exterior walls is surfaced in shingled patinated zinc to give an earthen and aged quality to the façade.
Interior: The 81,000 square foot building occupies three levels with a central atrium. All functions are organized off this atrium space, a multi-use home for ticketing and information, temporary installation of large-scale sculpture, public meeting, special events, and performances. "Hokie" stone, native to western Virginia, is used in the lobby, store and theatre foyer, adding a familiar, natural texture and color to the interior.
The variations of the forms and textures emphasize the striations, clefts and eroded rock surfaces found in the region's famous caverns, cliffs and river gorges. Public spaces, including lobby, café, store, auditorium, theater, and education areas, are located on the ground level, along with support areas associated with the loading dock and art receiving. The glass atrium allows the lobby to be filled with natural light during the day. At night, the translucent glass roof surfaces are illuminated, allowing the volume to glow like a beacon and draw visitors and the community to the museum's activities.
Permanent collection galleries, temporary exhibition galleries, and art storage are located on the second level. Illuminated glass treads lead the visitor up the grand staircase to the gallery level. At the landing, a luminous ceiling of cascading, back lit, translucent polycarbonate panels leads the visitor through the central gallery hall to the permanent collection galleries. In the contemporary and American galleries, where it is conducive to the viewing of art, the luminous ceiling extends into the space to diffuse the daylight from clerestory windows and skylights overhead.
The third, and uppermost, floor holds the boardroom, director's suite, and staff offices. The third floor administration level receives a significant amount of natural light as the undulating roof forms allow multiple opportunities to provide clerestory windows for the office spaces. The building contains advanced technology for distance learning to serve the entire region of western Virginia.
All gallery and education spaces are wired to link to broadband across the state to enhance K-12 and higher education and provide greater access to the visual arts. The building features many sustainable design components including day lighting, radiant heating and cooling, thermal conserving envelope, and computerized building management systems.
Taubman Museum of Art Photos © Randall Stout Architects:
Funding: The Taubman Museum of Art project is funded by a $66 million campaign.
Site Photography: Hillman Aviation, Roanoke, VA
Professional Photography: Tim Hursley, Little Rock, Arkansas
Taubman Museum of Art – Building Information
Project Leadership
John B. Williamson, III, President of the Board of Trustees
Georganne C. Bingham, Executive Director
Eugenia L. Taubman, Chair of the Capital Campaign
Committee
Edward G. Murphy, M.D., Past President of the Board of
Trustees
W. Heywood Fralin, Past President of the Board of Trustees
Leon P. Harris, Chair of the Facilities Committee
Design Architect
Randall Stout Architects, Inc., Los Angeles, CA
Randall Stout, FAIA – Principal-In-Charge
John Murphey, AIA – Project Architect
Sandra Hutchings – Project Designer
Cynthia Bush – Interior Designer
Hugo Ventura; Niel Prunier, AIA; Rashmi Vasavada, AIA – Job Captains
Taubman Museum of Art – Project Team
Associate Architect:
Rodriguez Ripley Maddux Motley Architects, Roanoke, VA
Benjamin Motley, Partner
Peter Clapsaddle, Project Manager
General Contractor
Balfour Beatty Construction
Dave Salzer, Senior Vice President
Steve Lobb, Project Executive
Bevan Mace, Senior Project Manager
Mike Sellers, Project Superintendent
Jesse Whalen, Assistant Superintendent
Ashley Tayloe-Switzer, Senior Project Engineer
Erek Swanson, Project Engineer
Jill Simmons, Project Accountant
Geotechnical Engineer:
Froehling & Robertson, Inc., Roanoke, VA
Andy Frank, Senior Geotechnical Engineer
Civil Engineer:
Mattern & Craig, Roanoke, VA
Tom Austin, Principal
Structural Engineer:
DeSimone Consulting Engineers, Inc., San Francisco, CA
Ronald Polivka, Managing Principal
Derrick Roorda, Senior Associate Principal
Lisa Minakami, Senior Project Engineer
Mechanical/Plumbing Engineer:
IBE Consulting Engineers, Inc., Sherman Oaks, CA
John Gautrey, Partner
Tony Cocea, Principal
Isaac Chambers, Mechanical Engineer
Electrical Engineer:
Kocher, Schirra & Goharizi Consulting Engineers, Glendale, CA
John A. Schirra, Principal
Hank Dahl, Project Manager
Razmik Mathevosian, Project Engineer
Taubman Museum of Art Virginia images / information from Randall Stout Architects
Location: Taubman Museum of Art, Salem Ave SE, Roanoke, VA 24011, USA
Virginia Buildings
Contemporary Eastern US Architectural Designs – recent selection from e-architect:
Center of Developing Entrepreneurs, Charlottesville, Virginia
Design: EskewDumezRipple and WOLF ACKERMAN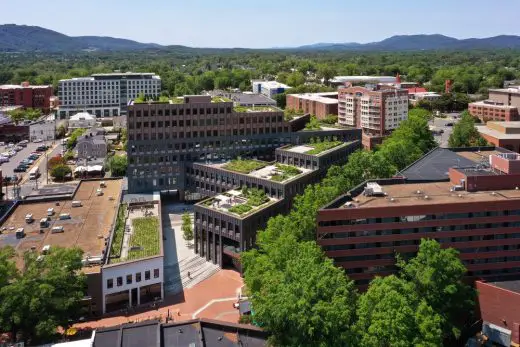 photo : Alan Karchmer
Center for Developing Entrepreneurs, Charlottesville, Virginia
Virginia Beach Convention Center
Contemporary Art Museum Raleigh
USA Building Designs
America Architecture News – latest building updates
Comments / photos for the Taubman Museum of Art Virginia Architecture design by Randall Stout Architects, Inc., page welcome.
Website: www.taubmanmuseum.org