Harvard University Northwest Science Building News, SOM Project Photos, USA Design Images
Harvard University Northwest Science Building Design
Education Development in United States of America: Massachusetts design by Skidmore Owings & Merrill (SOM)
Jan 30, 2010
Design: Skidmore Owings & Merrill
The Center for Brain Sciences and bio-engineering, systems biology, computational analysis facilities and biophysics.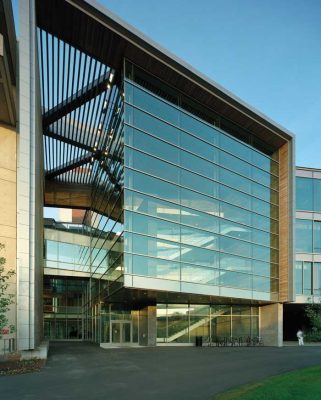 photo courtesy of SOM © Timothy Hursley
Harvard University Northwest Science Building News
As the first multi-disciplinary research building and the largest laboratory building to be constructed at Harvard University, the Northwest Science Building accommodates collaborative research and teaching efforts for The Center for Brain Sciences and bio-engineering, systems biology, computational analysis facilities and biophysics. This project is a model for this new generation of research environments emphasizing interdisciplinary collaborative learning. It also defines a new campus yard—replacing World War II-era structures on the north edge of the campus—and creating an important link between Harvard and the adjacent Cambridge community.
The 530,000-sf building has three floors of highly flexible and adaptable research space; a floor of teaching labs and public space; a below-grade facility housing an advanced imaging facility, vivarium, science core support, anthropological collections; and a sky-lit suite of flexible classroom space at the B1 level.
The design for the Harvard University Northwest Science Building addressed several challenges at once. These challenges included respecting neighborhood concerns; integrating proper circulation paths throughout the building and the site; creating state-of-the-art lab facilities that could maintain their flexibility for a number of years; and meeting the needs of a wide variety of users.
The following is an examination of the design solutions for these and other issues.





photos courtesy of SOM © Timothy Hursley
Harvard University Northwest Science Building Facts & Figures
Awarded the 2009 R&D Magazine Laboratory of the Year High Honors Award.
One of the largest projects Harvard University has embarked on in its recent history.
Emphasizes collaborative learning and cross-disciplinary research by bringing together experts from diverse fields.
Below-grade programming allows peak demand savings of 10 percent for cooling and 12 percent savings for heat.
The Northwest Science Building at Harvard University will connect existing facilities to the south and west with planned science buildings to the east. The open ground plan promotes pedestrian flows, which link campus and community.
Site Constraints
To accommodate the complex program and the need to fit among—and connect to—surrounding structures, the building's footprint is carefully placed to extend the internal research network, while creating new landscape quads. A central interior plaza with generous skylights enhances the substantial portion of below-grade pedagogical spaces and visually connects the students and staff to the outside public realms. Tunnel and bridge connections to other buildings protect sensitive collections and research materials from the elements and public view during transfer.





photos courtesy of SOM © Timothy Hursley
Community Issues
At 530,000 sf, this lab building is the largest in Harvard's history. It is sited on the campus's northwest edge, adjacent to the historic Cambridge Agassiz neighborhood- one of the most vocal and organized residential communities in the nation. (The community can place a project under moratorium with only 10 signatures.) To address the neighborhood's concerns, over half of the building is located below-grade. Through a carefully orchestrated process led by Craig Hartman and Carrie Byles, we were successful in converting a skeptical community to one that enthusiastically supported our design in city public hearings.
Programming and Designing Flexible Health and Science Buildings
Harvard sought to avoid "hard-wiring" the labs—that is, restricting research through static space configurations or infrastructure. The building avoids this through its design as a "lab loft" that allows scientists to reassign easily their spaces and teams throughout the building because of its flexible armature—"the central nervous system." Designed to accommodate a wide range of research, it runs down the middle of the building, leaving the bench area free of columns and vertical penetrations. This spine, which contains all of the building's infrastructure, also defines the pedestrian corridor for each floor.





photos courtesy of SOM © Timothy Hursley
Collaborating with Specialists
SOM often employs specialty consultants such as lab planners to design highly technical spaces. These consultants are key partners in the programming and design of research and science buildings. Our staff and consultants meet with the client groups (which can include clinicians, educators, and scientists) to establish their requirements for the various programs to be supported.
They translate those requirements into prototypical layouts for the range of sciences to be housed in the building. We work closely with client representatives to refine prototype module designs and gain buy-in from the faculty and other users. These prototypes are then published in a Prototype Manual and used to drive the core and shell building design.
Structural Design That Meets Stringent Performance Requirements
The building is designed to meet strict vibration limits mandated by laboratory and imaging uses. The challenge posed by the need for integrating the MEP requirements with the structural system resulted in the development of a unique "ladder"-braced frame lateral system. This system accommodates the building's heavy MEP systems while eliminating the need for moment frames. This approach reduced the amount of required steel—and therefore cost—while meeting all structural performance requirements. In addition, part of the building was built over a parking garage. To protect the sensitive experiments that are conducted, this portion of the building is base-isolated.




photos courtesy of SOM © ESTO/Anton Grassl
Designing Specialized Educational Research Facilities
The Harvard Northwest Building is a programmatic "Iceberg" with more than half the building below grade. All of the classrooms, including two auditoriums flanking a preparation lab are on the B1 level.
To support the "lab lofts" above-grade, the lowest basement level contains a 13,000¬sf animal unit and a 15,000-sf imaging unit. An important phasing concept for the interior and its long-term usefulness is that of initial build-out and future capacity.
For the vivarium and the imaging facilities in particular, we worked with the Faculty Representatives to determine the future maximum size of these facilities, considering the physical limits of the building and the site. We explored what the most intensive use might be, such as a 16.4T magnet and NHPs. We then developed an infrastructure and expansion plan design for the most comprehensive schemes. However, the tenant improvement that was built when the building opened was just large enough to accommodate current needs, leaving future build-out areas with maximum flexibility.
The animal unit includes animal holding rooms, procedure labs, and support facilities such as cage wash and sterilization; feed storage and dispensing; and staff accommodations. In addition to the basement animal unit, a receiving facility is located on the ground floor, and smaller satellite units are located on the upper floors adjacent to the labs; animal facilities on all levels are linked by a dedicated elevator. The basement unit is subdivided into conventional suites and barrier suites, the latter classified as animal BSL3.
The imaging unit includes facilities for both microscopy and magnetic-resonance imaging. The initial phase included a single 3T magnet and expansion space allows for additional magnets. Technical requirements include electromagnetic shielding, vibration and acoustic isolation, and exhaust systems for cryogen gases and other toxic substances. The study of infectious disease requiring BSL3 facilities is not required by the initial occupants of the building.
For future flexibility, however, the building is designed to accommodate potential BSL3 facilities in a designated area of the fourth floor. MEP has been sized, and requisite space has been allowed for special ductwork, equipment, and washing areas to provide the necessary level of containment, providing Harvard with this future capacity while keeping down initial expenditures.
Harvard University Northwest Science Building images / information from SOM
Harvard University Building architects : Skidmore Owings & Merrill
Location: Harvard University, MA, USA
Harvard University Buildings
Harvard University Graduate Housing, Massachusetts
Kyu Sung Woo Architects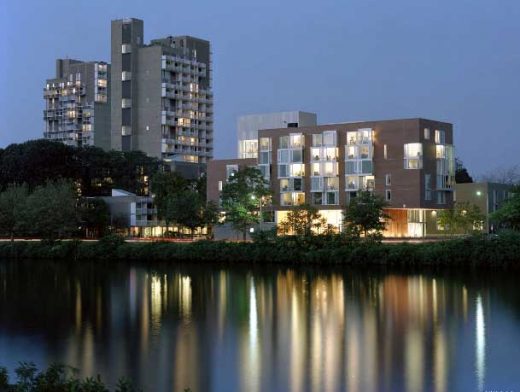 photo : Timothy Hursley, The Arkansas Office
Harvard University Graduate Housing
Harvard John A. Paulson School of Engineering and Applied Sciences:, 150 Western Avenue, Cambridge, Boston, Massachusetts
Design: Behnisch Architekten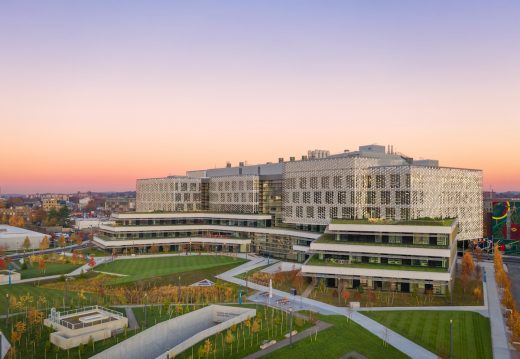 photo : Brad Feinknopf
Harvard University New Science and Engineering Complex
Harvard University Graduate School of Design, GSD, 48 Quincy Street, Cambridge, Massachusetts, USA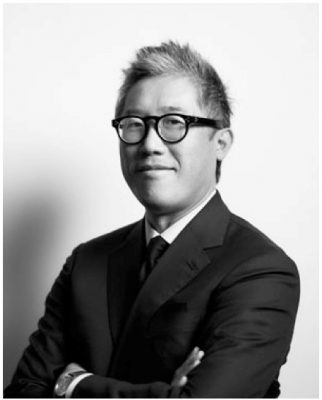 photo : Eric Staudenmaier
Harvard University Graduate School of Design News
Harvard-Belmont Residence Renovation
Harvard GSD Wheelwright Prize 2019 Winner
Website: Harvard John A. Paulson School of Engineering and Applied Sciences
Harvard Graduate School of Design (GSD) in England
Website: Northwest Building Harvard University
American Architecture
Contemporary Architecture in USA
University of Iowa building, Iowa City
Design: Steven Holl Architects
American University
Perot Museum of Nature & Science, Dallas
Morphosis
Perot Museum of Nature & Science
Comments / photos for the Harvard University Northwest Science Building design by Skidmore Owings & Merrill (SOM) page welcome.
Website: SOM | Harvard University Northwest Science Building