Oregon Architecture News, Eugene Building Images, US Architects, United States of America Property Designs
Oregon Buildings : Architecture
Key American Architectural + Property Developments – Contemporary Built Environment
post updated August 9, 2023
Oregon Architecture News
Oregon Architecture News – latest additions to this page, arranged chronologically:
Skylab: The Nature of Buildings
Blu Dot Showroom, Portland, Oregon
June 27, 2023
Vanport Building at Portland State University, 4th Avenue and Montgomery Street
Design: SRG Partnership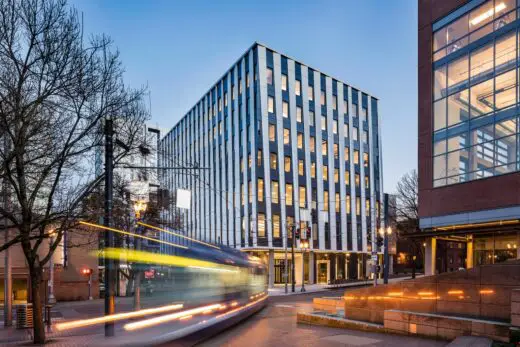 photo : Lincoln Barbour
Vanport Building Portland State University
With a collective commitment to enhance the city of Portland through sustainable and responsible development, four significant Portland institutions join together at the Vanport Building to share workplace resources. Complementing each other's programs and collaborating to expand community impact under one roof allows each tenant to become greater than the sum of their parts.
Feb 28, 2023
Bastion
Architects: Steelhead Architecture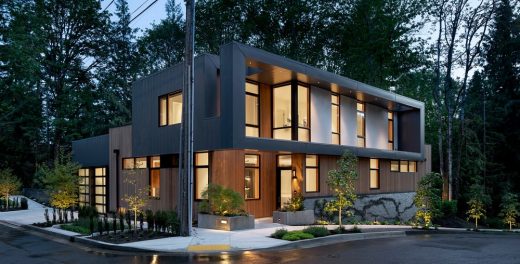 photo : Jeremy Bittermann
Bastion House, Oregon, USA
The name Bastion was inspired by the clients travels in Eastern Europe. Specifically, it references fortification and sanctuary for a structure. But more broadly it refers to strongly upholding the principals in modern and high-performance construction. The owner / contractor is in the business of building complex modern structures and tasked the design team to high standards.
Jan 22, 2023
Leach Botanical Garden, Portland
Design: Land Morphology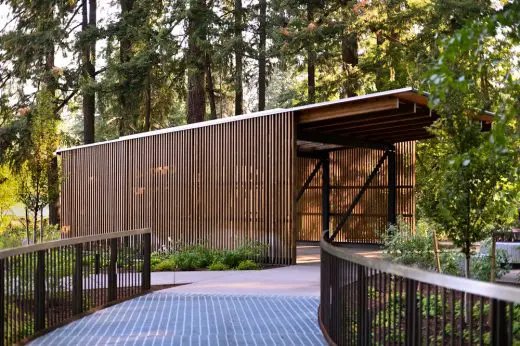 photos : Land Morphology and site
Leach Botanical Garden, Portland
Beginning in 2015, Land Morphology led the development of a strategic master plan for Leach Botanical Garden, a 16-acre garden for the City of Portland Parks & Recreation. Located in southeast Portland, the multi-phase Master Plan project will fundamentally transform the botanical garden.
More contemporary Oregon Architecture News on e-architect soon
Oregon Building News
Dec 2, 2022
Furioso, Dundee
Architecture and Interiors: Waechter Architecture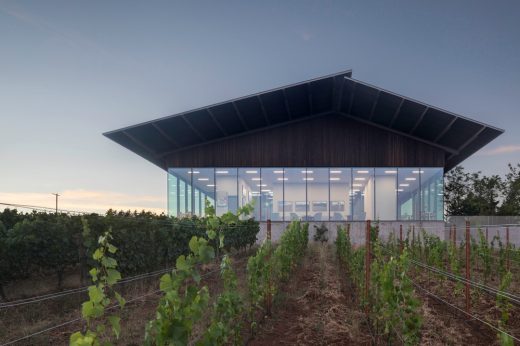 photo : Lara Swimmer
Furioso Vineyards, Dundee
Furioso creates a new model for the winery typology, bringing together production facilities and public-facing amenities through a compact, unified architectural form.
Nov 1, 2022
The Lodge at Black Butte Ranch, Sisters
Architects: Hacker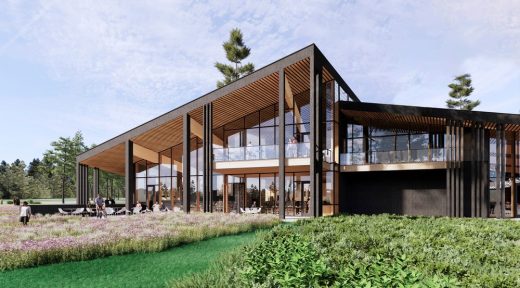 render : Hacker
The Lodge at Black Butte Ranch, Sisters
Planned and built in the early 1970s, Black Butte Ranch sits at the base of The Three Sisters Wilderness in Oregon's Central Cascades and is a gateway to the region's high desert from the Central Willamette Valley. The 1,800-acre site is a home for year-round residents and a popular vacation destination.
July 20, 2022
Serena Williams Building, Beaverton
Design: Skylab Architecture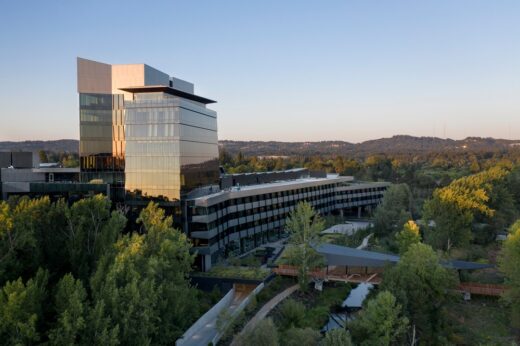 photos by Jeremy Bittermann, Stephen Miller and J.P. Paull, PLACE
Serena Williams Building at Nike World Headquarters
The Serena Williams Building – a workplace for 2,750 occupants at more than 1 million square feet—is the largest structure at Nike World Headquarters. Skylab Architecture led the design of all aspects of this complex building and program, including core and shell, interior design and furniture selection, and branding integration.
Apr 26, 2022
Black Butte Ranch, Sisters
Architects: Hacker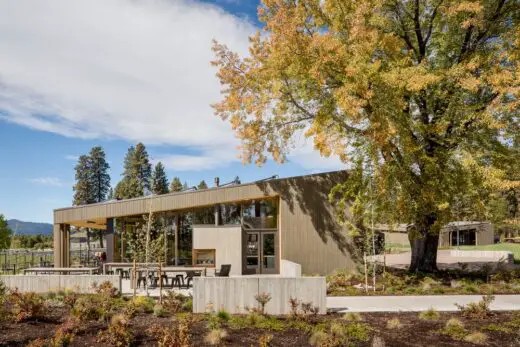 photo : Jeremy Bittermann
Black Butte Ranch, Sisters
Black Butte Ranch – an iconic resort community located near Sisters, Oregon – sits at the gateway to Oregon's high desert. First planned in the early 1970s, the Ranch is a vacation destination for many, and a year-round home for some. The new 15,000-sqft "Lakeside" replaces the well-worn main pool facility and revives the "heart" of the Ranch.
Mar 8, 2022
Northeast Mid Century Home, Portland
Design: Ment Architecture LLC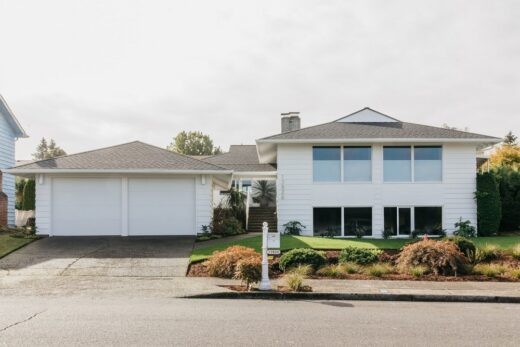 photograph : Mallory Leasure
Northeast Mid Century Residence, Portland
Constructed in the 1960s, Northeast Mid Century Home is unique for the Portland area and feels decidedly more Palm Springs than PNW. The home largely avoided any detrimental renovations over the years and proved to be a time capsule with many original details intact, including the kitchen and bathrooms.
Mar 6, 2022
THE HIVE, Portland
Design: Ment Architecture LLC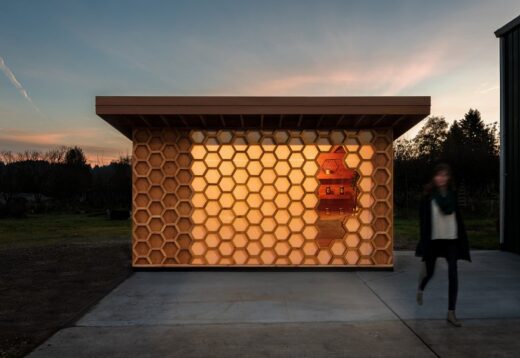 photo : Timothy Niou
THE HIVE Portland Oregon building
THE HIVE was designed as an inhabitable beehive, this small building provides a location for Bee Way Honey Pollination to sell honey, wax, propolis, and other products in a small footprint with a big visual impact.
Feb 17, 2022
Maritime Science Building at Clatsop Community College, MERTS Campus, Astoria
Architects: SRG Partnership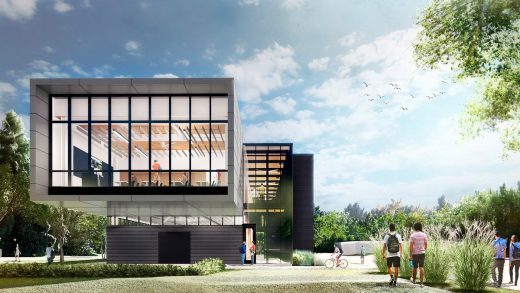 image courtesy of architects practice
Maritime Science Building Clatsop Community College
The Maritime Science Building will elevate the recognition of Clatsop Community College's coastal educational program as it continues to grow into the most comprehensive industrial and marine technology center in the Pacific Northwest. This new facility reflects the college's commitment to the future of the region and its mission to inspire and engage the entire community.
Jan 5, 2022
High Desert Residence, Bend
Architects: Hacker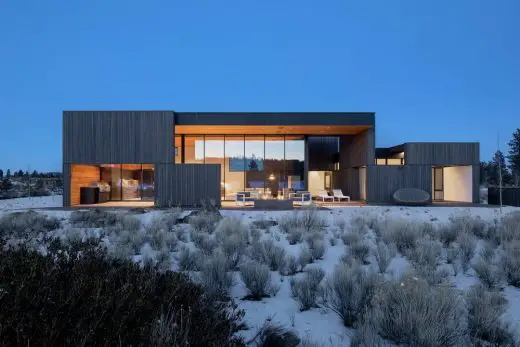 photograph : Jeremy Bittermann
High Desert Residence, Bend
High Desert Residence is a Central Oregon home that finds a sense of calm and refuge in the balance between landscape and sky. This 4,300-sqft, four-bedroom house is designed as a regular weekend sanctuary for an active couple, and a getaway for their extended family – a place where everyone can gather and be together, with a balance between private rooms and communal space.
Oct 18, 2021
Fariborz Maseeh Hall, Portland
Design: Hacker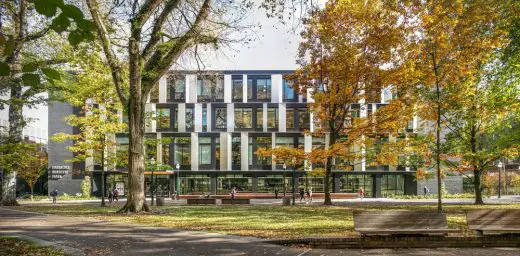 photography : Pete Eckert
Fariborz Maseeh Hall at Portland State University
The task, transform the outdated fortress-like 1960s Neuberger Hall (currently named Fariborz Maseeh Hall) into a modern, interactive, light-filled academic hub. The five-story building was originally built in the Brutalist-style, a common campus aesthetic which reflected the pragmatic and inwardly focused buildings of that era.
Oct 14, 2021
Reser Stadium Expansion, Oregon State University, Corvallis
Design: SRG Partnership + Populous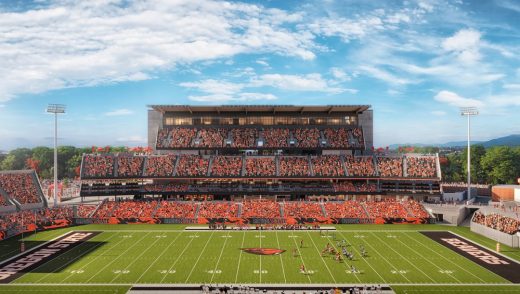 renderings : Elephant Skin and SRG Partnership
Reser Stadium Expansion, Oregon State University
The Reser Stadium Expansion at Oregon State University will transform the stadium into a best-in-class football facility with year-round amenities accessible by all students, athletes, faculty and staff. SRG Partnership, in collaboration with Populous, and design-build partner Hoffman Construction are leading the project which puts the fan experience front and center.
Jun 4, 2021
NYC Garage, Beaverton, Oregon, USA
Design: SRG Partnership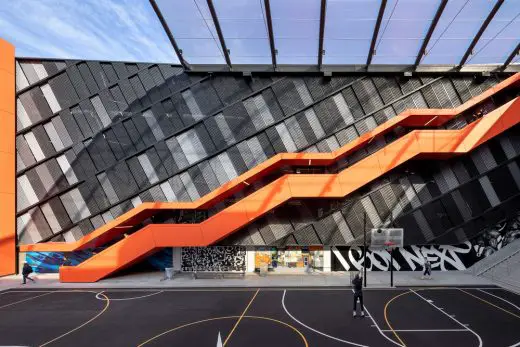 photo : Jeremy Bittermann
NYC Garage Beaverton
The NYC Garage successfully merges safety, efficiency, and the functionality of 1,994 parking spaces for employees and visitors with the strength and spirit of competition and athleticism. As a dynamic facility complementing the character of the campus fabric, the garage redefines how people think about parking structures.
June 4, 2021
OSRG Partnership Portland Studio
May 2, 2021
Taft House Portland
Mar 9, 2021
Oregon Forest Science Complex, Corvallis
Architects: Michael Green Architecture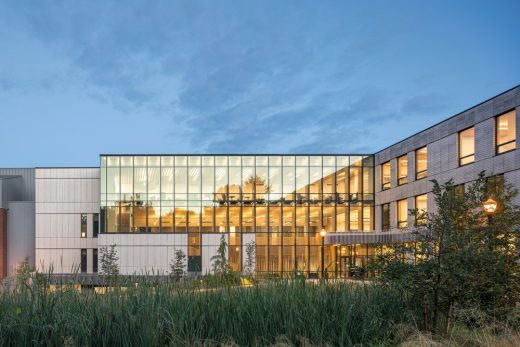 photo © Josh Partee
Oregon Forest Science Complex, Corvallis
In 2020, Michael Green Architecture completed two new mass timber buildings for the internationally recognized College of Forestry at Oregon State University. Located on campus within the Oregon Forest Science Complex (OFSC), the new George W. Peavy Forest Science Center and the A.A. "Red" Emmerson Advanced Wood Products Laboratory (AWP) upholds the College's vision to create a dynamic learning, collaboration, and research environment for managing and sustaining working forest ecosystems in the 21st Century.
Edward J Ray Hall, Oregon State University
Dec 11, 2020
Columbia Building, Portland, Oregon, USA
Design: Skylab ; Partner Architect: Solarc Architecture and Engineering Inc.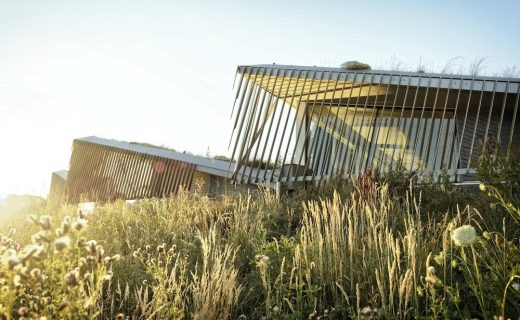 photograph : Jeremy Bittermann
Columbia Building in Portland
Housing workspace, a visitor reception area, and public meeting spaces, the 11,640-square-foot building not only supports the engineering department of the wastewater treatment facility but also functions as an immersive educational experience, all integrated within a sustainable landscape.
June 25, 2020
Outpost on Hood River
Architects: Skylab Architecture and Open Studio Collective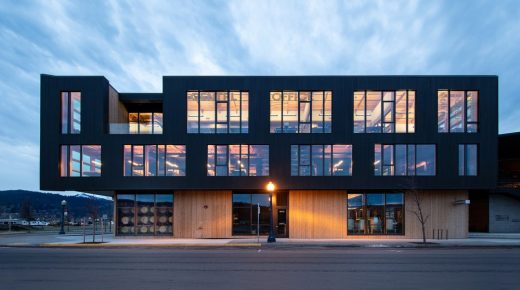 photograph : Stephen Miller
Outpost on Hood River Waterfront
Outpost is a phased, hybrid structure merging recreation, retail and work environments to foster and reinforce a sense of community in a developing section of Hood River.
Nov 22, 2019
Oregon Convention Center Renovation & Plaza in Portland
Nov 13, 2019
Argyle Winery Tasting House, Dundee
Architecture: SERA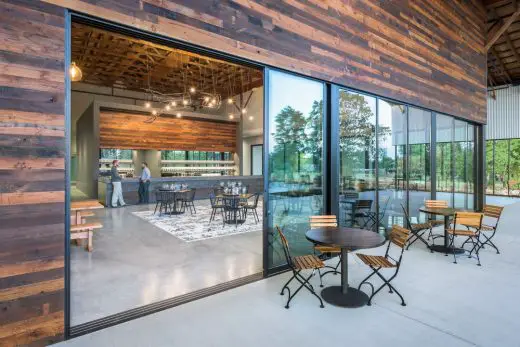 photograph : Alan Brandt
Argyle Winery Tasting House in Dundee
Shifting wine production from Dundee to nearby Newberg provided Argyle Winery with the chance to reinvent its visitor experience and transform what was once wine production facilities into a world-class, 21st-century wine destination. Starting with a master plan of the 2.5-acre site, a concept was developed that blended past with present.
Oct 16, 2019
Nims Bezaitis Residence in Portland, Oregon
Oct 14, 2019
Cain Wong Residence, Portland
Design: Paul McKean Architecture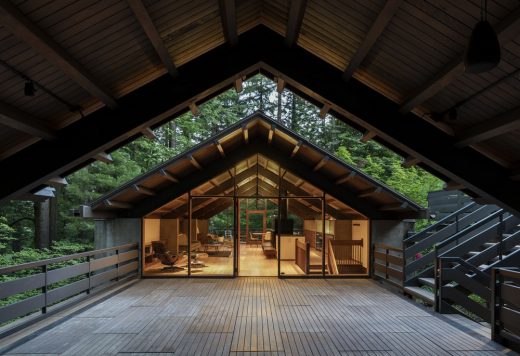 photograph : Chuck Spin
New Residence in Portland
In 2013 Paul McKean Architecture was asked to do some careful updates to the Campbell house – former Sunset magazine home of the year, designed by Richard Campbell for his family in 1962.
May 22, 2019
B76 Building, Portland
Architects: Skylab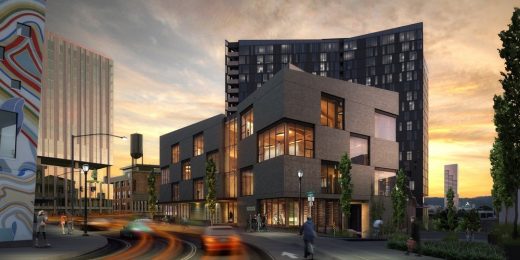 photography : Stephen Miller and Skylab
B76 Building in Portland
A wedge shaped 20,000 sqft building featuring a CLT structural system.
Mar 4, 2019
Arvin Residence, Hood River
Architects: Paul McKean Architecture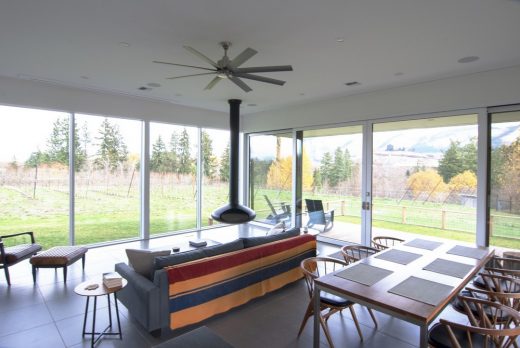 photo : Paul McKean
New Residence on Hood River
The building section allows for a high ceiling in the open living area and lower ceiling in the bedrooms that conceals a gracious roof terrace that has views of Mt Hood to the south. The landscaping consists almost entirely of a newly planted apple orchard.
Jan 19, 2019
Wilkinson House, near Portland
Design: Robert Oshatz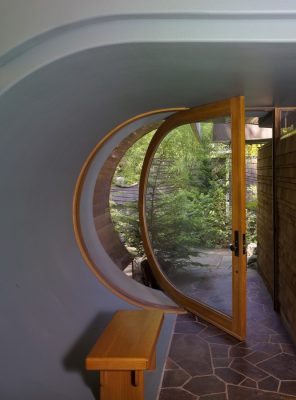 photo : Cameron Neilson
Oregon Residence
The Wilkinson House by Robert Oshatz, completed in 2004, is an example of modern architecture at peace with its site. The house occupies a wooded Pacific Northwest site, on a steep slope which allows the main level of the house to sit among the tree canopy.
Nov 7, 2018
YARD, Portland
Architects: Skylab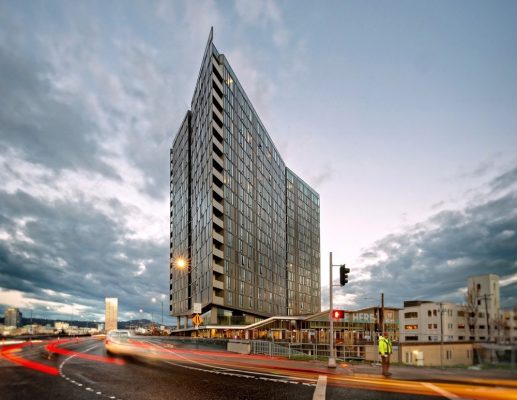 photograph : Stephen Miller
The Yard Building in Portland
A 21 story mixed-use building combining residential, commercial, retail, office and parking. The site is located in the rapidly changing central east side of downtown Portland, at the base of the iconic Burnside Bridge and skate park.
Sep 3, 2018
Albina Yard Building, North Portland
Design: LEVER Architecture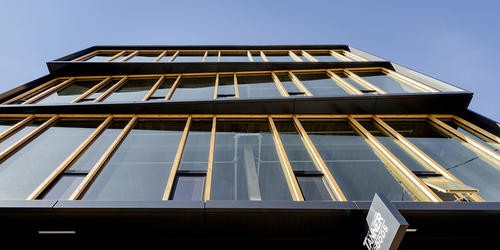 photograph courtesy of Chicago Athenaeum
Albina Yard Building in North Portland
A new 16,000 sf speculative office building with ground floor retail located in North Portland. The building utilizes mass timber construction, with a glue-laminated timber frame and CLT panels manufactured and prefabricated in Riddle, Oregon.
Aug 16, 2018
Rangers Ridge House, Portland
Design: Giulietti / Schouten Architects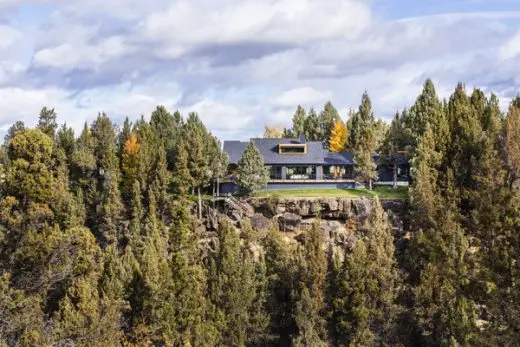 photo : David Papazian
New Home in Portland
Situated on the edge of a canyon overlooking the Deschutes River, the existing ranch house lacked personality, unlike its charismatic owners. Three modern additions redefine the structure and create a more functional plan for the retired ranch owners.
Aug 1, 2018
Panavista Hill House, Portland
Design: Steelhead Architecture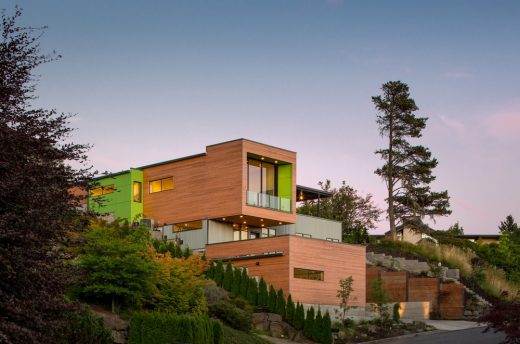 photo : Josh Partee
House in Portland's West Hills
The Panavista Hill House is perched on a steep up-slope lot in Portland's west hills. The design solution for organizing the house and keeping costs in check was to stack uses vertically up 3-stories.
Jul 31, 2018
Neal Creek House, Hood River, Oregon
Design: Paul McKean Architecture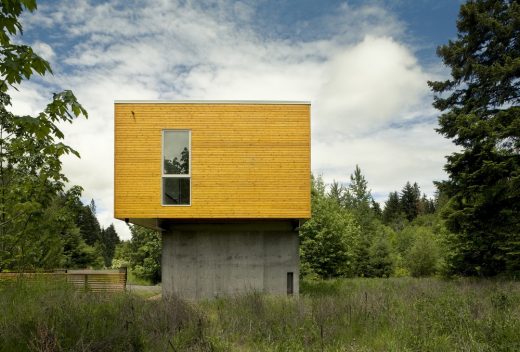 photo : Stephen Tamiesie
House in Hood River
This modest weekend retreat in Hood River treads lightly upon its surroundings, maximizing valley and water views with minimal impact to the natural environment. The windsurfing and snowboarding owners were interested in a simple sustainable weekend retreat.
May 8, 2017
Hanna Andersson HQ Portland
Design: Architects: ZGF Architects, LLP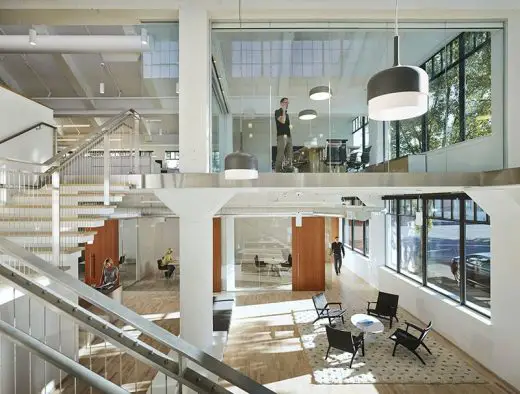 photo : Nick Merrick/Hedrich-Blessing
Hanna Andersson HQ Portland
Hanna Andersson is a children's clothing company that started in 1983 in Portland, Oregon, offering clothing and accessories inspired by its Swedish heritage and socially responsible business practices.
Apr 20, 2017
Digital Media Agency Offices in Portland
Design: Beebe Skidmore Architects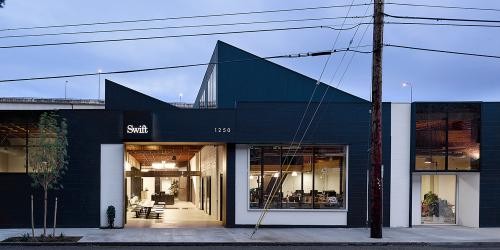 photo : Jeremy Bitterman Photography
Digital Media Agency Offices in Portland
An adaptive re-use plus seismic upgrade of the original Rose City Awning factory, to create a company headquarters for Swift, a fast-growing 160-person digital media agency.
Oct 12, 2016
Skyline Residence, Skyline Boulevard
Design: Nathan Good Architects


photo : Jeremy Bitterman Photography
New Residence in Portland
Oct 12, 2016
Trout Lily Screen Porch Trout Lily Vineyard, Newberg, Yamhill County
Design: beebe skidmore architects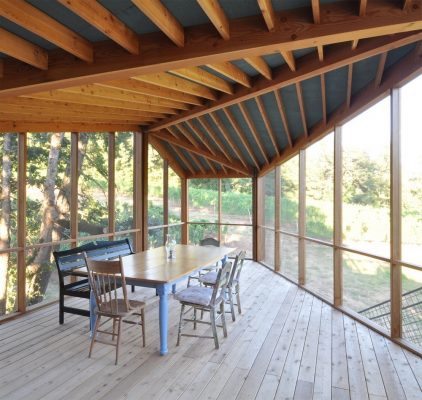 photo from architects
Trout Lily Screen Porch
Oct 7, 2016
Siskiyou House, Alameda-Beaumont, Portland
Design: Beebe Skidmore Architects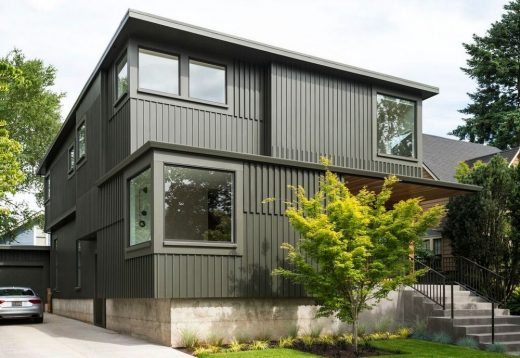 photo : Bruce Wolf Studio
Siskiyou House Oregon
Jun 3, 2015
Willamette Falls Riverwalk, Portland
Design: Mayer/Reed, Snøhetta and DIALOG



photo from architects
Willamette Falls Riverwalk Oregon
The Riverwalk will allow people access to Willamette Falls, the second-largest waterfall in the U.S. by volume, for the first time in 100 years.
Jan 10, 2015
Karuna House, Portland
Design: Holst Architecture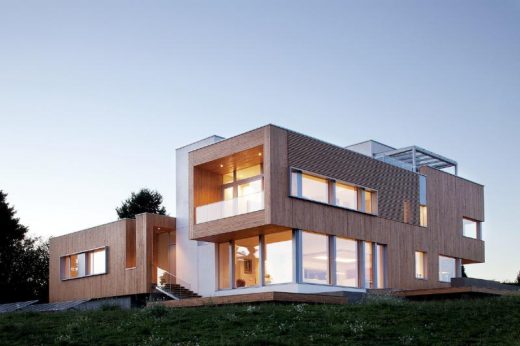 photo : PRNewsFoto/Hammer & Hand
Karuna House
Sep 10, 2013
Steven Alan Portland
Design: Hollwich Kushner (HWKN)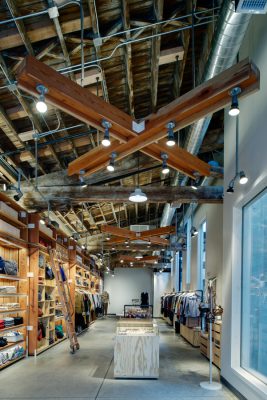 photo : Christian Columbres
Steven Alan Portland Store
Designed by Hollwich Kushner (HWKN) as a prototype for future Steven Alan locations in Atlanta, Chicago and Dallas, the Portland store imbues a local character to a modular design. Building on his reputation for scouting the most intriguing young designers, Steven Alan turned to Hollwich Kushner (HWKN) to envision a national expansion beyond the 20 existing retail locations.
Oregon Architecture
We've selected what we feel are the key examples of Oregon Buildings, USA.
Major Oregon Building Designs, alphabetical:
Mount Angel Abbey Library, One Abbey Drive, St Benedict (Mount Angel)
1970
Alvar Aalto
The Original, Portland
2009
David Ashen of d-ash design
The Original Restaurant
Public Services Building, Portland
1992
Michael Graves Architects
Wayne L. Morse United States Courthouse, Eugene
2006
Morphosis Architecture
Federal Courthouse
More Oregon Buildings online soon
Oregon Architecture Events
Oregon architecture events on e-architect:
University of Oregon Department of Architecture



image from KTISMAjournal
University of Oregon Department of Architecture
Portland State University – PSU Department of Architecture
PSU Department of Architecture Events
A Portland architecture event on e-architect:
"Women Reshaping the World"
2 – 4 May 2012
The International Living Future Institute is pleased to announce its keynote speaker lineup for its sixth annual Living Future unConference. A sold-out event since 2009, this year's theme, "Women Reshaping the World," is rapidly gaining traction as the must-see program for green building practitioners and sustainability-focused thought leaders.
Portland architecture event : Living Future 2012 unConference
Location: Oregon, United States of America
American Architectural Developments
Developments in Neighbouring States to Oregon
Seattle Public Library
Rem Koolhaas Architect / OMA
Seattle Library Building
Frank Lloyd Wright house : Zimmerman House Manchester, New Hampshire, USA
Postmodernism : Public Services Building Portland
Buildings / photos for the Oregon Architecture page welcome