Connecticut Architecture, New Haven Building Designs, CT Architects, United States of America Real Estate
Connecticut Architecture : Buildings
Key American Property Developments News – Contemporary US Built Environment Updates
post updated July 17, 2022
Connecticut Building News
Architecture in Connecticut – latest additions to this page, arranged chronologically:
July 17, 2022
Baptist Church, Greenwich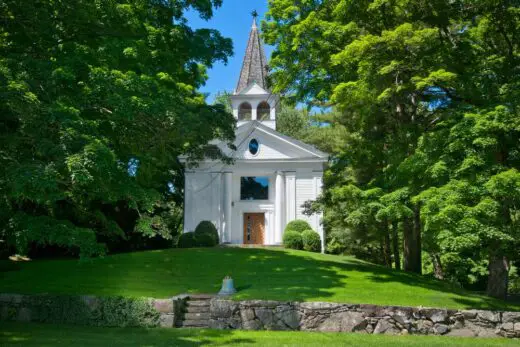 photos of exterior by Gavin Preus, and of the interior by Anthony Acocella
Baptist Church Home, New England
New England is famous for its picturesque white churches with their soaring steeples. In Greenwich, Connecticut, Santiago and Bonnie Suarez bought one and made it their home.
June 26, 2022
Salik Residence, Westport, CT
Design: Narofsky Architecture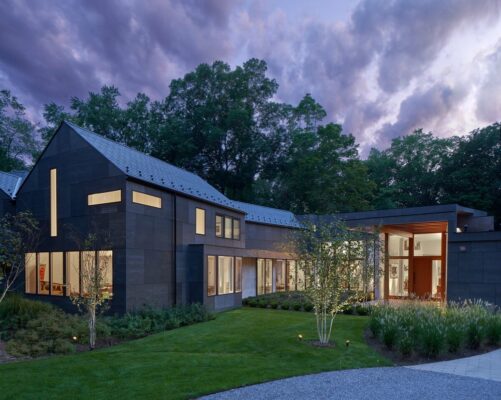 photo : Phillip Ennis
Salik Residence, Westport
The Salik Residence is situated on three acres along a river in a Connecticut suburb. When the property was purchased there existed a home which belonged to an architect and his artist wife. Over three decades the architect added to and renovated the original early sixties suburban ranch.
Jun 3, 2022
Gilded Age Mansion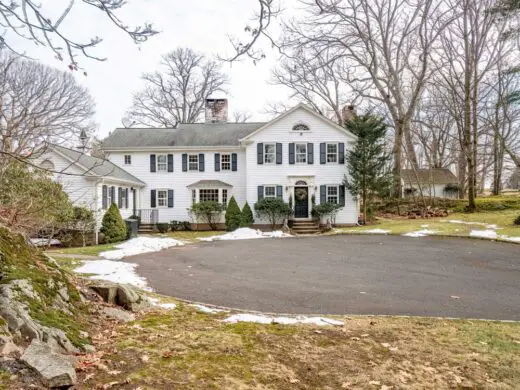 photo Courtesy of Douglas Elliman
Gilded Age Mansion and Island
The Town of Darien, Connecticut is officially under contract to purchase one of America's last family-owned properties, Great Island, that includes one of the area's last Gilded Age mansions. The property was reduced from its 2016 price of $175 million and was most recently listed at $100 million at the time the contract was signed, according to The Darien Times.
May 3, 2022
Athey Center, New London
Design: Ennead Architects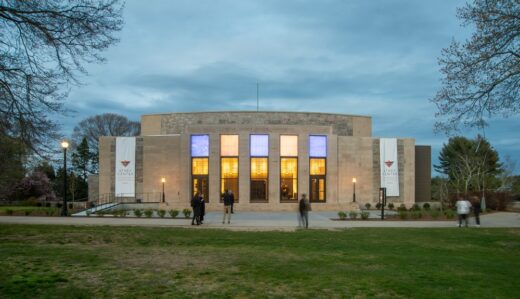 photo © Ennead Architects/Aislinn Weidele
Athey Center, Connecticut College New London
Ennead Architects, the internationally renowned architecture firm, celebrates the opening of the Athey Center for Performance and Research at Palmer Auditorium on the campus of Connecticut College in New London, Connecticut. The newly transformed space will promote pioneering artistic production and research, attract world-renowned artists-in-residence, reinforce the campus Arts District, and offer renewed areas for community engagement.
Apr 30, 2022
Quarry Farm, Greenwich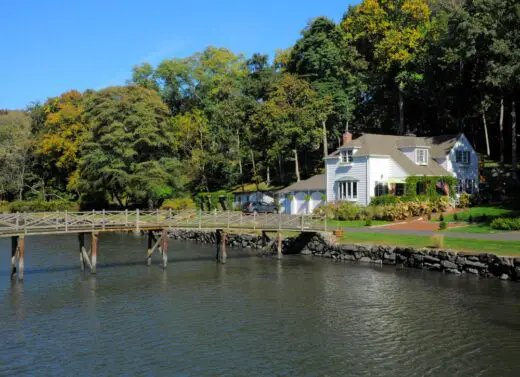 photo Courtesy of Douglas Elliman
Quarry Farm, Greenwich, Connecticut
Perils of Pauline was a 1914 bi-weekly silent film serial in movie theaters that was produced by William Randolph Hearst, the same man who once owned the Hearst Castle in San Simeon, California and the Hearst Estate in Beverly Hills – where parts of The Godfather were filmed. Perils of Pauline serials ran on-screen before the main feature and came with as many as twenty episodes.
August 9, 2021
Mark Twain's Final Home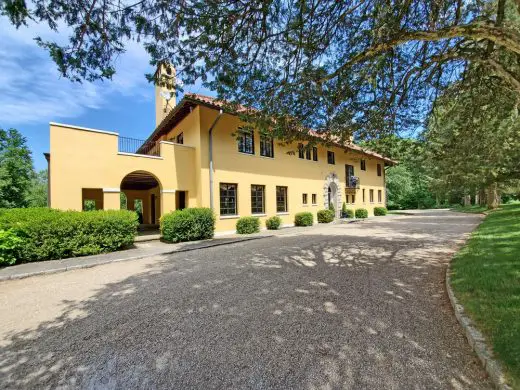 photo : Bernadette Queenan
Stormfield Estate, Redding
Samuel Langhorne Clemens was fascinated by thoughts of adventure as a boy, dreams that he later wrote about when he took on the pen name Mark Twain, which translated, was steamboat slang for 12 feet of water. Later in his life, he moved to Connecticut to be closer to his publisher, and he eventually purchased a stunning estate outside of Redding that he called Stormfield.
Aug 3, 2021
New Davison Art Gallery, 252 Church Street, Wesleyan University, Middletown, CT 06459
Design: Peterson Rich Office with Newman Architects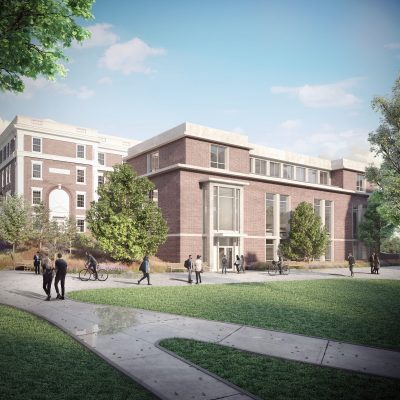 image © Peterson Rich Office
New Davison Art Gallery Building Design
A significant and historic project for the 190-year-old liberal arts university, the PRO-designed 5,550 square foot art building will dramatically enhance Wesleyan's student-serving facilities and integrate visual art into daily campus life as the first new art building in over 50 years, following the Center for the Arts completed in 1973 and designed by the late Kevin Roche.
June 29, 2021
New Fairfield University Arena & Convocation Center Ground Breaking
Design: Centerbrook Architects and Planners, CT
A ground breaking ceremony for Fairfield University's new Arena & Convocation Center is scheduled for Monday, June 28, 2021 at 11:00 a.m.
Speakers will include President Mark R. Nemec, PhD, Provost Christine Siegel, PhD, Vice President for University Advancement Wally Halas, Athletic Director Paul Schlickmann, and student representatives.
The ceremony will take place in Fairfield's Barone Campus Center parking area, adjacent to the Center's construction site where the University's landmark Alumni Hall stood for over 60 years, until this Spring when the initial phase of construction began.
Designed by Architects and Planners of Centerbrook, Conn., the new 85,000-square foot, 3,500-seat Convocation Center will revolutionize the Stags home game and campus event experience. Projected to open in 2022, the facility will be home to Fairfield's Division I basketball and volleyball programs, Fairfield Prep basketball and will host convocations, concerts, and gatherings for the University and the neighboring community at large.
Vol. 52, # 97
Fairfield University is a modern, Jesuit University, rooted in one of the world's oldest intellectual and spiritual traditions. More than 5,000 undergraduate and graduate students from 36 states, 47 foreign countries, the District of Columbia and Puerto Rico are enrolled in the University's five schools. In the spirit of rigorous and sympathetic inquiry into all dimensions of human experience, Fairfield welcomes students from diverse backgrounds to share ideas and engage in open conversations. The University is located in the heart of a region where the future takes shape, on a stunning campus on the Connecticut coast just an hour from New York City.
June 15, 2021
Sandy Hook Permanent Memorial Design, Newtown
Design: SWA Group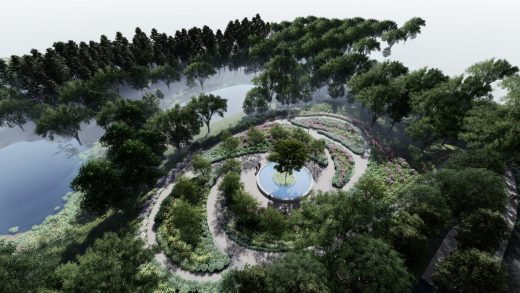 rendering courtesy SWA Group
Sandy Hook Memorial Design
International landscape architecture, planning, and urban design firm SWA Group announce the approval of their design, "The Clearing," which after a five-year process of site selection and development of memorial criteria, was selected unanimously by the Sandy Hook Permanent Memorial Commission among 189 international design submissions and with overwhelming support from the families of the victims. The Memorial will be implemented on a donated five-acre site in Newtown, CT.
June 9, 2021
Connecticut Mid-century Weekend House
Mar 18, 2021
Greenwich Estate
More Connecticut Architecture on e-architect soon
Connecticut Architecture 20019 to 2020
June 18, 2020
Westport Library, 20 Jesup Rd, Westport, CT 06880
Design: HMA2 Architects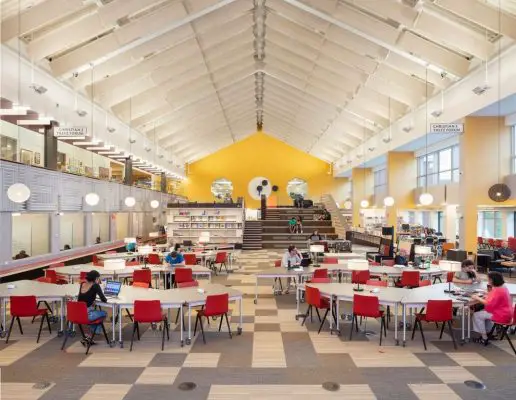 photograph : Chris Payne, ESTO
Westport Library Building
The interior spaces of Westport Library were designed to accommodate multiple and flexible uses for every age group and all demographics, seven days a week. The transformation of this  existing library, originally built in 1985 and expanded in 1998, unlocks the potential energy of  its space and people.
Sep 11, 2019
Bruce Museum, Greenwich
Design: EskewDumezRipple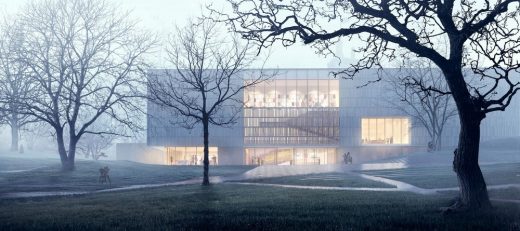 image courtesy of architecture office
Bruce Museum Building
Construction has started on the first phase of the Bruce Museum in Greenwich. The Museum, a community based, world-class institution highlighting art, science and natural history, is now underway with a multi-phase renovation and expansion of the existing museum's exhibit galleries and support spaces.
Apr 4, 2019
Weston Residence, Weston
Design: Specht Harpman Architects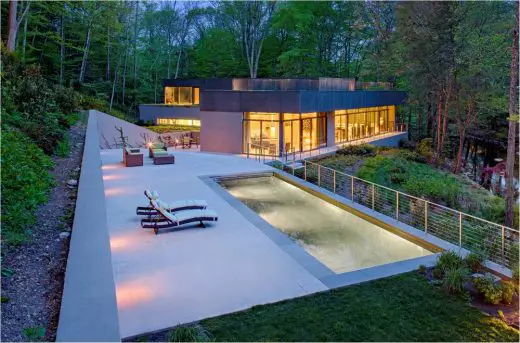 photo : Taggart Sorensen
Weston Residence Connecticut
More contemporary Connecticut Architecture online here soon
Connecticut Architecture 2006- 2018
Aug 29, 2018
Sandy Hook Permanent Memorial, Newtown, CT, USA
Design: Ben Waldo and Daniel Affleck, SWA Group in San Franciscom & Justin Winters, SWA/BALSLEY in New York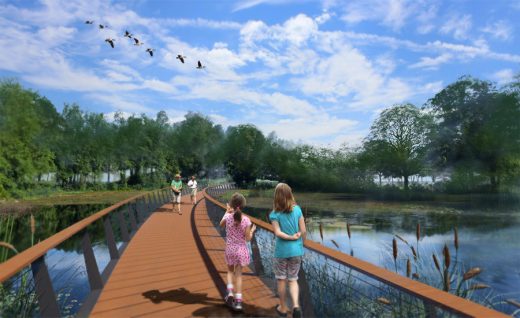 images Courtesy SWA Group
The Clearing – Sandy Hook Permanent Memorial in Connecticut
The Clearing, as the plan is called, was selected after an almost year-long design competition.
Feb 27, 2018
Smith House, Darien – Celebrating 50 Years of Completion with New Photos
Design: Richard Meier & Partners Architects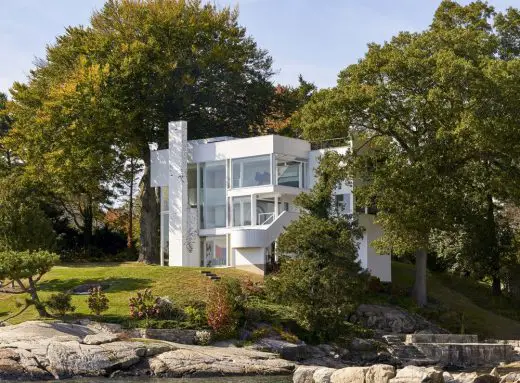 photo © Mike Schwartz
Smith House, Connecticut
To commemorate the 50th Anniversary of completion of this iconic home, the Smith family allowed architectural photographer Mike Schwartz to create a new set of photos. The strong, white-colored residence was a key early milestone in Richard Meier's career.
Aug 14, 2017
Common Ground High School, New Haven
Design: Gray Organschi Architecture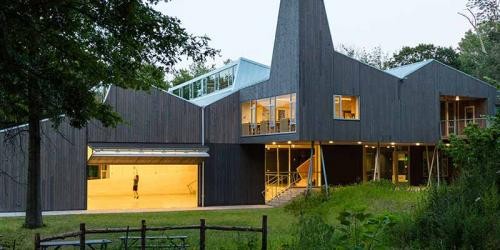 photograph : David Sundberg
New Haven High School Building
One of the first buildings in the USA to use FSC-certified cross-laminated timber (CLT) as its primary structure. Combining urban agriculture and sustainable land-management practice in an innovative curriculum, a new 14,000 square-foot building addition.
Aug 14, 2017
Philip Johnson Glass House News, New Canaan
Date built: 1949; Architect: Philip Johnson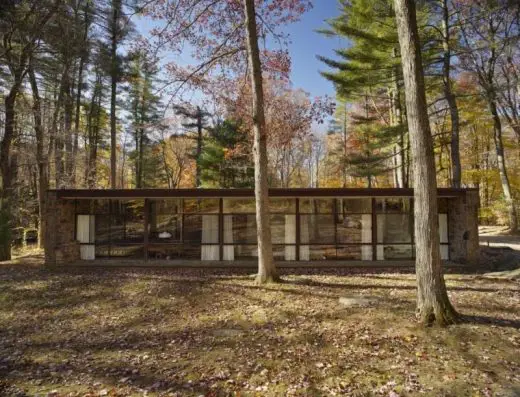 photograph : Michael Biondo
Study Tour: Glass House + Noyes House
Monday, September 11, 1:00 – 5:30pm
Visit two important examples of New Canaan mid-century residential architecture on a half-day study tour of Philip Johnson's Glass House (1949) and the Eliot Noyes House (1954). Tickets for this program include tours of both sites, shuttle transportation between sites, and light refreshments: Study Tour: Glass House + Noyes House
May 23, 2013
New Canaan Residence
Design: Specht Harpman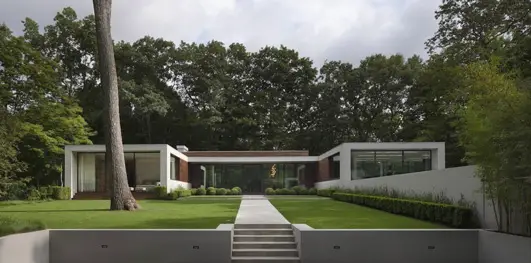 photo : Elizabeth Felicella
New Canaan Residence
The New Canaan Residence is nestled into a lush hilltop site in this forested part of Connecticut. The house was designed to engage the landscape and immerse the occupants in the full range of environments that the site offers. What the completed house doesn't show is its modest beginnings: this is a renovation of a 1950's house which had a series of unsympathetic additions from the 60's and 70's, and whose owners originally wanted only a kitchen upgrade.
Nov 6, 2012
UConn Oak Hall
Design: Leers Weinzapfel Associates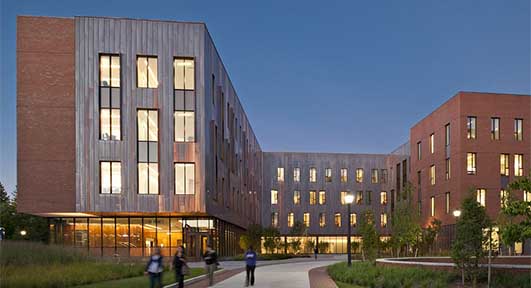 photo : Anton Grassl/Esto
UConn Oak Hall
Oak Hall, named for the state tree, is the new home of the College of Liberal Arts & Sciences' linguistics, modern and classical languages, economics, and journalism departments, previously housed in two other buildings. Nearby Laurel Hall, named for the state flower, comprises larger, related classroom and lecture spaces. Collectively containing forty classrooms, the two structures strengthen the campus crossroads with a fresh exterior civic space.
Sep 1, 2011
Morse and Ezra Stiles Colleges, Yale, New Haven
Date: 1962, design by architect Eero Saarinen
Renovation + new-build in 2011: KieranTimberlake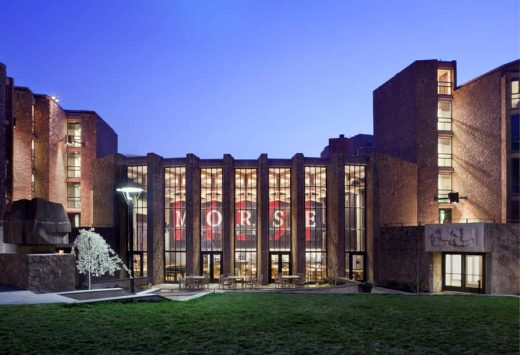 image from FD
Morse and Ezra Stiles Colleges
This project won the Gold Medal from the AIA Philadelphia Chapter and was shortlisted in the New/Old Category at the 2011 World Architecture Festival.
Connecticut Buildings
We've selected what we feel are the key examples of Connecticut Buildings, USA. Our focus is on contemporary Connecticut buildings.
Major Connecticut Architecture Projects, alphabetical:
Canterbury School Aquatic Center, Milford
Design: Butler Rogers Baskett Architects



picture from architect
Canterbury School Aquatic Center
Residential Playhouse, Greenwich
Design: Austin Patterson Disston Architects



photo : David Sundberg/ESTO
Connecticut house in Greenwich
Yale Arts Complex – Paul Rudolph Hall renovation, Yale University
Design: Gwathmey Siegel & Associates Architects



photo : Peter Aaron
Paul Rudolph Hall
Whitney Water Purification Facility and Park, New Haven
Design: Steven Holl Architects



photo courtesy Steven Holl Architects
New Haven Project
Selected as one of the Top Ten Green projects for 2007 by the American Institute of Architects' Committee on the Environment (AIA/COTE).
Buildings in Connecticut
Buildings in Connecticut – no images, alphabetical:
Beinecke Library, Yale University, New Haven
1963
Design: Skidmore Owings Merrill Architects
Brant House, Greenwich
1972
Venturi, Scott Brown and Associates
Breuer House II, New Canaan
1948
Marcel Breuer Architect
Stillman House III, Litchfield
1972-74
Marcel Breuer Architect with Tician Papachristou
Gagarin House II, Litchfield
1973-74
Marcel Breuer Architect with Tician Papachristou
Greenwich Academy – Learning Centre, Upper School, Greenwich
2004
SOM
House VI, Cornwall
1972-75
Peter Eisenman
Johnson House, New Canaan
1949
Philip Johnson
Philip Johnson
Related house: Farnsworth House, Plano, Illinois 1950 by Mies van der Rohe
Kroon Building, Yale University, New Haven
2005-08
Hopkins Architects
School of Forestry & Environmental Studies
Smith House, Darien
1964-67
Richard Meier Architects
Yale Center for British Art, New Haven
1969-74
Louis Kahn
Yale University Art Gallery, New Haven
1953
Louis Kahn / Polshek Partnership Architects, LLP
Cale University Art Gallery
Yale Art and Architecture Building
1963
Paul Rudolph
New Yale School of Management Campus, Whitney Avenue, New Haven
2007-11
Foster & Partners
230,000sqft
More Connecticut Building Developments online soon
Location: Connecticut, USA
School of Architecture in Connecticut
Yale School of Architecture Events, New Haven
US Architectural Designs
Neighbouring States to Connecticut:
New York State Architecture Designs
Nearby States to Connecticut:
Frank Lloyd Wright house : Zimmerman House Manchester, New Hampshire
Modern houses : featuring the Johnson House, one of world's great domestic buildings
Comments / photos for the Connecticut Architecture page welcome