Washington Architecture, Seattle Building, WA Architects, United States of America Designs
Washington Buildings : Architecture
Key American Property + Architectural Developments – Built Environment USA
post updated July 30, 2020
Washington Architecture News
For the latest built environment updates in the major city in this state visit Seattle Architecture News
Washington Architecture News – latest additions to this page, arranged chronologically:
August 15, 2020
Tumble Creek Cabin, Suncadia Resort, Cascade Mountains
Architecture and Interior Design: Coates Design Architects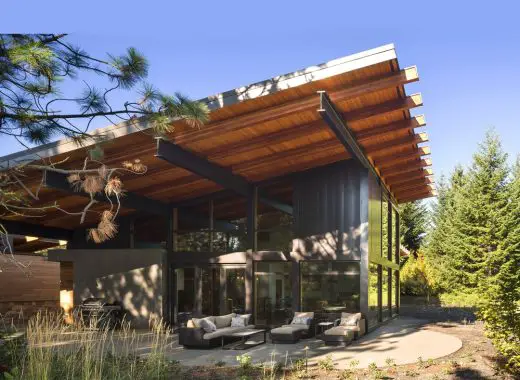 photo : Lara Swimmer
Suncadia Resort House
This vacation home designed to be "net-zero" lies in the beautiful Suncadia Resort in Washington State's Cascade Mountains. The resort, located on the sunny side of the Cascades, hosts an intimate community that enjoys a rich and diverse collection of amenities.
July 28, 2020
Suncrest, Orcas Island
Design: Heliotrope Architects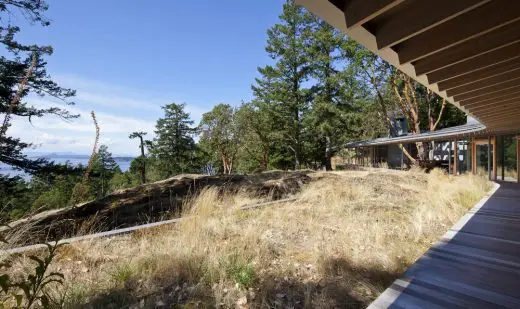 photo © Sean Airhart
Suncrest Retreat on Orcas Island, WA
A 3,000-sqft retreat residence on a 26-acre site comprised of a mature Douglas fir and Pacific madrone forest, with occasional rocky clearings and several small ponds.
July 24, 2020
Selah Residence, Selah, Yakima County
Design: Stuart Silk Architects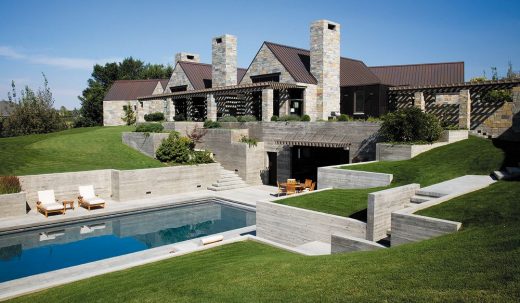 photograph : Steve Keating
Selah Residence in Yakima County
A four-bedroom residence, situated high on a plateau in the arid landscape of eastern Washington, offers sweeping views across the agricultural valley to the Cascade Mountains and provides a dramatic backdrop to the apple orchards below.
July 7, 2020
The Starling's Nest, Seattle
Architecture and Interior Design: Rerucha Studio
The Starling's Nest House in Seattle
June 13, 2020
WSECU Plaza, Seattle
Architecture and Interior Design: SkB Architects
WSECU Plaza in Seattle, State of Washington
June 10, 2020
Kayak Point House, Stanwood, Snohomish County
Architects: Christopher Wright Architecture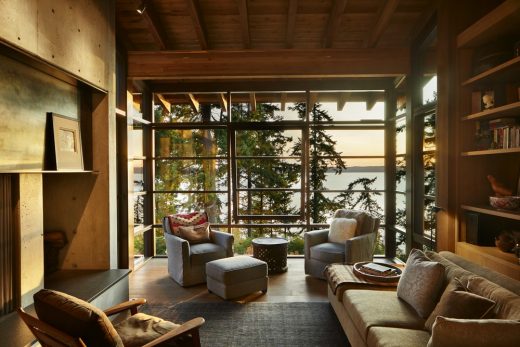 photo © Benjamin Benschneider
Kayak Point House in Stanwood
A Bridge on Land, this modern Washington home is nestled lightly between trees on the coast Christopher Wright Architecture created a gem grounded in nature to last generations.
May 12, 2020
The Klotski, Ballard neighborhood, Seattle
Design: Graham Baba Architects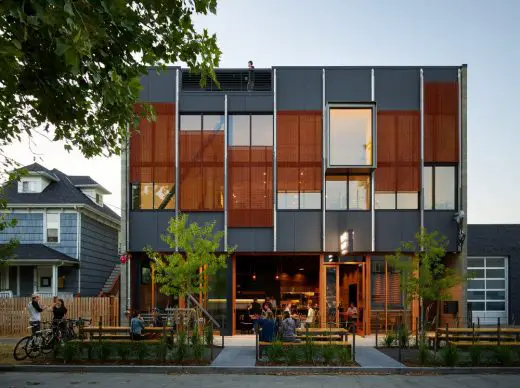 photograph © Kevin Scott
The Klotski Building
A three-story, mixed-use infill building close to downtown: the area is noted for its dynamic mix of commercial, manufacturing, and residential uses.
May 5, 2020
Little House, Seabeck, Kitsap County
Architects: mwworks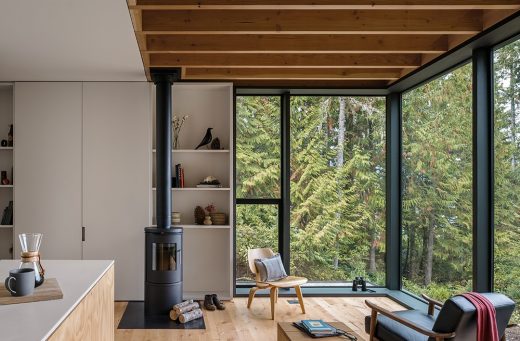 photograph : Andrew Pogue
Little House in Seabeck, Washington State
The simple form is abstracted against the forest—a stark exterior contrasting a warm bright interior. The owners live full time in Houston, Texas but have shared many summers with family at a nearby property outside Seabeck. They loved the wildness of the southern Canal and imagined a small retreat here of their own.
Apr 15, 2020
Portage Bay Residence, Portage Bay, Seattle
Design: Heliotrope Architects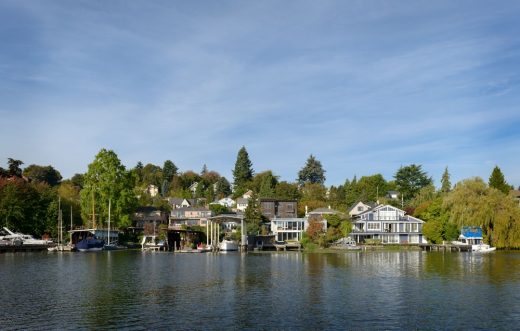 photograph : Aaron Leitz
Portage Bay Residence
Tucked into a small city lot along the water's edge, this residence was designed to live like a studio loft for a bachelor who values privacy, a central location to reside in the city, and a convenient spot to park the float plane.
Nov 1, 2019
Providence Academy Renewal, Vancouver
Design: SERA Architects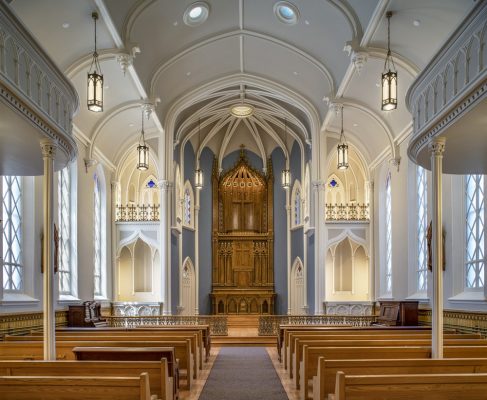 photography : EEckert & Eckert Photography
Providence Academy Building Renewal
One of the most historically significant structures in the Pacific Northwest, Providence Academy is nearly 150 years old.
Oct 23, 2019
Big Pine Retreat, Mazama, Methow Valley
Design: Prentiss + Balance + Wickline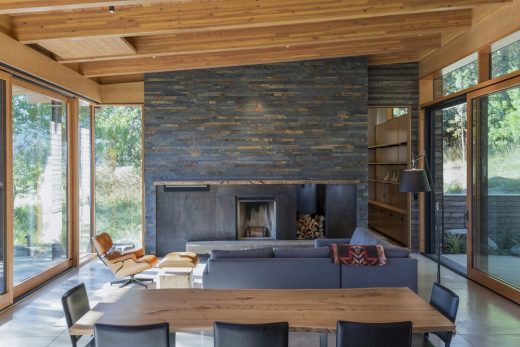 photography : Eirik Johnson
Residence in Mazama, WA
This property is nestled into a sloping site that is reigned over by a large, six-foot-diameter Ponderosa pine tree. The 2,500 square foot house is set at the edge of the meadow, taking advantage of the sweeping views of the Valley and North Cascades mountain range beyond.
Oct 15, 2019
Everett Grand Avenue Pedestrian Bridge, Everett
Design: LMN Architects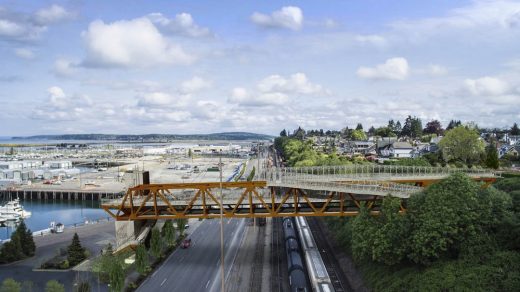 image Courtesy LMN Architects
Construction Photography : Adam Hunter/LMN Architects
Everett Grand Avenue Pedestrian Bridge
LMN Architects celebrate the design and construction of the new Everett Grand Avenue Pedestrian Bridge in Everett, Washington. The bridge is a unique piece of public infrastructure that will provide a vital new link between the city of Everett to its growing waterfront district.
Mar 4, 2019
Langley's Second Street on Whidbey Island revitalized by Framework and team
We share with you the revitalization of Second Street in downtown Langley, WA on Whidbey Island, a project designed by Seattle-based Framework Cultural Peacemaking in collaboration with KPG and the City of Langley.
Langley is a city in Island County, on the south end of Whidbey Island, overlooking the Saratoga Passage.
Aided by intensive community collaboration, Framework and team produced a design strategy that integrates art, landscape, civic buildings, stores, and a web of narrow pedestrian routes that connect the town, strengthening community and business simultaneously.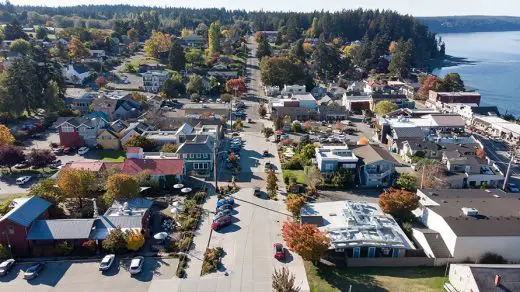 Photos by Harley Pan
The Second Street project highlights Framework's unique combination of expertise in parking, design, the arts, economic development, and community building through public spaces. The Second Street project started as a project to rebuild 100-year old infrastructure and resulted in twice as much public space for people.
How was this done? By eliminating 13 parking spaces and with strong public support. A parking study was completed a year in advance of the project design to inform community decision-making about how to allocate space in the public right-of-way. When provided information and visualizations on the trade-offs between parking and public space the community chose public space.
Framework has a national parking and mobility practice focused on supporting thriving Downtown's, Urban Districts, Neighborhoods and access to recreation areas. Current Framework clients include the Tahoe Transportation District in Lake Tahoe, Redmond, WA, Charleston, SC, Columbus, OH and soon to be Oklahoma City, OK. Please see the additional text below on Second Street Plaza.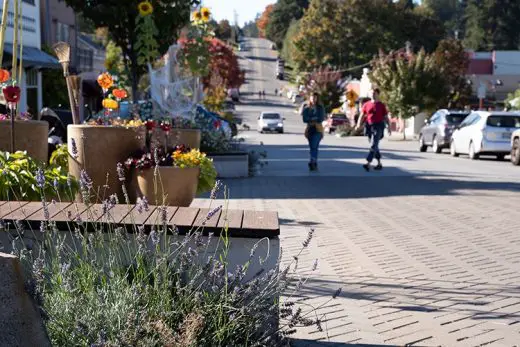 Photography: Harley Pan
The Second Street Plaza was also a recipient of the APA Great Places in Washington Award this past fall in the Small scale category.
Second Street Plaza
Langley, WA
The Second Street Plaza was developed as part of the adaptive reuse of the former Langley Fire Station and the redevelopment of Second Street. The plaza is connected to pedestrian alleys that provide linkages to First Street to the North and Third Street to the South. The former Langley Fire Station building is current used for a glass art studio + retail shop that spills out into the plaza and increase activity at the plaza. Landscaping is designed and maintained by the Langley Main Street Program.
The plaza is very active on a typical day from the active retail and restaurant uses on Second Street and human-scaled design elements that invite people to linger. Fixed seat walls define the plaza space from the vehicular travel lanes and protect the landscaping and rotating public art installations. The plaza also features moveable tables, chairs, and umbrellas, large planters, artistic and programmable LED lighting on the seat walls, decorative paving, and pedestrian way-finding medallions.
May 12, 2017
Charles Smith Wines Jet City, 1136 S Albro Pl, Seattle, WA 98108
Design: Olson Kundig Architects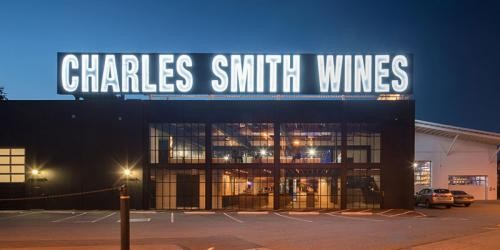 photograph : Kevin Scott and Nic Lehoux
Winery Building in Washington
Aug 12, 2013
Washington State University Visitor Center
Design: Olson Kundig Architects



image from architect
Washington State University Visitor Center
Construction is underway on the new Washington State University visitor center designed by the design-build team, Olson Kundig Architects and Sellen Construction. Located on the west edge of the WSU campus in Pullman, Washington, the 4,277 square-foot visitor center will provide visitor information and orientation to WSU and the Palouse region, an overview of student culture and alumni history, and an introduction to university research activities.
Oct 15, 2012
Seattle Olympic Sculpture Park
Design: Weiss/Manfredi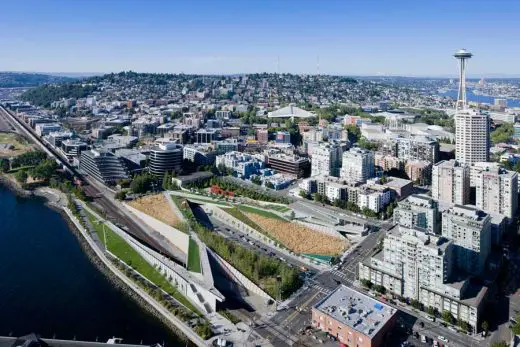 photograph © Iwan Baan
Seattle Olympic Sculpture Park
The Olympic Sculpture Park has transformed a nine-acre industrial site into open and vibrant green space for art. This new waterfront park gives Seattle residents and visitors the opportunity to experience a variety of sculpture in an outdoor setting, while enjoying the incredible views and beauty of the Olympic Mountains and Puget Sound.
Washington Building – Latest Design
Washington Architecture arranged chronologically:
May 29, 2013
Pine Forest Cabin, Winthrop, Okanogan County, north Washington
Design: Balance Associates Architects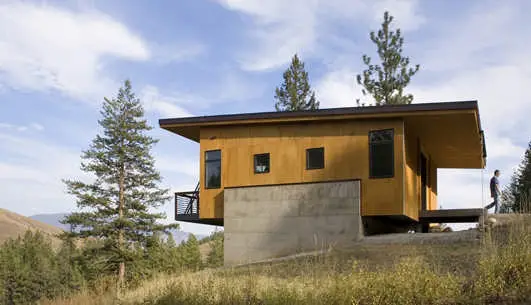 photo : Steve Keating Photography
Pine Forest Cabin
In order to meet the client's budget goals, an efficient plan and cost effective selection of building materials reduced construction costs and led to the simple box design. The use of sheet materials both inside and out maximized material efficiency while emphasizing the simplicity of the cabin's form.
May 27, 2013
Capitol Hill Residence, Seattle, north west Washington
Design: Balance Associates Architects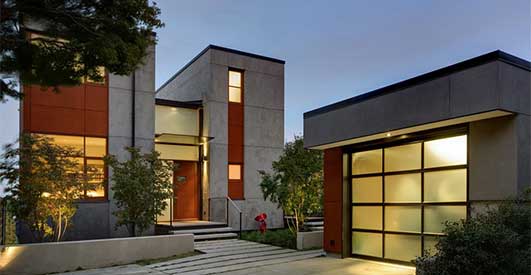 photo : Steve Keating Photography
Capitol Hill Residence
With a compact form and several integrated sustainable systems, this residence achieves the client's goals to maximize the site's views and resources while responding to its microclimate. The roof rainwater collects into a steel entry water feature, day light penetrates deep into the house through a central translucent slot, and exterior mounted mechanical shades can prevent excessive heat gain.
May 25, 2012
Foss Waterway Seaport, Tacoma, north west Washington
Olson Kundig Architects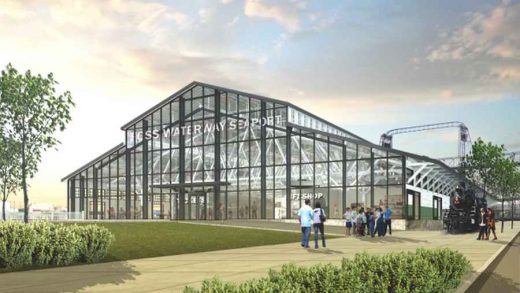 image from architects
Foss Waterway Seaport
Work starts on the historic rehabilitation and adaptive re-use of the Foss Waterway Seaport, Puget Sound's premier maritime heritage, education and recreation center. When building rehabilitation is completed, the new 45,000 sqft public facility will feature an expansive maritime heritage museum, compelling indoor program spaces, a heritage boat building shop and the "Discovery Wharf" children's learning center.
Feb 17, 2011
Bellevue Botanical Garden Buildings
Olson Kundig Architects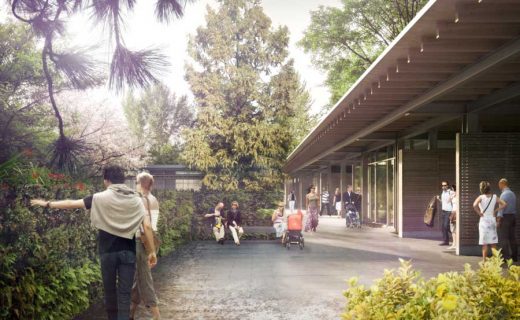 image © Olson Kundig Architects
Bellevue Botanical Garden Building
Washington State Architecture
We've selected what we feel are the key examples of Washington Buildings, USA. We cover completed Washington buildings, new building designs, architectural exhibitions and architecture competitions across the state.
Major Washington Building Designs, alphabetical:
Cedar Park House, Seattle
Peter Cohan, Architect
Cedar Park House
East of Market House, Seattle
COOP15 Architects
East of Market House
First & McGraw, Seattle
COOP15 Architects
First & McGraw
House in the Trees, Preston
COOP15 Architects
House in the Trees
L2Q House, Seattle
Peter Cohan, Architect
L2Q House
Lightcatcher Building, Bellingham
Olson Kundig Architects
Lightcatcher Building, Whatcom County
Medina Pool House Pavilion
COOP15 Architects
Medina House
Mercer Island House, King County
COOP15 Architects
Mercer Island House
St Ignatius Church, Seattle
Design: Steven Holl Architects
St Ignatius Chapel
Seattle Civic Center
Foster + Partners
Seattle Civic Square
Seattle Public Library
Rem Koolhaas Architect / OMA
Seattle Public Library
Wing Luke Asian Museum, Seattle
Olson Sundberg Kundig Allen Architects
Wing Luke Asian Museum building
More Washington Buildings online soon
Major Washington Building Developments, no images, alphabetical:
Bellevue Art Museum, Bellevue, west Washington
1997
Design: Steven Holl Architects
Delta Shelter, Mazama, north Washington
2003
Tom Kundig Architect
Escala, Seattle
2006
MulvannyG2 Architecture
Experience Music Project, Seattle
–
Gehry Partners
Greater Tacoma Convention & Trade Center, Tacoma, west Washington
2006
MulvannyG2 Architecture
Olive 8, Seattle
2006
MulvannyG2 Architecture with Gluckman Mayner Architects
The Olympic Sculpture Park, Seattle Art Museum
2007
Weiss Manfredi Architects
School of Business – University of Washington, Seattle
2007-10;12
LMN Architects
Seattle Art Museum
–
Venturi, Scott Brown & Associates
Seattle Grand Hyatt Hotel
–
MulvannyG2 Architecture
Studio House, Seattle
1998
Tom Kundig Architect
"The Brain" Studio, Seattle
2001
Tom Kundig Architect
The Hotrod House, Seattle
2006
Tom Kundig Architect
More Washington Building Designs online soon
Location: Washington State, USA
Developments in neighbouring States to Washington
Washington architects – Tom Kundig : Olson Sundberg Kundig Allen
Comments / photos for the Washington Architecture page welcome