University of California San Diego Housing, CA higher education residential building, US architecture, Architect, Image
San Diego Housing : North Campus Building
Californian Educational Development design by Carrier Johnson + CULTURE, USA
Sep 25, 2008
Design: Carrier Johnson + CULTURE
Strategic Design Firm Carrier Johnson + CULTURE Beats Competition for New North Campus Housing at University of California, San Diego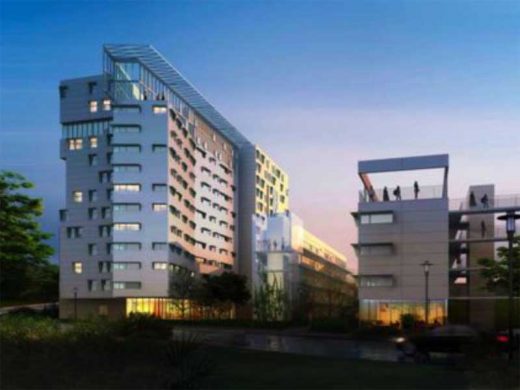 Along with a neighboring building, the new housing project will create a "gateway" to the campus.
University of California Housing
SAN DIEGO, September 25, 2008 – Carrier Johnson + CULTURE, a national leader in strategic design and environmentally sustainable architecture, is designing the building complex for the new North Campus Housing at University of California, San Diego. The university selected the firm's master plan from several designs submitted by nationally renowned architectural firms, in a competition to determine the most suitable design for the university's re-branding strategy. Carrier Johnson + CULTURE is teamed with Clark Design/Build of California, to deliver the project under a design-build contract.
Part of a $500 million, 3,400-bed housing expansion, the North Campus Housing project will house 801 students. The addition of this building will help to house incoming students transferring colleges. The new building will also stand as a major example of Carrier Johnson + CULTURE's unique approach to design, integrating architecture, interiors, and brand identity, which the firm refers to as "experiential branding." The design firm's approach will infuse every aspect of the residential building, including its overall concept, signage, and details such as furnishings and color choices. The approach is intended to benefit the students who use and enjoy the spaces, while also creating an iconic space and image for the university.
According to Mark Cunningham, Executive Director of Housing, Dining and Hospitality Services for University of California, San Diego, "The university is interested in creating an on-campus environment for students that is more than just a convenience." He added that Carrier Johnson + CULTURE's design represents student housing that is "more of a neighborhood, and a home." In this way, Cunningham explained, the university hopes to create an environment for students that is highly desirable, and offers an alternative to off-campus housing.
The San Diego-based design firm will also bring to bear its extensive experience in "green building," creating an energy-efficient and highly sustainable multiple-use complex. The university hopes to attain LEED Certification for the complex, a rating of environmental features created by the U.S. Green Building Council. According to school officials, the new project aspires to a rating as high as LEED Silver or LEED Gold.
A "branded village"
Known for institutional, government and private-sector successes, Carrier Johnson + CULTURE is one of few national firms focused on the delivery of fully integrated design in its architectural projects. While a six-building, multi-use complex would typically involve the talents of several design firms—each separately designing elements such as architecture, planning, graphics, wayfinding, interior design and furnishings—in this case University of California, San Diego selected the design by Carrier Johnson + CULTURE based on the firm's plan to create every design aspect under one roof.
The school had initially requested designs that might capture the spirit of San Diego's Little Italy, the recent redevelopment of which has been viewed as highly successful. According to Cunningham, "The students who will live in this complex are transfer students, mostly 20 to 21 years old, who might normally opt for off-campus housing. We wanted these students to see the North Campus as a great place to live: stylish, comfortable, convenient – and maybe with a great view."
David Gonzalez, Carrier Johnson + CULTURE's lead designer for the project, expanded on the idea: rather than replicating Little Italy, the new housing would benefit from an "urban village" approach. The resulting master plan calls for a marketplace building called The Strand to serve as the center of village life—with a café, market, meeting and study spaces, administrative offices, vending and laundry services— around which are placed the residential buildings, all of which are connected to The Strand by footpaths through green spaces. Housing so many aspects of student life, The Strand will draw students naturally in, creating a new and magnetic space for interaction within the community.
Gonzalez also considered the spaces surrounding the new complex, and how they might affect his own design. In the next lot over, for instance, there would be a 14- story residence tower adjacent to the road where traffic typically enters the campus from the North. "We proposed a plan with a 12-story tower, which along with the neighboring tower across the street, would create a new gateway to the university," says Gonzalez. "We hope to create an iconic entrance which the students and the university can both enjoy and be proud of."
The sustainable approach
For its new housing projects, the University of California, San Diego will apply its own strict standards for green building and clean air. Following this initiative, the North Campus Housing project will be very environmentally friendly, but without sacrificing the stylishness and comfort sought for the occupying students.
"Natural light and wind infiltration were central design considerations for the creation of energy efficient buildings," says Gonzalez of the firm's North Campus Housing Master Plan. Strategies like these are incorporated into the plan in order to minimize use of electric lighting and cooling systems, thus decreasing the carbon footprint of the complex, as well as reducing the costs associated with powering and maintaining it.
Of the solar panels that are integrated into many of the planned roofs and which will provide thermal energy for heating and hot water, Cunningham speaks highly: "They've worked them into the design in such a way that the observer won't see piles of panels sticking out from the rooftops. Instead they are seamlessly integrated into the building designs. The result is striking, even beautiful."
Construction will begin in March 2009, with the opening scheduled for 2011.
University of California San Diego Housing building by Carrier Johnson + CULTURE information from CC Sullivan 250908
Location: University of California, CA, United States of America
Architecture in San Diego
Contemporary San Diego Buildings
The Rady Shell at Jacobs Park, Embarcadero, San Diego waterfront
Design: Tucker Sadler Architects ; performance shell design: Soundforms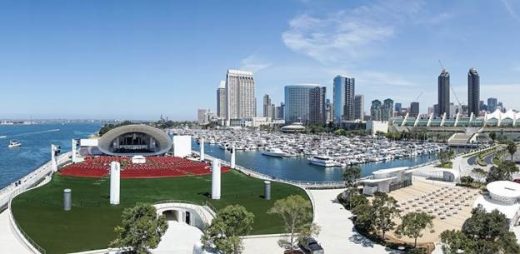 image courtesy of architects practice
The Rady Shell at Jacobs Park
Amenities Building at the Pacific Center Campus Development
Design: BNIM architects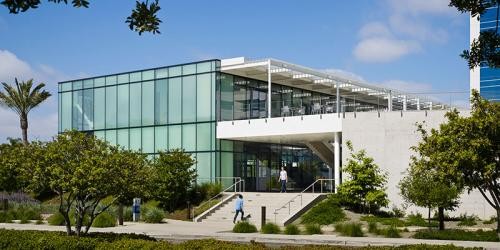 photograph : Nick Merrick, Hedrich Blessing
Pacific Center Campus Amenities Building
PETCO Park Ballpark, Park Boulevard, East Village
Design: Populous, architects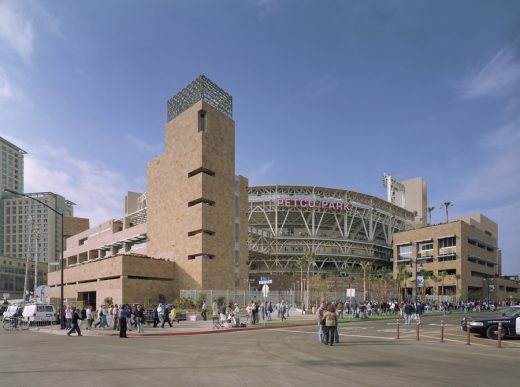 picture courtesy of architects office
PETCO Park Ballpark Building
BRIC IHG Hotel San Diego Bay
Design: John Portman & Associates, Architects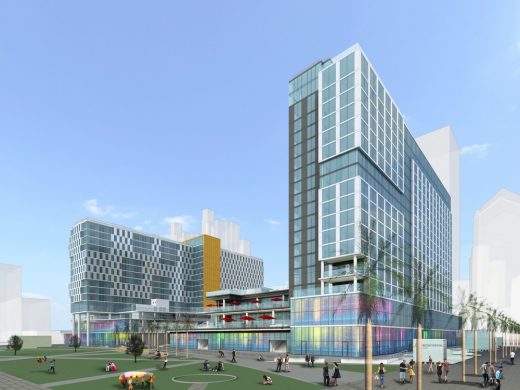 picture courtesy of architects office
BRIC IHG Hotel San Diego Bay
BRIC Marriott Hotel San Diego Bay Building
Design: John Portman & Associates, Architects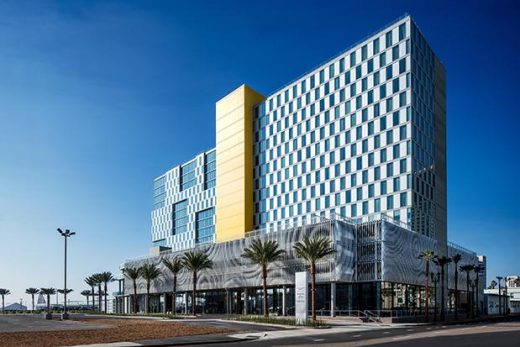 image from architect
BRIC Marriott Hotel San Diego Bay
US Fish and Wildlife Service Administrative Headquarters
Design: Line and Space



photo : Mike Torrey
San Diego National Wildlife Refuge Building
San Diego Coronado Bridge Lighting Competition



image from Peter Fink / FoRM Associates
San Diego Coronado Bridge Lighting
About Carrier Johnson + CULTURE
Carrier Johnson + CULTURE reflects a new wave in the practice of architecture and strategic design, reinventing a model for the future. As a full-service architectural consulting practice, Carrier Johnson + CULTURE works in partnership with clients to provide innovative building, living, and communications solutions with a commitment to strategic and sustainable design.
Classroom Building University of California Santa Barbara
Architecture in California
Los Angeles Architecture Designs
Comments / photos for the University of California San Diego Housing Architecture page welcome