Architect Offices, Famous Architects, Designers, Practice, Info, Offices, List
Global Architecture Offices : Key Practices
Celebrated Building Designers listed by Studio
World Architects – alphabetical
Architect Offices R-S (this page)
Contemporary Architects : R-S
This page contains a selection of major architects, with links to individual practice pages. We've selected what we feel are the key architects in the world. The focus is on contemporary architects but information on key traditional architecture studios is also welcome.
Architects listed alphabetically for their surname


photograph : Miguel de Guzmán
R
Rafael de Lahoz Arquitectos
Rafael Moneo
Rafael Vinoly
Rafael Vinoly Architect
Raimund Abraham
Ralph Applebaum
Ralph Erskine
Randall Stout Architects
Randic-Turato Architects
Rapp + Rapp
RAU
ReardonSmith Architects
REC Arquitectura Y Construccion
Red Box Design
Reiach and Hall
REID Architecture [now 3dreid] Reiulf Ramstad
Reiulf Ramstad Architects
Rem Koolhaas
Rene van Zuuk
Rennie Mackintosh
Renzo Piano
Renzo Piano Building Workshop
REX Architecture
RH Partnership
RHWL
Ric Russell
Ricardo Bofill
Ricardo Bofill Architect
Ricardo Legoretta
Richard Griffiths
Richard Horden
Richard Meier
Richard Meier & Partners
Richard Morton Architects
Richard Murphy
Richard Neutra
Richard Rogers Buildings
Richard Rogers
Richard Seifert
Riches Hawley Mikhail Architects
Rick Mather
Riegler Riewe Architekten
Rigert Bisang Architekten
Riken Yamamoto & Fieldshop
Rintala Eggertsson Architects
RMJM
RMJM Architect Director
RMJM Architects
RMJM Director
RMJM Global Health Studio
RMJM Hillier
RMJM Hillier Architects
RMJM sports design studio
RO&AD
Robbrecht en Daem
Robert Adam
Robert Adam Architects
Robert D. Henry Architects
Robert Majkut
Robert Majkut Architect
Robert Mallet-Stevens
Robert Matthew
Robin Monotti Architects
Robert Smirke
Robert A.M. Stern Architects
Robinson McColl
Roche Dinkeloo
Rockwell Group
Rogers Stirk Harbour Partners
Rojkind arquitectos
Roland Castro Sophie Denissof
Rolfe Judd
Ron Arad
Ron Arad Architect
Ronald Lu and Partners
RoTo Architects
Rottet Studio
Royal Haskoning
RTA-Office
RTKL
Rudolf Schindler
Rüdiger Lainer + Partner
RUR Architecture
rural design Skye
RVDM Arquitectos
Ryder
S
S & P Architects
STAR strategies + architecture
S333
SAA Architects
Sadar Vuga Arhitekti
Safdie Architects
Sakellaridou + Papanikolaou Architects
Samoo
Samuel A. Budiono & Associates
SANAA
SANAA architects
Sanjay Puri
sanzpont [arquitectura]
Santiago Calatrava
Santiago Calatrava Architect
Santiago Calatrava Architecture
SAOTA Architects
Sarah Wigglesworth Architects
SAREA Alain Sarfati Architecture
Saucier Perrotte
Saucier Perrotte Architectes
sauerbruch hutton architects
sauerbruch hutton architektur
schmidt hammer lassen
schmidt hammer lassen architects
schmidt hammer lassen Book
schmidt hammer lassen Chairs
Scott Tallon Walker
SE.Arch
Sean Godsell
Sebastian Irarrazaval
selgascano
Serero Architectes
Serge Chermayeff
Sergison Bates
Serrano Monjaraz Arquitectos
SH-DSD
Shahira H. Fahmy Architects
Shay Cleary
shedkm
Sheppard Robson
Sheppard Robson Architects
Shigeru Ban
SHoP Architects
Short and Associates
Shreve, Lamb & Harmon Associates
Shuhei Endo
Sidell Gibson
Sigurd Lewerentz
Simon Conder
Simpson & Brown
SimpsonHaugh and Partners
SJB Architects
Sjölander da Cruz Architects
SKAARA Architects
Skidmore, Owings & Merrill
SLA Landscape Architecture
Slade Architecture
SMC Alsop
SMC Group [now Archial] Snell Associates
Snohetta
Snohetta architects
so architecture
SO – IL
Söhne & Partners
softroom architects
Solomon Cordwell Buenz
SOM Architects
SOMA Architects
soma architecture
Soriano Palacios
Sou Fujimoto
Space Craft
Space Group
Sparch
Spark
Speirs & Major
Spratley & Partners
Squire & Partners
Squire and Partners London
Stanley Tigerman
Stanton Williams
Stanton Williams Architects
Steffian Bradley Architects
Steidle + Partner
Stephan Braunfels
Stephen Hodder
Stephen Taylor Architects
Stephenson Bell
Steven Holl
Steven Holl Architects
Stevens Lawson Architects
Stirling Wilford
Stockwool
Stride Treglown Architects
Studio Arthur Casas
Studio BAAD
Studio Bednarski
Studio Daniel Libeskind
Studio Downie
studio DuB
Studio E
Studio Egret West
Studio Gang
Studio Gang Architects
Studio Granda
Studio KAP
Studio Milou Architecture
Studio MK27
Studio Nicoletti Associati
studio noa
studio octopi
Studio Pali Fekete
Studio Pei-Zhu
Studio RHE
Studio Seilern Architects
Studio ST
studioUap
Studioninedots architects
Sunlay Design
Superstudio
surface architects
Sutherland Hussey Architects
Sverre Fehn
Swanke Hayden Connell
Swanke Hayden Connell Shanghai
Sybarite
Sydney Mitchell
Szyszkowitz+Kowalski
More world architect offices online soon at e-architect
Architects : geographical / alphabetical / historical
Some more information about some these key architecture practices above:
José Rafael Moneo
Auditori de Barcelona: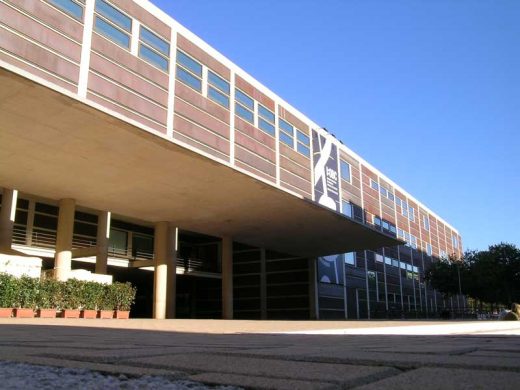 photo © Thomas Boczko
This Spanish Architect won the RIBA Gold Medal 2003, and worked for architect Jorn Utzon for 2 years. He was born in 1937, in Tudela, south of Pamplona, Navarra, Spain.
Key Buildings designed by Rafael Moneo include Cathedral of Our Lady of the Angels, Los Angeles, California, USA, 2002, the Town Hall in Murcia, Spain 1998, and the Museum of Roman Art, Mérida, Spain 1985.
Major architecture awards won by Moneo include the Pritzker Architecture Prize in 1996, and the RIBA Gold Medal in 2003.
Comments for the World Architecture Practices page welcome. Additions are always considered.