Shigeru Ban Architect, Japan Buildings Projects, Houses, Office, Japanese Design Studio News
Shigeru Ban Architect : Architecture
Contemporary Japanese Architectural Practice – Tokyo Design Studio
post updated 12 March 2023
Shigeru Ban News
22 Mar 2022
Zenbo Seinei, Awaji Island, Japan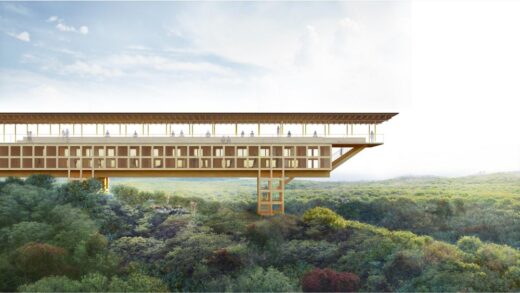 image courtesy of architects practice
Zenbo Seinei, Awaji Island Retreat & Restaurant
Awajishima Resort Inc. (Headquarters: Awaji City, Hyogo Prefecture, President: Yukari Ohinata) will open Zenbo Seinei, a Zen meditation retreat and restaurant, in the spring of 2022 in the northern part of Awaji Island, Hyogo Prefecture. In recent years, the spread of Covid-19 and the resulting restrictions on various activities, as well as rapid changes in the business landscape, have led to major shifts in people's attitudes and values towards life and work.
12 Feb 2016
Shigeru Ban Talk
Shigeru Ban to speak at RIBA – his first UK talk in seven years
Tuesday, 23 February 2016 from 19:00 to 20:40 at RIBA HQ, 66 Portland Place, London, UK
In partnership with the Japan Foundation, the RIBA is proud to host a lecture by the 2014 Pritzker Prize Laureate Shigeru Ban on Tuesday 23 February. Speaking for the first time in the UK for seven years, Shigeru Ban will discuss his work with disaster relief projects through the Voluntary Architects' Network (VAN), an NGO established by the architect in 1995. He will also talk about his other projects worldwide.
Housing for 2015 Nepal earthquake victims by architect Shigeru Ban: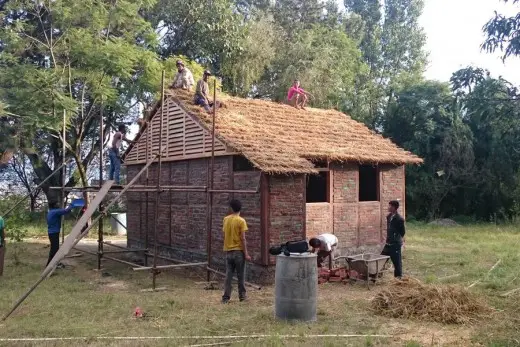 image © Shigeru Ban, Voluntary Architects' Network
Shigeru Ban's 2015 Nepal Project is currently on display in the Creation from Catastrophe: How Architects Rebuild Communities exhibition at the RIBA Architecture Gallery. The project demonstrates Ban's unique approach to rebuilding after disasters, using sustainable and vernacular building techniques and materials such as paper tubes, bamboo and brick rubble.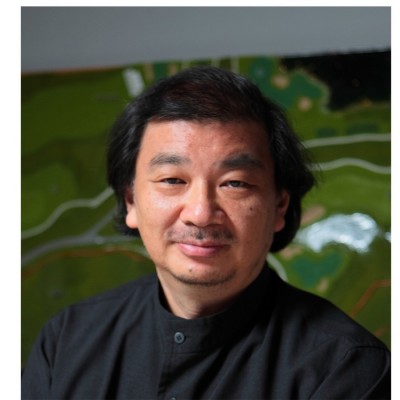 portrait photo of the architect
Born in Tokyo in 1957, Shigeru Ban graduated from the Cooper Union and started working for Arata Isozaki & Associates in 1982. He founded Shigeru Ban Architects in 1985 and became consultant to the United Nations High Commissioner for Refugees (UNHCR) in 1995.
To book tickets for Shigeru Ban's talk at RIBA (£12 full price, £10 RIBA Members and students):
http://www.architecture.com/WhatsOn/Feb2016/InternationalDialogues-ShigeruBan.aspx
For further information about the Creation from Catastrophe exhibition go to: http://www.architecture.com/Explore/ExhibitionsandEvents/CreationFromCatastrophe/CreationFromCatastrophe.aspx
24 Mar 2014
Shigeru Ban Wins Pritzker Architecture Prize 2014
Shigeru Ban is the 2014 Pritzker Architecture Prize Laureate
A key building designed by this architect – Centre Pompidou-Metz in France: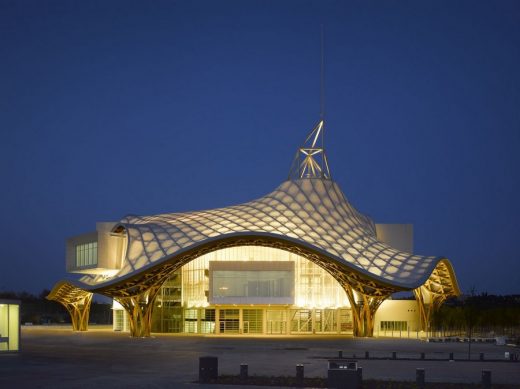 photograph : Roland Halbe
Jury Citation
Since its establishment thirty-five years ago, the goal of the Pritzker Architecture Prize is to recognize living architects for excellence in built work and who make a significant and consistent contribution to humanity.
Curtain Wall House, 1995, Tokyo, Japan: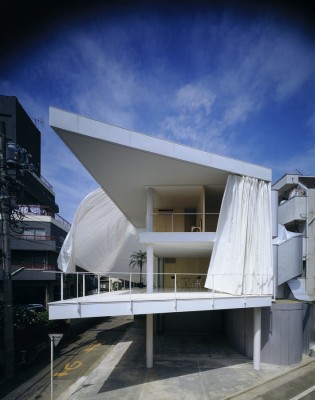 photograph : Hiroyuki Hirai
Shigeru Ban, the 2014 laureate, reflects this spirit of the prize to the fullest. He is an outstanding architect who, for twenty years, has been responding with creativity and high quality design to extreme situations caused by devastating natural disasters. His buildings provide shelter, community centers, and spiritual places for those who have suffered tremendous loss and destruction. When tragedy strikes, he is often there from the beginning, as in Rwanda, Turkey, India, China, Italy, and Haiti, and his home country of Japan, among others.
Paper Church, 1995, Kobe, Japan:


photograph : Hiroyuki Hirai
Paper Concert Hall, 2011, L'Aquila, Italy: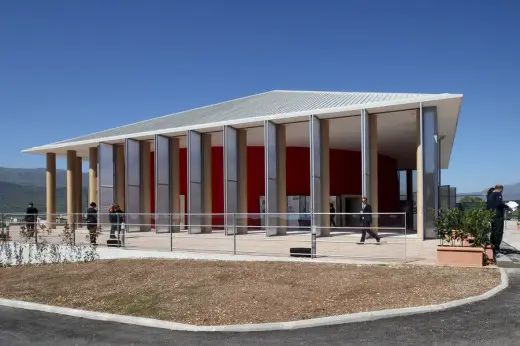 photograph : Fabio Mantovani
Cardboard Cathedral, 2013, Christchurch, New Zealand: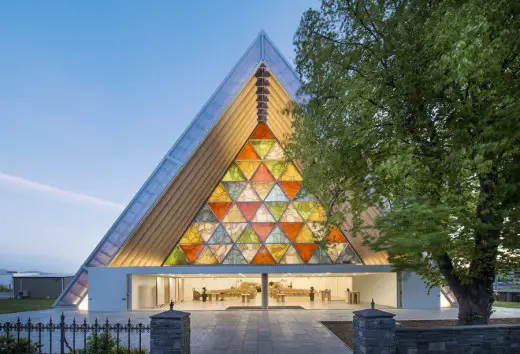 photograph : Stephen Goodenough
Haesley Nine Bridges Golf Club House, 2010, Korea: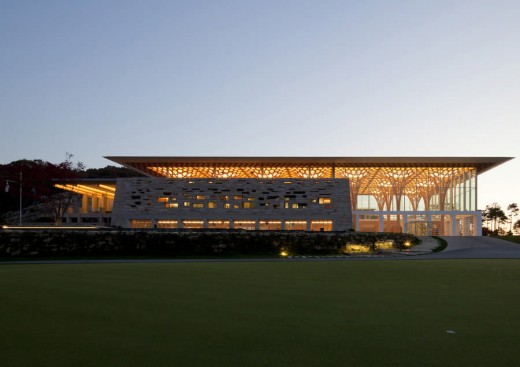 photograph : Hiroyuki Hirai
Paper Temporary Studio, 2004, Paris, France: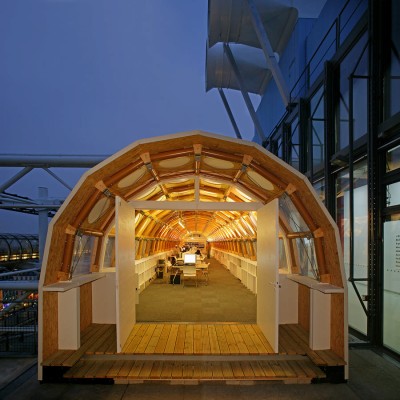 photograph : Didier Boy dela Tour
Wall-Less House, 1997, Nagano, Japan: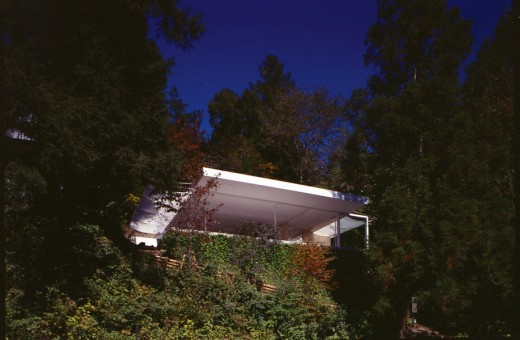 photograph : Hiroyuki Hirai
His creative approach and innovation, especially related to building materials and structures, not merely good intentions, are present in all his works. Through excellent design, in response to pressing challenges, Shigeru Ban has expanded the role of the profession; he has made a place at the table for architects to participate in the dialogue with governments and public agencies, philanthropists, and the affected communities. His sense of responsibility and positive action to create architecture of quality to serve society´s needs, combined with his original approach to these humanitarian challenges, make this year´s winner an exemplary professional.
Nicolas G. Hayek Center, 2007, Tokyo, Japan: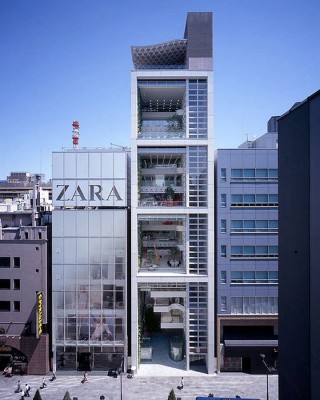 photograph : Hiroyuki Hirai
The recipient has an exceptionally wide-ranging career. Since founding his first office in Tokyo in 1985 and later expanding to New York and Paris, he has undertaken projects that range from minimal dwellings, experimental houses and housing, to museums, exhibition pavilions, conference and concert venues, and office buildings.
Nine-Square Grid House, 1997, Kanagawa, Japan: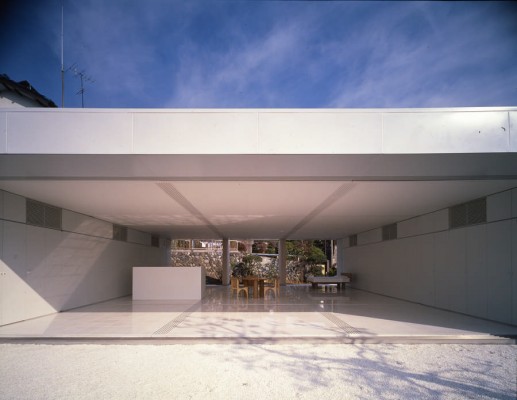 photograph : Hiroyuki Hirai
An underpinning uniting much of his built work is his experimental approach. He has expanded the architectural field regarding not only the problems and challenges he tackles, but also regarding the tools and techniques to deal with them. He is able to see in standard components and common materials, such as paper tubes, packing materials or shipping containers, opportunities to use them in new ways. He is especially known for his structural innovations and the creative use of unconventional materials like bamboo, fabric, paper, and composites of recycled paper fiber and plastics.
Japan Pavilion, Expo 2000 Hannover, 2000, Germany: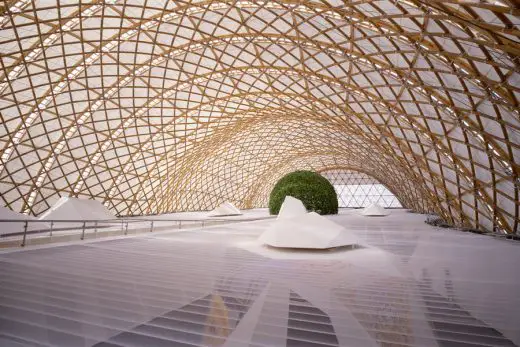 photograph : Hiroyuki Hirai
Paper Concert Hall, 2011, L'Aquila, Italy: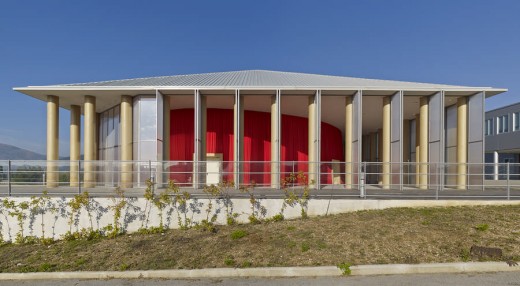 photograph : Didier Boy de la Tour
Naked House, 2000, Saitama, Japan: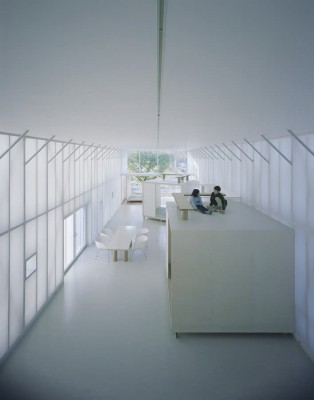 photograph : Hiroyuki Hirai
Metal Shutter House, 2010, New York, USA: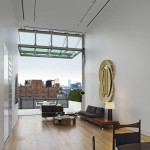 photograph : Michael Moran
Furniture House 1, 1995, Yamanashi, Japan: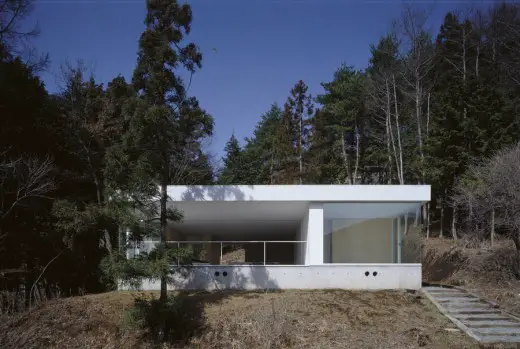 photograph : Hiroyuki Hirai
Kirinda House, 2007, Kirinda, Sri Lanka: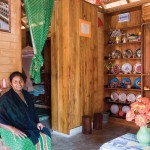 photograph : Dominic Sanson
Hualin Temporary Elementary School, 2008, Chengdu, China: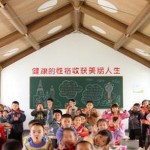 photograph : Li Jun
In Naked House, he was able to question the traditional notion of rooms and consequently domestic life, and simultaneously create a translucent, almost magical atmosphere. This was done with modest means: walls externally clad in clear corrugated plastic and sections of white acrylic stretched internally across a timber frame. This sophisticated layered composition of ordinary materials used in a natural and efficient way, provides comfort, efficient environmental performance and simultaneously a sensual quality of light.
House of Double-Roof, 1993, Yamanashi, Japan: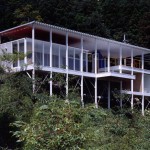 photograph : Hiroyuki Hirai
Tamedia Building, 2013, Zurich, Switzerland: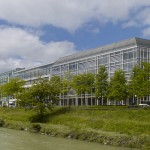 photograph : Didier Boy de la Tour
Container Temporary Housing, 2011, Onagawa, Miyagi, Japan: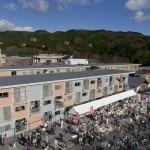 photograph : Hiroyuki Hirai
His own studio, atop a terrace at the Pompidou Center in Paris for the six years he was working on the museum project for Metz, was built using cardboard tubes and a membrane covering the arched roof. He has also used transportation containers as ready-made elements in museum construction. His body of work is proof of his ability to add value through design. Further new conceptual and structural ideas were developed and can be seen in PC Pile House, House of Double Roof, Furniture House, Wall-less House, and Nine-Square Grid House.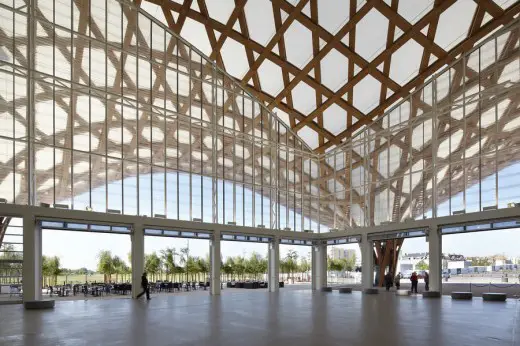 photograph : Didier Boy de la Tour
Another theme that runs through his work is the spatial continuity between interior and exterior spaces. In Curtain Wall House, he uses tent-like movable curtains to easily link interior and exterior, yet provide privacy when needed. The fourteen-story Nicolas G. Hayek Center in Tokyo is covered with glass shutters on front and back facades that can be fully opened.
PC Pile House, 1992, Shizuoka, Japan: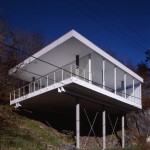 photograph : Hiroyuki Hirai
Paper Log House, 2001, Bhuj, India: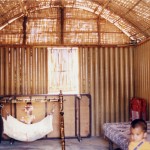 photograph : Kartikeya Shodhan
For Shigeru Ban, sustainability is not a concept to add on after the fact; rather, it is intrinsic to architecture. His works strive for appropriate products and systems that are in concert with the environment and the specific context, using renewable and locally produced materials, whenever possible. Just one example is his newly opened Tamedia office building in Zurich, which uses an interlocking timber structural system, completely devoid of joint hardware and glue.
Paper Refugee Shelters for Rwanda, 1999, Byumba Refugee Camp, Rwanda: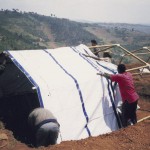 photograph : Shigeru Ban Architects
Paper Log House, 2001, Bhuj, India: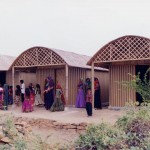 photograph : Kartikeya Shodhan
Paper Log House, 1995, Kobe, Japan: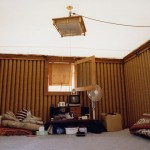 photograph : Hiroyuki Hirai
His great knowledge of structure and his appreciation for such masters as Mies van der Rohe and Frei Otto have contributed to the development and clarity of his buildings. His own architecture is direct and honest. However, it is never ordinary, and each new project has an inspired freshness about it.
Paper Log House, 2000, Turkey: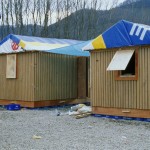 photograph : Shigeru Ban Architects
The elegant simplicity and apparent effortlessness of his works are really the result of years of practice and a love for building. Above all, his respect for the people who inhabit his buildings, whether victims of natural disaster or private clients or the public, is always revealed through his thoughtful approach, functional plans, carefully selected appropriate materials, and the richness of spaces he creates.
Paper Partition System 4, 2011, Japan: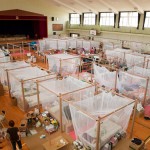 photograph : Voluntary Architects' Network
Shigeru Ban is a tireless architect whose work exudes optimism. Where others may see insurmountable challenges, Ban sees a call to action. Where others might take a tested path, he sees the opportunity to innovate. He is a committed teacher who is not only a role model for younger generations, but also an inspiration.
Paper Emergency Shelter for Haiti, 2010, Port-au-Prince, Haiti: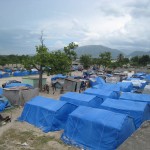 photograph : Shigeru Ban Architects
For all these reasons, Shigeru Ban is the 2014 Pritzker Architecture Prize Laureate.
Shigeru Ban – News
Architecture News – latest from this celebrated Japanese architectural studio:
New Aspen Art Museum Building, Colorado, USA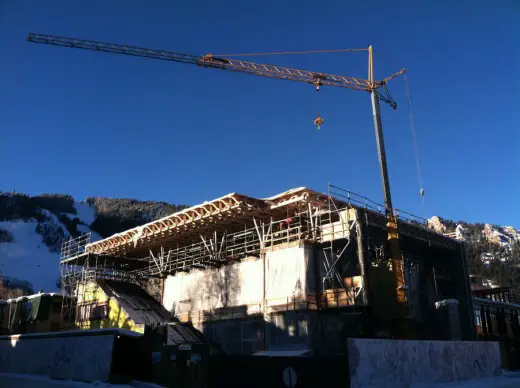 New Aspen Art Museum – 11 Jan 2014
The new facil­ity will be located at the cor­ner of South Spring Street and Hyman Avenue in down­town Aspen.
In 1979 the Aspen Art Museum opened its doors at the ren­o­vated Holy Cross Power Plant on the banks of the Roaring Fork River. For 33 years that facil­ity has served the mis­sion of the orga­ni­za­tion well, fos­ter­ing a pro­gram of art, dia­logue, and cre­ativ­ity that has grown into a major cul­tural insti­tu­tion serv­ing Aspen, the Roaring Fork Valley, the region, and the world.
Post-Tsunami Housing, Kirinda, Sri Lanka
Design: Shigeru Ban Architects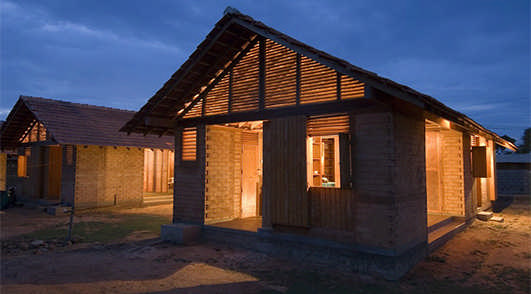 photo : Shu He
Post-Tsunami Housing – 1 May 2013
This project provides 100 houses in a Muslim fishing village, in the region of Tissamaharama, on the southeast coast of Sri Lanka, following the destruction caused by the 2004 tsunami.
Garage Gorky Park Temporary Structures, Moscow, Russia
Garage Center for Contemporary Culture exhibition 'Gorky Park: From Melnikov to Ban'



photo © Nikolai Zherkov
Garage Gorky Park Temporary Structures – 22 Oct 2012
Garage Center for Contemporary Culture presents a new exhibition entitled Temporary Structures in Gorky Park: From Melnikov to Ban from 20 October to 9 December 2012 in a newly created temporary pavilion in Moscow's Gorky Park, designed by Japanese architect Shigeru Ban.
Cardboard Cathedral
'Transitional' project by Shigeru Ban to build a cardboard cathedral in Christchurch, New Zealand, the location of the earthquake.
Zaha Hadid and Shigeru Ban will participate of the Arch.Future event
Rio de Janeiro hosts an event on contemporary architecture: the second edition of Arc.Future – a project developed by BEĨ. Two of the world's most respected architects, London-based Iraqi Zaha Hadid and Japan's Shigeru Ban, will be joining Harvard's Edward Glaeser and Princeton's José Alexandre Scheinkman, economists who study urban space, as well as Brazilian urbanists Augusto Ivan Pinheiro and Sérgio Magalhães, to exchange experiences and opinions.
Arq Futuro, Rio de Janeiro, Brazil – 28 Mar 2012
Latest Design by Shigeru Ban
The Metals Shutter Houses, Chelsea, New York City, USA
2011



photograph from NJ
Metals Shutter Houses Chelsea
Shigeru Ban Architects Completes Its First New York Condominium Project
HEEA Development LLC is pleased to announce the completion of Metal Shutter Houses, a luxury condominium building designed by architect Shigeru Ban and his New York-based partner Dean Maltz, located in Chelsea's art district, just west of the High Line. The building is at 524 West 19th Street, between 10th and 11th Avenues on New York's 'Starchitect Row'.
Major Project by Shigeru Ban
Most recent Building designed by Shigeru Ban
Centre Pompidou-Metz, France
2010



photo : Roland Halbe
Centre Pompidou-Metz
Rather unusual building, criticised by some architectural critics for being disjointed, especially the relationship of roof and walls
Buildings by Shigeru Ban
Shigeru Ban Designs listed alphabetically:
Boathouse, Pouilly-en-Auxois, France
2005
Centre Pompidou-Metz (Museum), Metz, France
2005-08
Shigeru Ban with Jean de Gasties & Gumuchdjian Architects
Glass Shutter house, Meguro district, Tokyo, Japan
2004
Metal Shutter Houses, New York, USA
2007
Swatch – Retail & Office Tower, Ginza, Tokyo, Japan
2007
14 storeys
Tokyo University Library, Japan
2007
Visitors' Pavilion, Centre d'Interprétation, Pouilly-en-Auxois, France
2007
More buildings by architect Shigeru Ban online soon
Location: Tokyo, Japan, eastern Asia
Shigeru Ban Practice Information
Architects studio based in Japan
Shigeru Ban was born in 1957 and is a graduate of the Cooper Union School of Architecture in New York. He set up Shigeru Ban Architects in Tokyo, in 1985. He is especially well-known for his innovative paper tube structures (PTS), of which the Paper House (Yamanashi – Japan, 1995) provides the perfect example.
Shigeru Ban is largely credited with making cardboard an accepted construction material. Another project of note that added to European renown for Shigeru Ban was his design for the Japanese stand at the 2000 Hanover Universal Exhibition: a 3,100 sq m building made entirely from paper tubes and which could be completely recycled after the event.
In a similar vein, Shigeru Ban built the Nomadic Museum, at the request of photographer Gregory Colbert for the Ashes and Snow exhibition. An ingenious assembly of containers and paper tubes, the museum was erected in New York in 2005, before making its way to Los Angeles and later Japan and Europe.
Shigeru Ban has contributed his ingenuity to humanitarian causes by designing temporary shelters. He has built paper tube houses for earthquake survivors in Japan (Kobe, 1995), Turkey (Izmit, 1999) and India (Bhuj, 2001).
The architect also worked with the United Nations Refugee Agency to provide temporary shelters for the victims of genocide in Rwanda. A totally different concept, the 2002 Picture Window House (Shizuoka) by Shigeru Ban is often cited as a masterpiece of transparent architecture. Overlooking the Pacific, the house stands inside a landscape of forest and ocean, with two enormous windows each measuring 20m long by 2.5 m high.
In 2004, architect Shigeru Ban was awarded the Gold Medal by the French Academy of Architecture.
Key Buildings by architect Shigeru Ban
Paper tube church, Kobe 1995
Tazawako Station, Akita 1997
GC Building, Osaka 2000
At­sushi Imai Gymnasium, Akita 2002
Museum of Paper Art, Shizuoka 2002
La Cité Manifeste, Mulhouse, France 2005
N.G. Hayek Center, Tokyo 2007
Paper Bridge, Remoulin, France 2007
Paper Dome Taiwan, Taiwan 2008
Metal Shutter House, New York, United States ongoing
Residential Projects by Shigeru Ban Architects
Curtain-Wall House, Tokyo 1995
Furniture House, Yamanashi 1995
Wall-less House, Nagano 1997
Naked House, Saitama 2000
Shigeru Ban : Japanese Architecture
Japanese Pavilion, Expo 2000, Hanover, Germany
2000
Frei Otto with Shigeru Ban
Tokyo Architect Awards – Innovator of the Year
The recipient of numerous awards for his contributions to architecture and design, Shigeru Ban is widely respected for his innovative approaches to environmentally sound architecture and for his devotion to humanitarian efforts in the wake of devastating natural and man-made disasters.
Awards given to Shigeru Ban include a Royal Institute of British Architects Award for his Centre Pompidou-Metz museum in Metz, France (2012); the Auguste Perret Prize of the International Union of Architects (2011); and the Architecture Institute of Japan's Grand Prize (2009) for his Nicolas G. Hayek Center, the new headquarter building for Swatch Group Japan. In 2010 he was awarded membership into France's Order of Arts and Letters, followed by invitation to the National Order of Merit in 2011.
Ban has received several honorary degrees and fellowships, including Doctorates at Amherst College and the Technical University of Munich and fellowships from The Royal Architectural Institute of Canada and The American Institute of Architects. In 2001 Time magazine named him "Innovator of the Year."
Tokyo Architecture
Tokyo Architecture Designs – chronological list
Tokyo Architect – design firm listings on e-architect
Tokyo Architecture Designs – architectural selection below:
Kasho Gyoen Hotel Accommodation, Minami-ku, Sapporo, Hokkaido, northern Japan
Architects: Hiramoto Design Studio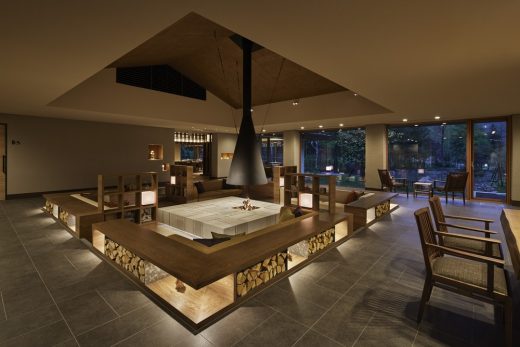 photography: Koji Fujii / Nacása&Partners Inc
Kasho Gyoen Hotel in Hokkaido
Buildings / photos for the Shigeru Ban architect page welcome
Website: www.shigerubanarchitects.com