Serge Chermayeff, Modernist Building, English Architecture, Modernism, Project
Serge Chermayeff Architect : Architecture
20th Century Architect, England, UK: Key Designs
post updated 3 May 2021 ; 18 Mar 2020
Serge Chermayeff Architect – Key Projects
Featured Buildings by Serge Ivan Chermayeff, alphabetical:
Bentley Wood, nr. Halland, Sussex, southeast England
Date built: 1935-38
Modern building – Serge's own house
'Chermayeff House'
This iconic house is locally known as Bentley Wood or the House at Halland. The land was purchased by the modernist architect.
The house overlooks the South Downs National Park, framing the spectacular view. The house was designed and built by himself in 1938 and his family lived there for a couple of years. The present owners have lived in the house since 2003 and use it as a family home. They are architect Sean Albuquerque and Artist Victoria Albuquerque and are gradually restoring it's celebrated design.
source: http://www.moderninthecountry.co.uk/
De La Warr Pavilion, Bexhill-on-Sea, East Sussex, England, UK
Date built: 1934-35
Architects: Mendelsohn and Chermayeff
De La Warr Pavilion by Serge Chermayeff : Modern building
The 9th Earl De La Warr in May laid the plaque which forms part of the floor of the De La Warr Pavilion's foyer in 1935, stating:
De La Warr Pavilion in Bexhill-on-Sea: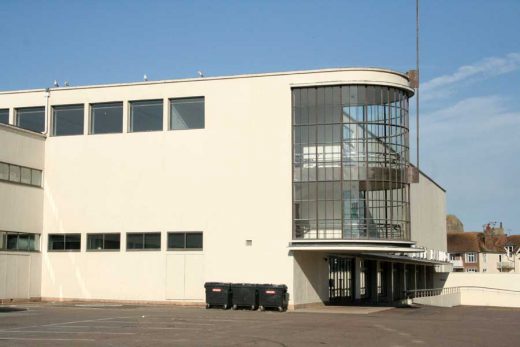 photo © Keepclicking
'A modernist building of world renown that will become a crucible for creating a new model of cultural provision in an English seaside town which is going to lead to the growth, prosperity and the greater culture of our town'
The Pavilion opened to the public for the first time on the 12th December of that year, to critical and popular acclaim and controversy. Seventy years on, the response to the building's re-opening as a centre for contemporary arts in October 2005, received much the same reception.
More architectural information re designs by Serge Chermayeff online soon
Location: Chechnya, Russia
Serge Chermayeff Practice Information
born 1900 in Grozny, North Caucasus, Russia (now Chechnia)
Serge died 1996 in Wellfleet, Massachusetts, USA
Career
Architectural practice set up in 1930
Collaborations with Eric Mendelsohn in thirties
Serge emigrated to USA in 1940
Teaching
Brooklyn College – Art Department Chairman
New Bauhaus in Chicago – President
Relocated to Cambridge, Massachusetts, USA in 1953
practice with Hayward Cutting
Harvard University – School of Architecture: professor
1953-62
Yale School of Architecture: professor
1962-70
Books
'Community and Privacy'
1964
with Christopher Alexander
'The Shape of Community'
1971
with Alexander Tzonis
De La Warr Pavilion Building:



photo © Keepclicking
Archive
Avery Architectural & Fine Arts Library, Columbia University, USA
He had a relationship with Architect Frank Lloyd Wright and also commissioned Henry Moore to sculpt the Reclining Lady.
Unity Temple Building, 875 Lake Street, Oak Park, llinois, USA, designed by Frank Lloyd Wright: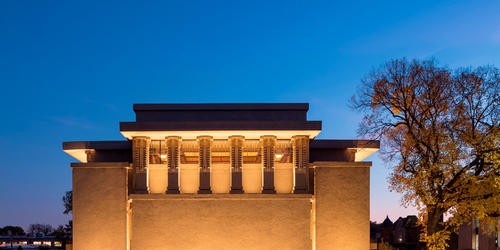 photo : Tom Rossiter
Architectural Design
Related architect : Walter Gropius
Comments / photos for the Serge Chermayeff Architect page welcome