Architectural Offices, Architects, Design Studios, Designers, Practice, List
Global Architectural Offices
Celebrated Building Designers listed by Studio – Key Architecture Practices
World Architects – alphabetical
Architectural Offices N-Q (this page)
Contemporary Architectural Offices : N-Q
This page contains a selection of major architectural offices, with links to individual practice pages. We've selected what we feel are the key architectural offices in the world. The global focus is on contemporary architects but information on key traditional architecture studios is also welcome.
Architectural Offices listed alphabetically for their surname


photo : Frank Oudeman
N
NaJa & deOstos
Nakayama Architects
Nakayama Nawa
nARCHITECTS
Narud Stokke Wiig
NatureHumaine
NBBJ Architects
NBBJ Architects Office
Neil M. Denari Architects
Neil Spiller
Neutelings Riedijk
Neutelings Riedijk Architects
Nexus Planning
NHArchitecture
Niall McLaughlin Architects
Niall Phillips
Nicholas Hare Architects
Nicholas Hawksmoor
Nicholas Lacey Jobst
Nick Grimshaw
Nicola Probst
Nico van der Meulen Architects
Nicoll Russell Studio
Niels Torp
Nieto Sobejano
Nigel Coates
Nightingale Architects
Nightingale Associates
Nightingale Associates Architects
Nikken Sekkei
NIO architecten
NL Architects
Nobuo Araki / The Archetype
Noero Wolff Architects
NORD Architecture
Nord Architects
NORDIC – Office of Architecture
Norman Foster
Northern Building Design Associates
Norton Ellis Architects London
NRAP
O
OBR Open Building Research
O'Donnell + Tuomey
O.M. Ungers
O Mahony Pike
OBRA
OBRA Architects
Odile Decq
Odile Decq Benoît Cornette
ODOS Architects
Office for Architectural Culture OAC
Office for Metropolitan Architecture
OFFICE Kersten Geers David van Severen
Ofis Arhitekti
OFL Architecture
Olafur Eliasson
Ole Scheeren
OLIN
Oliver Chapman Architects
Oliver Hill
Olson Kundig Architects
OMA
OMA Architects
OMA Hong Kong
Omgeving
Omiros One Architecture
Oncuoglu Architecture-Planning
One-world design
ONG&ONG
ONV Architects
OOIIO Architecture
Oppenheim Architecture + Design
Oppenheim Architecture + Design Basel
ORMS
Ortner & Ortner
Oscar Niemeyer
Otto von Spreckelsen
Otto Wagner
Owen Williams
P
Page \ Park Architects
Panter Hudspith
Park Associati
Pascal Arquitectos
Pascall Watson
Paskin Kyriakides Sands
Patel Taylor
Patkau Architects
Patrick Hodgkinson architect
PATTERNS
Patterson Associates
Paul Andreu
Paul Davis + Partners
Paul Engelmann
Paul Morgan Architects
Paul Raff Studio
Paul Raff Studio Architects
Paul Rudolph
Paulo Mendes da Rocha
Pawson Williams
Paxton Locher
Pelli Clarke Pelli
Penoyre Prasad
Penoyre Prasad Architects
PENSON
Pentarch
Percy Thomas Partnership
Perkins Eastman
Perkins + Will
Peter & Alison Smithson
Peter Barber Architects
Peter Behrens
Peter Böhm Architekten
Peter Cook
Peter Eisenman
Peter Markli
Peter Ruge Architekten
Peter Stutchbury
Peter Womersley
Peter Zumthor
PFB Architects
Philip Johnson
Philippe Chiambaretta
Philippe Starck
Philip Enquist
Phooey Architects
pH+
Pier Luigi Nervi
Piercy&Company
Piercy Conner
Piercy Conner Architects
Pierre Chareau
Pierre Koenig
Piranesi
Pitágoras Architects
Pitman Tozer Architects
Plasma Studio
Plastik
Platform 5 Architects
PLP Architecture
PLP Research
Point Supreme Architects
Pollard Thomas Edwards architects
Polshek Partnership
Populous
Populous Architects
Porphyrios Associates
Potiropoulos D+L
Povall Worthington
Powell & Moya
Powerhouse Company
Preston Scott Cohen
Primus arkitekter
Pringle Richards Sharrat
procter rihl
Proctor Matthews
Professor Nigel Coates
PROJECT A01
Project Orange
PTW
Pugh Scarpa
Purcell
Purcell Miller Tritton
Q
Qingyun Ma
Querkraft
querkraft architekten
Quinlan Terry
More world architectural offices online soon at e-architect
Architects : geographical / alphabetical / historical
More information on one of the key architectural studios listed above:
Sir Nicholas Grimshaw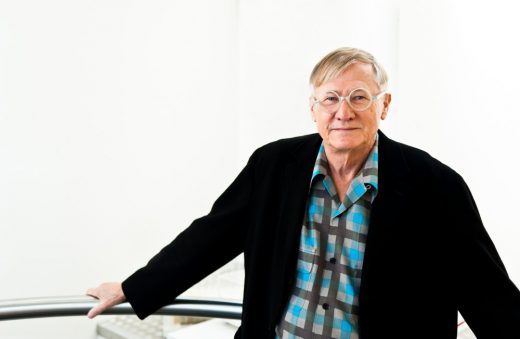 photograph : Rick Roxburgh
Royal Gold Medal for Architecture 2019 Winner
UK's highest honour for architecture is approved personally by Her Majesty The Queen, awarded for his sustained contribution to architecture in the UK and globally.
In June 2019 Grimshaw appointed Andrew Whalley to Chairman, succeeding Sir Nicholas, who founded this architecture practice in 1980.
Peter Zumthor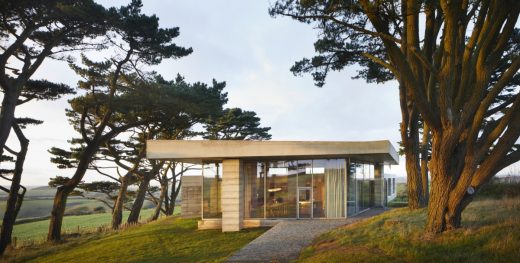 photo © Jack Hobhouse / Living Architecture
Peter Zumthor Architects studio is based in Haldenstein, Canton Graubunden, nr. Chur, Switzerland. The famous Swiss architect was born in 1943 in Basel, Switzerland
His architectural education was at Kunstgewerbeschule, followed by the Pratt Institute, New York City, NY, USA. Architecture Books by his design firm include 'Atmospheres', by Birkhauser, 2006.
Comments for the World Architecture Practices page welcome. Additions are invited for consideration.