Sarah Wigglesworth Architects London, Building Projects, SWA25 News, English Design Studio, UK Architecture Office
Sarah Wigglesworth Architects Office
SWA: Contemporary Architecture Practice in London, England, UK Design Office
post updated 27 June 2022
Sarah Wigglesworth Architects (SWA) has set out an ongoing structure of support for young people who might face barriers to accessing a career in architecture, as part of the practice's Equality, Diversity and Inclusion vision.
Sarah Wigglesworth Architects News
Sarah Wigglesworth Architects Sets Out Plan Supporting Next Generation of Young Architects
Sarah Wigglesworth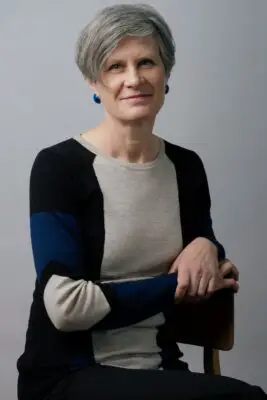 "It is our aim to advocate for inclusivity and diversity with the architectural profession and share our cultural capital with those from under-represented groups. To do this, we have committed to a number of initiatives, some of which are part of longstanding relationships/commitments, and some are new collaborations," Sarah Wigglesworth explains. "Specifically we are committed to providing an annual programme that includes: a series of CV reviews, two architectural placements, an annual mentorship and several workshops for both primary and older students/apprentices."
Urban Learners and Grimshaw Foundation – COLA Islington, London, UK, 2022: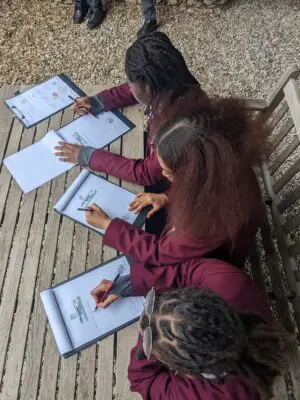 photo by Urban Learners
CV / Portfolio Reviews and Workshops
During this year's London Festival of Architecture (LFA) in June, SWA staff provided 30 one-on-one CV and portfolio reviews to a wide range of aspiring and qualified architects from a range of backgrounds. SWA specifically reaches out to organisations with direct links to under-represented groups (Paradigm Network, Built By Us and Black Females in Architecture) to populate the programme. This year's LFA was the third year SWA provided this free-of-charge service, with each year gaining more and more attendees and great results:
Urban Learners and Grimshaw Foundation: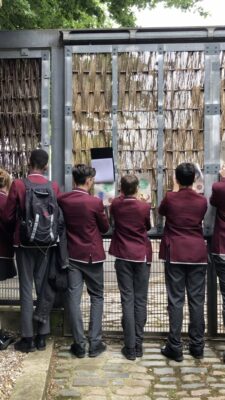 photo by Urban Learners
"Many thanks again for the opportunity – I was lucky enough to receive two job offers after actioning points discussed in my review, so I am extremely grateful!" Connie Pidsley
"I'd like to take the opportunity to thank SWA, and Rachel in particular, for taking the time to review my portfolio and CV. I have since managed to secure a position at one of the firms I was particularly interest in working with." Rachel Marshall
Following a successful debut workshop in collaboration with Built By Us this April, SWA will expand this collaboration and put in place a schedule of future sessions about creating engaging CVs and Portfolios that reflect an individual's values and skills. The events are free for students/apprentices and the unemployed.
One-on-one CV Review – LFA Portfolio Surgery, London, UK, 2019: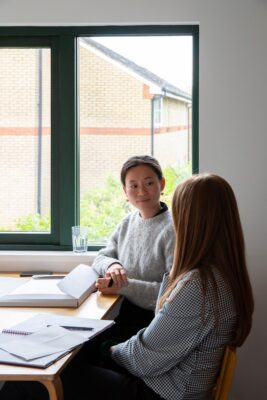 Work Placements and Mentorship
Coming up in July and August 2022, SWA is facilitating a four-week placement as part of the Access to Architecture Programme. Led by Kingston School of Art, the programme provides second-year architecture students who may not typically have access to practice with an immersive, paid, month-long placement to enhance their learning and provide valuable office-based experience. Students get an overview of practice life, including a broad range of project work, site visits, lectures, research projects and office socials. This summer will be the fourth year running SWA has participated in the scheme.
This October, SWA will be working with Arts Emergency to offer a work experience placement to one of their young members. The week-long placement provides A-level/university students with an office-based experience, closely supported by the SWA team. SWA is also part of Arts Emergency's annual mentoring programme. Mentees are paired with an SWA staff member for 12 months to help them build confidence and offer career support.
A well-established, stand-alone work experience programme has been operating at SWA annually, which sees the student develop their own project in the SWA office in response to a brief set by staff.
"Before my work experience, I was unsure if architecture would be suited to my abilities. However, one week within the industry at SWA gave me the clarity I needed to prove that I would be capable of studying architecture at university. From start to finish, I was constantly learning how to approach new concepts and how to take my ideas to the next level. The design reviews were amazing as the architects gave me advice and shared their opinions. The confidence, passion and belief that I discovered within myself is the main thing that I took away from the week." Heather
Urban Learners and Grimshaw Foundation, Parliament Hill School, 2022: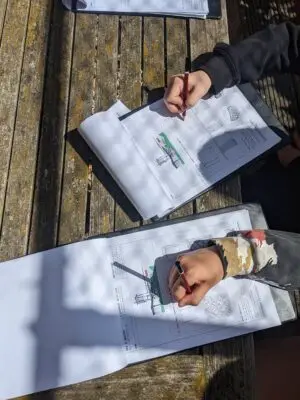 photo by Urban Learners
Creativity Workshops and Open Studios
SWA is currently preparing to participate in Open City's Architecture in Schools Programme 2022 set for this summer and beyond. The creative learning programme is for Key Stage Two primary school pupils in London and aims to increase diversity and access to architecture. With the support of SWA and other architectural practices involved, pupils will go on building visits and consider how to respond to a design brief. The programme also offers teacher training on how architecture can be used innovatively to teach a variety of subjects including Art, Design, Numeracy, Literacy, Geography and Science.
Urban Learners and Grimshaw Foundation, Regents High School, 2021: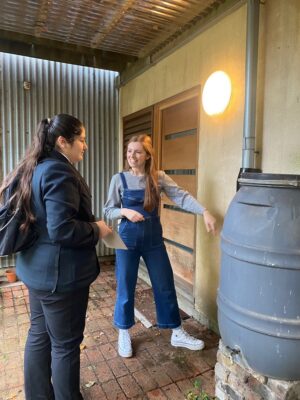 photo by Urban Learners
This May, as part of the Grimshaw Foundation Education Programme, SWA hosted three workshops led by Urban Learners for 65 13-year-olds from three local high schools to develop their design, creativity, and sustainability knowledge. The workshops were located at SWA's offices in Stock Orchard Street, giving pupils exposure to an exemplar sustainable building, as well as access to a working architectural office. Activities included measuring, mapping, texture rubbing and sketching, as well as a tour and presentation given by SWA staff.
Previously on e-architect:
5 + 3 Mar 2019
Sarah Wigglesworth Architects Anniversary
Sarah Wigglesworth Architects Celebrates its 25th Anniversary
In 2019, Sarah Wigglesworth Architects (SWA) celebrates its 25th anniversary with a series of curated events entitled SWA25.
Taking place throughout the year they showcase its progressive work to date, and its plans looking ahead. SWA is a pioneering and award-winning architectural practice that specialises in designing for sustainable communities and has been exploring what it means to make an environmentally conscious architecture since its inception in 1994.
Sarah Wigglesworth Architect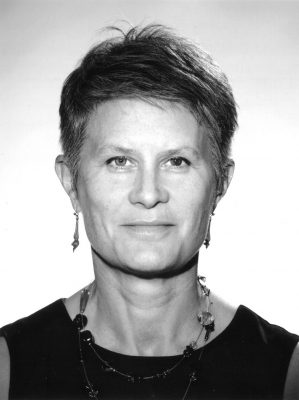 photo courtesy of architects
The events of SWA25 take stock of and celebrate past projects, reflecting on what has been achieved and learned, debate current issues facing the built environment as they impact on architects, and explore the future direction of the practice.
Sarah Wigglesworth Architects London: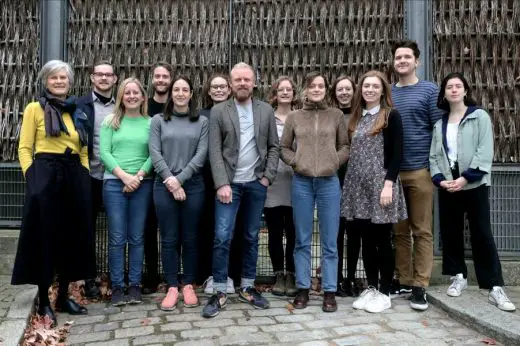 photo courtesy of architects
The SWA25 events include an artist residency, an exhibition and a roundtable discussion on education. To tie in with the London Festival of Architecture in June, SWA will also host a charity cycle tour around a number of its projects from East London to Kingston and will be hosting an Open Studio in place of its regular building tours. The events aim to promote issues dear to the practice, in particular, the collaboration and support for emerging artists and practitioners.
Mellor Primary School building: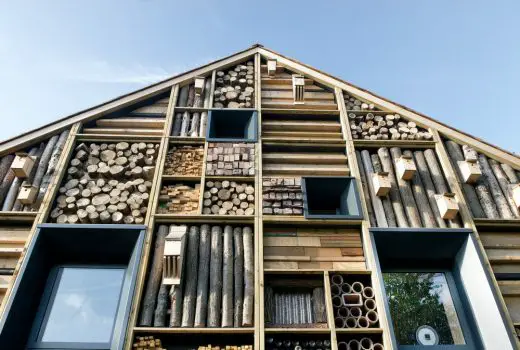 photo courtesy of architects
This leading London-based practice has spent the past two and a half decades creating peoplecentred places that are joyful, inventive and resourceful. Its portfolio includes urban regeneration, cultural buildings, offices, private and social housing and structures for sport and education.
SWA's design strategies emphasise user-centred placemaking and close stakeholder engagement to celebrate everyday life through local heritage identity and ecology. At Siobhan Davies Dance Studios, a working bond between Sarah and Siobhan Davies, resulted in a rich, evocative home for independent dance created out of a 19th Century school annex.
Parliament Hill Secondary School building: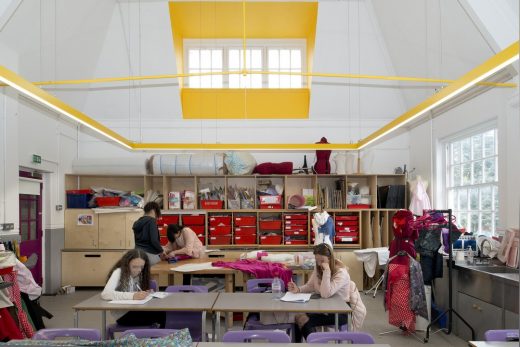 photo courtesy of architects
Imaginative, original thinking based on research and analysis has always been at the core of the work Sarah Wigglesworth and her team have undertaken. SWA has undertaken technical, environmental and social investigations as well as post-occupancy evaluations in order to learn from its work and disseminate findings. The best example of this is 9/10 Stock Orchard Street, which is the SWA HQ as well as Sarah's home.
Finished in 2001, it used passive design principles, creating a low-energy live/work environment that used straw bale to insulate the north elevations of the building. The entire design and construction of the building was well before its time, and based on the knowledge gained from 18 years of occupation. This year the buildings undergo extensive refurbishment and environmental upgrading.
Stock Orchard Street building – SWA offices & home: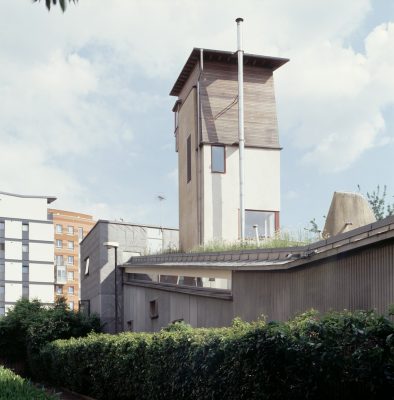 photo courtesy of architects
"What turned out to be my first big research project was my home and our offices in Stock Orchard Street," says Sarah Wigglesworth. "Every project we undertake is rooted in thoughtful research, focused on building for the people who will, ultimately, be using the spaces, be these schools, arts spaces or housing. What we have managed to achieve and continue to strive for, is the practical improvement and pleasure that a well-designed, responsive place can make to people's everyday lives."
Mellor Primary School: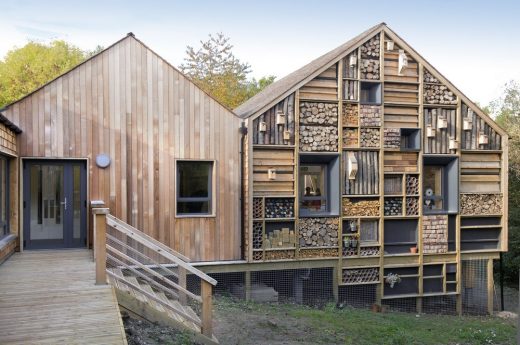 photo courtesy of architects
Now a team of thirteen, SWA continues to build architecture that is innovative in design and employs new aesthetic strategies for sustainable building. A prime example of the practice's collaborative approach is award-winning Mellor Primary School in Stockport. The low-energy building features a striking habitat wall created from salvaged materials that was designed and built in partnership with the pupils, parents and teachers. The practice has a globally recognised reputation for producing tactile and spatially rich environments. Working with materials in imaginative ways, SWA delivers buildings that are loved by their users, are simple to use and are economical to run and maintain.
Stock Orchard Street by SWA: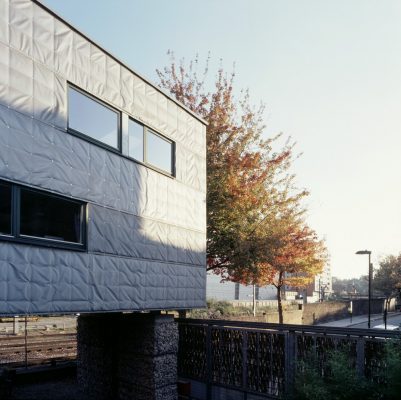 photo courtesy of architects
ABOUT SARAH WIGGLESWORTH
In 2003 Sarah Wigglesworth was awarded an MBE for her services to architecture. In 2010 she was made a CABE Commissioner and two years later was awarded Royal Designer for Industry by the RSA. Until 2016 Sarah was Professor of Architecture at the University of Sheffield where she led the DWELL research project designing exemplary neighbourhoods and housing for older people. She is committed to promoting better representation of women in the profession and is a sought-after speaker globally, and has co-written two books. She graduated from Cambridge University with Distinction in the Diploma in Architecture in 1983 and awarded the Fulbright Fellowship in Architecture in 1991.
AWARD HIGHLIGHTS
Kingston Mini Holland, New London Architecture Award: Wellbeing, 2017 Education Architect of the Year, BD Awards, 2017 Mellor Primary School, RIBA Northwest Region Award, 2016 Deborah House Studios, Build Magazine Award: Most Innovative Environmental Retrofit, 2016 Soar Island, RIBA & Leicester City Council competition (first prize), 2015 Takeley Primary School, RIBA Eastern Region Award, 2013 Sandal Magna School, RIBA Northern Network Awards, 2010 Siobhan Davies Studios, RIBA Award, 2006 Cremorne Canoeing Club, RIBA Award, 2006 Stock Orchard Street, RIBA National Award, 2004 Stock Orchard Street, RIBA Sustainability Award, 2004
Mellor Primary School: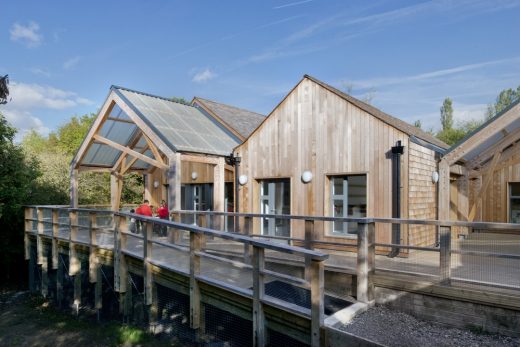 photo courtesy of architects
SWA25 DATES
SWA25 launch – Friday 1st March
Residency commences – Friday 1st March
Open Studio – Saturday 8th June
Cycle Tour – Sunday 30 June
Exhibition – October TBC
Siobhan Davies Studio, London, UK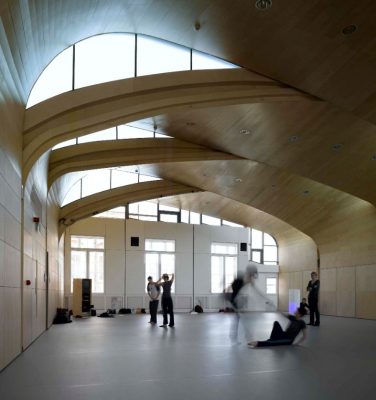 photo courtesy of architects
12 Nov 2012
Sarah Wigglesworth Architects Practice News
Appointed Royal Designer for Industry
Leading architect and academic Professor Sarah Wigglesworth has been appointed a Royal Designer for Industry (RDI) by the Royal Society for the encouragement of Arts, Manufactures and Commerce (RSA) – one of the most prestigious accolades in design – and becomes the first ever woman to receive the award for architecture.
The award recognises individuals who have shown sustained design excellence, work of aesthetic value and significant benefit to society. Sarah has been recognised for her approach to community collaboration and the use of sustainable materials.
Professor Wigglesworth said: "Throughout my professional life I have worked hard to raise the profile of women in architecture, to encourage socially responsible and sustainable architecture and, as someone who combines running a practice with a busy academic career, to break down the barriers between practice and theory. It is extremely rewarding to be recognised in this way by the RSA."
18 Apr 2012
Sarah Wigglesworth Architects – Recent News
PSU Department of Architecture Lecture, USA
PSU Department of Architecture Talks
Respected British architects and educators Jeremy Till and Sarah Wigglesworth will deliver the fourth and fifth presentations in our "Firsts" inaugural lecture series. Jeremy Till will speak on April 19, and Sarah Wigglesworth will lecture the following day, April 20, in the Shattuck Hall Annex on the Portland State University campus. Jeremy Till is currently the Dean of the School of Architecture and the Built Environment, University of Westminster, London, and has recently been appointed the head of the London art and design school Central St. Martins.
Sandal Magna Community Primary School, Wakefield, Yorkshire, northern England
Date built: 2010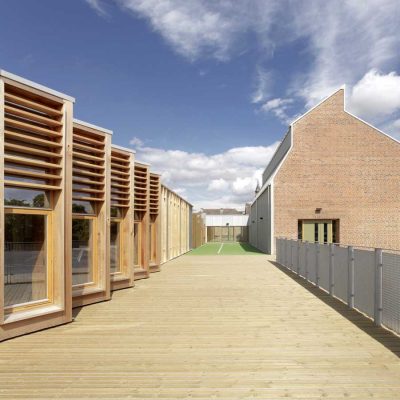 photo : Mark Hadden Photography
Sandal Magna Community Primary School
Sarah Wigglesworth – Key Projects
Designs by Sarah Wigglesworth Architects, alphabetical:
Bermondsey Square Tree, London, England, UK
Date built: 2009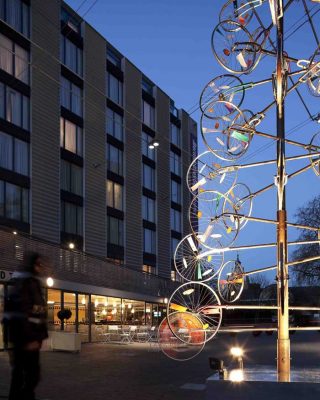 photo : Mark Hadden
Bermondsey Square Tree
Cremorne Riverside Centre, London, UK
Date built: 2007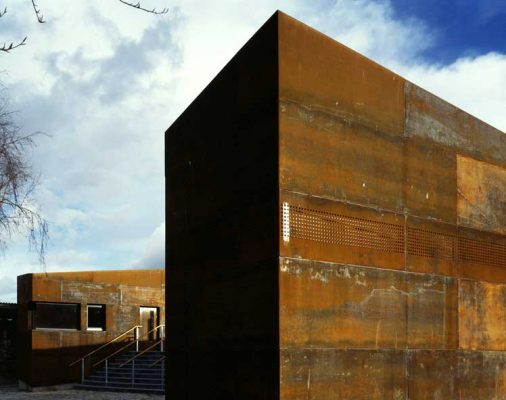 image from architects
Cremorne Riverside Centre – cor-ten project
Siobhan Davies Studio, London SE1, UK
Date built: –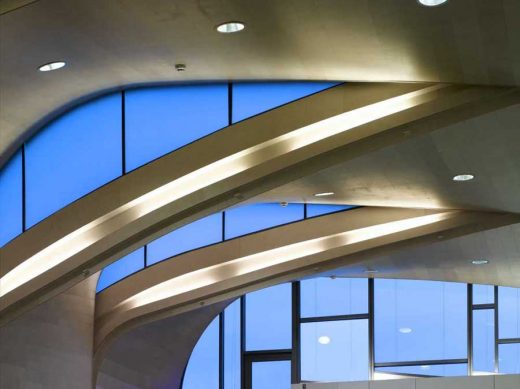 photo © Richard Bryant
Siobhan Davies Studios
Heygate Estate – rehousing
Date built: –
Various architects incl. AOC, DRMM, Panter Hudspith, S333, Sarah Wigglesworth
More Sarah Wigglesworth Architecture online soon
Location: 10 Stock Orchard Street, London N7 9RW, England, UK
Sarah Wigglesworth Architects Practice Information
Background to the Practice
Sarah Wigglesworth Architects is dedicated to the pursuit of excellence and innovation in design and service. SWA work on the boundaries between theory and practice, seeking innovative design solutions which address current social and cultural agendas.
SWA are interested in the process by which architecture comes about and view each project as an opportunity for a new exchange of interests and ideas (whether this be with the people involved or the issues raised). SWA's approach exploits everyday materials in an imaginative way to produce environments that can be achieved with modest means and maintained for low running costs. SWA are experts in low energy and sustainable construction, and integrative design is at the heart of everything we do.
Architect & Tutor
Sarah Wigglesworth & Jeremy Till created the Straw Bale House, north London
Sarah Wigglesworth & Jeremy Till used to teach and lecture at the Bartlett School of Architecture, University College London. They gave a joint lecture on their Straw Bale House whilst at the Bartlett. Jeremy Till is Professor at the Sheffield School of Architecture at time of writing and was the curator of the UK Architecture Exhibition at the 2006 Venice Biennale.
RIBA Awards 2006, South London: Siobhan Davies Studio by SWA wins an award
Comments / photos for the Sarah Wigglesworth Architects page welcome
Website: www.swarch.co.uk