Rafael Vinoly Architects, RVA Buildings Images, NYC Architect Practice, New York City Design Studio
Rafael Vinoly Architects
Contemporary New York Architecture Practice, NY, USA: Uruguayan Design Office News
post updated Mar 7 + 4, 2023
Architect Rafael Viñoly dies aged 78
March 2nd, 2023 – Rafael Viñoly, the world-renowned Uruguayan architect who designed buildings including London's so-called Walkie-Talkie-building, has died aged 78.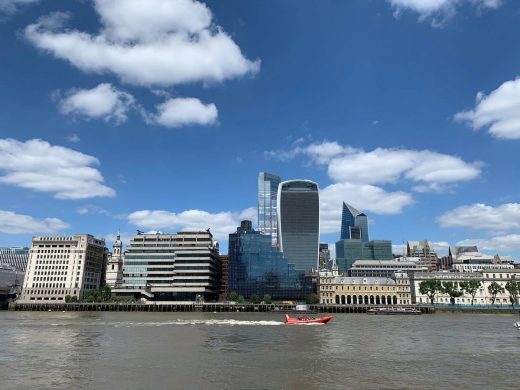 He established Rafael Viñoly Architects in 1983. His work features in more than 600 structures around the world.
He died in hospital, reportedly from an aneurysm, in New York City on Thursday.
Rafael was born in Montevideo in 1944, but moved to Buenos Aires, Argentina, at the age of five.
He studied architecture at the University of Buenos Aires.
Viñoly is survived by his wife, Diana, an interior designer, his son, Román, and stepsons Nicolás and Lucas.
BBC News report – https://www.bbc.co.uk/news/world-latin-america-64848302
March 3 2023
Statement about Architect Rafael Viñoly
Statement from Román Viñoly on the passing of his father and collaborator, architect Rafael Viñoly
On behalf of my family, my co-workers and our many partners throughout the world, I am saddened to report that my father, the founder and namesake of our firm Rafael Viñoly Architects, passed away unexpectedly yesterday, 2nd of March, at the age of 78. He was a visionary who will be missed by all those whose lives he touched through his work.
He leaves a rich legacy of distinctive and timeless designs that manifested in some of the world's most recognizable and iconic structures, among them the Tokyo International Forum, the Cleveland Museum of Art, Carrasco Airport in Montevideo, and 20 Fenchurch Street in London. The firm's partners and directors, many of whom have collaborated with him for decades, will extend his architectural legacy in the work we will continue to perform every day.
Quote from Jay Bargmann VP of Rafael Viñoly Architects "I'm incredibly proud of the integrity of the work our team has produced over many decades and on very complex projects, and I am honored and humbled by our team's unwavering commitment during this profound time of loss."
A memorial service in New York is being planned. We will advise on that in the coming days.
Message from Christina Seilern on the passing of Rafael Viñoly (1944-2023)
"Rafael Viñoly was my mentor, collaborator, and one of my dearest friends. He possessed incredible generosity of thought, with a creative spirit that inspired a generation of architects. I am honoured to have been witness to his electric energy, his endearing humour, his elegance, and his genius.
Early in my career, he said to me: 'You have a wonderful future because you have a wonderful past, and you will continue to build on it, as an architect, a companion, a friend and a mother. I will watch you become the great and successful architect you hope because you just can't help but being one.' He was an unfailing friend—he gave me great courage and for that I am forever grateful.
He leaves an immeasurable hole, and will be so deeply missed—my most sincere condolences to Diana, Roman, the family, and the RVA team."
Christina Seilern, Principal, Studio Seilern Architects, and founding director of Rafael Viñoly Architects London
post updated 5 September 2021
Rafael Vinoly News
RVA Architecture News – latest additions to this page, arranged chronologically:
Oct 10, 2020
National Medal of Honor Museum, Arlington, Texas, USA
Architecture: Rafael Viñoly Architects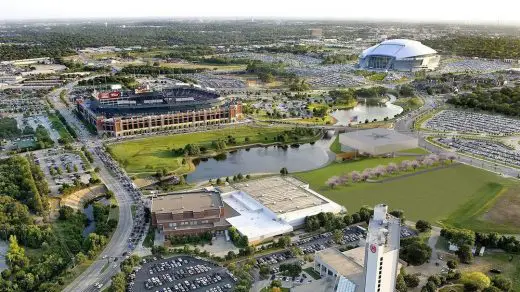 image courtesy of architects
National Medal of Honor Museum
The strength of steel – forged in fire – is akin to the strength of our armed forces, which is forged in the heat of battle. The main exhibitions of the museum will be housed in a remarkable 25,000 square foot slab of steel seemingly suspended in mid-air.
Oct 5, 2020
Amaris Waterfront Condominium, Hoffman-Madison Waterfront, Washington, D.C., USA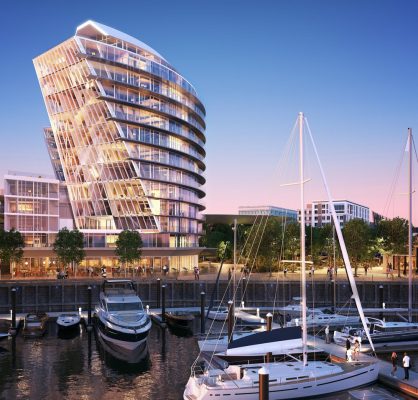 picture from architect
Amaris Waterfront Condominium
HMW, a joint venture of Hoffman & Associates and Madison Marquette, the co-developers of The Wharf, today announced that its highly-anticipated Phase 2 condominium building will be called Amaris. The 96 unit, 12-story, luxury waterfront residential building's name is derived from Latin and means "you are loved."
Jan 23 2020
277 Fifth Avenue, NoMad, NYC, USA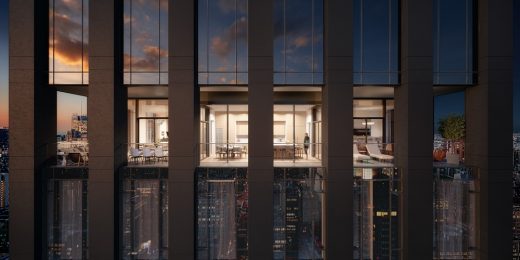 rendering : THREE MARKS
277 Fifth Avenue Building
This 55-storey tower is located in the heart of NoMad, where Manhattan's East and West Sides, Uptown and Downtown, meet.
Feb 9, 2019
61 9th Avenue, Meatpacking District, Manhattan, New York, USA
Design: Rafael Viñoly Architects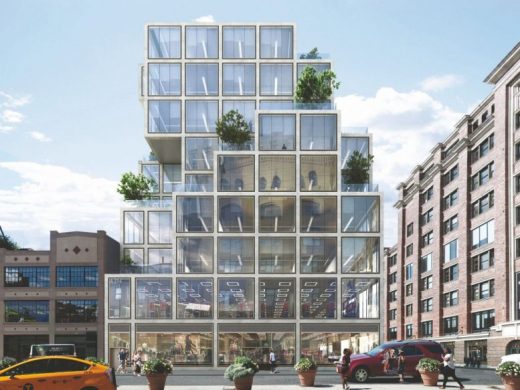 rendering : Rafael Viñoly Architects
SIXTY ONE – aka 61 Ninth Avenue – is located at 15th Street and Ninth Avenue, between the Apple Store and Chelsea Market, in the heart of the Meatpacking District. The new 170,000 sqft commercial structure is 135 feet high, spanning nine stories. Developers for this dynamic new building are Vornado Realty Trust and Aurora Capital. The project will be built on the former Prince Lumber Yard.
Nov 26, 2018
277 Fifth Avenue Tower, NoMad, Manhattan, New York, USA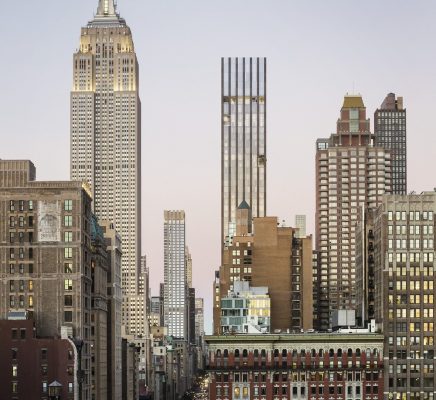 image : Three Marks
277 Fifth Avenue Tower
The tallest residential building on Fifth Avenue: contemporary design features elegant proportions and corner exposures through floor-to-ceiling windows from every residence and a façade composed of high-performance cast panels, custom fabricated in Finland in a bespoke Indigo color.
Mar 17, 2017
Mixed Use Winner at the AR MIPIM Future Projects Awards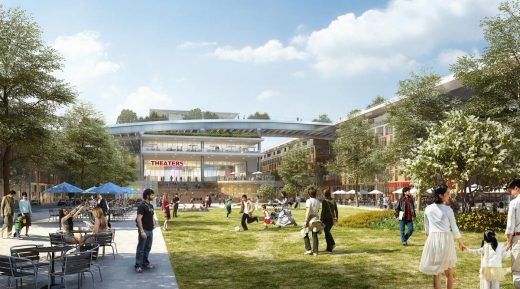 render from AR
MIPIM Architectural Review Future Project Awards 2017
Project Title: The Hills at Vallco
Location: Cupertino, California, USA
Architect: Rafael Vinoly FAIA JIA SCA IntFRIBA
Client: Abu Dhabi Investment Authority / Sand Hill Property Company
May 28, 2013
432 Park Avenue Tower, New York, USA
Building to Become the Tallest Residential Tower in the Western Hemisphere


photo © Adrian Welch, architect
432 Park Avenue Tower
This skyscraper project is due to complete in 2015. The 1,396-foot tower building design by Rafael Viñoly is due to become the tallest building in New York City. It is also due to be the tallest residential tower in the Western Hemisphere.
May 14, 2013
The New Stanford Hospital, California, USA
Design: Rafael Viñoly Architects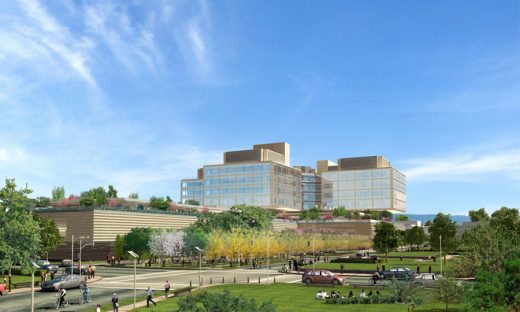 image from architect office
The New Stanford Hospital Building
This new building is due to complete in 2017 with an opening for patient care in early 2018.
Feb 13, 2013
Center for Care and Discovery, University of Chicago Medicine, IL, USA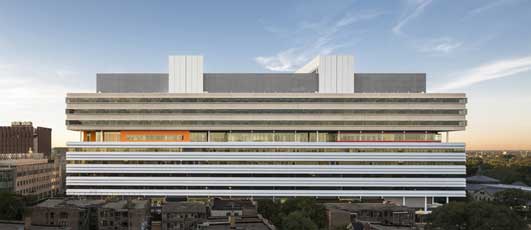 photo from architect
Center for Care and Discovery
This 10-story, 1.2 m sqft Center for Care and Discovery at the University of Chicago Medicine opened in early 2013.
Feb 6, 2013
Darla Moore School of Business, University of South Carolina, USA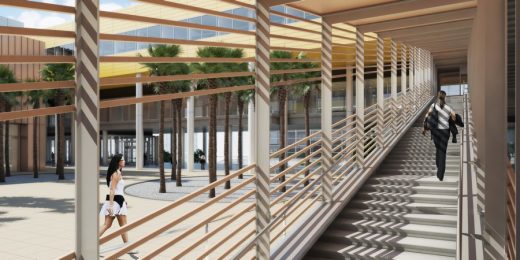 picture from architects
Darla Moore School of Business
Rafael Viñoly Architects is proud to announce that the University South Carolina celebrated the "Topping Out" of the new building for the Darla Moore School of Business in a ceremony today held at the construction site.
Nov 12, 2012
20 Fenchurch St, London, England, UK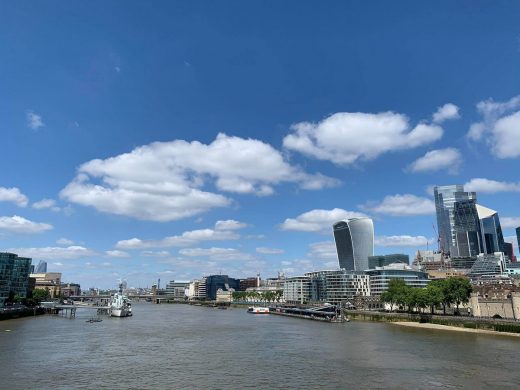 photos © Adrian Welch
Walkie Talkie building – updated photos
Feb 3, 2012
"Pressures and Distortions, City Dwellers as Builders and Critics" – New Book by Research Program
The book marks the culmination of Rafael Viñoly Architects' third round of research awards
Rafael Vinoly Architects Book
Rafael Vinoly – Recent Building News
Aug 18, 2011
University of Oxford, Mathematical Institute, England, UK


image from architects studio
University of Oxford Mathematical Institute
Rafael Viñoly Architects is proud to announce that the University of Oxford, Mathematical Institute has officially broken ground. The new building will both consolidate a department that was previously spread across multiple locations and foster an environment that balances academics' need for privacy with the increasing importance of interdisciplinary collaboration.
Jun 22, 2011
firstsite, Colchester, Essex, England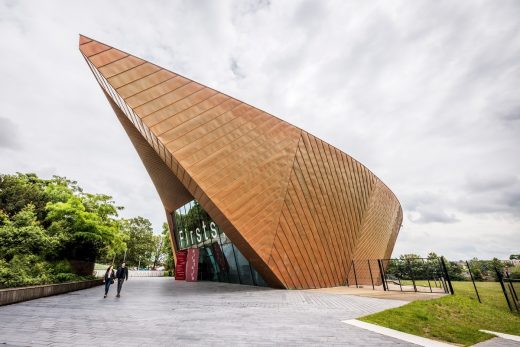 photograph © Marc Atkins
firstsite Colchester
firstsite, a major new centre for the visual arts, designed by internationally acclaimed Rafael Viñoly Architects, opened on 25 Sep 2011. The building will be a home for the work of the long established visual arts organisation of the same name.
Jun 2, 2011
Tokyo International Forum, Tokyo, Japan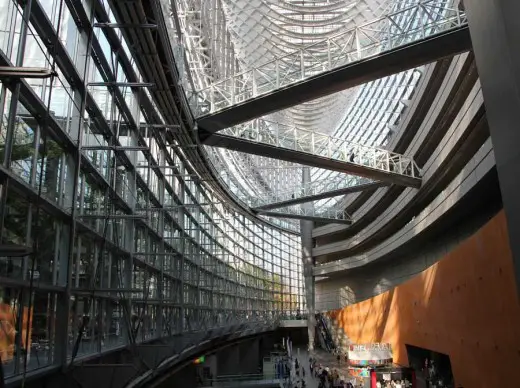 photograph © Robert Day
Japanese Architecture Tour
Jun 14, 2011
Clyde F. Barker Penn Transplant House, Philadelphia, Pennsylvania, USA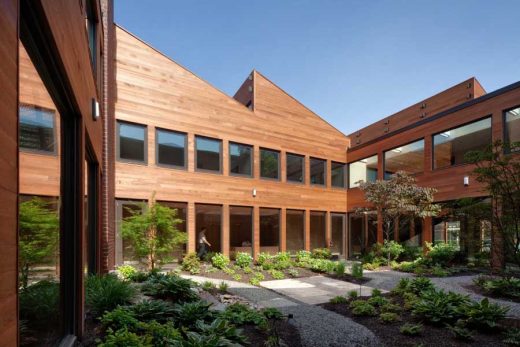 photograph : Ty Cole
Clyde F. Barker Penn Transplant House
May 10, 2011
Translational Research Center at Penn, Philadelphia, Pennsylvania, USA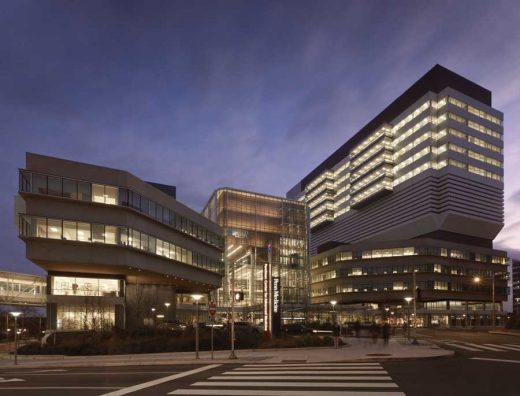 photograph : Brad Feinknopf
Translational Research Center at Penn
Dec 12, 2009
Van Andel Institute, Michigan, USA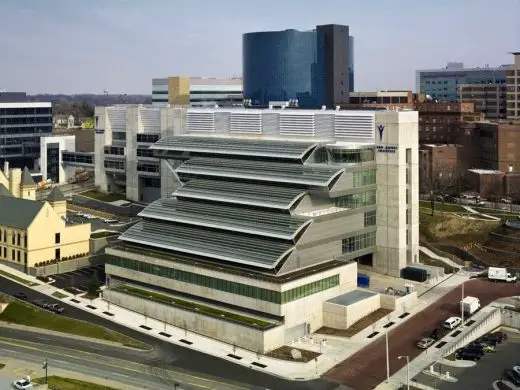 photo © Brad Feinknopf
Van Andel Institute building
Rafael Vinoly Discussion
A Conversation with Rafael Viñoly : Architect Rafael Viñoly engaged critic Julie Iovine, executive editor of The Architect's Newspaper, in a conversation about the present and future of architecture at the Museum of the City of New York 5 Apr 2011. Following the lecture, the architect held an exclusive book signing for his upcoming monograph Rafael Viñoly Architects by Philip Jodidio.
Ray and Dagmar Dolby Regeneration Medicine Building, University of California, SF, USA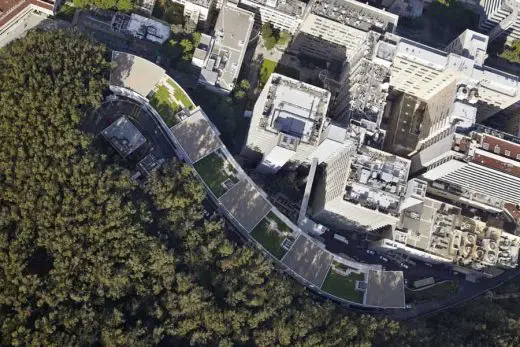 image courtesy of architects practice
Ray and Dagmar Dolby Regeneration Medicine Building San Francisco
Rafael Viñoly Lecture, England : 'Two London Projects' Jun 24, 2010
Rafael Viñoly Buildings
Featured Architecture by Rafael Viñoly, listed alphabetically:
Bard College, Annandale-on-Hudson, USA
Date built: 2006



photo © Brad Feinknopf
Bard College
Battersea Power Station, London, England, UK
Date: (2009-)



picture from architects firm
Battersea Power Station Redevelopment
Bronx County Hall of Justice, NYC, USA
Date built: 2006



photo from architects studio
Bronx County Hall of Justice
Brooklyn Children's Museum, NYC, USA
Date built: 2008



picture by architects
Brooklyn Children's Museum Building
Brooklyn College, New York, USA
Date built: 2007



picture from architects firm
Brooklyn College Building – West Quad
Carrasco International Airport, Uruguay
Date built: 2009



photo © Daniela Macadden
Carrasco Airport building, Montevideo
Cleveland Museum of Art, Ohio, USA
Date built: 2009



image : Brad Feinknopf
Cleveland Museum of Art
Curve : Leicester Arts Centre, England
Date built: 2008



photo : Peter Cook/View
Curve Leicester
Edificio Acqua – Punte Del Este, Uruguay
Date built: 2008



photo © Roman Viñoly
Edificio Acqua Uruguay
Edward M. Kennedy Institute, Boston, USA
Date: 2010-



image from architecture firm
Edward M. Kennedy Institute
Helen Diller Family Cancer Research, USA
–



photo : Brad Feinknopf
Helen Diller Family Research Building
Howard Hughes Medical Institute, USA
2006



photo © Paul Fetters
Howard Hughes Medical Institute
Kravis Center, Claremont, California, USA
2010-



image : Rafael Vinoly Architects
Kravis Center Building
Mahler 4 Office Tower, The Netherlands
2005



photo from Rafael Vinoly Architects
Mahler 4 Office Tower, Amsterdam
121st Police Precinct, Staten Island, USA
2011



image : Rafael Vinoly Architects
Staten Island building, New York
Millennium Science Complex, PA, USA
2010



picture : Rafael Vinoly Architects
Pennsylvania Architecture
The Vdara Condo Hotel, Las Vegas, USA
2007-10



image : CityCenter Land, LLC
Vdara Hotel Las Vegas, City Center
Wageningen University, The Netherlands
2007



picture : Rafael Vinoly Architects
Wageningen University building
Rafael Vinoly Architecture – No Links
7 Grammercy Park Condominiums, Manhattan, New York, USA
1986
California NanoSystems Institute, University of California, Los Angeles, USA
2007



photo : Rafael Vinoly Architects
Carl Icahn Laboratory, Lewis-Sigler Institute for Integrative Genomics, Princeton University, New Jersey, USA
2004
John Jay College of Criminal Justice, New York, USA
1988
Kimmel Center for the Performing Arts, Philadelphia, USA
2001
Oxford University – Radcliffe Masterplan, Oxford, England, UK
2009
Samsung Jong-Ro Building, Seoul, South Korea
1998
Tokyo International Forum, Tokyo, Japan
1989-96
University of California, San Francisco – Helen Diller Family Cancer Research Center
2008



picture : Rafael Vinoly Architects
University of Chicago Graduate School of Business, Chicago, USA
2005
University of Chicago Medical Center, New Hospital Pavilion, Chicago, Illinois, USA
2010



picture : Rafael Vinoly Architects
University of Pennsylvania Health System, Philadelphia, USA
2008



picture : RVA
Perelman Center for Advanced Medicine
More Rafael Vinoly Architects buildings online soon
Location: 50 Vandam Street, New York, NY 10013, United States of America
New York Architects Practice Information
Rafael Vinoly Architect
born 1944 in Montevideo, Uruguay
Rafael Viñoly Architect moved in 1978 to USA, moving in 1979 to New York
Rafael Vinoly Architecture Competition : World Trade Center New York
Website: www.rvapc.com
Buildings / photos for the Design: Rafael Vinoly Architects page welcome