Schmidt Hammer Lassen Book Images, Denmark Architects Practice Publication 2008, Projects
Schmidt Hammer Lassen Book
Danish Architects Practice Publication: 'Outline', Preface by Barry Bergdoll, for SHL
Schmidt Hammer Lassen Book News
Schmidt, Hammer & Lassen K/S, Danmark
26 Sep 2008
Outline – Schmidt Hammer Lassen Book
'Outline' – major new publication highlighting the work of schmidt hammer lassen architects A new book illustrating key works by one of Scandinavia's leading architectural practices, schmidt hammer lassen architects is now available.
'Outline' contains a preface by Barry Bergdoll, Philip Johnson Chief Curator of Architecture and Design at The Museum of Modern Art in New York, and contributions from leading figures in the architectural and art worlds including Ken Yeang, Chinese practice MAD and Danish-Icelandic artist Olafur Eliasson, illustrating the practice's commitment to collaboration, a recurring feature of their work. The book also includes essays by the respected UK architecture critic, Jay Merrick.
The Royal Danish Library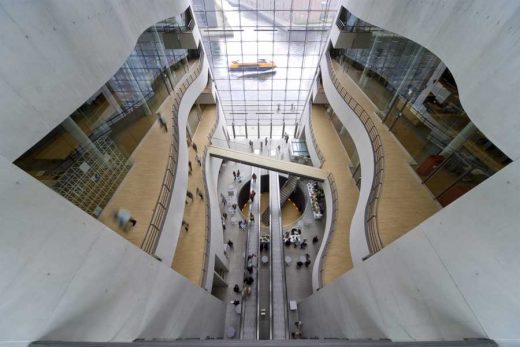 photo : Ralph Richter
Twenty of schmidt hammer lassen's projects are presented including both built and unbuilt schemes and analysed according to key themes including economic, ecological, and social sustainability; the value the building adds to its surroundings; the building's identity-forming power; and permeability between the public and private spheres. The projects are drawn from across the world and include schemes in Saudi Arabia, the UK and the Czech Republic as well as throughout Scandinavia.
ARoS



Joachim Ladefoged
The practice's work encompasses both public and private buildings, from the acclaimed Royal Library in Copenhagen and AroS Museum of Art in Aarhus to stunning headquarters for Danish energy company NRGi and mortgage bank Nykredit. The projects, beautifully illustrated by awardwinning photographer Joachim Ladefoged, perfectly demonstrate the twin achievements of the best of Scandinavian architecture – a responsible approach to the environment and a keen appreciation for social concerns. Or as Barry Bergdoll summarises in his preface:
"…as one pages through this beautifully assembled monograph of an impressive body of work, it is an architecture of an active engagement that radiates from this renewal of the great organic and democratic traditions of Scandinavian modernism."
Halmstad Library, Sweden



photo © Adam Mørk from ING 230207
Halmstad Library Sweden building
Schmidt hammer lassen architects – Practice Information
For more than 20 years Danish architects schmidt hammer lassen architects has enjoyed a reputation as one of Scandinavia's leading, award-winning architectural practices. Founded in 1986, the practice now has offices in Copenhagen, Aarhus, Oslo and London.
schmidt hammer lassen's reputation is built on passion for architectural uniqueness, interaction between buildings and surroundings, involvement of the users, sustainable solutions and the distinct Scandinavian light.
The aim of the practice is to create empathic and high quality architecture with room for surprising details, art and poetry. The common denominator is a democratic approach to architecture which embraces architecture as modern, open and multifunctional meeting-places for people. schmidt hammer lassen architects vision of architecture for the 21st century also aims to respond to the increasingly urgent global challenge of developing more environmentally considerate and sustainable solutions.
Recent key projects include the Amazon Court office building in Prague, the City of Westminster College in London, the Thor Heyerdahl College in Norway, Aberdeen University Library in Scotland Side 3 af 3 and a number of construction projects and master plans in China and Eastern Europe, where a total of approximately one and a half million square metres are currently under development.
Vaxjo Library, Sweden



photo : Joachim Ladefoged
Scandinavian heritage
The practice is deeply rooted in the Scandinavian architectural traditions based on democracy, welfare, aesthetics, light, sustainability and social responsibility.
A building revolves around people. A building is not only an architectonic shape, but must also be closely integrated with its surroundings, its functions and its social context. A lot of architecture is characterized by being elevated and reserved. schmidt hammer lassen designs buildings the other way around – by creating architecture that opens up to the outside world.
Photography – Joachim Ladefoged
Nykredit headquarters, Copenhagen



photo : Joachim Ladefoged
A schmidt hammer lassen building is created for people. It is designed to accommodate and express the life and activity contained within it and the practice takes great care to ensure that all schemes demonstrate a sensitive and well-considered response to their immediate context, both physical and social.
It was therefore critical to opt for photographic imagery that was fundamentally different from the normal diet of architectural photography. It was this aspiration for an altogether more radical feel that prompted the approach to the distinguished Danish documentary photographer Joachim Ladefoged whose gritty compositions brilliantly captured the essence of the people and places he depicts.
Despite their apparent simplicity, Ladefoged's images consistently convey the immediacy and truth of a fleeting moment of time. "It has been important to be true to the architect's ideas and visions and convey a touch of human presence – without people the buildings will seem empty and cold. I try to show the buildings as they are, with the lives that are lived in them and around them, but at the same time with a strong focus on the architecture", says Joachim Ladefoged. "In my pictures of architecture, as in all my other photography, I aim to try to find a different angle than that which has been seen so many times before."
Aberdeen University Library Scotland



picture from architects
Joachim Ladefoged's extensive portfolio communicates a rare fascination with people, and an uncanny ability to hit on an unfamiliar but telling perspective.
Ladefoged's pictures are distinguished by their insight and an extraordinary empathy for his subject. His instinctive aesthetic sense, coupled with a clear appreciation of form and line, infuse his work with an unusual authority: "When I take a photograph, I look for shapes, lines and light – compositional elements that inspire architects, designers, artists and other creative professionals in their work.
What has been essential in this task has been to combine photography and architecture, people and buildings – to portray life." Ladefoged's photographs vividly convey the interplay between light and shadow, creating a striking visual narrative. An intriguing characteristic evident in his work is the ability to conjure up complex layerings of effect.
Performers House, Silkeborg


photo : Joachim Ladefoged
Over more than a decade Joachim Ladefoged has received numerous international awards for his photographic achievements. He has worked in more than 50 countries and won global recognition for his reports from conflict-filled areas such as Albania and about Iraqi refugees in Syria. His portfolio reflects a great curiosity.
Katuaq Culture Centre



photo : Joachim Ladefoged
Joachim Ladefoged is a regular contributor to publications such as Newsweek, TIME, Der Spiegel, New York Times Magazine and National Geographic. He is a member of the international photo collective 'VII', recognised by American Photo as one of the most significant photography fusions in a global perspective.
Location: Århus, Denmark
Schmidt Hammer Lassen Practice Information
Schmidt Hammer Lassen : main page
Danish Architecture
Danish Architecture Designs – chronological list
Comments / photos for the Schmidt Hammer Lassen Publication – SHL Architects page welcome