RMJM Architecture, Scotland, Architects Office, UK Studio, Fred Goodwin, Building News
RMJM Architects : Practice Information
British Architecture Practice – Design Offices + News
post updated 7 Apr 2021
RMJM Architects News
RMJM News, chronological:
30 Aug 2016
Iran Historical Car Museum, near Tehran, Iran
Design: RMJM Arta-Tehran Architects
RMJM Arta Tehran has been appointed by the Cultural Institute of Bonyad Museum as architectural consultant for the Iran Historical Car Museum:
RMJM Workers
Scottish architects RMJM, which has seen its workforce shrink from more than 1,200 at the end of the last decade to 300 today due to redundancies and walkouts following claims of unpaid wages, now faces a legal challenge led by two architectural bodies.
The Royal Incorporation of Architects in Scotland (RIAS) and UK counterpart Royal Institute of British Architects (RIBA) are to pay for the action taken by a group of around 25 former employees of the firm, who are claiming around £160,000 in unpaid wages and expenses claims.
Peter Morrison:



photo : Dave Johnstone
If the alleged debts are not paid, the group has said it will issue the architecture firm, which has suffered serious financial problems in recent years, with a winding-up action.
The action, led by RIAS's Edinburgh law firm, Simpson & Marwick, is understood to be the first of its kind in the architecture sector.
RIBA President Angela Brady:



photo from RIBA
The action follows comments made by RIBA president Angela Brady earlier this year when she said she wanted to hear from staff about any concerns they had with this architecture firm – such as missing wages.
RMJM's group commercial director has said he is 'appalled' by reports of the RIBA action against the ailing practice.
In response, architecture company's commercial director, Declan Thompson, said: 'I don't know if these rumours [about RIBA's financial support for the action] are true because nobody at the RIBA has come back to me and I've been calling them every day.
'But [if correct] this has left me speechless. We [as a company] have just renewed our RIBA membership. I find it amazing that the fees which left our door two or three weeks ago will facilitate an action against us from people, some of whom aren't RIBA members. I'm appalled.'
He added: 'And, if true, I'm not sure about the legality of what they have done. The institute is supposed to protect our interests and I don't know what message it sends out.'
Declan Thompson also claimed that some of the monies claimed had not yet become due.
Asked to comment on the reports that the RIBA had 'bankrolled' the action, a spokesperson for the institute said: 'The RIBA and RIAS do not comment on investigations into any specific complaints about chartered practices or disciplinary cases in relation to individual RIBA members.
'We can confirm that we have been offering support to a number of our members who have raised concerns as RMJM employees.'
Meanwhile reports have emerged from the US of another potential law suit – this time brought by Alpha Associates Inc, which, according to the West Virginia Legal Record, is suing the architecture practice for failing to pay about £100,000 in consultancy fees.
The architecture company said it had not yet been served with any papers and believed the claim, if it existed, related to a project on which it also had not been fully reimbursed. 22 Jul
Taichung City Cultural Center Entry, Taiwan – architecture competition – 28 Jun 2013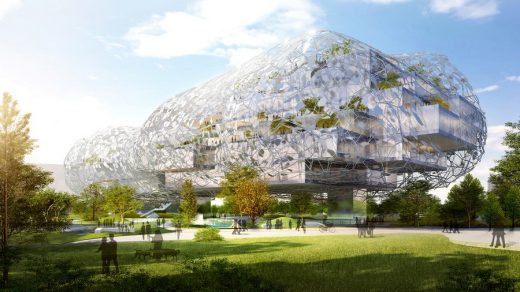 image from architect
With arts and culture at the core of Taichung's urban identity, and the vision to lead in innovation and technology, our design proposal seeks to bring together these significant attributes in a construct emblematic of Taichung's achievements and vision. We live in an archival era characterized by an impulse to collect, where all our experiences are supported by technological additions and digital information monitoring. A cultural center is a place of learning and a repository of information, in essence, a large archive.
RMJM puts UK firms in receivership as part of 'restructuring'
27 Oct 2012 – The firm of architects behind the development of the Scottish Parliament building has called in the receivers on UK operations in a bid to avoid or delay paying millions it owes to creditors, reports The Scotsman.
Edinburgh-based RMJM, which is responsible for designs such as the Falkirk Wheel and the China National Convention Centre in Beijing, and which controversially hired disgraced banker Fred Goodwin as a consultant, has "sold" the assets to a new firm, and says that the move has saved 120 jobs.
The new company, RMJM Architecture, is majority-owned by Sir Fraser Morrison and his family.
The news of the "restructuring" exercise came as it emerged bailiffs had raided the London architects office after a dispute over an outstanding payment to a German engineering firm.
The new company has set up offices in Westbourne House near Notting Hill, London. Recently it also relocated its Manhattan office after a spat with its landlord resulted in the issue of an eviction notice by the civil court of New York City. In August, the loss-making architecture company was also named and shamed by the New York state department of taxation and finance, which listed the company on its list of top 250 delinquent taxpayers for an outstanding bill of $843,138 (£524,000).
Research by another trade magazine, Building Design, showed that the three divisions that have been put into receivership – RMJM Ltd, RMJM Scotland and RMJM London – have a total of £294,165 in outstanding county court judgments.
According to the latest accounts, which were filed as late as August, the company owed more than £16 million as of April 2011. In that year, the architectural practice racked up an £11m pre-tax loss compared with a £1.2m profit in 2010.
In a statement, Peter Morrison, the chief executive of the architecture practice and the son of Sir Fraser, insisted that "all 120 UK jobs have been secured as a result of the restructuring".
14 Oct 2012
Architects Practice News
New International Design House, Kettle Collective Launches
Ex-RMJM architect, Tony Kettle, has teamed up with Colin Bone and David Tripney to create a dynamic, new design house called Kettle Collective.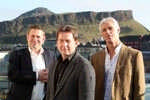 picture from architects
26 Apr 2012
Tony Kettle News
Tony Kettle Resigns
Tony Kettle resigns from this troubled architecture practice, reports BD. He took over after Brian Stewart (shortly after the Scottish Parliament was completed) and lead the company as a designer. With so many directors gone and now the top man, who will run this once buoyant practice?
Tony Kettle joined the architectural office in 1989 and is a Design Principal for the European Studio. He was in charge of major projects such as the controversial Gazprom Tower in Russia.
More details online soon.
19 Jan 2012
Paul Stallan Resigns
Paul Stallan, Design Principal for RMJM in Scotland, has resigned just days after fellow Glasgow-based principal Alastair Brand was sacked, report the Architects' Journal.
A spokesman for this the architectural practice confirmed that Paul Stallan, who had been with the practice since 1995 and had effectively built the Glasgow office, had 'tendered his resignation' and that it 'had been accepted'.
The move follows reports that staff in both the UK and US had repeatedly not been paid on time.
Architect Paul Rodgers, 43, is believed to have taken over as Scottish managing prinicpal.
Only six months ago Paul Stallan, who was described last year as 'fiercely loyal' to RMJM owner Fraser Morrison, had been handed the reigns of a new 'design powerhouse' under the Paul Stallan Studio banner, combining the architectural practice's Edinburgh and Glasgow's offices.
Paul has been heavily involved in designing the 2014 Commonwealth Games Village in Glasgow.
The practice also won the refurbishment of Gillespie Kidd and Coia's Brutalist St Bride's Church in East Kilbride having beaten off Page/Park and James Stephens Architects.
Stallan's departure follows in the wake of the dismissal of Alastair Brand and allegations in a Scottish newspaper about the company, which have since been removed from the Herald Scotland website.
Alastair Brand, who worked for the architectural practice for 17 years, was escorted from his Glasgow office by security guards on Monday morning and had his mobile phone confiscated.
Paul Stallan previously won the title of Architect of the Year (Scotland) and won the Royal Scottish Academy Gold Medal for Architecture.
In a separate development UK Prime Minister David Cameron has backed a new bid to strip Sir Fred Goodwin of his knighthood. Disgraced banker Sir Fred Goodwin worked as a consultant with the architects company after he had departed from the troubled RBS.
3 Jan 2012
RMJM – YRM Purchase Update
YRM sold to RMJM



photograph from architects
YRM Architects, a 67-year-old UK architects practice headquartered in London, England has been sold to RMJM, headquartered in Edinburgh, Scotland. YRM specialised in the nuclear and aviation sectors. The major recent building by YRM was Heathrow Airport Terminal 5 with Rogers Stirk Harbour + Partners back in 2008.
RMJM Practice News 2011
6 Sep 2011
RMJM London
RMJM plan to significantly strengthen its London studio, starting with appointment of a new top team. Miriam White, previously of Foster + Partners and Rafael Viñoly Architects, joins in the newly created position of Operations Director
15 Mar 2011
RMJM to Bolster Finances with £8m Funding Committed from Morrison Family
RMJM today (Tuesday March 15th 2011) announced that the Morrison family is to commit an £8m funding package to the business, which will place the global architectural practice on a strong financial footing.
Unveiling the refinancing scheme to staff and shareholders, chief executive Peter Morrison revealed that the deal, which is subject to final shareholder approval, has been structured with the continued support of the group's bankers and is scheduled to be completed by the end of this month.
Mr Morrison said: "We have been working through the detail of this funding plan for several months, to enable us to underpin our superb architectural talent worldwide with a robust financial position.
"The economic downturn has meant a very difficult couple of years for the profession but I'm immensely grateful to our teams and our partners worldwide for their patience and the exceptional quality of work they have continued to produce."
The Morrison family has committed a total of £8m funding to the group, comprising £5m share capital in the company and a £3m loan. This will address cash-flow issues that have affected RMJM over the past 18 months, a result both of the recession in Europe, the United States and Middle East and late payments for substantial projects in the Middle East and Russia.
As one of the world's top ten architectural practices, with 850 staff and more than $125m (£78m) of projects currently on its books, RMJM is confident that this additional funding will put it in a strong position to continue to win new business as economies around the globe emerge from the recession.
The RMJM order book is already back to pre-recession levels thanks to a series of significant international project wins, including the Baha Mar Resort in the Bahamas, Motorworld and Yas Southern Marina in Abu Dhabi and the delivery of the Oman Convention and Exhibition Centre.
Peter Morrison said: "Trading conditions continue to be challenging for the architecture sector but we are now seeing definite signs of recovery. The Far East continues to trade well and we are pursuing many significant new opportunities there.
"After two very difficult years in the Middle East, the economy there is getting back on its feet and our US business is also starting to benefit from the recommencement of a number of projects which were put on hold during the height of the recession.
"With a restructured balance sheet in place and the expected receipts from certain major overseas projects, we will be in robust shape and well-placed to benefit from the many opportunities the upturn will bring."
Commenting on the late payments to staff and industry partners caused by the cash-flow issues that RMJM has experienced in recent months, Mr Morrison added: "I would like to recognise the enormous effort, hard work and patience demonstrated by our staff, our industry partners and our shareholders in recent months. This support is critical to our ongoing success and it is hugely appreciated."
RMJM Architects Problems
RMJM staffing and payment issues continue, 10 Mar 2011.
Last week e-architect reported on '10 Design' in Hong Kong – led by directors Gordon Affleck, Adrian Boot, Ted Givens and Scott Findley, all former senior staff at RMJM in Hong Kong and Edinburgh.
The latest development at RMJM, the Scottish-based global architectural firm, is mass resignation of staff at one of its main offices and the reported threat of industrial action over unpaid wages in the UK. Senior employees at the Hong Kong office jumped ship to rival company 10 Design after (though some were before) executives from RMJM head office were parachuted in to take control of the division, amid a ferocious battle over unpaid wages and alleged financial mismanagement.
A further 33 employees there have also defected to rival firm Aedas, which has its head office in Hong Kong and is ranked above RMJM as one of the world's largest architecture practices.
It has also emerged a number of workers at the company's UK offices – including the RMJM headquarters in Edinburgh – did not receive their wages on time for the second consecutive month.
The news came amid unconfirmed reports that staff in the RMJM London office are considering taking strike action early next week.
Most senior RMJM Hong Kong workers – including managing principal Bertil de Kleynen – quit after their office was taken over by a team headed by chief executive Peter Morrison.
A source close to RMJM – which, until recently employed former RBS chief executive Sir Fred Goodwin as a consultant – described the loss of the management team as "very sad. The best architects have left the practice. It is a big problem for the company," he said.
The Scotsman report that Peter Morrison stepped in to take control of the RMJM Hong Kong office last week after principal architect Catherine Siu – who is among those believed to have handed in their resignations – revealed she had lodged an official complaint with the Hong Kong labour department over unpaid salaries in an e-mail tirade addressed to Peter Morrison and copied to all 180 RMJM staff in Hong Kong.
She accused RMJM of leaving the Hong Kong operation unable to make payments to workers and local creditors. If found guilty of the offence under Hong Kong law, Peter Morrison could be subject to a hefty fine and three years in prison.
The chief executive, who runs RMJM with his father, Sir Fraser Morrison, yesterday revealed plans to bolster the Hong Kong division with new appointments and expand in mainland China, where it was responsible for a number of buildings used in the Beijing Olympics in 2008. Peter Morrison claimed it was "not entirely unexpected" that certain members of the previous RMJM management team would leave after last week's furore.
But rival Aedas, which has around 750 staff in Hong Kong, have poached 33 staff from RMJM – the majority from the company's lucrative China team, led by William Wong.
Ed Jimenez, a senior architect at RMJM's New York office, resigned after sending a 900-word e-mail to Mr Morrison, it was reported last week.
RMJM – USA News
RMJM is being sued by employees in the United States over claims that it owes them hundreds of thousands of dollars.
According to the lawsuit lodged in New Jersey, RMJM director Fraser Morrison and his chief executive son Peter Morrison reneged on the $24 million deal where RMJM merged with major US architects Hillier in 2007.
According to the legal papers – filed on behalf of a number of US-based principals by former Hillier owner and shareholder representative Bob Hillier – RMJM owes $664,000 of a $1.5m cash bonus pool promised under the terms of the merger agreement to employees for 2009. RMJM advise that the remaining money will be paid soon.
RMJM – Practice News 2010
Fred Goodwin @ RMJM
15 Jan 2010
The appointment of Sir Fred Goodwin as a consultant at RMJM has already unleashed a wave of negativity. Sir Fred will be advising the practice on international strategy, working closely with their executive team. This is a major appointment – a former heavyweight figure on the world stage. Our inbox is filling rapidly!
It's the first appointment the former Royal Bank of Scotland (RBS) chief executive has secured since stepping down from RBS after intense criticism. Fred Goodwin's approach to his pension was even attacked by the British Prime Minister.
Currently RMJM Architects are the 5th largest architectural firm in the world with operations across five continents (ironically Sir Fred Goowdin built RBS up to be the 5th largest bank in the world) . Along with RMJM's recent 'signing' of architect Will Alsop this shows the studio is flexing its muscles and not afraid to deal with controversy.
RMJM – Practice News 2009
1 Oct 2009
Will Alsop at RMJM Studio


photograph : Jason Alden
Will Alsop at RMJM : New Studio
3 Feb 2009
RMJM appoint director to support move into emerging markets
The UK-based architectural company RMJM has made a senior appointment to support its move into new markets with the arrival of former Sandhurst army officer Nick Haston as Director of Global Emerging Markets.
27 Jan 2009
RMJM launches new Global Health Studio
This UK-based international architecture firm today announced the formation of a Global Health Studio (GHS). The GHS will be based in the New York office and will operate in Europe, North America, the Middle East and Asia.
20 Apr 2009
RMJM appoints Olympic expert to lead new sports design studio
This International architect office is launching a new global sports design studio and has appointed a key designer of the Beijing Olympics 'Watercube', John Pauline, as its Design Principal.
9 Sep 2009
Stephen Lawrence Lecture
Speaking alongside Attorney General Baroness Scotland QC at the annual Stephen Lawrence Memorial Lecture tomorrow (10 September], Chief Executive of this international architecture firm Peter Morrison, is to call for increased investment in sporting facilities in deprived inner city Britain to promote community cohesion and crime reduction.
Stephen Lawrence Memorial Lecture
15 Dec 2008
RMJM Hillier to become RMJM
RMJM Hillier : North American Offices of Global Firm to Use RMJM Name
RMJM Hillier
RMJM merge with USA's 5th largest practice, Hillier of New Jersey. Hillier Architecture formed in 1966 and have around 350 employees. Most of their buildings are in the US but they designed the GlaxoSmithKline HQ, just west of London
RMJM Hillier Architects : Announcement
RMJM Hillier Projects, alphabetical:
Penn State Student Health Center
University Medical Center Princeton Hospital
RMJM win Gazprom's new headquarters, St Petersburg, Russia – St Petersburg Architecture



image from RMJM architects
RMJM Projects
Commonwealth Institute, west London, England
–
Grade II* listed : saved from potential demolition 2007
New Zealand House, Haymarket, London SW1
Date built: 1960
Cambridge Biomedical Campus, south Cambridge, England
2007-
Lowport Primary School – Extension, Linlithgow, West Lothian, Scotland
v2003
Stevenson College – 'the music box' proposal, Edinburgh, Scotland
–
University building, Chatham, Kent, UK
Date built: 2006
More architecture projects by RMJM Architects online soon
Location: Edinburgh, Scotland
Architects Practice Information
Information from RMJM 19 Jun 2007
OVERVIEW
RMJM is an international firm of architects with offices throughout the UK, Asia, and the Middle East. Founded in 1956 by renowned British architects Robert Matthew and Stirrat Johnson-Marshall, this is one of the world's largest architectural practices and employs almost 700 people in 11 international offices: Bangkok, Beijing, Cambridge, Dubai, Edinburgh, Glasgow, Hong Kong, London, Moscow, Shanghai, and Singapore. The architects practice recently secured commissions in four of the world's rapidly developing markets—China, India, Russia, and Qatar—providing the impetus for forthcoming offices in Abu Dhabi, Delhi, and Doha.
NOTABLE PROJECTS
Abu Dhabi Convention Centre, UAE (current)
Beijing Olympic Green Convention Centre, China (current)
Dubai Convention Centre, UAE (current)
Kolkata Intl Convention Centre, Kolkata India (current)
Shanghai Expo 2010 Intl Convention Centre, China (current)
Custom House Quay, Glasgow (current)
China Merchants Bank, Shanghai (current)
Beijing Olympic Convention Centre (2007)
Gazprom, St. Petersbirg (2007)
World Bengal Tower, Kolkata (2005)
The Scottish Parliament, Edinburgh (2004)
SZR-17, Dubai (2003)
Dubai Tower, Doha (2003)
Falkirk Wheel & Visitor Center (2002)
University of St. Andrews (2002)
MILESTONES
1956 RMJM founded by British architects, Robert Matthew and Stirrat Johnson-Marshall.
1962 Completion of New Zealand House, described as "London's most distinguished
1960's office block" and now a Grade 2 listed building
1962 Completion of the Commonwealth Institute, London
1966 oversees the design of the entire campus of the University of York
1969 Czechoslovakian Embassy opens
1974 extends capabilities as educational facilities design specialist, designing full University of Stirling campus
1999 awarded the RSA Gold Medal for Architecture (Paul Stallan)
2002 win British Construction Industry Award for design of the William Gates Building, University of Cambridge
2003 Presented with the Scottish design Award 'Best Original Work' for the Falkirk Wheel
2005 win appointment to design international convention center in Kolkata, India
2006 Moscow appoints RMJM to design the new headquarters for gas giant, Gazprom
2006 Construction begins on the RMJM-designed Beijing Olympic Green Convention Centre
2007 design for Centralised Science Laboratories Building at The Chinese University Hong Kong wins 2006 Hong Kong Institute of Architects Merit Award for Community Building
MANAGEMENT
Peter Morrison has served as RMJM Architects' CEO since 2006. He joined the group in 2003 as a non-executive director of the holding company. Since joining, Peter has led RMJM through a period of dynamic and strategic international expansion particularly focused on rapidly emerging and global markets. He has a background in corporate finance and acquisitions. Peter Morrison will continue as CEO while Sir Fraser Morrison will become the acting CEO of RMJM Hillier until a permanent replacement is installed.
PRINCIPALS (this list is now out-of-date)
David Pringle, Managing Director (Asia)
Hazel Wong, Managing Director (Middle East)
Tony Kettle, Managing Director (UK) – now leads Kettle Collective
Scott Findley, Design Director (Asia)
Paul Stallan, Design Director (UK) – now runs Stallan-Brand
Robert Meikle, Technical Director (Middle East)
Hugh Mullan, Group Finance Director (UK)
RMJM studio based in Edinburgh, Scotland, United Kingdon
Lothian Regional Rouncil HQ, Edinburgh (Robert Matthew)
British Home Stores Edinburgh (Robert Matthew)
Croythorn House, Edinburgh
Website: www.rmjm.com
Architectural Design
Buildings / photos for the RMJM Architects Edinburgh page welcome