Reiulf Ramstad Architect, Norwegian Design Studio, Oslo Architecture Practice Information
Reiulf Ramstad Arkitekter Studio
RRA News: Norwegian architects studio based in Oslo, Norway + Aarhus, Denmark
post updated 15 October 2021
Reiulf Ramstad Arkitekter News
News from Reiulf Ramstad Architects
15 + 14 Oct 2021
Nørregade Project, Aarhus, Jutland, Denmark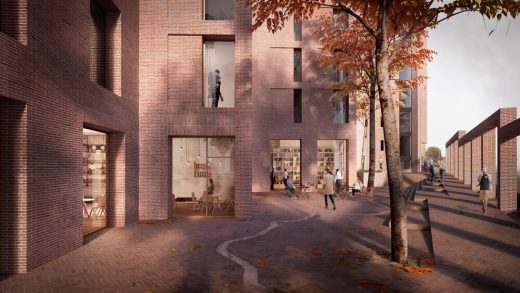 image © Reiulf Ramstad Arkitekter
Nørregade 6 Aarhus Nørreport Housing
It is a win in the city of Aarhus, Denmark! Reiulf Ramstad Arkitekter AS, based in both in Aarhus and in Oslo, are happy to share a preview of the Nørregade- Nørreport Housing Project.
14 Oct 2021
Kornets Hus – Building Award News, Hjørring, Danmark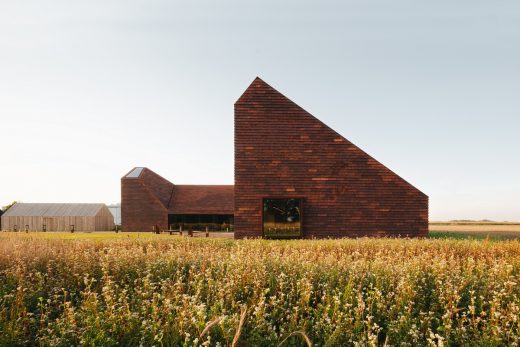 photo © Reiulf Ramstad Arkitekter
Hjørring Municipality's Architecture prize 2021 goes to Kornets Hus:
"A simple and sculptural building rises between fields and horizons and interprets local farm construction as a landmark that reaches out into the world" – the jury.
31 Aug 2020
A new visual identity for RRA
Reiulf Ramstad Arkitekter are happy to present our newly updated visual identity! We wanted a consistent appearance to accurately present the firm as we are today. When developing our newest book Contours & Horizons in 2018 we got the opportunity to explore our previous 20+ years and learned a lot about ourselves in the process, most importantly our developed and consistent identity as a firm and also how to present our values.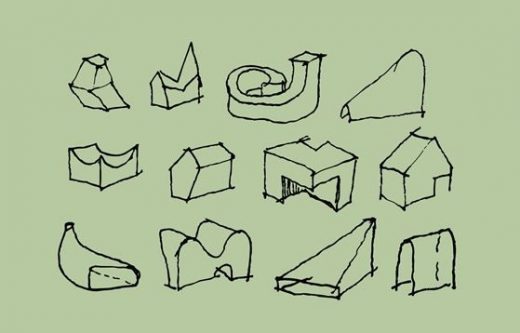 It sparked our inspiration to develop this in an updated graphic identity of the firm, and we continued this process together with graphic designer Troels Faber from NR2154/CPH that also worked closely with us on "Contours & Horizons".
The logo is now black, bold and assertive. The firm's name will be presented uniformly as Reiulf Ramstad Arkitekter, proudly displaying our full name and Nordic origins. The changes also includes a new color palette; it's positive, classic and inspired by natural elements.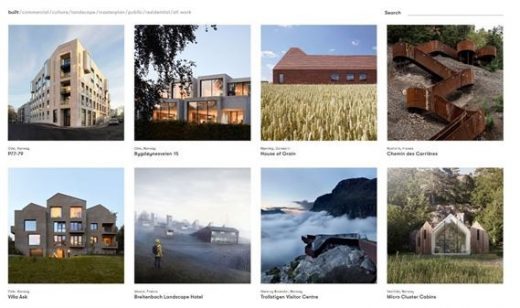 Updated website for RRA
With a new visual identity an updated website had to follow! We simplified the navigation, filled the screen and updated many of the functions; so please check it out at reiulframstadarkitekter.com. We will keep updating the news section and the project images so that there will always be something new to explore.
www.reiulframstadarkitekter.no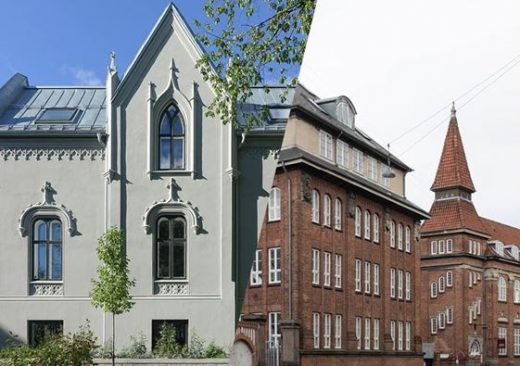 Two offices, one strategy
Reiulf Ramstad Arkitekter is based in Norway (Oslo) and Denmark (Aarhus).
Our work is diverse and every project has a singular destiny and story that adjusts to the surrounding social, economical and cultural conditions. This principle will not change, however, the way we conceptualize architectural excellence is an ongoing process, always in a flux.
The projects are geographically spread and take place in a manifold of contexts, from compact urban locations to dramatic and uncultivated landscapes. The portfolio of the office contains commissions with huge contrasts in relation to scale, context, budget and function.
[email protected] / rra.no
11 May 2019
Mosetertoppen Ski Resort, Hafjell, Norway
Architects: Reiulf Ramstad Arkitekter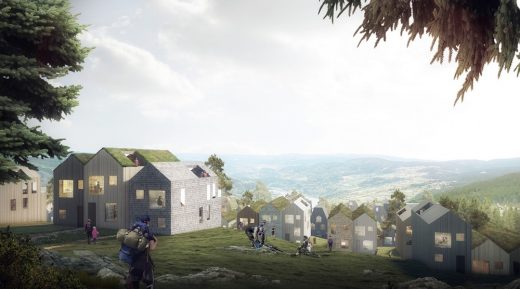 image © RRA
Mosetertoppen Ski Resort by RRA
A new architectural project at Hafjelltoppen, which will be able to house about 1000 people. The project will be rooted in both tradition and innovation.
20 Feb 2019
In The World of an Architect, Utzon Center, Aalborg, Denmark
until 26 May 2019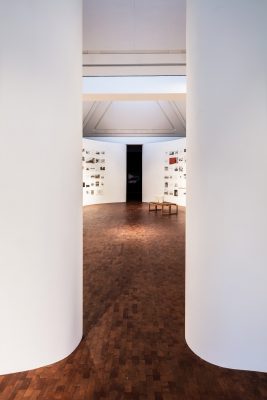 photo © Niels Fabæk
Reiulf Ramstad Architects Exhibition
11 Aug 2017
Double Nomination For Reiulf Ramstad Arkitekter Regarding The Norwegian Architecture Award 2017
Reiulf Ramstad Arkitekter are proud to announce that amongst 20 nominations they have 2 projects in the run for the 2017 Architecture Award in Norway. The selected projects are:
– Cultural Center (Kimen Kulturhus) in Stjørdal
– Romsdal Folk Museum (Romsdalsmuseet) in Molde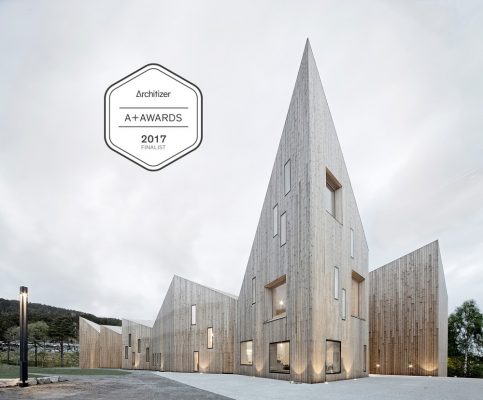 image courtesy of architects
They are both are strong competitors for this years' award. The finalists represent a great variety of projects in terms of location, size and program.
The award was established in 2016 and this is the first time Reiulf Ramstad Arkitekter is nominated, and twice! The jury consists of all the members in the Norwegian Architecture Association, NAL in addition to landscape and interior architects associations, NLA and NIL.
The Arkitekturprisen 2017 winner will be announced at the annual Architecture-day, "Arkitekturdagen" on September 21st 2017 at Chateau Neuf in Oslo.
28 Jun 2017
Norwegian Architecture Across Borders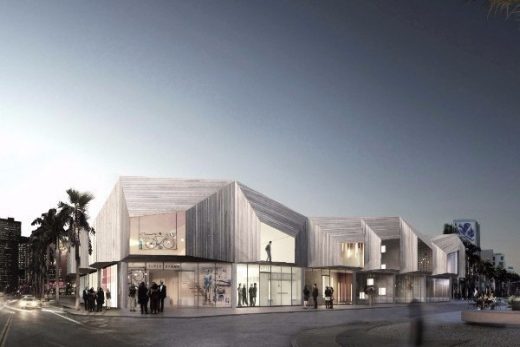 image courtesy of architects
Seven Norwegian companies have been selected to participate in a public pilot project that aims to export Norwegian architecture across national borders.
Fjordporten Competition, Oslo
Reiulf Ramstad Architects announce that they have been selected amongst 26 international applicant teams for the restricted competition to design the new "Fjordporten" building for Bane Nor Eiendom.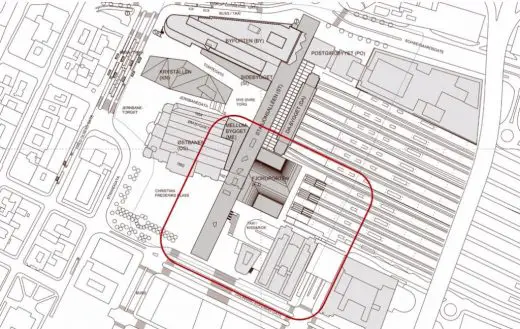 image courtesy of architects
Team Reiulf Ramstad Arkitekter in collaboration with C. F Møller Arkitekter, Bollinger + Grohmann Ingenieure, Baugrundinstitut Franke – Mebner und Partner GMBH and Transsolar Climate Engineering are to propose a new 35,500m2 high rise building in the heart of Oslo.
RRA Entry for Ross Pavilion Competition in Edinburgh
How can the Ross Pavilion offer a new world class cultural venue not just for Edinburgh, but the whole of Scotland?
"The single homogenous appearance of the roof provides a sculptural quality when viewed from the Castle ramparts above. This free-forming roof also has a highly practical application; the volumes within the building are highly flexible, ranging from intimate performance space and dressing rooms to high ceiling main stage space and public foyer."
Reiulf D. Ramstad, Director and Founder of RRA
Design by Reiulf Ramstad Arkitekter with GROSS.MAX., AECOM, Charcoalblue, Groves-Raines Architects and Forbes Massie Studio: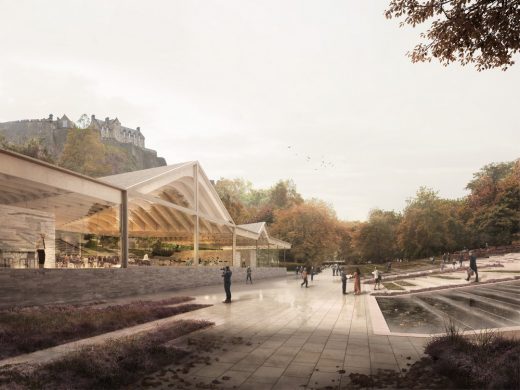 We have assembled a multi-disciplinary design team of both international profile and local knowledge to put forward this proposal for the revitalisation of the Ross Pavilion and West Princes Street Gardens. Working with GROSS.MAX, AECOM, Charcoalblue and Groves Raines Architects.
Reiulf Ramstad Architects Entry for Ross Pavilion International Design Competition
Reiulf Ramstad Architects, Oslo : main page on this Norwegian architecture studio
5 Oct 2010
Reiulf Ramstad, Architect
Interview with Reiulf Ramstad by e-architect editor Adrian Welch


photo : RRA
At 18 National Tourist Routes Norway Conference
Adrian: First, can we talk about your Trollstigen project, this is a major intervention, is it the largest on any of the eighteen tourist routes?
Reiulf: It will be.


photo : RRA
Adrian: The lookout element at Trollstigen (photo above) is bold, breathtaking in its cantilever. It discusses with nature in a similar way that Scarpa works with ruins at Castelvecchio. Can you explain the basis behind it?
Reiulf: Børre Skodvin (JSA) was working on these routes ten years before us, we came along through the competition process, we had no contacts, we won the anonymous contest. Although Trollstigen is well known in Norway I only came to it as an adult, at the time of the competition. I wanted to pass by! It is not a virgin site, there were buildings here before. It is only accessible in Summer, closing from September to May due to snow, but in the few months it is open around 600,000 visitors pass through.
Rather than thinking 'architecture' we thought 'landscapes'. We started with demolition. Any new structures should have a duality, we needed to create a distinction between people in cars and those who weren't. Nature is brutal here, we focused on access, but started expanding our knowledge by talking with water specialists, hydrologists, etc. The project imposed new ways of working, and it is exciting to come up in May and see what has happened. We developed prototypes to deal with avalanches and heavy rain.


photo : RRA
Adrian: The various elements at Trollstigen – mountain lodge, outlook plateau and embankment building – are all robust, with some heroic moments such as the outlook cantilever. The extreme conditions obviously affect the architecture, but it appears the robustness is celebrated, as if fighting nature.
Reiulf: It is not to fight, it is not under the sun so that helps define it.


photo : RRA
Adrian: Your outlook plateau uses a massive cantilever with a clear glass balustrade at its extremity, like the Aurland Look out by Saunders arkitektur & Wilhelmsen arkitektur, is teases those who brave it.
Reiulf: There is a graduation of danger, the intention is to invite all types of users.


photo : RRA
Adrian: Materials are principally corten, concrete and glass, is this correct?
Reiulf: We started with wood but it was not right, so we chose to use steel and concrete but there is a problem as war structures on the coast are steel and have outlived themselves. The locals wanted turf and stone, there was a scepticism and many meetings!


photo : RRA
Adrian: There are around 200 hundred tourist route projects since the initiative started in 1994/95, how does Trollstigen compare to them?
Reiulf: It is very different to the other projects, there is a lack of time (due to close down of the site for so many months of the year), but this is a positive aspect. It is like slow food. Buildings are built too fast these days. Architecture is an ancient art that honoured time.


photo : RRA
Adrian: Ok, so slow is beneficial?
Reiulf: We need to be more patient, gain experience. We suffer the consumption of the image. We learnt a lot about being patient on the Trollstigen project!
Reiulf Ramstad Architects : main page on this Norwegian architects studio
Reiulf Ramstad Architects – Studio News
RRA Lectures
Reiulf Ramstad Architects Lectures, Alaska, USA
13 – 15 Feb 2012
Part of the lecture series on Changing Landscapes hosted by Alaska Design Forum.
RRA Exhibitions
Reiulf Ramstad Architects Exhibition, Glasgow, Scotland
3 Feb – 2 Mar 2012
Reiulf Ramstad Architects Exhibition : Glasgow Event
Gallery, Architecture Department, University of Strathclyde
RIBA Exhibition, London, England
'Contemporary Norwegian Architecture : Landscape and Intervention by Reiulf Ramstad and Jensen & Skodvin'
12 Apr – 15 Jun 2012
RIBA, 66 Portland Place, London W1B 1AD; Gallery Two and Florence Hall
RIBA Event London
"Reiulf Ramstad Architects and Jensen & Skodvin Architects are two of the most high-profile and innovative architects practices based in Norway".
7 Feb 2012
Shortlist News
RRA Shortlisted for New Competition regarding Folkets Hus, Trondheim, Norway
Reiulf Ramstad Architects to compete in the restricted competition regarding the revitalization and reconstruction of the People's House (Folkets Hus) in Trondheim in 2012.
The commissioner wants the Labour Movement Headquarters to be "revitalized and again become the main venue for solidarity and cooperation and a clear platform for exchange and dialogue through political and artistic activity in the city of Trondheim…"
10 Oct 2011
Reiulf Ramstad Architects Exhibitions News
Contemporary Norwegian Architecture : Landscape and intervention
by Reiulf Ramstad and Jensen & Skodvin
12 Apr – 15 Jun 2012
Gallery 2 and Florence Hall, RIBA, London
An exhibition highlighting the most significant developments within contemporary Norwegian architecture situated outside of the urban context, consequently using the 'National Tourist Routes in Norway' scheme as a way in which to frame the discussion and explore the work of two of the most high-profile and innovative practices based in Norway: Reiulf Ramstad and Jensen & Skodvin.
Trollstigen National Tourist Route Building:



photo : RRA
A selection of Tourist Routes projects – completed all over the country – will be displayed by each practice, as well as a range of other buildings that have been undertaken, including housing and public works.
A talk to accompany the exhibition will be given by Reiulf Ramstad and Jensen & Skodvin on 17 Apr
10 Oct 2011
Lecture + Exhibition by Reiulf Ramstad Architects
RRA WITH LECTURE AND EXHIBITION AT SINT-LUCAS SCHOOL OF ARCHITECTURE, CAMPUS GENT (BELGIUM)
"Transforming Landscapes"- The exhibition of works by Reiulf Ramstad Architects will open in Gent on October 12th.
After leaving Brussels end of September the exhibition travels to Sint-Lucas School of Architecture in Gent, Belgium. The lecture by Reiulf Ramstad will be on the 12 Oct followed by the official opening and Vernissage at 19.00.
Sint-Lucas School of Architecture is known as the largest school for Architecture in Belgium. Its uniqueness stems from the combination of a long and rich tradition with a high reputation in architectural and design education. A large number of the leading Belgian interior designers, interior architects, architects, urbanists, artists and researchers, teaches at Sint-Lucas.
"Transforming Landscapes" works by Reiulf Ramstad Architects at Sint – Lucas school of Architecture Gent, 12 Oct – 4 Nov. The Exhibition is a collaboration between Reiulf Ramstad Architects and the Norwegian Embassy in Brussels/ L'Ambassade Royale de Norvège en Belgique.
Studio News by Reiulf Ramstad Architects
RRA WINS THE WAN AWARD OF LEADING ARCHITECTS FOR THE 21ST CENTURY
WAN 21 for 21 AWARDS – UK. The initiative aims to highlight 21 architects who could be the leading lights of architecture in the 21st century; outstanding, forward-thinking people and organisations who have the demonstrable potential to be the next big thing in the architectural world.
Trollstigen National Tourist Route Building:



photo : RRA
EXHIBITION AT CIVA IN BRUSSELS, BELGIUM
23 Jun – 25 Sep
Reiulf Ramstad attended the official opening of RRAs exhibition Transforming Landscapes on June 22nd. at CIVA: the International Centre for Urbanism, Architecture and Landscape (Le Centre International pour la Ville, l'Architecture et le Paysage) in Brussels. The CIVA exhibit is a smaller version of the exhibition recently on display at La Galerie d'Architecture in Paris. The Exhibition is a collaboration between Reiulf Ramstad Architects and the Norwegian Embassy in Brussels and is partly sponsored by The Norwegian Ministry of Foreign Affairs (UD) / Norsk Form. After Brussels the Exhibition will travel to Genth (Belgium) and be on display from september till November.
TROLLVEGGEN RESTAURANT
Opening 26 Jun
Official Opening of The Troll Wall restaurant with seasonal opening between 1st of June to 1st of September. The spectacular view of the towering cliffs of The Troll Wall (Romsdalen, Norway) is visible from within the restaurant. Concerts, movies and parachute jump-events will take place during the season.
FUGLEVIK SUMMERHOUSE COMPLETED
Located in Østfold County, near Larkollen by The Oslo Fjord, with a magnificent ocean view. The house is designed around the concept of a mono-view, meaning that the house opens up to the landscape in one direction only.
RRA RECEIVES HONORABLE MENTION FOR COMPETITION PROPOSAL REGARDING NEW MUSEUM JØSSINGFJORD
The open international design competition for the new museum facility in Jøssingfjord received 136 proposals. This is a very high number for a competition of this nature and, in fact, among the open architectural competitions in Norway with most entries. The award-winning, purchased and honorable mentioned proposals have all the elements that illustrate the challenges and helps to understand the situation better and provides valuable experience in the further design work to complete a new Museum.
THE NORWEGIAN GOVERNMENTS BUILDING AWARD 2011
RRA a nominee with the K5 Urban Housing project for "Statens Byggeskikkpris 2011". 7 projects shortlisted out of 90. This annual award is considered the nation's most prestigious architecture prize.
CONTEMPORARY NORWEGIAN ARCHITECTURE # 7
At The National Museum – Architecture 6 May – 21 Aug 2011 RRA is part of the exhibition on display. "The exhibition highlights new Norwegian architecture. It reveals particularities in the individual works and points to developments that have significance for society."
Paris Exhibition by Reiulf Ramstad Architects
'TRANSFORMING LANDSCAPES'
16 Apr – 14 May 2011
La galerie d'architecture, Paris, France


photo : RRA
English text (scroll down for French):
Transforming landscapes
A place is not simply an aggregate of physical elements and conditions. It is not an object, however complex, to be viewed as raw material for the architect's creative will. A place is indivisible; it is unique and has a distinct expressivity of its own.
Architecture must always acknowledge the innate character of every location and make its design a marriage of place and concept.
The philosophy of Reiulf Ramstad Architects is that architecture must be instructed by the uniqueness of its location. With the uniqueness of every site and context as the point of departure Reiulf Ramstad Architects employ a distinct architectural palette characterized by a strong focus on materials and the sense of a location's individual spatiality. Each project becomes a unique departure when highly individual design emerges from a set of clearly defined and controlled elements.
Reiulf Ramstad's architecture seeks to expose the tension between the local and the global, the natural and the artificial; between virtual and real space and between immobility and change.
French text:
D'une pensée éclairée naît un projet audacieux. L'agence RRA vise à explorer la tension entre local et global, naturel et artificiel, entre espace virtuel et espace réel, immobilité et changement. Leur ambition est de créer une architecture contemporaine basée sur l'analyse du site, d'où émerge une interprétation sensible ouvrant la voie à la création architecturale. En partant de l'unicité de chaque contexte, Reiulf Ramstad Architects s'appuie sur une palette architecturale distincte et précise, caractérisée par un choix attentif des matériaux et par un sens de l'aménagement spatial propre du lieu. Leurs projets se distinguent ainsi par des formes tectoniques innovantes qui soulignent la continuité spatiale entre les paysages extérieurs et intérieurs.
Trollstigen National Tourist Route Project, Geiranger Fjord, Norway
2004-10



photo : RRA
Trollstigen National Tourist Route Project
More Reiulf Ramstad Arkitekter – RRA projects online soon
Location: Oslo, Norway
RRA Practice Information
Reiulf Ramstad Architects office based in Norwegian capital – Oslo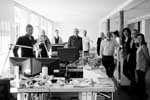 photo : RRA
Comments / photos for the Reiulf Ramstad Arkitekter page welcome