Studio Daniel Libeskind Architects, Buildings Images, Design Projects, USA, Germany
Studio Daniel Libeskind Architecture
Contemporary Manhattan Architecture Practice, NYC
post updated 5 September 2021
Studio Daniel Libeskind Buildings
Key Designs by Studio Daniel Libeskind, alphabetical:
Between The Lines, Berlin, Germany
Dates built: 1989-99
Citylife Museum – proposal, Milan, Italy
–
Contemporary Jewish Museum, Mission St, San Francisco, USA
Date built: 2008
Creative Media Centre, Hong Kong
Dates built: 2002-08
The Crystals, CityCenter Las Vegas project, Texas, USA
2008
500,000 sqft entertainment / retail space
Denver Art Museum – Extension, Denver, USA
2000-06
Epic Condominium High-Rise, Sacramento, USA
2004-07
Felix Nussbaum Haus Museum, Osnabrück, Germany
1995-98
Graduate Centre, London Metropolitan University, London, England
2001-03
Grand Canal Performing Arts Centre and Galleria, Dublin, Ireland
2004-10
Hyundai Development Corporation HQ – Facade, Seoul, South Korea
2003-05
Imperial War Museum North, Manchester, England
1997-02
Jewish Museum – new glass courtyard extension, Berlin, Germany
2007
Jewish War Veterans Memorial, Toronto, Canada
2005-06
Kö-Bogen – mixed-use development, Düsseldorf, Germany
2009-
Memoria e Luce 9/11 Memorial, Padua, Italy
2004-05
MGM MIRAGE CityCentre, Las Vegas, Nevada, USA
2007
Design: Adamson Associates & Studio Daniel Libeskind
Militärhistorisches Museum, Dresden, Germany
2003-08
The Museum Residences, Denver, Colorado, USA
2000-06
New Center for Arts and Culture, USA
2004-08
Renaissance ROM Extension to Royal Ontario Museum, Toronto, Ontario, Canada
2002-06
Sacramento Tower, California, USA
2004-07
Aura condominium tower, 601 Capitol Mall: 38 storeys
Studio Weil Private gallery for Barbara Weil, Port d'Andratx, Mallorca, Spain
1998-2003
The Wohl Centre: The Book and the Wall, Bar-Ilan University, Tel Aviv, Israel
2000-05
Design with The Heder Partnership
Unawatuna, Sri Lanka
2005
Union City Condominiums, USA
2005
More Studio Daniel Libeskind projects online soon
Location: 2 Rector Street, New York, NY 10006, USA
Studio Daniel Libeskind Practice Information
Daniel Libeskind : alphabetical list of all key buildings only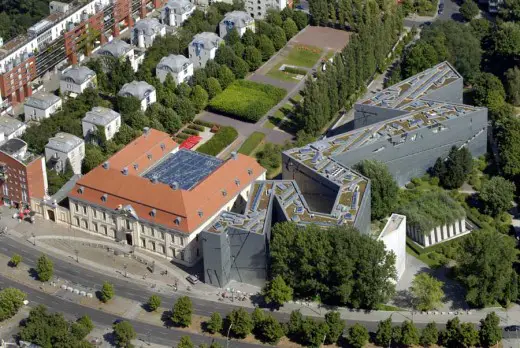 photo © Guenter Schneider
Daniel Libeskind Architects : Practice Information – news & events
SDL are based in New York City but have European Partner offices based in Zürich, Switzerland (Architect Daniel Libeskind AG) and Milan, Italy (CityEdge SRL).
Daniel Libeskind Education
Cooper Union, New York, USA
1970: Architecture graduate
School of Comparative Studies at Essex University
1972: History & Theory of Architecture postgraduate
Daniel Libeskind – Previous Positions
Cranbrook School of Art and Design, Michigan, USA
1978-85: Head of the Department of Architecture
Architecture Intermundium – Institute for Architecture & Urbanism, Milan, Italy
1986-89: Founder + Director
Daniel Libeskind – Current Positions
Graduate School of Fine Arts, University of Pennsylvania, USA
Paul Cret Chair of Architecture
Hochschule für Gestaltung, Karlsruhe, Germany
Professor
Studio Daniel Libeskind Architects
The architecture studio started in 1990 in Berlin. The Jewish Museum Berlin – won in 1989 – was the springboard.
Reflections at Keppel Bay, Singapore: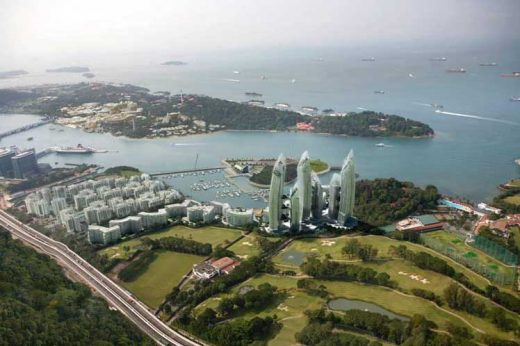 image © Studio Daniel Libeskind
The most influential building by Studio Daniel Libeskind to date is surely the Berlin Jewish Museum: it's approach to the facade – with angular slots – and merging of wall, roof and floor (again using angles) was fairly original. Although the studio had done similar smaller projects – and angular architecture has been achieved by other architects such as Eisenman, Fuksas, Hadid, and, to a lesser extent people like Alsop and Tschumi – this felt new and challenging. The materials assisted this impression: compared to say the Wexner Centre the Jewish Museum seemed to have a dark sinister side – irrespective of its content and reason for being.
Daniel Libeskind is an American citizen.
Architectural Awards
American Academy of Arts & Letters Award for Architecture
Berlin Cultural Prize
TIME magazine's The Best of 1998 Design Awards
German Architecture Prize 1999
Goethe Prize 1999
Exhibitions
MOMA, New York, USA
MAK, Vienna, Germany
MAK, Lso Angeles, USA
NAi, Rotterdam, The Netherlands
Centre Pompidou, Paris, France
Website: daniel-libeskind.com
Architectural Design
Contemporary Architecture – architectural selection below:
Ørestad City masterplan Copenhagen
SDL Unbuilt Projects
V&A Museum Building Extension, London, England – design competition win
Lancashire Rainforest Project – Blackpool / Southport, England, UK
Maggies Centre Cambridge, UK
Daniel Libeskind is registered as an architect in Germany
Architectural Designs
RIBA Awards : Wohl Centre Israel – RIBA International Awards 2006
Buildings / photos for the Studio Daniel Libeskind page welcome