Renzo Piano Architects, Building Workshop, Studio, Images, Project, Practice, Design News
Renzo Piano, Italia : Studio di Architettura
Contemporary Architecture Practice – RPBW, France / Italy: Office Info + Building News
post updated 3 May 2023
Renzo Piano News
RPBW Architecture News, chronological:
3 May 2023
Istanbul Modern, Istanbul, Türkiye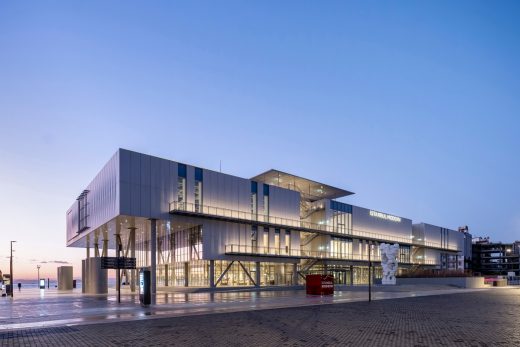 photograph : Cemal Emden
Istanbul Modern building by Renzo Piano
Istanbul Modern, Türkiye's first museum of modern and contemporary art, will open to visitors in a new building designed by Renzo Piano Building Workshop on Thursday May 4, 2023. The landmark building is situated at the museum's original location on the Karaköy waterfront, one of Istanbul's most historic districts where the Bosphorus and Golden Horn meet.
3 Jan 2022
GES 2 House of Culture, Moscow, Russia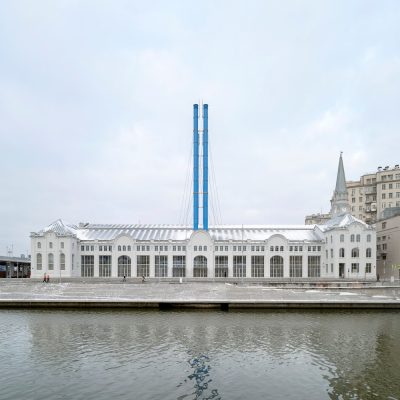 photo : Michel Denancé photographer
GES 2 House of Culture Moscow
When thinking about what kind of building would be perfect to create a space for contemporary culture, a power station comes to mind immediately! This is what RPBW found in Moscow: a magnificent historical power station built between 1904 and 1908.
Sep 22, 2021
Academy Museum of Motion Pictures – Opening September 30, 2021
Architect: Renzo Piano Building Workshop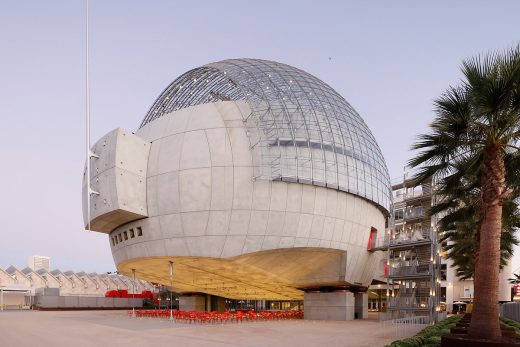 photo : Iwan Baan ©️ Iwan Baan Studios
Academy Museum of Motion Pictures Building
The Academy Museum will be the world's premier institution dedicated to the art and science of movies. Opening on 30 September 2021, the Museum will be simultaneously immersive, experimental, educational, and entertaining.
A look at some of award-winning Italian architect Renzo Piano's most famous works
The Shard Building in London: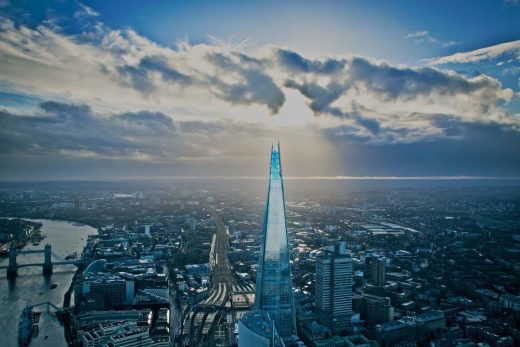 photo © Martin, Chris
Renzo Piano Architect – article, 2 Sep 2016
550 Broome Street Skyscraper, SoHo, New York City, NY, USA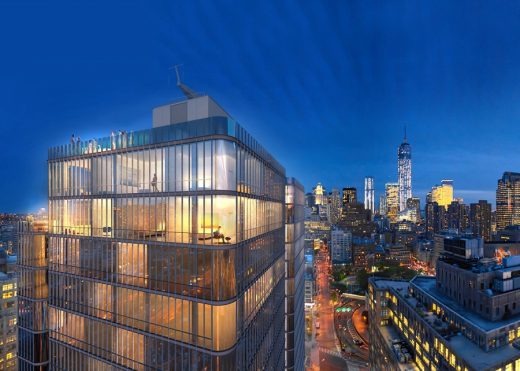 image courtesy Renzo Piano Building Workshop, architects
The Soho Tower New York City – 11 Jan 2016
This building is a 25-storey residential tower.
31 London Street, Paddington, Northwest London, England, UK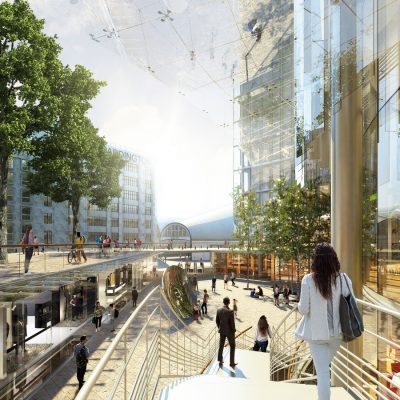 picture : RPBW
31 London Street in London – 21 Oct 2015
Great Western Developments Ltd, a subsidiary of Singapore publicly listed Hotel Properties Limited, and its development partner Sellar Property Group has unveiled development proposals for the former Royal Mail sorting office. Adjacent to Paddington Station, the scheme will create a transformative mixed-use development with world-class public realm at its heart.
Kimbell Art Museum Pavilion Building, KAM, Texas, USA
Design: Renzo Piano Building Workshop (RPBW) and Kendall/Heaton Associates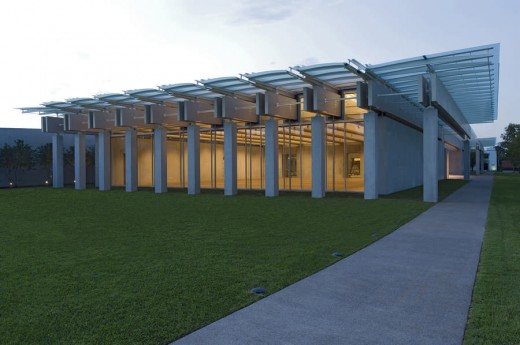 photograph : Robert Polidori
Renzo Piano Pavilion at Kimbell Art Museum – 2 Dec 2013
Surrounded by elms and red oaks, Renzo Piano's 101,130-square-foot colonnaded pavilion stands as an expression of simplicity and lightness—glass, concrete and wood—some 65 yards to the west of Louis I. Kahn's signature cycloid-vaulted museum of 1972. Designed by RPBW and Kendall/Heaton Associates, the highly anticipated expansion of the Kimbell Art Museum is now open.
Whitney Museum of American Art Building, Manhattan, NYC, USA – 10 Nov 2013
Design: Renzo Piano Building Workshop



photo : Timothy Schenck
New photos + films of this new building is located in New York City's Meatpacking District designed by Renzo Piano Building Workshop in collaboration with New York City architecture office Cooper, Robertson & Partners.
J.P. Morgan Library and Museum Building, New York City, USA



photo by Michel Denancé, provided by permission of the Morgan Library and Museum
J.P. Morgan Library and Museum Building : architecture article by Joel Solkoff. 13 Jul 2013
Why did it take New York City so long to recognize that Renzo Piano is a good architect?
After decades of work throughout the world, after winning the highly respected Pritzker Award in 1998, it was not until five years later that Piano began work as a creative architect on a project in New York City. What is wrong with New York?
e-architect feature numerous exclusive articles about this building written by Joel Solkoff.
Stavros Niarchos Foundation Cultural Center – SNFCC, Athens, Greece
Design: RPBW ; Georgio Bianchi, Partner in Charge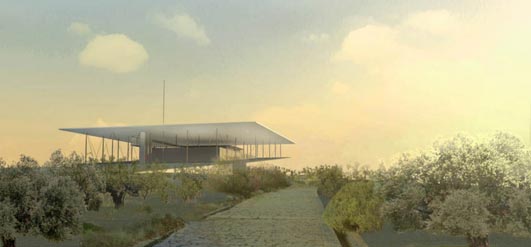 picture : RPBW
SNFCC Athens
The SNFCC building contains the National Library of Greece and the Greek National Opera. It is located in the Stavros Niarchos Park.
This public-private project is designed for citizens to experience art, education and green space. The Stavros Niarchos mission is to enrich the lives of citizens and also to preserve the natural environment – noble aims!
Gagosian Gallery Renzo Piano Exhibition, New York City, NY, USA
Gagosian Gallery Renzo Piano Exhibition – 2013
e-architect feature a short video from this show.
In collaboration with Fondazione Renzo Piano, Gagosian Gallery is pleased to present "Fragments," an exhibition of more than thirty years of architectural projects by the RPBW. The exhibition has been generously supported by the Stavro s Niarchos Foundation.
Astrup Fearnley Museet, Oslo, Norway
Design: with Narud Stokke Wiig architects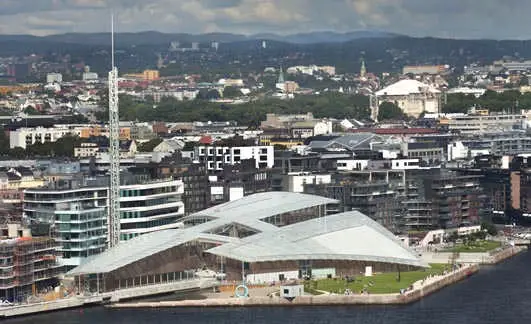 image © Nic Lehoux
Astrup Fearnley Museet Oslo – 28 Sep 2012
The Astrup Fearnley Museum of Contemporary Art is to reopen on 29 September in Tjuvholmen, the newest arts district of Oslo. Previously located at Dronningensgtate 4 for 18 years, the privately owned museum is now part of the new Icon Complex, developed by Selvaag Gruppen and Aspelin-Ramm Gruppen, and designed by RPBW in collaboration with Narud Stokke Wiig architects.
Renzo Piano – Latest Major Building
The Shard – London Bridge Tower, London, UK
2012
Official Inauguration of Western Europe's tallest building
On Jul 2012 there was a spectacular laser show – the biggest London has ever seen – projected onto and from The Shard

photo © Nick Weall
The Shard : the major Renzo Piano design to be completed so far.
We carry exclusive photos on e-architect that have tracked the construction from start to finish.
At a height of 310 metres (1,020 feet) and with a total 72 occupied floors reaching skyward into a breathtaking 15 story spire, the Shard London Bridge Quarter is now the tallest building in Western Europe.
Studio di Architettura Renzo Piano – Recent Designs
Isabella Stewart Gardner Museum, Boston, MA, USA
2012



photo © Nic Lehoux / RPBW
Isabella Stewart Gardner Museum Boston – 12 Jan 2012
This is project is titled 'New Wing and Restored Historic Galleries' – the extension was designed by the Pritzker Prize-Winning Architect.
LACMA Lynda and Stewart Resnick Exhibition Pavilion, Los Angeles, USA
2010



photo from LACMA
LACMA Resnick Pavilion
The 45,000 sqft Resnick Pavilion is the largest purpose-built, naturally lit, open-plan museum space in the world. It features the type of sawtooth roof which RPBW have perfected over the last few decades.
Key RPBW Buildings
Designs by RPBW, alphabetical:
Art Institute of Chicago Modern Wing, Chicago, USA
2009



photo : Andrew Campbell Photography
Art Institute of Chicago Modern Wing
The 264,000-sqft Renzo Piano-designed addition is the largest expansion in the museum's history. The Modern Wing increases the museum's size to more than a million square feet, making it the second largest art museum in the United States. The Modern Wing offers brand new galleries for the Art Institute's renowned collection of modern European painting and sculpture as well as its revelatory collection of contemporary art, including film, video, and new media.
Central Saint Giles development, Oxford Street, London, UK
2009



photo © Nick Weall
Central Saint Giles – recent major Renzo Piano building
"Central Saint Giles is not just about great architecture, it is about accessibility and vibrancy and creating a reinvigorated sense of place. We are particularly pleased that last night's awards recognised that Central Saint Giles has made such positive impact on the renaissance of the St Giles area."
Daimler Financial Services Headquarters, Potsdamer Platz, Berlin, Germany
1998
Renzo Piano Building Partnership and Christoph Kohlbecker



photo © Adrian Welch
Debis Building
Manhattanville redevelopment plan, Columbia University, New York, USA
2002-
Design: Renzo Piano Building Workshop (RPBW) with SOM



picture from RPBW
Columbia University Campus Plan
Master plan for the extension of Columbia University in the Harlem district, New York. A project where architecture meets city-planning and sociology, reinventing the role of campus and opening its doors to the city. The Columbia University campus has been located since 1896 on Morningside Heights, the hill next to Harlem. We are in the district that saw the birth of jazz and Martin Luther King's social struggle, the Black Panther revolt and the films of Spike Lee.
Music Auditoria, north Rome, Italy
2002-



photo © Adrian Welch
Italian Music Auditoria building
This architecture feels anthopomorphic in character, a tough grey textured shell that wraps around space, with subtle diagonal overlaps. It can be reached by walking north from the city centre and is near Zaha Hadid's MAXXI building and close to the Luigi Nervi stadium.
Nemo, Centrum, Amsterdam, The Netherlands
1997



image © AW
Nemo Amsterdam
This pre-patinated building deosn't have the subtlety of the Rome Audtioria, it feels slightly alien to the righ patina of Amsterdam's historic centre which lies just metres to the west. There are many bold new buildings down by the waterfront so it is not alone, but not one of the most successful pieces of urban placemaking by RPBW.
New York Times Company New Headquarters, New York, USA
2006
Design: Renzo Piano Building Workshop (RPBW) with Fox & Fowle Architects



photo by David Sundberg/Esto
New York Times Headquarters – new photo added Nov 2013
Pompidou Centre, Paris, France
1977; renovation 1995
Richard Rogers / Renzo Piano Architects



photo © AJW
Pompidou Centre
Radical building for its time with service ducts expressed on the exterior and all structure glamourised and articulated externally where possible.
Renzo Piano Building Workshop : alphabetical list of all key buildings / designs by RPBW
More Renzo Piano projects online soon
Location: Genoa, Italy, Europe
RPBW Architects Practice Information
Renzo Piano was born in Genoa, Italy, in 1937.
Italian Architects : Key Studios
Renzo Piano established Renzo Piano Building Workshop in 1981.
RPBW has architecture offices in Paris, Genoa and New York.
Renzo Piano Book
Renzo Piano Building Workshop : Complete Works : Vol 4
Peter Buchanan
£15.14
Winner of RIBA Gold Medal 1989
Pritzker Prize Architects : Renzo Piano was the Pritzker Prize Winner in 1998
Former collaborator : Richard Rogers – Pompidou Centre
Website: Renzo Piano Website
Architectural Designs
Buildings / photos for the Renzo Piano Architecture page welcome