Snohetta Architects, Building Photos, Norway Design Studio Projects, Oslo Architecture Office
Snøhetta Architects Office
Contemporary Norwegian Architecture Practice – Oslo Design Office News
post updated 12 Jan 2023
Snøhetta News
Snøhetta Architects News, chronological:
12 Jan 2023
Maritime Center, Esbjerg, Southern Jutland, western Denmark
Design: WERK Arkitekter and Snøhetta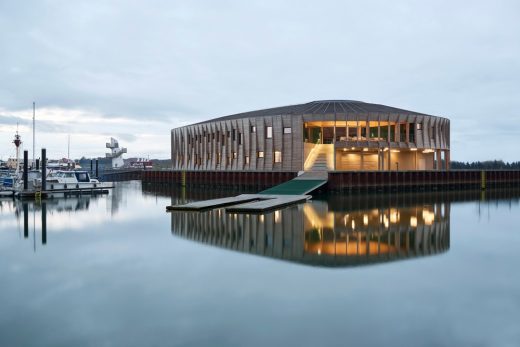 photo : wichmann+bendtsen photography
The Lantern Maritime Center, Esbjerg
25 Oct 2022
Falkensteiner Hotel, Montafon, Vorarlberg, western Austria
Design: Snøhetta ; Integrated design: Vudafieri-Saverino Partners studio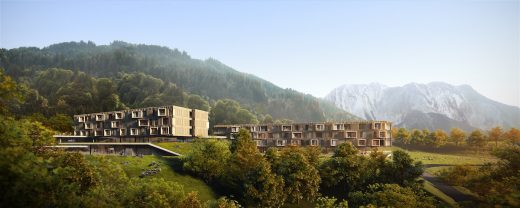 image © Snøhetta
Falkensteiner Hotel Montafon
The Falkensteiner Group's new family hotel converses with its surroundings, and is based on a concept of restrained luxury. The structure is built on four levels, taking advantage of the slope of the mountain, and comprises two buildings connected by a central portion, where the communal areas are located.
9 Feb 2022
Lakehouse, Wendelstrand, Gothenburg, Sweden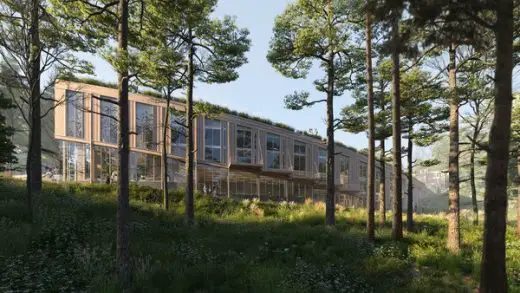 image : Snøhetta / Next Step Group
Lakehouse, Wendelstrand
Wendelstrand offers diverse public areas and a park that meanders through the development and has its crescendo as the roofscape of Lakehouse – a communal building to be used and enjoyed by everyone living or visiting Wendelstrand.
4 Oct 2021
Duett Düsseldorf, Düsseldorf, North Rhine-Westphalia, Germany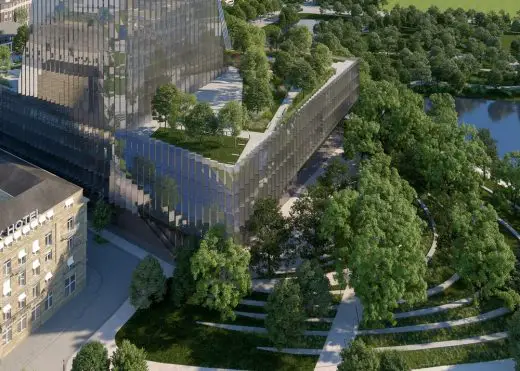 image © Snøhetta
New Opera House Düsseldorf
Situated in the heart of Düsseldorf city center, Snøhetta has been commissioned by CENTRUM GROUP to propose a new opera house and cultural hub for the city. Dubbed Duett Düsseldorf, the new opera house creates clear connections to the nearby Hofgarten park, the Rhein river and the popular Königsallee street, aiming to create a publicly accessible space that brings people together.
24 Nov 2020
Airside, former Kai Tak airport, Hong Kong, China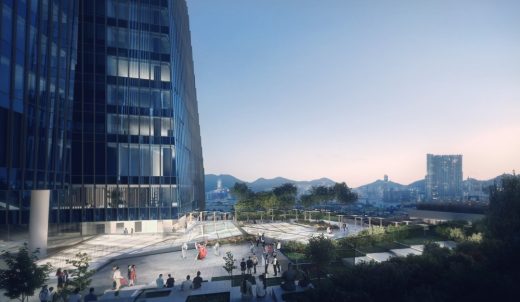 Airside Hong Kong
A mixed-use building in Hong Kong, commissioned by Nan Fung Group, named Airside. Situated in the center of the former Kai Tak airport with views over the Victoria Harbour and Kai Tak River, this 176,000 square meters building merges a 200-meter tower with a base in one continuous form.
26 Aug 2020
ASI Reisen Offices, Natters, Innsbruck, Austria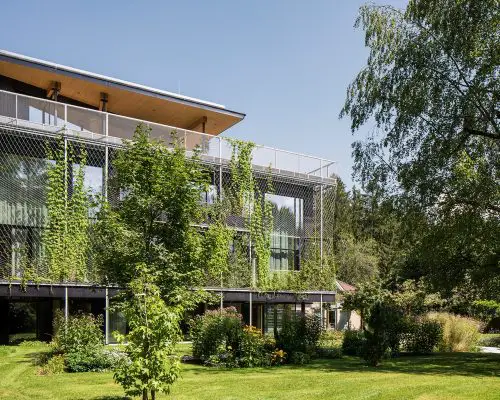 photo : LITE Studio
ASI Reisen Offices
When developing its new head office, international trekking and adventure travel company ASI Reisen sought to have its new space reflect the company's working culture and commitment to offering sustainable trekking experiences for travelers around the world.
RSA Metzstein Architecture Discourse 2020, Edinburgh, Scotland
Event to be held at the following time, date and location:
Wednesday, 29 January 2020, 18:45 to 20:30
Gordon Aikman Lecture Theatre, 32 George Square, Edinburgh EH8 9LH, United Kingdom
Snøhetta will present the 2020 Metzstein Architecture Discourse.
Snøhetta is an international integrated architecture, landscape architecture, interior architecture, product design and graphic design firm. The firm has offices in Oslo, New York, Innsbruck, Paris, Stockholm, Adelaide, Hong Kong and San Francisco.
See the Edinburgh Architecture Events page for more info
24 Sep 2019
Aesop Pitt Street, Sydney, New South Wales, Australia
Aesop Pitt Street, Sydney
3 Apr 2019
Shanghai Grand Opera House, Shanghai, China
Architects: Snøhetta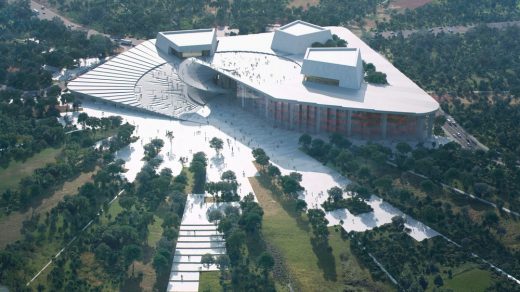 renderings © Mir and Snøhetta
Shanghai Grand Opera House Building
Following an international design competition, Snøhetta has been commissioned to design the Shanghai Grand Opera House in Shanghai, China.
20 Mar 2019 + 18 Nov 2018
Under – the World's largest underwater restaurant, Båly, Lindesnes (on Skagerrak Strait), southern Norway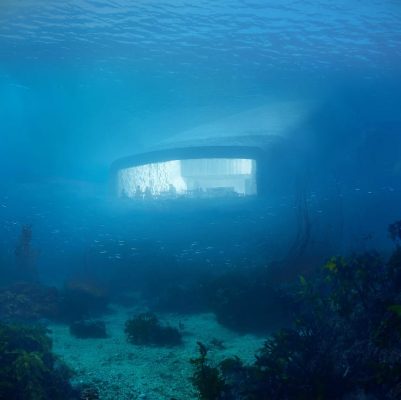 image : Snøhetta
This intriguing underwater restaurant building is set to open in April 2019.
Titled 'Under', Europe's first underwater restaurant is nearing completion five meters below the surface of the sea. The 110-foot long concrete slab structure was submerged in July 2018.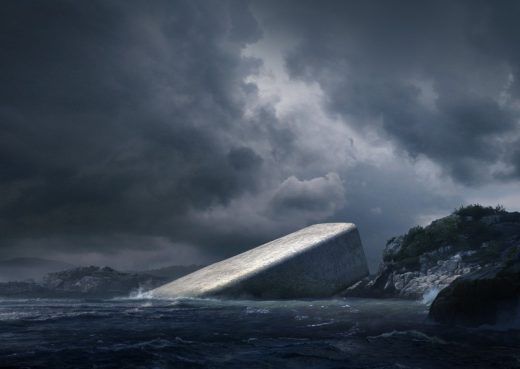 rendering : Snøhetta
The marine building is designed to accommodate approximately 100 guests over three levels. The total internal area of about 600 sqm (5,300 sqft). The key feature will be a massive panoramic window, 11 metres (36 feet) wide and 4 metres high, made of perspex. It is being built for Gaute and Stig Ubostad.
13 Nov 2018
Holmen Industrial Area, Vesterålen, Norway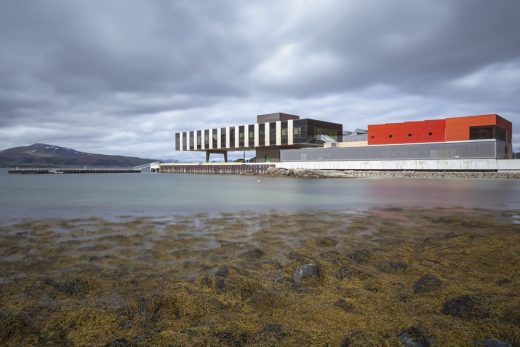 photograph © Stephen Citrone
Holmen Industrial Area in Vesterålen
On behalf of shipowner Holmøy Maritime, Snøhetta has designed Holmen Industrial Area, a highly sophisticated and colorful 6,000 sqm fishing facility situated on the eastern side of Sortlandssundet in the archipelago of Vesterålen in Northern Norway.
6 Nov 2018
New Central Library, East Village, Calgary, Canada
Architects: Snøhetta / DIALOG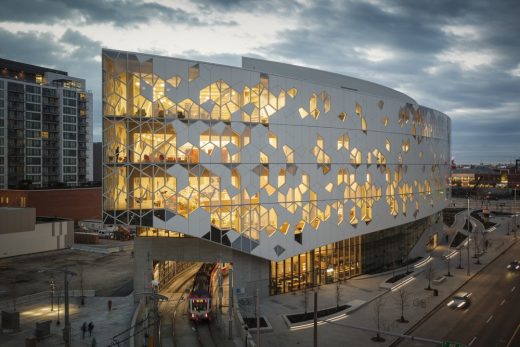 photograph © Michael Grimm
New Central Library in Calgary
This new building opened on November 1 with 240,000 sqft of expanded facilities.
12 Feb 2018
Svart Powerhouse* hotel, Holandsfjorden Fjord, Norway – Arctic Circle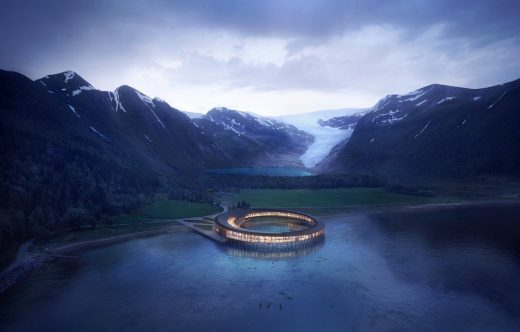 image : Snøhetta / Plompmozes
Svart Powerhouse* hotel
This is the first building to be built following the energy positive Powerhouse standard in a Northern climate. Not only does this new hotel reduce its yearly energy consumption by approximately 85% compared to a modern hotel, but it also produces its own energy – an absolute "must" in this precious arctic environment, the architects say.
Oct 31, 2017
550 Madison Building in New York City, NY, USA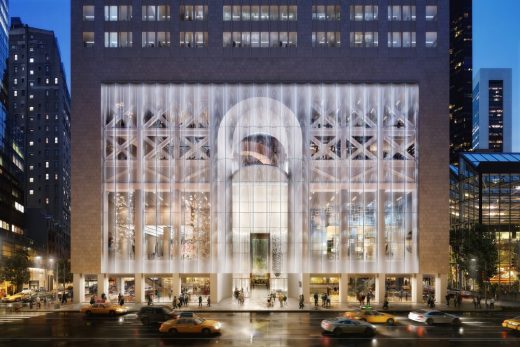 image : DBOX
550 Madison
The redesign nearly doubles the amount of public space while transforming the base of the 1980s tower into a lively, transparent street front.
23 Oct 2017
Under – Underwater Restaurant, Båly, Norway – Europe's First Underwater Restaurant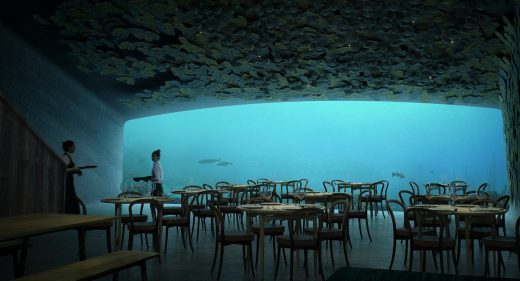 image from architecture studio
Under, Båly
At the southernmost point of the Norwegian coastline by the village of Båly, Snøhetta has designed Europe's very first underwater restaurant. With its immediate proximity with the forces of nature, the restaurant, which will also function as a research center for marine life, is a tribute to the Norwegian coast and to Lindesnes – to the wild fauna of the sea and to the rocky coastline of Norway's southern tip.
Jul 11, 2017
International shortlist revealed for architects to design landmark Centre for Music in London
DS+R are shortlisted to develop a concept design for a new concert hall in the City of London. The Barbican Centre, London Symphony Orchestra and Guildhall School of Music & Drama are leading the competition, backed by £2.5million in funding from the City of London Corporation:
Centre for Music in London Competition Architects Shortlist
Apr 23, 2017
Snøhetta Building News
Snøhetta Architectural News, chronological:
Times Square Redevelopment, New York City, NY, USA
This Norwegian architecture firm was selected in 2010 to transform Times Square in Midtown Manhattan from a congested crossroads—one most New Yorkers avoided—into a pedestrian-friendly public plaza. The $55 million project focuses on the glitzy, billboard-laden heart of the Theater District—a 5.1-acre, bowtie-shaped area between 42nd and 47th streets where Broadway and Seventh Avenue intersect.
17 Nov 2016
Faust Store, Dronning Eufemias gate 10, Oslo, Norway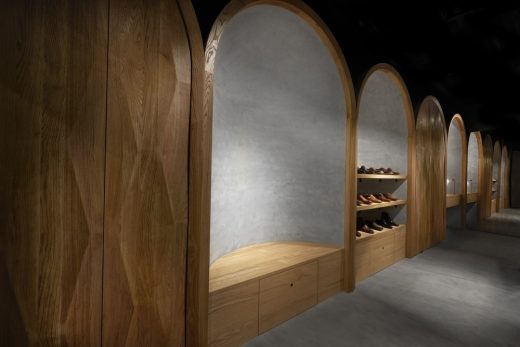 photograph : Lasse Fløde
Faust Store in Oslo by Snøhetta
A complete visual identity and the brand's very first signature store has been created for the high-end shoemaker Faust.
Architecture Innovator of the Year
2 Nov 2016 – this celebrated Oslo architectural studio is named Wall Street Journal Magazine's 2016 Architecture Innovator of the Year.
Kjetil Trædal Thorsen and Craig Edward Dykers transform cities by creating buildings with a sense of wide-open possibility:
http://www.wsj.com/video/2016-architecture-innovator-snohetta/0A416704-5B84-4C0C-9378-ED5514654E1E.html
The Norwegian-American partnership behind SFMOMA's expansion, Oslo's Opera house and the new Times Square found success by flouting architectural norms:
http://www.wsj.com/articles/how-maverick-architects-snhetta-became-one-of-the-worlds-most-sought-after-firms-1478135401
26 Sep 2016
Norwegian Wild Reindeer Centre Pavilion – Tverrfjellhytta, Norway

Snøhetta Viewpoint 4K from villanueva.photo on Vimeo.


photograph : Klaas Van Ommeren
Norwegian Wild Reindeer Centre Pavilion
Aesop Store, Prinsensgate, Oslo, Norway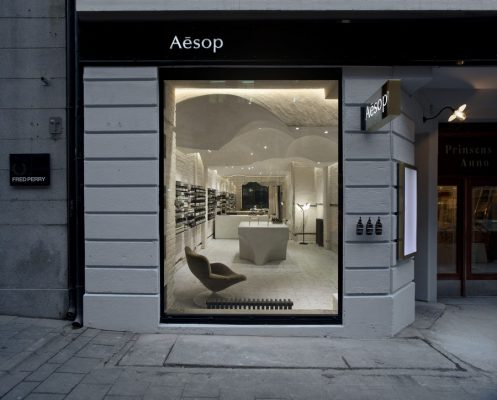 photo from architects
Oslo Store design by Snøhetta – page updated 19 Oct 2016 with new photos ; 17 Dec 2014
Aesop's very first signature store in Norway is located in Prinsensgate in Oslo. The store, designed in collaboration with Snøhetta, is the 100th Aesop store to be opened worldwide.
9 Aug 2016
Banque Libano Francaise HQ in Beirut, Lebanon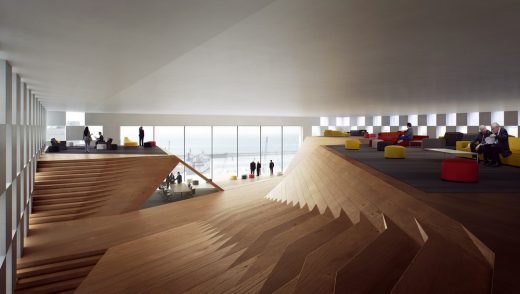 images courtesy architects
Banque Libano Francaise HQ Building Design by Snøhetta
Snøhetta has won the competition to design the new Banque Libano Francaise (BLF) headquarters. Located in Beirut, the project marks the Oslo architecture firm's first ever commission in Lebanon.
3 Jun 2016
Aesop Shop, Dusseldorf, North Rhine-Westphalia, Germany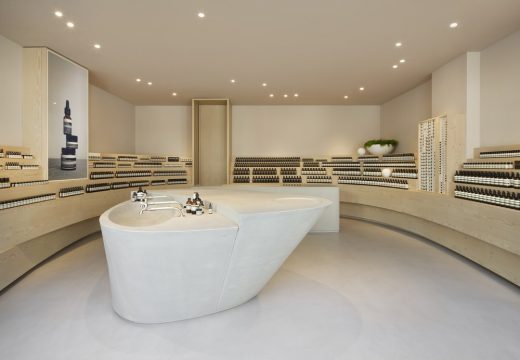 photograph © Aesop
Aesop Shop in Dusseldorf
Aesop opened its tenth signature store in Germany. Located in Grabenstraße, this is the very first store to open in the city of Düsseldorf. Aesop Grabenstraße is the second store designed by this Norwegian architecture studio to open in Germany, preceded by Aesop Fasnanstraße in Berlin.
12 May 2016
Aesop Shop, Singapore, Singapore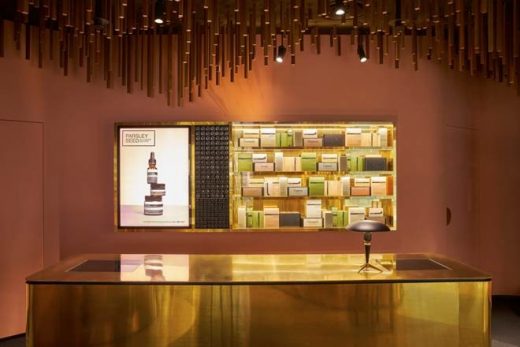 photograph © Aesop
Aesop Shop Singapore
The interiors commemorate Orchard Road's original incarnation as a nutmeg plantation. Inspired by its obscured past and underground location, this Norwegian architecture studio created an upside-down forest using a sensitive assemblage of materials, colors and forms.
15 + 14 Apr 2016
Snøhetta: People, Process, Projects Exhibition
Snøhetta: People, Process, Projects
April 17 – June 30, 2016
The Center for Architecture
403 NW 11th Ave, Portland, OR 97209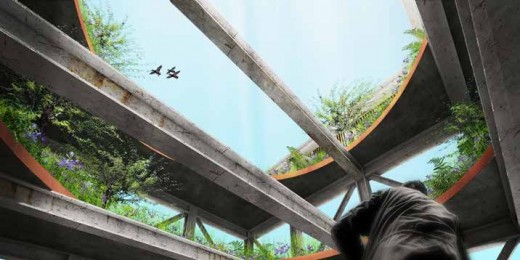 Willamette Falls Riverwalk image from Snøhetta
This spring, the Center for Architecture in Portland, Oregon will open the first full-scale exhibition of Snøhetta's work in the US. Designed, built, and curated by the designers themselves, Snøhetta: People, Process, Projects invites visitors behind the scenes of the office's culture and design philosophy. First created in collaboration with the Danish Architecture Centre in Copenhagen in Summer 2015, the exhibition will open on April 17, 2016 to kick off Design Week Portland.
The exhibition allows visitors to step inside, interact with, and explore Snøhetta. Join us at the lunch table or inside the workshop, where 3D prototyping and traditional craftsmanship drive conversations and exploration of new forms. Learn about how this Oslo architecture practice is designing the world's foremost net-zero energy buildings that will produce more energy over the course of their lifetime than they use.
The design firm's creative process begins with human interaction. All of the studio's work strives to enhance our sense of place, identity and relationship to others and the physical spaces we inhabit, whether natural or human-made.
Named People, Process, Projects for its uniquely social focus, the exhibition will engage visitors directly in the studio's social and collaborative approach.
Snøhetta's upcoming projects on the West Coast of the US include the San Francisco Museum of Modern Art Expansion, the James Beard Public Market in Portland , the Willamette Falls Riverwalk in Oregon City, and The French Laundry Kitchen Expansion in Youtville, California, among many others.
9 Apr 2015
The French Laundry in Yountville, Yountville, Napa County, California, USA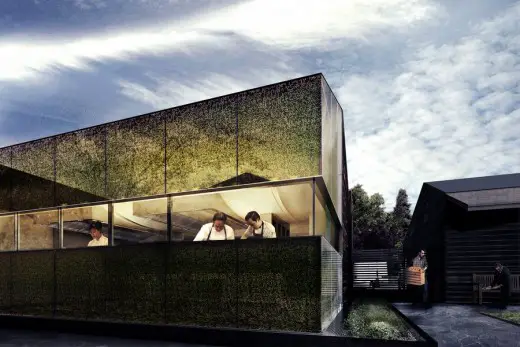 image from architecture practice
3 Jun 2015
Willamette Falls Riverwalk in Portland, Oregon
Design: Mayer/Reed, Snøhetta and DIALOG



image from architects office
About the Center for Architecture in Portland
The Center for Architecture is committed to the transformative power of design. Through collaboration with communities, thought leaders, and professionals, the Center for Architecture works to catalyze action to address the most challenging
issues of the 21st century.
The Center for Architecture is an Oregon non-profit, charitable organization dedicated to advancing public understanding and appreciation of architecture, design, urban planning and the role of the built environment in our quality of life. It was founded in 2008 by the Portland Chapter of the American Institute of Architects [AIA Portland], and is located in the heart of Portland's internationally celebrated Pearl District.
The CFA serves as a cultural venue and resource for everyone interested in the built environment – offering an extensive calendar of special events, exhibitions, presentations, architectural walking tours, and films. The original structure, built in 1880, has been transformed into a highly sustainable facility that both inspires and sustains an on-going dialogue about architecture and design!
Website: Snøhetta: People, Process, Projects at The Center for Architecture, Portland
Key project design by this Norwegian architecture studio:
Ocean Space Centre Norway, near Trondheim: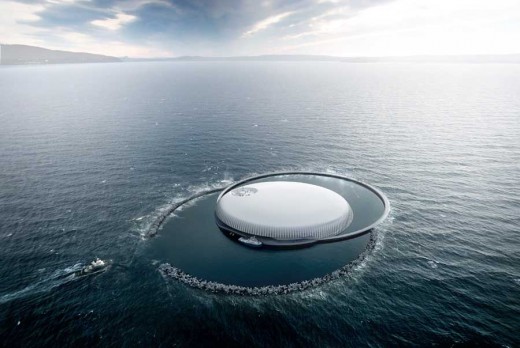 image : MIR
24 Sep 2013
Maggie's Centre Aberdeen, Scotland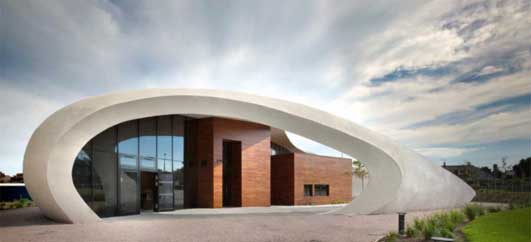 photo : Philip Vile
This new organic-shaped Aberdeen building has opened at Forester Hospital in Aberdeen, designed by Snøhetta alongside Aberdeen-based firm Halliday Fraser Munro.
16 Sep 2013
Far Rockaway Public Library, Queens, NY, USA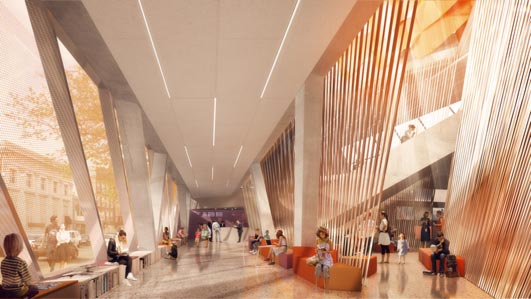 image : Snøhetta & Doug and Wolf
Snøhetta releases the design of the Far Rockaway Branch Library in Far Rockaway, Queens. The new building will replace the existing library building, while also doubling the area of library spaces. The project, currently in design development in New York City, has also received the Public Design Commission of the City of New York's recognition for outstanding public projects, the Annual Award for Excellence in Design.
24 Jul 2013
James B. Hunt Jr. Library, Raleigh, North Carolina, USA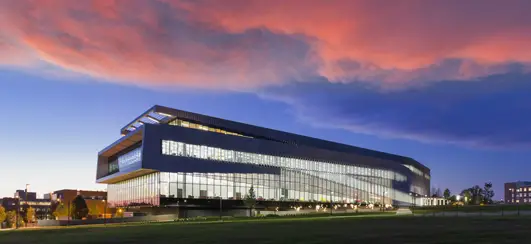 photograph : Jeff Goldberg/Esto
James B. Hunt Jr. Library – award
Generous open spaces connect all floors of the building and open stairs emphasize an interactive and social environment alongside more focused study areas.
24 Jun 2013
Snøhetta Architectural landscapes
The Alexandria Library, the Opera in Oslo and the Memorial Pavilion at Ground Zero in New York – even if you don't know the name Snøhetta, you'll know it's buildings. Meet one of the heads behind – Norwegian architect Kjetil T. Thorsen.
7 May 2013
Golden State Warriors Arena, San Francisco, California, USA
Design with AECOM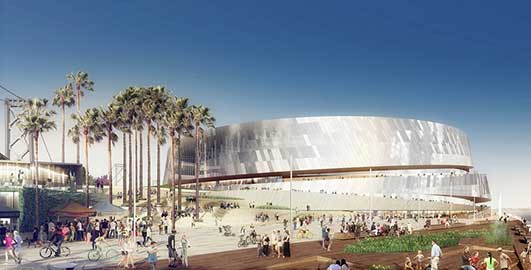 picture from architect
Golden State Warriors Arena
This is the new design for a sports and entertainment arena building on the waterfront at Piers 30-32.
11 Apr 2013
Annecy Congress Center, France, Europe



picture : Snøhetta – MOKA – MIR
Annecy Congress Center
This area is close to a lake, used for recreation and sports. The concept of the design proposal is to strengthen the connection between the two cities, by creating a new canal and bridge.
4 Apr 2013
James B. Hunt Jr. Library, Raleigh, NC, USA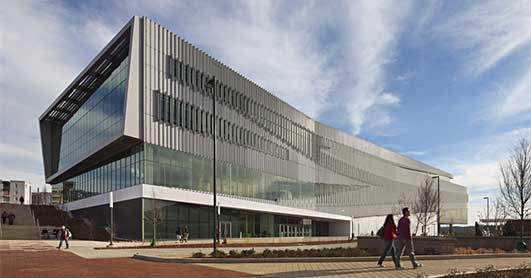 photo : Mark Herboth
Hunt Library
A wide variety of study and learning environments, and technology-focused experimental labs break the now ubiquitous model of the learning commons. "Disruptive" learning spaces with colorful, dynamic furnishings exist beside more traditional study rooms.
Recent Snøhetta Building News
Craig Dykers to chair 2012 Steedman Competition
$50,000 prize for young architects among largest U.S. competition awards
Craig Dykers is the co-founder of this Oslo architecture firm. This spring, Dykers will serve as the Ruth and Norman Moore Visiting Professor of Architecture in the Sam Fox School of Design & Visual Arts, where he will chair the 2012 Steedman Fellowship in Architecture International Design Competition jury.
SFMOMA Expansion, San Francisco, CA, USA



image © Snøhetta
SFMOMA Expansion
Designs unveiled of architectural proposal. Snøhetta were selected in July 2010 to collaborate with SFMOMA to design a major expansion to support the continuing development of their collections, programs, and audiences and to showcase their expanded permanent collection, including the Doris and Donald Fisher Collection, one of the finest collections of modern and contemporary art in the world, and gifts to the museum through the recent Collections Campaign.
stillspotting nyc : Manhattan, NYC, USA
To a Great City by Arvo Pärt and Snøhetta



photo © Snøhetta 2011
Guggenheim Exhibition Lower Manhattan
Composer Arvo Pärt and Architects Snøhetta Collaborate for Guggenheim Exhibition in Lower Manhattan
Norwegian Wild Reindeer Centre Pavilion, Norway



photograph : Klaas Van Ommeren
Norwegian Wild Reindeer Centre Pavilion
Ryerson Student Learning Centre, Toronto, Canada
Design with Zeidler Partnership Architects



picture from Ryerson University
Ryerson Student Learning Centre
Oslo Design Studio


photo from Snøhetta
Snøhetta are the most famous Norwegian architects practice in the world. They came to notice specifically with their stunning Alexandria Library in Egypt (photo above), won in competition. Since then they have developed a strong pedigree, avoiding a house style for thoughtful, dynamic designs. They show no sign of reducing quality, which often happens as practices grow larger.
Snøhetta Building News 2010
San Francisco Museum of Modern Art, California, USA



photograph © Andrew McRae
San Francisco Museum of Modern Art Expansion
V&A at Dundee, Scotland
V&A at DundeeThe Wolfe Center for the Arts, Bowling Green State University, Ohio, USA



image from BWC
The Wolfe Center for the Arts
Ocean Space Centre, near Trondheim, Norway



image : MIR
Ocean Space Centre Norway
Mutrah Fishmarket, Muscat, Oman
2010-



image from Snøhetta
Mutrah Fishmarket
Building News in 2009
VM Pavilion, Oslo, Norway



photo : Marte Garmann Johnsen
VM Pavilion Oslo
University of The Gambia – New Campus, Africa


image from Snohetta
University of The Gambia Building
National September 11 Memorial Museum Pavilion, New York City, NY, USA



picture : Squared Design Lab
September 11 Memorial Museum Pavilion
Mies van der Rohe Award Winner, 2009
The Norwegian Opera & Ballet, Oslo, Norway
Kjetil Trædal Thorsen, Tarald Lundevall, Craig Dykers / Snøhetta



picture : Jens Passoth
Building News in 2008
King Abdulaziz Center, Saudi Arabia
On site: Nov 2008



image : MIR
King Abdulaziz Library, Dhahran
Oslo Operahouse Building, Norway
2008



photo : Statsbygg
Oslo Operahouse
Hotel Brosundet, Ålesund, Norway
2008



photograph : Marte Garmann Johnsen
Hotel Brosundet
Petter Dass Museum, Alstaharg, Norway
2007



picture from architecture studio
Petter Dass Museum Building
Kivik Art Centre pavilion, Sweden
2008



photo from Snøhetta
Kivik Art Centre Building
The Tubaloon, Kongsberg, Norway
2006



photo : Robert Sannes
Kongsberg Jazz Festival Pavilion
Landscape / Pavilion, Eggum, Norway
2007



image from Snøhetta
Eggum Norway
Scandinavian Embassies, Berlin, Germany
1999



photo © Adrian Welch
Nordic Embassy Berlin
Snohetta design : Serpentine Pavilion 2007 – Kjetil Thorsen of Snøhetta + Oliafur Eliasson
Major Snohetta Building
Bibliotheca Alexandrina / Alexandria Library, Egypt
2002
Design: Snohetta Architects with Hamza Associates, Cairo



photo from architects office
Bibliotheca Alexandrina : Open architecture competition, 1st prize – 1989
More Snohetta architecture projects online soon
Location: Akershusstranda 21, Skur 39, N-0150 Oslo, Norway
Norway Architecture Practice Information
Snohetta studio based in Oslo, Norway and New York, NY, USA
Akershusstranda 21, Skur 39, N-0150 Oslo, Norway
+47 24 15 60 60
80 Pine Street, 10th floor, New York, NY 10005, USA
+1 646-383-4762
Snohetta Architects : further information on this celebrated Norwegian architects studio



image : Placebo Effects
Architect office led by Kjetil Thorsen with Craig Dykers
Snohetta have an architects office in New York based at 50 Broad St
About Snøhetta
For over 25 years, Snøhetta has designed some of the world's most notable public and cultural projects. Snøhetta kick-started its career in 1989 with the competition-winning entry for the new library of Alexandria, Egypt.
This was later followed by the commission for the Norwegian National Opera in Oslo and the National September 11 Memorial Museum Pavilion at the World Trade Center in New York City, and the San Francisco Museum of Modern Art Expansion among many others. Since its inception, the practice has maintained its original trans-disciplinary approach, integrating architectural, landscape and interior design in all of its projects.
Snøhetta is currently working on a number of civic and cultural projects internationally including the Times Square Reconstruction in New York, the Lascaux IV Caves Museum in Montignac, France, the Calgary's New Central Library in Alberta, Canada, the Le Monde Headquarters in Paris, the James Beard Public Market in Portland, the Willamette Falls Riverwalk in Oregon City and the Far Rockaway Public Library in Queens, New York.
The Oslo architects studio was shortlisted as one of seven firms in consideration to design the Obama Presidential Center in the South Side of Chicago.
Among its many recognitions, Snøhetta received the World Architecture Award for the Bibliotheca Alexandrina and the Norwegian National Opera and Ballet, and the Aga Kahn Prize for Architecture for Alexandria Library. Since its completion in 2008, the Norwegian National Opera and Ballet has also garnered the Mies van der Rohe European Union Prize for Architecture and the EDRA (Environmental Design Research Association) Great Places Award, as well as the European Prize for Urban Public Space, The International Architecture Award and The Global Award for Sustainable Architecture in 2010.
Website: snohetta.com
Comments / photos for the Snohetta Architecture page welcome