Sigurd Lewerentz Architect Stockholm, Modern Buildings Sweden, Swedish Design Projects, Woodland Cemetery
Sigurd Lewerentz Architect : Architecture
20th Century Swedish Architecture Practice: Modernist Buildings in Sweden, Europe
Sigurd Lewerentz Architect – Key Projects
Major Building by this 20th Century Swedish Architect
Chapel of the Resurrection, Woodland Cemetery, Enskede, Stockholm, Sweden
Dates built: 1914-34
Architecture competition : 1914
This building design was a collaboration with fellow Swedish architect Erik Gunnar Asplund
Chapel of Resurrection at the Woodland Cemetery in Stockholm, Sweden: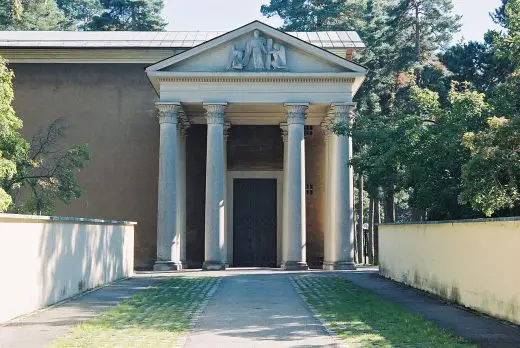 photo by: Kalle Söderman, http://kjs.homeip.net, courtesy of Wikimedia commons
Skogskyrkogården (official name in English: The Woodland Cemetery) is a cemetery located in the Enskededalen district south of central Stockholm, Sweden. Its design reflects the development of architecture from Nordic Classicism to mature functionalism.
Skogskyrkogården came about following an international architecture competition in 1915 for the design of a new cemetery in Enskede in the southern part of Stockholm, Sweden. The entry called "Tallum" by this couple of young Swedish architects was selected.
Sigurd Lewerentz Buildings
St. Mark's Church, Bjorkhagen
Date built: 1956-60
St. Peter's Church, Klippan, Sweden
Date built: 1963-66
More Sigurd Lewerentz Architect info online soon
Location: Bjarta, Sweden
Sigurd Lewerentz Architect Practice Information
This celebrated Swedish architect was born in 1885 and died in 1975
Sigurd was born in Bjarta, Sweden. Lewerentz and Asplund are generally recognised as two of the greatest Swedish architects of the 20th Century in Sweden, and came to worldwide attention. Most histories of World Architecture reference them and their collaboration – the Woodland Cemetery. Lewerentz was a Swedish Modernist. He died in Lund, Sweden in 1975.
His most celebrated work is surely Skogskyrkogården in Stockholm. The architects' use of the natural landscape created an extraordinary environment of tranquil beauty that had a profound influence on cemetery design throughout the world.
The giant dark granite cross at the focus of the vista from the main entrance may have been based on a painting by Caspar David Friedrich, titled "Cross on the Baltic Sea" (1815), however the architects insisted that it was open to non-Christian interpretations.
Modern Architects



photograph : Wessel de Jonge
Buildings / photos for the Sigurd Lewerentz page welcome
Website: Building