Samoo Architects & Engineers News, Korea Building Photos, Design Projects, Seoul Office
SAMOO Architects & Engineers
Seoul Architectural Studio: Korean Architecture Practice: Design Office Asia
post updated 13 Apr 2021
SAMOO News
SAMOO Architecture – latest additions to this page, arranged chronologically:
30 Oct 2013
Jeju Stone Park Seolmundaehalmang Museum, Korea
Design: Samoo Architects & Engineers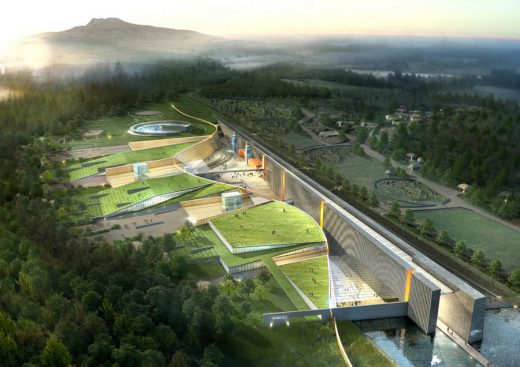 image by architects
Because of the natural surrounding of the site, special consideration have been given towards creating a sustainable building. Solar path & wind path CFD simulations have been conducted to minimize the changes to the current environment. Natural ventilation have been planned to reduce energy usages while many of the roof have been planned as greenroofs to reduce heat gains and to enable rainwater collection for future usages.
27 Sep 2013
National Library of Sejong City, South Korea
Design: Samoo Architects & Engineers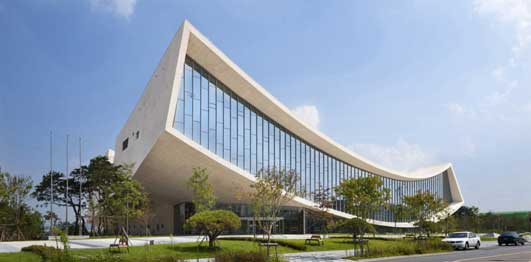 photo : Giovanni Zanghi
The National Library of Sejong City is the first branch facility of the National Library of Korea and is planned to be built in the Multifunctional Administrative City of Korea, also known as Sejong City. Designed by Samoo Architects & Engineers with the motif of a book page being turned over, a simple geometry of a gently curved paper forms the basis of the design and creates a unique outline that is easily recognizable as one of the landmark buildings of the city.
29 Aug 2013
Ecorium of the National Ecological Institute, Chungcheongnam-do, South Korea
Design: Samoo Architects & Engineers, Grimshaw Architect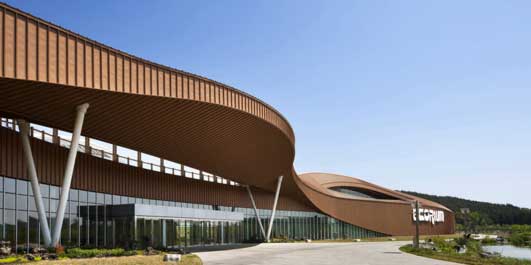 photo : Young Chae Park
Within the Ecoplex lies the Ecorium, a landmark facility and a purpose-built exhibition facility. Designed by Samoo Architects & Engineers in collaboration with Grimshaw Architects, the Ecorium is composed of various greenhouses and controlled environments in order to reproduce the global ecosystem of five different climatic zones ranging from the tropical to the polar regions.
25 Jul 2013
Buk Seoul Museum of Art, Seoul, South Korea
Design: SAMOO Architects & Engineers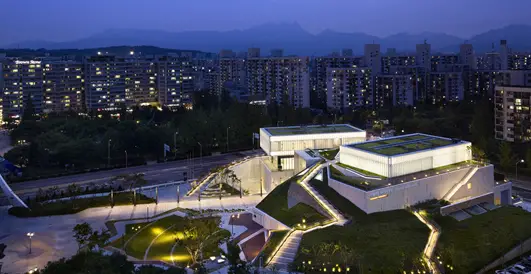 photo : Young Chae Park
Like a serene white mass integrated into the hill this new building revitalizes the region which is mostly composed of monotonous high-rises apartments and provides a nature-friendly cultural space in which the green flow of the park integrates with the art museum to become a single entity.
20 Jun 2013
Confucianism and Culture Complex, Andong, South Korea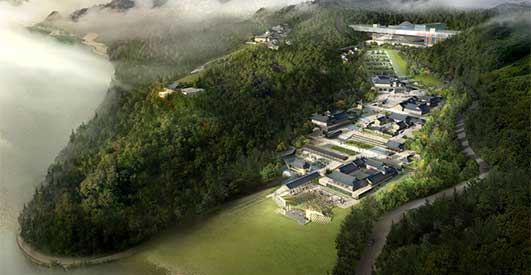 image from architect
Confucianism and Culture Complex South Korea
The World Confucianism•Sunbi Culture Park & Korean Cultural Theme Park is a complex designed to become a hub for Confucianism and traditional culture in Korea. Located in Andong of Korea, a place well known for its preservation of traditional core values, the project aims to create a new center that will provide a unique experience for its global visitors. The whole complex consists of two major parks with distinct purposes.
30 May 2013
Seoul Recycle Plaza, South Korea
Architect: Samoo Architects & Engineers


picture from architects
Seoul Recycle Plaza
Samoo Architects & Engineers has won the design competition for Seoul Recycle Plaza with the design concept of 'Story Box', which aims to promote recycling of goods and the creation of a hub for gathering, processing, and re-marketing of recycled goods.
27 Mar 2013
Kangneung Speed Skating Arena & Sports Complex, Gangwon-do, South Korea
Architect: Samoo Architects & Engineers



picture from Samoo Architects & Engineers
Kangneung Speed Skating Arena
Located on a 440,000㎡ site that was once used for garbage disposal, the site is now covered with abundance of pine trees. The main concept of the masterplan was to utilize nature, arena, and the plaza as 'three layers' to produce a layout that would communicate and harmonize with the surrounding environment. The masterplan would link the arena with the various sports facilities such as figure/short-track skating arena, ice-hockey arena, and a park that will be located north of the site.
21 Feb 2013
Bu El Qubeb & Ahmed Bin Ali Markets, Doha, Qatar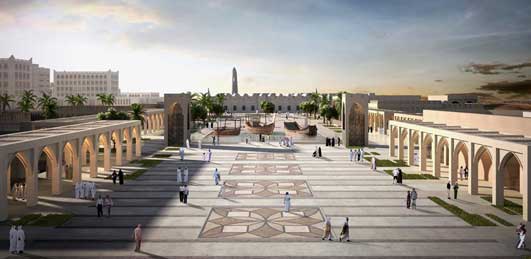 image from architect
Bu El Qubeb & Ahmed Bin Ali Markets
This project is located in the historical district of old Doha on the northeastern intersection of Grand Hammad Street and Ali Bin Abdulla Street. Bu El Qubeb Mosques have been recently restored on the site in order to preserve its traditional style. The goal of this project was to reinterpret the meaning of these traditional buildings, and to provide a solution for it to coexist in the urban fabric.
31 Jan 2013
The Presidential Archives Korea in multi-functional Administrative City, South Korea
Design: SAMOO Architects & Engineers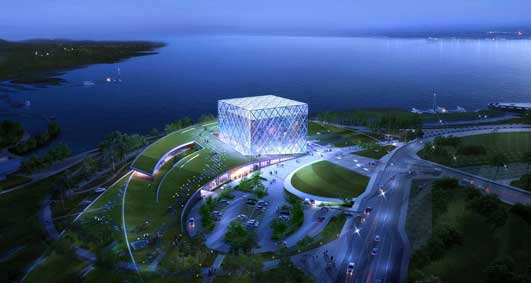 picture from Samoo Architects & Engineers
Presidential Archives Korea
The Presidential Archive conveys a sense of rigidity and authority due to the seriousness of its purpose. Therefore, the project aimed to be an archive where people could visit comfortably without feeling intimidated. People can enjoy viewing the historical records from nearly a century ago, and experience the history of former Korean presidents by walking along the hills and the waterside park. The cubical form of the main exhibition hall was derived from the box which holds the great seal used by presidents.
29 Jan 2013
Samoo Architects & Engineers Ranks 9th in World Architecture 100 Survey
World Architecture 100 Survey 9th ranking for Samoo
Samoo Architects & Engineers has been ranked the world's ninth largest architecture practice in the World Architecture 100 (WA100) survey.
Garak Market Redevelopment, Seoul, Korea
Samoo Architects & Engineers


picture from architect
Garak Market Seoul
Garak Wholesale Market plans to transform itself from a neglected place that draws many criticism and cynicism due to its ever-present traffic congestion, smell of leftover vegetables and inefficient logistics system designed a quarter century ago.
Samoo – Key Projects
E-BRARY, Chungchungnam-do, Korea
Samoo Architects & Engineers



image from architecture practice
E-BRARY Building – design competition win
E-BRARY is short for Emotional Library. The idea behind this concept was that if the 1st & 2nd generation libraries were in analog and digital format, the libraries of the future will be in digital format but with analog characteristics, thus becoming an emotional library. Strategically, this concept is further developed through the creation of emotional form, space and experiences throughout the building.
Urban Trachea, Seoul Station area, Korea
Samoo Architects & De Stefano + Partners



image from architect office
Urban Trachea
The development site for the Northern area of Seoul station has more characteristics that is defined by the railway roads within the site which actually isolates itself from the urban context. The condition is very different from the open and adventurous feeling that we associate with the name 'Seoul Station'.
More projects by Samoo Architects & Engineers online soon
Location: Seoul, Korea
South Korea Architect Practice Information
Samoo Architects & Engineers was founded in 1976, entered the CM Business in 2003, had its 30th Anniversary of Foundation in 2006. The practice is one of the biggest architecture firms in Korea, and critically acclaimed. The international practice's headquarters are in Seoul, and branch offices in New York, Dubai and Shanghai.
South Korea Architecture
Comments / photos for the SAMOO Architects & Engineers Architecture page welcome
Website: http://www.samoo.com