Ricardo Bofill Architect, Barcelona Design Studio, RBTA, Architecture Office Paris
Ricardo Bofill Architect Practice
Architecture Practice in Barcelona: France Design Firm Information
post updated 11 June 2023
Ricardo Bofill Architect Biography
Ricardo Bofill was born in Barcelona and studied at the School of Architecture in Geneva, Switzerland. In 1963 he founded a group formed by architects, engineers, sociologists and philosophers, creating the basis for what today is the 'Taller de Arquitectura' (Architectural Workshop).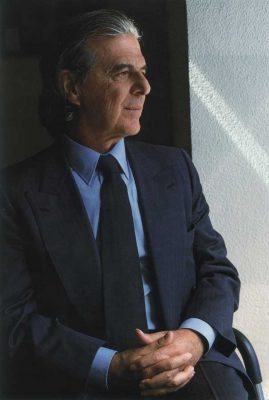 Taller de Arquitectura, with headquarters in Barcelona, accomplishes a collective and elaborate system for project design, establishing a technical collaboration in all countries where it undertakes projects. It is a practice composed of a structure which endeavours for the highest quality, capable of conceiving and carrying out projects anywhere in the world. With this aim the 'Taller' uses all of its means available: modern techniques, human resources, the professional expertise of each individual and the efficient organization of its structure.
This multidisciplinary international team run by Ricardo Bofill Architect takes on projects of city planning, transport, leisure, housing and offices. In their conception these projects include the design components: furniture, sculpture and interior design. City design, as applied in the European cities of Bordeaux, Luxembourg, Rome, Prague, Warsaw, Kobe and Madrid, as well as in Boston, U.S.A.
In China stands out the project for Qingdao Olympic Games village, a proposal for a new district in Beijing, Landmark Buildings, an high-rise building complex, the Shangri-la Hotel, Sunshine Upper East and The Reflection residential complex, all under construction. The 'Antigone' neighbourhood in Montpellier is a tangible example of a project on a grand scale, a part of the city which has been designed and constructed by this team during twenty years.
In the field of great infrastructures Barcelona Airport extension of 1991 stands out and the future one will be achieved in 2009. In the field of cultural equipments the team led by Ricardo Bofill Architect has designed the 'Miguel Delibes Cultural Center' in Valladolid, Spain, the 'Arsenal Music Center' in Metz, France, where the most famous maestros perform, and the 'Shepherd School of Music" for Rice University in Houston. In Barcelona the Catalan Government commissioned the Taller the project for the 'National Theatre of Catalonia', a building of great cultural prestige.
Housing is another area intensely studied by 'Taller de Arquitectura', especially the great projects carried out in the 'Villes Nouvelles' near Paris. The Completed of several residential complex in Barcelona, Stockholm and The Hague reinforces the team's presence on the European housing scene. In the field of commercial centers outstand Casablanca Twin Center in Morocco and Lazona Kawasaki Plaza, near Tokyo. In Bratislava will be soon realized a set of buildings that will lodge houses, offices, commercial center and a hotel with a constructed surface of sqm 100,000.
'Taller de Arquitectura' has had the opportunity to demonstrate its know-how by carrying out several office building projects. The most relevant examples are the offices realized in Paris by Ricardo Bofill Architect: the prestigious headquarters of 'Paribas Marché Saint Honoré', 'Cartier ', 'Christian Dior', 'Decaux', 'Gan' and 'Axa Insurances'.
Ricardo Bofill Architect's practice has also realized office buildings in other european cities: Corso Karlin in Prague and Atrium Saldanha in Lisbon. Outstanding among the realisations are Lazona Kawasaki Plaza, a shopping centre of sqm 200,00, 'Shiseido Building' in Tokyo, the skyscrapers 'JP Morgan Headquarters, completed in 2003 and 'Donnelley Building', in 1992, both in Chicago. Having won a series of important competitions, the 'Taller' asserts itself more and more in its capacity for diversification.
Ricardo Bofill Architect – Practice Information
PROYECTOS / Projects
1960 Edificio de viviendas Calle Viladomat, Barcelona, España
1960 Casa de verano en Ibiza, Ibiza, España
1964 La Manzanera, Calpe, España
1964 Apartamento El Sargazo, Castellldefels, España
1965 Laboratorio fitoquímico, Barcelona, España
1965 Viviendas Comp. Bach 28, Barcelona, España
1965 Viviendas Calle Nicaragua, Barcelona, España
1966 Riomar, Tarragona, España
1966 Plexus, Calpe, España
1966 Club Mas Pey, Gerona, España
1967 Xanadú, Calpe, España
1967 Barcelona 2000, Barcelona, España
1968 Castell Kafka, Sitges, España – Kafka Castle, Sant Pere de Ribes, Barcelona


1969 Villa Lunaria y Setembrina, Santiago de Chile, Chile
1969 El Viaducto, Calpe, España
1969 El Caballo de Montecarlo, Montecarlo, Mónaco
1970 Ciudad en el Espacio, Madrid, España
1970 Barrio Gaudí, Reus, España
1971 Evry I, París, Francia
1971 La Petite Cathédrale, Cergy Pontoise, Francia
1971 Conjunto Residencial (villas), Calpe, España
1972 La Maison d'Abraxas, París, Francia
1972 La Citadelle, Saint Quentin en Yvelines, Francia
1972 El puente de Meritxell, Andorra, Andorra
1973 La Muralla Roja, Calpe, España


1973 Pueblo Agrícola Houari Boumedienne , Abadla, Argelia
1974 Centro del Point "M", París, Francia
1974 Walden 7, Barcelona, España


1974 Santuario de Meritxell, Andorra, Andorra
1975 Eje Louvre-La Défense, París, Francia
1975 Carros Le Neuf, Carros Le Neuf, Francia
1975 Taller de Arquitectura de Barcelona, Barcelona, España
1975 Casa Familiar en el Ampurdán, Gerona, España
1975 Les Halles, París, Francia
1976 Le Viaduc, París, Francia
1976 Gasteizberri, Vitoria, España
1976 Conjunto Residencial Illetes, Palma de Mallorca, España
1976 Ciutat Companys, Mollet, España
1976 Castro Novo, Castro Urdiales, España
1976 Parc de la Marca Hispanica, Le Perthus, Francia
1976 Cala Ratjada, Mallorca, España
1977 Parque de Begoña, Bilbao, España
1977 Estudio Urbanístico de Sant Joan Despí, Sant Joan Despí, España
1977 Casino de Lloret de Mar, Lloret de Mar, España
1978 Le Clos del Aulnes, Marne La Vallée, Francia
1978 Estudio de Planificación Urbana de Bechar, Bechar, Argelia
1978 Estudio de Planificación urbana de Abadla, Abadla, Argelia
1978 Estudio de Planificacion de Viviendas en Ain Nadja, Ain Nadja, Argelia
1978 Antigone, Montpellier, Francia


1979 Sede del Ministerio de Asuntos Exteriores, Riyadh, Arabia Saudí
1979 La Pérgola, Saint Cyprien, Francia
1980 La Place du Nombre d'Or, Montpellier, Francia
1980 El Pont la Margineda, Andorra, Andorra
1980 Conjunto de Viviendas en Houston, Houston, EE. UU
1981 Los Jardines de Cataluña, Barcelona, España
1981 Los Jardines Clásicos del Ensanche, Barcelona, España
1981 Les Temples du Lac, París, Francia
1981 Les Colonnes de Saint Christophe, Cergy Pontoise, Francia
1981 Le Balcon sur la Ville, Dreux, Francia
1981 El Anfiteatro, Calpe, España
1981 Casa Templo, París, Francia
1982 Parque de Montigala, Barcelona, España
1982 Mezquita de Estado, Bagdad, Iraq
1982 Bab el Sheik, Bagdad, Iraq
1982 Arcades du Lac, París, Francia
1982 Abraxas, Marne La Vallée, Francia
1983 Plan Urbanístico de Barcelona, Barcelona, España
1983 Exposición Universal de París, París, Francia
1983 Casa Lafon, Marrakech, Marruecos
1983 Akwa, Douala, Camerún
1984 Sede Social Consejo de Coop. del Golfo, Riyadh, Arabia Saudí
1984 Sede Social Banque des Estats d'Afrique Centrale, Yaoundé, Camerún
1984 Parque l'Aiguera, Benidorm, España
1984 Les Echelles de la Ville, Montpellier, Francia
1984 Le Front de Mer, Pornichet, Francia
1984 Escondido Civic Center, Escondido, EE. UU
1984 Anilla Olímpica, Barcelona, España
1985 Port Imperial, Nueva Jersey, EE. UU
1985 Los Fratres, Cáceres, España
1985 Les Rives du Lez, Montpellier, Francia
1985 La Comella, Andorra, Andorra
1985 Jefferson Tower, Nueva York, EE. UU
1985 Estudio Urbano de La Coruña, La Coruña, España
1985 Corner Condominium, Nueva York, EE. UU
1985 Centro de Formación del Ministerio de Finanzas, París, Francia
1985 Echelles du Baroque, París, Francia
1985 Belvedere Saint Christophe, París, Francia
1986 Villa Imperatore, Nueva Jersey, EE. UU
1986 Terminal Pablo Picasso, Málaga, España
1986 Sede del Gobierno Regional Languedoc-Roussillon, Montpellier, Francia
1986 Savornin, La Haya, Países Bajos
1986 Rueil Maison, París, Francia
1986 Sede Rochas, París, Francia
1986 Port Marianne, Montpellier, Francia
1986 Port Juvenal, Montpellier, Francia
1986 Planificación Urbana de Trieste, Trieste, Italia
1986 La Bastide, Burdeos, Francia
1986 Hotel Miramar, Barcelona, España
1986 Galería Fauquier, Montpellier, Francia
1986 Project Sullitzer, Marsella, Francia
1986 Chateau Lafite, Burdeos, Francia – Chateau Lafite Rotschild, Pauillac, Burdeaux, France


1987 Monumento a Mossen Cinto Verdaguer, Vic, España
1987 Lez Est, Montpellier, Francia
1987 J.C. Decaux, París, Francia


1987 INEFC, Barcelona, España
1987 General Atlantic, Nueva York, EE. UU
1987 Fundaciónn Thyssen-Bornemisza, Barcelona, España
1987 Central Park North, Nueva York, EE. UU
1987 Área de Servicios Volcans, Clermon Ferrand, Francia
1988 York Trillum, Toronto, Canadá
1988 Pierre & Vacances, Saint Tropez, Francia
1988 Pax Rijswijk, La Haya, Países Bajos
1988 Passy, París, Francia
1988 Museo Villahermosa, Madrid, España
1988 Marina de Sevilla, Sevilla, España
1988 Jardín de Esculturas, Jerusalén, Israel
1988 Downtown Des plaines, Chicago, EE. UU
1988 Conjunto de Viviendas Famililares, Nueva York, EE. UU
1988 Centro de Salud y Belleza, Vichy, Francia
1988 Torre comunicaciones Collserola, Barcelona, España
1988 Canary Wharf, Londres, Reino Unido
1988 Campo de la Naciones, Madrid, España
1988 Boston Central Artery, Boston, EE. UU
1988 Borneo Straat, La Haya, Países Bajos
1988 Battery Park City, Nueva York, EE. UU
1988 Barrio en Los Ángeles, Los Ángeles, EE. UU
1988 Ayuntamiento de Benidorm, Benidorm, España
1988 Aeropuerto de Kansai, Osaka, Japón
1988 Escuela de Música Shepherd, Houston, EE. UU
1988 Aeropuerto del Prat, Barcelona, España – Barcelona Airport building
1988 Los Jardines del Turia, Valencia, España
1989 Viviendas Villa Olímpica, Barcelona, España
1989 Viejo Puerto de Montreal, Montreal, Canadá
1989 Urbanización en S'Agaro, Girona, España
1989 Torre Nibbla, Madrid, España
1989 Sede Christian Dior, París, Francia
1989 Parque Riouxa, Vigo, España
1989 Pa Soder Crescent, Estocolmo, Suecia
1989 Oficinas Ausias March, Barcelona, España
1989 La Platera, Gerona, España
1989 La Ciotat, Marsella, España
1989 Harajuku United Arrows Main Shop, Tokio, Japón
1989 G.A.N. París, París, Francia
1989 Edificio Representativo de la Generalitat, Barcelona, España
1989 Centro de Negocios Smolenskaya, Moscú, Rusia
1989 C.I.A.M., Montpellier, Francia
1989 Biblioteca Nacional de Francia, París, Francia
1989 Barrio Int'l Novo Podrskovo, Moscú, Rusia
1989 Swift headquarters, La Hulpe, Bélgica


1989 El Arsenal, Metz, Francia


1990 Plaza de la Concordia, Vigo, España
1990 Maison de l'Espagne, París , Francia
1990 G.A.N. Barcelona, Barcelona, España
1990 Palacio de Congresos de Madrid, Madrid, España


1991 Tennoz Towers, Tokio, Japón
1991 Sede del Consejo Regional Seine et Marne, París, Francia
1991 Puerto de Kobe, Kobe, Japón
1991 Plaza Abraham, Jerusalén, Israel
1991 Parque de Bassets, Denia, España
1991 María de Molina, Madrid, España
1991 Le Capitole, Le parnasse, Montpellier, Francia
1991 Estación de Renfe, El Prat, Barcelona, España
1991 Escuela de Música Reina Sofia, Madrid, España
1991 Diagonal Mar, Barcelona, España
1991 Centro Cultural del Mediterráneo, Barcelona, España
1991 Cagnes sur Mer, Cagnes sur Mer, Francia
1991 Taller de Arquitectura de París, París, Francia
1992 Tiendas Stefanel, París, Francia
1992 Renault-Billancourt, París, Francia
1992 Planificación Urbana de Saint Etienne, Saint Etienne, Francia
1992 Metallgesellschaft, Fráncfort, Alemania
1992 Kemper Financial Center, Chicago, EE. UU
1992 Donnelley Building, Chicago, EE. UU
1993 Torre Europa, Montpellier, Francia
1993 Polígono Lacua, Vitoria, España
1993 Plan de Urbanismo de Bilbao, Bilbao, España
1993 Lycee Jean-Jaures, París, Francia
1993 Hotel en Hai Phong, Hai Phong, Vietnam
1993 Edificio Royal-Madeleine, París, Francia
1993 Des Plaines, Chicago, EE. UU
1993 Biblioteca de Montpellier, Montpellier, Francia
1993 Laboratorios Hubber, Barcelona, España
1993 Hotel Costes K, París, Francia


1993 Ciudad Nueva de Nan Sha, Guangzhou, China
1994 Viviendas El Gornal, Barcelona, España
1994 Valorga, París, Francia
1994 Les Guinguettes, Montpellier, Francia
1994 Le Grand Stade, Paris, Francia
1994 Hotel du Larvotto, Montecarlo, Mónaco
1994 Complejo de la Plataforma Intermodal, Lisboa, Portugal
1994 Centro Europeo del Volcanismo, Clermon Ferrand, Francia
1995 Littoral Nord Marina, Dbayé, Líbano
1995 Fnac, Barcelona, España
1995 Can Rull, Sabadell, España
1995 Brickell Avenue, Miami, EE. UU
1995 Estación de Bolonia, Bolonia, Italia
1996 Torre de Servicios y Control de Plataforma, Barcelona, España
1996 Sede Social de la Comunidad Judía en Barcelona, Barcelona, España
1996 La Plaza de Europa, Luxemburgo, Luxemburgo
1996 Intercambiador Chamartín, Madrid, España
1996 Hotel en Jerusalén, Jerusalén, Israel
1996 Boulogne, París, Francia
1996 Aoyama Palacio, Tokio, Japón
1996 Piscina Olímpica de Montpellier, Montpellier, Francia – Montpellier Olympic Pool, France


1996 Plateau Kirchberg, Luxemburgo, Luxemburgo
1997 Sede E.D.F., París, Francia
1997 Pine Medow, Chicago, EE. UU
1997 Continental Towers, Chicago, EE. UU
1997 Barrio de Engativa, Bogotá, Colombia
1997 Barrio de Casablanca, Bogotá, Colombia
1997 Aeropuerto de Barajas, Madrid, España
1997 300 North Lasalle, Chicago, EE. UU
1997 Teatro Nacional de Cataluña, Barcelona, España – Catalonia National Theatre, Spain


1997 Prolongación Castellana, Madrid, España
1997 Paribas, París, Francia
1998 Viviendas Pau's, Madrid, España
1998 Project 2000, Chicago, EE. UU
1998 Port Praski, Varsovia, Polonia
1998 Plaza de las Luces, San Juan de Puerto Rico, Puerto Rico
1998 Parque Manzanares, Madrid, España
1998 AXA Headquarters, Paris



1998 Parque de la Paz, San Juan de Puerto Rico, Puerto Rico
1998 Nova Karlin, Praga, República Checa
1998 Karlin Palace, Praga, República Checa
1998 Illa Front Maritim, Barcelona, España
1998 Hotel Vila Rica, Lisboa, Portugal
1998 El Tintal, Bogotá, Colombia
1998 El Alero, Bogotá, Colombia
1998 Edificio Compave, Lisboa, Portugal
1998 Plan Urbanístico Barranquilla, Barranquilla, Colombia
1998 Aeropuerto Tenerife, Tenerife, España
1998 180 North Lasalle, Chicago, EE. UU
1998 Atrium Saldanha, Lisboa, Portugal
1999 Viviendas en Houston, Houston, EE. UU
1999 Sede Telefónica, Madrid, España
1999 Puerto de Savona, Savona, Italia
1999 Nova Bocana Barcelona, Barcelona, España
1999 Colecciones Reales, Madrid, España
1999 Ciudad de la Cultura de Galicia, Santiago de Compostela, España
1999 Abandoibarra, Bilbao, España
1999 11 South Wacker, Chicago, EE. UU
1999 Casablanca Twin Center, Casablanca, Marruecos
1999 Ave Zaragoza, Zaragoza, España
1999 Viviendas Weidert, Luxemburgo, Luxemburgo
1999 SP Fiumicino, Roma, Italia
2000 Puerto Triana, Triana, España
2000 Módulo 5, Barcelona, España
2000 Grand Pear, Chicago, EE. UU
2000 Dominion Building, Houston, EE. UU
2000 Crystal Karlin, Praga, República Checa
2000 Columbus Circle, Nueva York, EE. UU
2000 Ampliación del Aeropuerto de Málaga, Málaga, España
2000 Corso, Praga, República Checa
2000 Sede Social Axa, París, Francia
2000 Funchalcentrum, Funchal, Portugal
2000 Ananda, Miami, EE. UU
2001 Palacio de Congresos Figueira da Foz, Figueira da Foz, Portugal
2001 Palacio de Congresos de La Coruña, La Coruña, España
2001 El Jadida, El Jadida, Marruecos
2001 Colombo's Resort, Porto Santo, Portugal
2001 The City of the Future, Kawasaki, Japón
2001 Casino de Aranjuez, Aranjuez, España
2001 Área Prado-Recoletos, Madrid, España
2001 Centro Cultural Miguel Delibes, Valladolid, España
2001 Shiseido, Tokio, Japón
2001 Nueva Terminal de Aeropuerto del Prat, Barcelona, España
2002 Platinum Tower, Beirut, Líbano
2002 Estadio Zaragoza, Zaragoza, España
2002 Estación Marítima de Savona, Savona, Italia
2002 Ciudad de la Justicia, Barcelona, España
2002 Parc Logistic de la Zona Franca, Barcelona, España


2002 Nexus II, Barcelona, España
2002 Algeria New Town, Boughzoul, Argelia
2003 Winds and waves, Quingdao, China
2003 Urbanidades, Bilbao, España
2003 Tianjin East Station, Tianjin, China
2003 Puerto de Bari, Bari, Italia – Savona Port, Italy


2003 Porta Sul, Lisboa, Portugal
2003 Novo Mundo XXI, Santo Domingo, República Dominicana
2003 Marina Tarraco, Tarragona, España
2003 El Ancon, Marbella, España
2003 Beijing Logistic Port, Beijing, China
2003 Beijing Bioengineer, Beijing, China
2003 Area Place Newquay, Dinard, Francia
2003 Nueva F M Tarragona, Tarragona, España
2003 Monchyplein, La Haya, Países Bajos
2003 Le porte, Luxemburgo, Luxemburgo
2003 Landmark, Beijing, China
2003 Dearborn Center, Chicago, EE. UU
2003 Sede Cartier, París, Francia
2004 Tianjin Music Hall, Tianjin, China
2004 Shanghai Maritime Forest, Shanghai, China
2004 Plaza Europa, Barcelona, España
2004 Puerto de Peñíscola, Peñíscola, España
2004 Medici Towers, Chicago, EE. UU
2004 Ex hospital San Paolo, Savona, Italia
2004 Elysian Prime Tower, Chicago, EE. UU
2004 Dubrovnik, Dubrovnik, Croacia
2004 Diaoyutai, Beijing, China
2004 Corso II, Praga, República Checa
2004 Casa OZ, Tokio, Japón
2004 Sunshine Upper East, Beijing, China
2004 Garden Hotel of Sunshine Upper East, Beijing, China
2005 Times of Fortune, Beijing, China
2005 Nueva Biblioteca de Guangzhou, Guangzhou, China
2005 Edificio de Viviendas Avda. Berna, Lisboa, Portugal
2005 J&T Center, Bratislava, Eslovaquia
2005 Beijing Jidianyuan, Beijing, China
2005 Baiyun Int'l Conference Center, Guangdong, China
2005 The Reflections, Conjunto Residencial Yuyuantan, Beijing, China


2005 Complejo Portuario de Tánger, Tange, Marruecos
2006 La Zona Kawasaki Plaza, Kawasaki, Japón
2006 Global Village, Dakar, Senegal
2006 The bright Chinese Jade Screen, Beijing, China
2006 Ciudad Internacional Xintian, Beijing, China
2006 The Gates of Xiba, Beijing, China
2007 Alexandria, San Petersburgo, Rusia
2007 Sede Empresa Abertis, Barcelona, España
2007 Konstantinovsky Congress Center, Strelna, San Petersburgo, Rusia
2007 La Espiral, Astaná, Kazajistán
2007 Centro Cultural Miguel Delibes, Valladolid, España
2007 681 Fifth Avenue, New York, EEUU
2008 Bartolomeo, Dnipropetrovsk, Ucrania
2008 Hotel Kiev, Kiev, Rusia
2008 Pulkovo Fair and Exhibitio Complex, San Petersburgo, Rusia
2008 Corso IIa – Karlín, Czech Republic


2009 Hotel W Barcelona, Barcelona, España
Ricardo Bofill : main page with projects
More information for this Ricardo Bofill Architect page is welcome
Website: https://en.wikipedia.org/wiki/Ricardo_Bofill
Location: Barcelona, Catalonia, Spain, southwest Europe
Barcelona Architectural Designs
Contemporary Architecture in Barcelona – architectural selection below:
Barcelona Architectural Walking Tours – tailored city walks by e-architect guides
Barcelona Architect Studios – architectural firm listings on e-architect
Camp Nou stadium – Nou Parc Prensa Barcelona
Design: ON-A architecture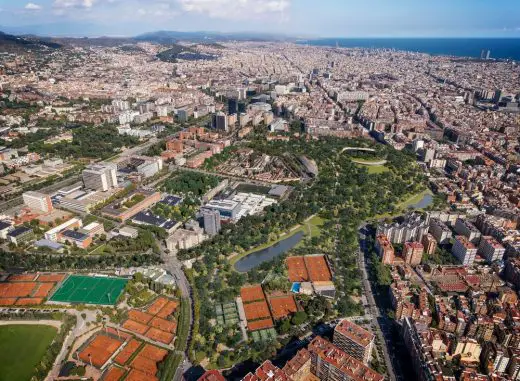 image © ON-A
Nou Parc Prensa Barcelona
Guest pavilion 1401, Sa Tuna, Begur, Catalunya
Design: Nordest Arquitectura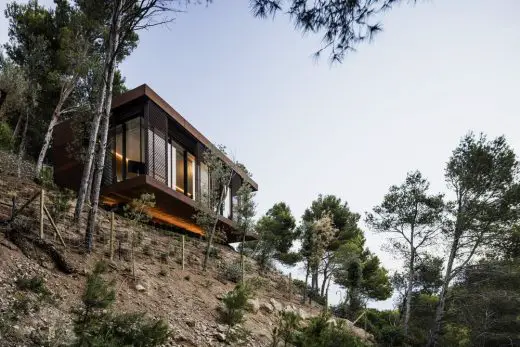 photo : Adrià Goula
House in Sa Tuna, Begur
All photos owned by Ricardo Bofill architect / Taller de Arquitectura
Comments / photos for the Ricardo Bofill Architecture page welcome