Architect Studios, Famous Architects, Designers, Practice, Info, Offices, List
Global Architecture : Key Practices
Celebrated Building Designers listed by Architectural Studio
World Architects – alphabetical
Architect Studios E-G (this page)
Contemporary Architects : E-G
This page contains a selection of major world architects, with links to individual architecture practice pages. We've selected what we feel are the key architects across the globe. The global focus is on contemporary architects but information on key traditional architecture studios is also welcome.
Architects listed alphabetically for their surname


photo © Benoît Fougeirol
E
e+i studio
EASTERN design office
ECDM Architects
ecosistema urbano architects
EDAW
Edouard Francois
EDSA Landscape Architects
Eduardo Souto de Moura
Eduardo Souto de Moura Architect
Edward Cullinan Architects
Edward Suzuki Associates
Edward Szewczyk + Associates
Edwin Lutyens
Eero Saarinen
Egon Eiermann
Eileen Gray
Elder & Cannon
eldridge smerin
Elenberg Fraser
Eliel Saarinen
Ellis Williams
Elspeth Duxbury
EM2N
EMBAIXADA
EMBT
Emre Arolat
Endoh Design House
Ennead Architects
Ennead Lab
Enota
Enric Miralles
Enrique Browne Arquitecto
Ensamble Studio
Entasis
Entasis Arquitectos
EPR
Eric Kuhne
Eric Owen Moss
Eric Parry
Eric Parry Architects
Erich Mendelsohn
Erick Van Egeraat
Erik Møllers Tegnestue
Ernö Goldfinger
Ernst Giselbrecht + Partner
EskewDumezRipple
Bonell i Gil Arquitectes
Estudio Carme Pinos
estudio de arquitectura fam
Estudio Lamela Arquitectos
Estudio Ramos Arquitectos
Estudio SIC
Eva Jiricna
Eva Jiricna Architects
Evans & Shalev
Evolution Design
F
Faithful + Gould
FAT Architects
Fábio Galeazzo
Fashion Architecture Taste
FaulknerBrowns Architects
Fearon Hay Architects
Featherstone Young
Federico Soriano
Feichtinger Architectes
Feilden Clegg Bradley
Feilden Clegg Bradley Studios
Feix&Merlin
Fentress Architects
Fernanda Vuilleumier Studio
Fernando Márquez Cecilia + Richard Levene
Fernando de Higueras Díaz
FGMF Architects
FGMF Arquitetos
FKA Architecture and Interiors
FKL architects
FLACQ
Flanagan Lawrence
flatzarchitects
Fletcher Priest
Florian Beigel
FOA
Foreign Office Architects
Foster + Partners
Foster + Partners Architecture
Foster + Partners Architecture Designs
Foster + Partners Architects
Foster + Partners Buildings
Foster + Partners Designs
Foster Wilson Architects
Fran Silvestre Arquitectos
Francis Cauffman Architects
Francis-Jones Morehen Thorp – FJMT
Francis Soler
Francisco Mangado
Francisco Mangado Architect
Frank Gehry
Frank Gehry Architect
Frank Lloyd Wright
Frank Lloyd Wright Architecture
Frank Matcham
Franson Wreland
Fraser Brown Mackenna
Frederick Gibberd & Partners
FR-EE/Fernando Romero Enterprise
Frei Otto
Frohn & Rojas
F.R.S Yorke
FT Architects
Fuhrimann Hächler Architects
Fumihiko Maki
Fuster Partners
Future Studio
Future Systems
FXFOWLE
FXFOWLE Architects
G
Gareth Hoskins Architects
Gatermann + Schossig
General Architecture
Gensler
Gensler Architects
Geoffrey Bawa
George Gilbert Scott
Gerkan, Marg & Partners
German del Sol
Gerrit Rietveld
Gert Wingårdh
Giancarlo De Carlo
Giancarlo Mazzanti
Gianni Botsford
Gigon/Guyer
Giles Gilbert Scott
Gillespie Kidd & Coia
Gillespies
Giuseppe Terragni
Glavovic Studio
Glenn Howells
Glen Murcutt
Glowacka Rennie
Gluckman Mayner
GM Architects
gm+ad architects
gmp – von Gerkan, Marg & Partners
GMW Architects
GMW Partnership
Goettsch Partners
GOGL ARCHITEKTEN
Gokay Deveci
Goldsmith Borgal Company
Gonzalo Mardones Viviani & Asociados
Gordon Bunschaft
Gottfried Böhm
gpy arquitectos
Graeme Massie Architects
GRAFT
graft architects
Gramazio & Kohler
Grafton Architects
Grant Associates
Graven Images
Greek Thomson
Gregotti Associati
Grimshaw
Grimshaw Architects
Groleger Arhitekti
Gross.Max
Gumuchdjian
Gunnar Asplund
Gunnar Birkerts
Günther Domenig
Gustafson Porter
Gustafson Porter + Bowman
Gustafson Guthrie Nichol
Peichl&Partner
Gustavo Penna
Guy Greenfield
Gwathmey Siegel & Associates
More world architect studios online soon at e-architect
Architects : geographical / alphabetical / historical
More information on one of the key architectural studios listed above:
Enric Miralles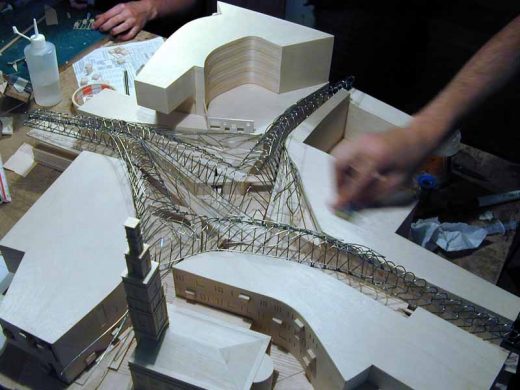 image from the architect
Enric won a number of architecture competitions in Spain with Helio Piñon and Alberto Viaplana. The Enric Miralles Benedetta Tagliabue – Embt Arquitectes Associats SL designed the Barcelona projects Plaça dels Paisos Catalans and Park in Besós. His architecture practice later titled EMBT and had a main office in Spain with a smaller studio in Germany. Benedetta Tagliabue Miralles runs the office after the death of Enric. The work of this Catalan architecture office was contemporary and expressive, very different from the Modernist architects dominant on the continent when he set up, or those in the British Hi-Tech architecture movement.
Our focus at e-architect is on high quality architectural offices: please contact us if you would like your design practice to be considered. We welcome text and credited images of your key architectural projects, for our consideration. Projects do not have to have been built, but our focus is on completed works.
Comments for the World Architecture Practices page welcome. Additions are always considered.