Studio Gang Architects, Illinois Architecture Office, USA, New York City
Studio Gang Architects : Practice Information
Contemporary American Architects Practice – Chicago + NYC Design Office
7 Mar 2016
Jeanne Gang Architect of the Year
Jeanne Gang Named Architect of the Year 2016
The Architectural Review names Jeanne Gang Architect of the Year in its 2016 Women in Architecture awards.
The Architectural Review has named Jeanne Gang (MArch '93) Architect of the Year in its 2016 Women in Architecture awards, revealed on March 4. In its announcement, The Architectural Review noted that judges were particularly impressed with her tri-axial Arcus Center for Social Justice Leadership at Kalamazoo College in Michigan, USA.
Gang (left) with Christine Murray, founder of Women in Architecture and editor-in-chief of The Architectural Review: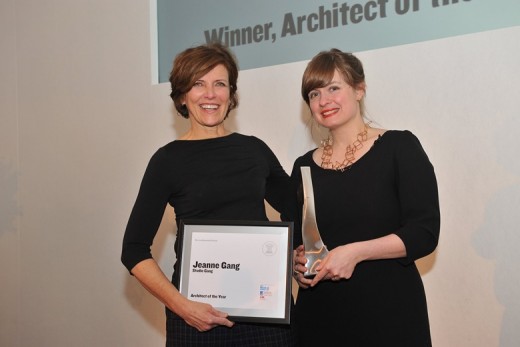 photo courtesy The Architectural Review
Gang is founding principal of Chicago-based Studio Gang and, among other honors, has been previously recognized as a MacArthur Fellow and International Rotary Fellow. Some of Studio Gang's other award-winning projects include the Nature Boardwalk at Lincoln Park Zoo and the Aqua Tower, both in Chicago.
Jeanne Gang taught at the Harvard Graduate School of Design as a visiting professor in 2004 and 2011. She joins previous Architect of the Year winners Teresa Borsuk (2015); Francine Houben (2014); Alison Brooks (2013); and Michál Cohen and Cindy Walters (2012).
In its 2016 Women in Architecture awards, The Architectural Review also honored Mexican architect Gabriela Etchegaray with its Moira Gemmill Prize for Emerging Architecture. In awarding Gang and Etchegaray, The Architectural Review noted that both "have demonstrated excellence in design and a commitment to working both sustainably and democratically with local communities."
Related link: Women in Architecture Awards – 2016 Ada Huxtable Prize
Studio Gang : project news with building images
6 May 2014
Studio Gang Architects – News
Studio Gang Opens Office in New York City
Studio Gang Architects announces a new office location in New York at 77 Water Street in Lower Manhattan.
Studio Gang's expansion to New York responds to a growing client base and new and ongoing projects in the city, including Solar Carve Tower, a mixed-use office building along the High Line. The Studio has also begun work on the new Fire Rescue 2 facility for the NYC Department of Design and Construction.
"Jeanne Gang developing designs for the New York Museum of Modern Art (MoMA) Foreclosed exhibition":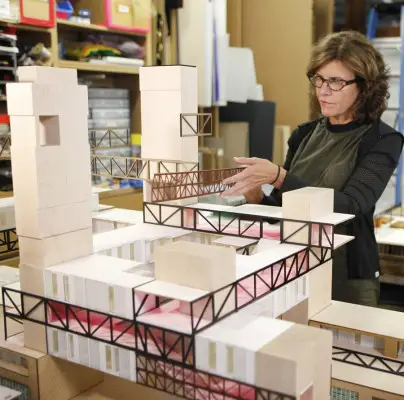 photo : Jean Marc Giboux, Courtesy of the John D and Catherine T MacArthur Foundation"
"This is a natural next step for the firm," said founding principal Jeanne Gang. "We have been working in New York for the past several years and are excited by the variety of work currently in design, along with potential engagements in the city and beyond. Our New York team is led by Design Principal Weston Walker. Combining our presence in the Midwest with an enhanced focus on the East Coast provides us with a powerful platform to advance our work."
About Studio Gang Architects
Founded by MacArthur Fellow Jeanne Gang, FAIA, in 1997, Studio Gang Architects is a collective of architects, designers, and thinkers whose work confronts pressing contemporary issues. Honored with the 2013 National Design Award, the Studio acts as a laboratory for testing ideas on varying scales: from cities to environments to material properties. Studio Gang's work has been published and exhibited widely, most notably at the International Venice Biennale, MoMA, the National Building Museum, and the Art Institute of Chicago.
Studio Gang Architects Expands and Strengthens Leadership Team
Award-Winning Chicago-Based Design Firm Welcomes
Gregg Garmisa as Principal and General Counsel,
Expands Studio Leadership
Studio Gang Architects (SGA)—the 2013 National Design Award Winning firm led by MacArthur Fellow Jeanne Gang—welcomes principal Gregg Garmisa as it announces several new appointments to its leadership team. These organizational changes ensure SGA's steady and continued growth in the coming years.
"Expanding the leadership of our studio formally recognizes the talent and hard work of many individuals in our office who have supported us the last 15 years," said Gang. "As we continue to move our practice forward, these leaders will help us navigate the challenges we face as a growing, increasingly international architecture and design firm."
Gregg Garmisa, one of SGA's earliest collaborators and a board member of AIA Chicago, joins the firm as a Principal and General Counsel. "We are pleased to have Gregg on board our senior management team," said Gang. "Gregg's experience and knowledge will be tremendous additions to our firm, as we grow in Chicago and beyond." Garmisa joins SGA after nearly two decades as an officer at WMA Consulting Engineers, a well-respected engineering and sustainability consulting firm. Prior to that, he worked as an attorney and advisor to U.S. Senator Alan J. Dixon in Washington, D.C. Garmisa earned his undergraduate degree from Stanford University and his law degree from the Georgetown University Law Center. "I am excited to continue working with Jeanne, (Managing Principal) Mark Schendel, and the whole creative team at Studio Gang in this new position," said Garmisa.
Weston Walker, Juliane Wolf, and Todd Zima, AIA, promoted to Design Principals. As Design Principals they will direct design projects along with Founding Principal Jeanne Gang. Weston Walker has been with the firm since 2007 and has worked on projects such as the Solar Carve Tower in New York. Juliane Wolf has worked with Studio Gang for six years and is currently leading the firm's project for Writers Theatre in Glencoe, IL. Todd Zima, AIA, has been with the firm since 2008 and has worked on projects such as the Arcus Center for Social Justice Leadership at Kalamazoo College and the University of Chicago Campus North Residence Hall.
The leadership team also includes Margaret Cavenagh, AIA, promoted to Director of Interiors, Harry Soenksen, AIA, promoted to Technical Director, and William Emmick, AIA, promoted to Operations Director.
Building: Inside Studio Gang Architects On View at the Art Institute of Chicago, Michigan, USA
CHICAGO, IL (October, 2012) — Building: Inside Studio Gang Architects, the first solo exhibition dedicated to the work of Studio Gang, opened at the Art Institute of Chicago on September 24, 2012 and will run through February 24, 2013. The show immerses visitors in the energy of the studio's creative process and the stream of ideas that connects its growing body of work.





photos by Steve Hall © Hedrich Blessing, courtesy of Studio Gang Architects
In the exhibition's main gallery space, visitors are invited to explore thirteen recent SGA projects through a variety of two- and three-dimensional materials chosen by Art Institute curators Zoë Ryan and Karen Kice. Clustered at the center of the gallery are five "Rope Room" installations custom designed and constructed by Studio Gang.
In the exhibit's "Workshop" room, full-scale mock ups, material experiments, tools, books, pin-up boards, and a wall of construction drawings give visitors a look into the studio's working method—how ideas are made realities through research, collaboration, and hands-on investigation. Two "Archi-Salon" events will be held here that bring together architects and the public for conversations on current issues in architecture and connected fields.
For more information on the exhibition, please visit www.artic.edu/exhibition/building-inside-studio-gang-architects.
To view or order the exhibition catalogue, please visit http://yalepress.yale.edu/yupbooks/book.asp?isbn=9780300191189.
Studio Gang – Recent News
Reverse Effect by Jeanne Gang
Reverse Effect:
Renewing Chicago's Waterways
a new book by Jeanne Gang


image from Studio Gang
developed in collaboration with the
Natural Resources Defense Council (NRDC)
8 x 11 in / 20.3 cm x 27.9 cm
116 pp
Paperback
ISBN 978-0-9840183-0-7
$30.00
Available November 7, 2011
"Rather than seeking to control nature with technology, we will discover instead that in the 21st century, nature becomes technology… Can Chicago be the city that sets this new paradigm by transforming its waterways once again?"
Crisis becomes catalyst in this new book by visionary architect Jeanne Gang, which weaves together diverse content and voices to explore how the complex challenges facing Chicago's current waterway system can generate the revolutionary rebirth of its riverfront. The result of a yearlong collaboration between Studio Gang, NRDC, and students from the Harvard University Graduate School of Design, Reverse Effect was prompted by NRDC's 2010 report calling for a barrier in the Chicago River's South Branch to separate the Great Lakes and Mississippi Watersheds and thereby prevent invasive carp from entering Lake Michigan. Investigating how dividing the river could also connect and recharge surrounding neighborhoods led Studio Gang to discover exciting new possibilities for the city they call home.
Reverse Effect is meant to become a tool that can empower a new generation of Chicagoans—from architects and designers to policymakers, advocates, and everyday citizens—to reimagine and reshape the river's future together, as well as a road map for the nation's broader river renaissance.
ABOUT THE AUTHOR


image from Studio Gang
Jeanne Gang, FAIA, a 2011 MacArthur Fellow, leads Studio Gang Architects, a collective of architects, designers, and thinkers whose projects address pressing contemporary issues. Known for pursuing a future where the urban and natural worlds interweave, Jeanne's work focuses on cities, ecologies, materials, and technologies. The work of Studio Gang has been honored and exhibited widely, most notably at the International Venice Biennale, the Museum of Modern Art (MoMA), and the Art Institute of Chicago.
ABOUT NRDC
The Natural Resources Defense Council is an international environmental advocacy organization that uses law, science, and the support of 1.3 million members and online activists to protect the planet's natural resources and to ensure a safe and healthy environment for all living things. Locally, nationally, and internationally, NRDC's work is broad, successful, and solutions-oriented. In January 2007, NRDC brought its hard-hitting environmental advocacy to the Midwest. Under the leadership of Henry L. Henderson, NRDC's Midwest program is advancing the region's vision of a clean and sustainable future with a major commitment to restoring the Chicago River and protecting the Great Lakes.
EVENTS
Reverse Effect will be available for the first time at a November 3 celebration hosted by NRDC that will benefit their Chicago River and Great Lakes work. The evening will feature a one-time only performance by the Second City of Carpocalypse!, an original sketch about the invasive carp crisis. The book will also be available for sale and signing following a November 17 conversation between Jeanne Gang and NRDC's Henry Henderson at the Chicago Public Library's Harold Washington Library Center. Free and open to the public, the event will be moderated by WBEZ's Steve Edwards.
More buildings by Studio Gang online soon
Location: 1212 N Ashland Ave, Suite 212, Chicago, IL 60622, USA
Studio Gang Architects Practice Information
Architects studio based in Chicago, Illinois, USA, also with an architecture office in Manhattan, NY.
Studio Gang is a leading architecture practice whose design work addresses buildings, landscapes and cities. Founded by Jeanne Gang in 1997, the office has grown to include 37 full-time staff collaborating on national and international projects.
The work of Studio Gang embraces innovative design and sustainability. As such, the studio acts as a lab for testing ideas on every scale—from cities to material properties. Studio Gang's practice methodology enables clients and design team members, all of whom are required to be LEED certified within one year of joining the firm, to make choices in the development of green strategies for a variety of building types and budgets.
This commitment to creativity and collaboration is demonstrated by projects such as the Aqua Tower in Chicago, which considers tall buildings' role in shaping a city's skyline and in fulfilling the needs of its inhabitants, the SOS Community Center, which visibly engages with the distinct nature of concrete, and the soon-to-open Columbia College Media Production Center, which acts as a teaching tool that encourages student collaboration and restructures the way film production is taught.
These projects exemplify the fresh approach by Studio Gang to design, which is based not on formulaic architecture or the LEED point system, but on thoroughly evaluating what the site environment offers. By beginning with research and exploration, Studio Gang has produced a growing body of work of compelling spaces that respond to their specific place and purpose.
Studio Gang has received national and international recognition for its work, including Jeanne Gang's election to the American Institute of Architects' College of Fellows.
Studio Gang won awards at AIA Chicago's 2009 and 2008 Annual Design Excellence Awards, and was honored with an award of High Commendation for the SOS Community Center at the World Architecture Festival in Barcelona. This project also received first place honor from Chicago's Richard H. Driehaus Foundation Awards for Architectural Excellence in Community Design.
Most recently, Aqua Tower by Studio Gang won the American Architecture Award from the Chicago Athenaeum Museum of Architecture & Design.
Chicago Architectural Designs
Chicago Building Designs – architectural selection below:
Chicago Architecture Design – chronological list
110 North Wacker Drive
Architects: Goettsch Partners, Inc.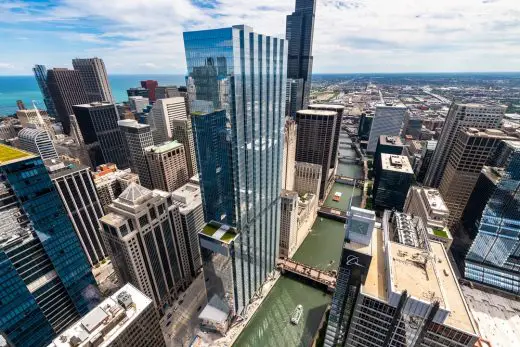 image courtesy of architects
110 North Wacker
Charles River Associates Chicago Office, One South Wacker Drive
Design: Elkus Manfredi Architects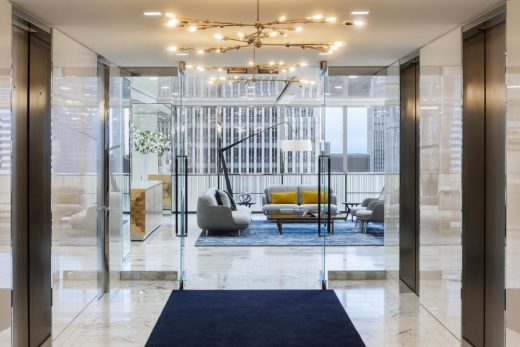 photograph © Andrew Bordwin
Charles River Associates Offices
Website: Chicago
Buildings / photos for the Studio Gang Architects Chicago page welcome
Website: https://studiogang.com