noa* Italy Architect, Architetto Bolzano, Studio News, Building Designs Images
Studio noa*, Italia : Architects
Contemporary Italian Architecture Practice – Bozen Design Office News
post updated 20 September 2022
noa* – network of architecture News
Winner AHEAD Awards Europe 2020
20 Sep 2022
Hub of Huts, South Tyrol, Italy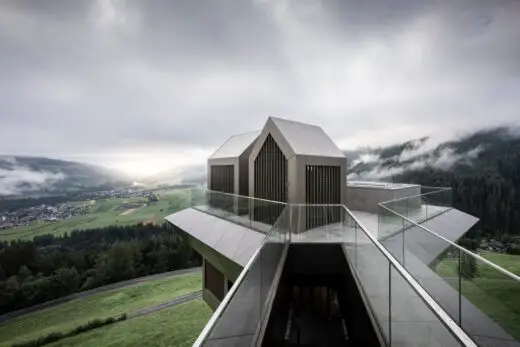 photo : Alex Filz
Hub of Huts South Tyrol
For its latest South Tyrolean realisation, this architectural office returns to Hubertus in Olang, one of the first places to have revealed the studio's expressive power. After the iconic cantilever pool, a new suspended platform defies gravity law by overturning the concept of wellbeing.
22 Oct 2021
Aeon Hotel and wellness, Soprabolzano, South Tyrol region, Italy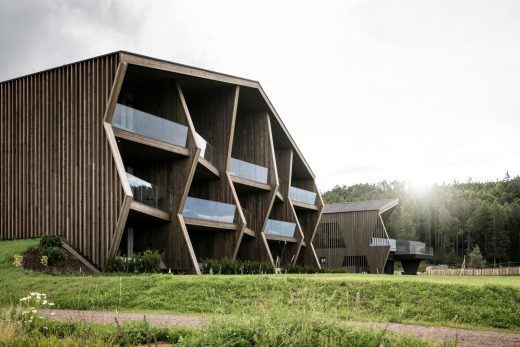 photo : Alex Filz
Aeon Hotel and wellness
Boundaries – between past and future, between dream and reality, between inside and outside: noa* makes the invisible lines visible, which become part of the full picture and, above all, instead of a separation, a connection between two worlds.
30 Nov 2020
noa* are overwhelmed by the results from the AHEAD Awards Europe 2020 award ceremony, which was held online on 16th November.
Their project Apfelhotel came first place in the two categories "Guestrooms" and "Spa & Wellness". In addition, it was nominated for the category "Hotel of the Year" and came second place!
The winner was "The Standard" in London. The entire noa* team as well as the Pichler family from Apfelhotel celebrated online together and look forward to the day when they can unite their glasses in person.
29 July 2020
Apfelhotel Torgglerhof Hotel, Val Passiria, South Tyrol, Italy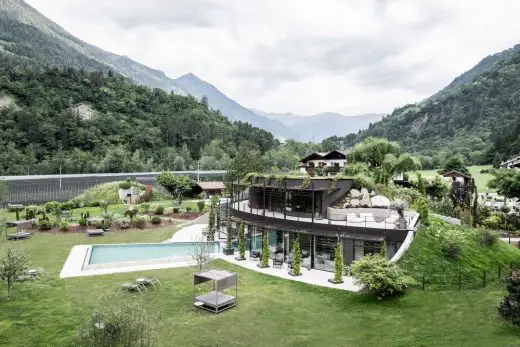 photo : Alex Filz
Apfelhotel Torgglerhof in Val Passiria, Italy
As the age-old adage goes, the apple doesn't fall far from the tree. In South Tyrol, Saltaus, Apfelhotel's young new generation of owners are breaking new ground while staying true to their traditional roots.
11 May 2020
Hotel Seehof, Natz-Schabs, South Tyrol, Italy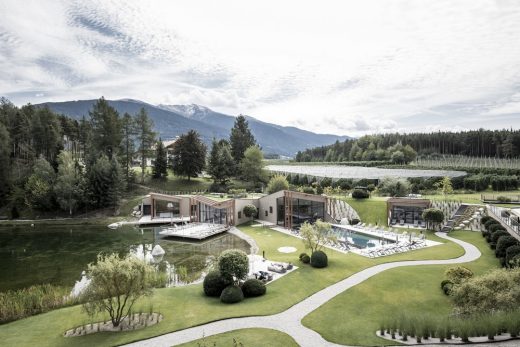 photo : Alex Filz
Hotel Seehof
This new Italian accommodation building complex is located on a high plateau near the village of Natz-Schabs/Naz-Sciaves near Brixen/Bressanone (IT) by the small natural lake "Flötscher Weiher".
31 May 2019
Zallinger Refuge, Saltria, South Tyrol, Italy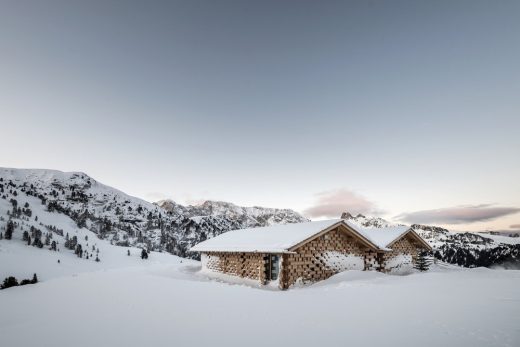 photograph : Alex Filz
Zallinger Refuge
With the renovation and expansion of the Zallinger Refuge at the Seiser Alm / Alpe di Siusi, a new model of hospitality was born and serving as a good example of responsible tourism.
31 Aug 2018
Hotel Silena, Via Birchwald, Valles, Bolzano, Italy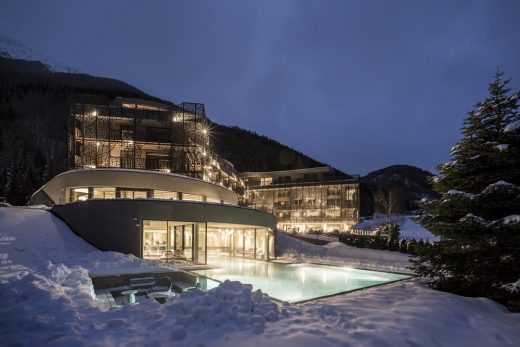 photograph : Alex Filz
Hotel Silena in Vals
The 4-star-S Hotel "Silena" with its' swamp-coloured, organically angular and integration into the landscape, it appears to be growing out of the unstable ground as a place of tranquillity, strength and soul, designed down to the smallest detail.
22 Dec 2017
Hotel Valentinerhof Building, Kastelruth, Italy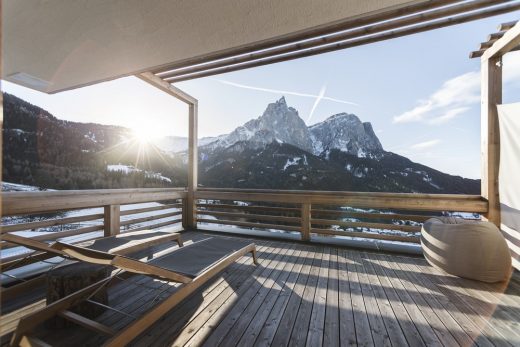 photo from architect
Hotel Valentinerhof Building
noa * (network of architecture) is rebuilding the family business Valentinerhof after the reconstruction and extension of 2011 and tries to remain faithful to the old concept of the hotel – to maintain its identity in harmony with nature. The new reconstruction is intended to reinforce the concept of integrating nature even further by taking a view of the mountain landscape from every point of the hotel.
1 May 2017
Apfelhotel Torgglerhof, Saltaus, Passiria Valley, The Alps – northern Italy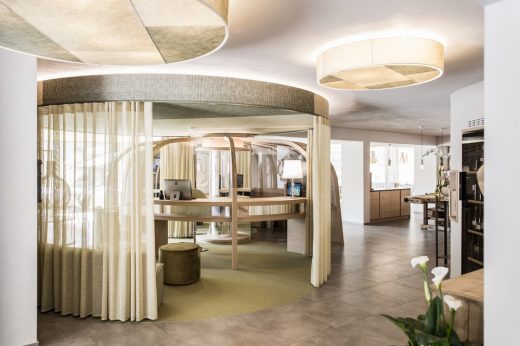 photo from architect
Apfelhotel Torgglerhof
It is all about the apple in the 'Apfelhotel Torgglerhof' in Saltaus in the Passiria Valley in Northern Italy. The agricultural farm and the hotel extend on 3 buildings and form the farm ensemble – surrounded by numerous apple trees and nature.
31 Mar 2017
New Hotel Tofana, St. Kassian / S. Cassiano, Northern Italy
The dynamic personality of the two Yoga and Pilates instructors, mountain bikers, ski and snowboard instructors and mountaineers has led the new Tofana to adapt to these two athletic powerhouses: the "mountain" becomes an abstract conceptual inspiration for the entire architecture. The hotel acts as a "base camp" for the guest.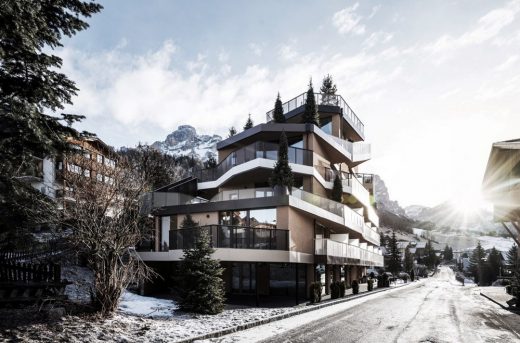 In the demolition and reconstruction of the Hotel Tofana in St. Kassian / S. Cassiano in Badia Valley (IT), the surrounding mountain range served as inspiration for the new architecture and interior design. The concept of the new "Explorer's Home" transfers the athletic spirit of the owner family to the entire building.
New Hotel Tofana design by noa* – network of architecture
Competition Winners at Lake Garda, Northern Italy
noa* is extradeligthed to be announced winners of the invited competition for a brand new 5* retreat on the south shores of Lake Garda including 50 exclusive suites. More details following shortly.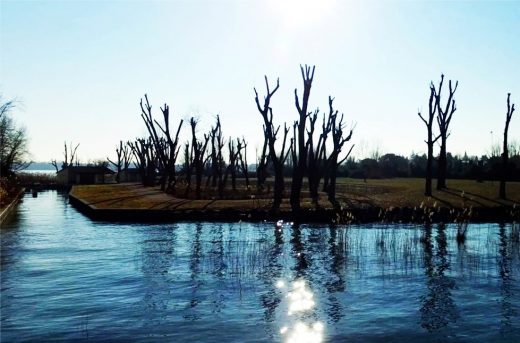 1 Aug 2016
noa* – network of architecture Buildings
Kaiserwarte observation tower, Bruneck / Brunico, Italy
KAISERWARTE FINALIST @ World Architecture Festival Awards in Berlin, Germany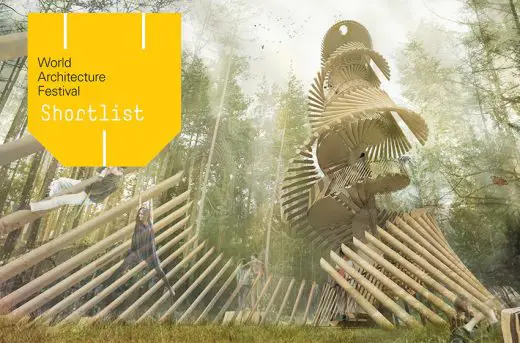 The project "Kaiserwarte" – a 30m high observation tower in the surroundings of Bruneck / Brunico (IT) has been shortlisted for the international prestigious WAF Award in the category "Future Project – Experimental"
TURRISBABEL #102 – OUTING
The new Turrisbabel is out now … telling the story of different architects and their first project.
APPLE HOTEL FINALIST @ INSIDE awards, Berin
The Apple Hotel in Saltaus / Saltusio (IT) is nominated for yet another award: the Inside – World Festival of Interiors Award – celebrating the most extra ordinary interiors world wide.
6 Jan 2013
Hotel Valentinerhof, Kastelruth, northern Italy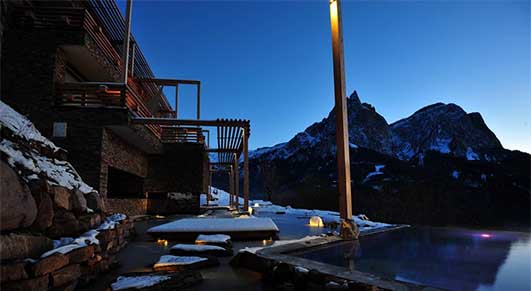 photo from architecture practice
Hotel Valentinerhof
The hotel is located in the village of Kastelruth next to the well-known Seiser Alm at approx. 1200 meters above sealevel. The family establishment was enhanced and enlarged with a new wellness area and a new lobby with attached bar and restaurant. 14 spacious suites were added to make the new hotel increased by 1,100 sqm.
More architecture projects by noa* architetto online soon
Location: Bozen-Bolzano, Italy, Europe
Bolzano Architects Practice Information
Architetti Italia – studio based in Bolzano, north Italy
noa* is the essential expression of a collaborative work-ethos: the young team of architects & designers, led by founders Lukas Rungger and Stefan Rier and based in Bolzano (Italy), explores and examines interdisciplinary methods of design, which continuously evolve depending on both nature and requirements of each project.


image from architect
Teams are mixed temporarily to address imminent challenges and find innovative solutions. noa* serves as a stage (or platform) for architects, designers of interiors, graphics or fashion…as far as musicians and historians….with the collective aim to use the ressources of field specialists at its best.
The classic profession of the architect as a consequence gets replaced by an internationally operative group of creatives on collaborative grounds: the architect becomes the main conductor.
Thanks to nearly one decade of professional experience locally and abroad, noa* has been growing and continues to do so, resulting in an extensively evolving network across the globe with recent hot-spots based in New York, Milan, London, Berlin, Geneve, Ferrara, Graz….
noa*, while forming the heart of ist own network, reinforces the transfer of knowledge from various operative sectors, by surrounding the core theme of architectural creation, reaching out to accelerate and intensify the added value for each project.
By following the concept of "emergence", where the whole is perceived as being far greater than the sum of ist parts, a holistic approach and strategy is central to noa*s way of conceiving design. Exploring the "genius loci", analysing the soul of a place, space or environment, is the recurrent theme that completes the holistic design philosophy and methodology.
Each project is being approached as learning in process, with a thorough analysis of the "lost and found" becoming essential to design quality, paired with the attempt of simultaneously looking back and understanding traditional culture and looking forward at contemporary ways of enhancing modern life.
Finally, a thorough and radical conception of spacial and temporal relationships forms the core ambition of any field noa* gets involved: by using 3- and 4-dimensional design tools, all teams interact on the design process contemporaneously, enabling responsive results along contextually driven inspirations of each experimental playground.
Italian Architect Studios : – contact details
noa* is an architecture and design studio established by Lukas Rungger and Stefan Rier.
Studio di Architettura Italia
Lukas and Stefan met while working as project architects with the renowned architect and designer Matteo Thun in Milan, being responsible for a series of challenging projects in the field of tourism, modern living and contemporary workplaces.
Before joining forces to found noa* back home in Bozen/Bolzano in 2010, both Lukas and Stefan improved their skills and finetuned their work-ethos during a decade of work experiences both locally and abroad.
They gained particularly diverse cultural and social influences from living and working in New York, London, Berlin, Milan, Ferrara and Graz…which until present remains the crucial influence and input on their recent designs.
Their current projects include a new concept store in Bejing China for sports-brand Chervo, a new masterplan for the seaside resort of Grado near Venice, a series of new 4 and 5star hotels predominantly located in the alpine region of Italy, and new high-end villas in the luxurious Gardena Valley in South Tyrol.
noa* continuously emphasizes its attempt to include renowned designers on different levels of design implementation, resulting in past and present collaborations with internationally renowned artists and designers such as Gian Frey (Zurich), Martino Gamper (London), Martin Schgaguler (Geneve), Giulia Minozzi & Delica Fior (Milan), Jakob Maurer (from the Faculty of Design at Free University Bolzano) and many others.
By following the concept of "emergence", where the whole is perceived as being far greater than the sum of ist parts, a holistic approach and strategy is central to noa*s evolving way of conceiving architecture and design.
Lukas Rungger (born 1977) graduated in architecture from Technical University Graz (Austria) and worked first as architect and project leader with Prof. Hans Gangoly in Graz and then moved to London to work with Softroom and finally in Milan with Matteo Thun.
After having gained his professional qualification as architect from IUAV Venezia (Italy), Lukas has been extensively involved in a variety of projects mainly in the field of urban planning, housing, hotels and interior architecture of bars, shops and restaurants. He was a member of the Royal Institute of British Architecture and is now a member of the Architectural Chamber of Bozen/Bolzano.
Stefan Rier (born 1979) graduated in interior design from Centro Studi "Andrea Palladio" Verona (Italy) and in architecture from Technical University Ferrara (Italy). He worked first as architect and project leader with Arch. Demetz, and then moved to Bergamo to work with Prof. Massimiliano Mandarini and finally in Milan with Matteo Thun.
He received his professional qualification as interior designer and architect from Universita di Genova. Stefan has been focusing on a series of projects from sustainable housing to hotels, extending to interiors, landscaping and bespoke furniture design. He is now a member of the Architectural Chamber of Bozen/Bolzano.
Italian Architecture
Hotel Tofana design by noa* – network of architecture
Comments / photos for the studio noa* architetto – Bolzano Architects page welcome