Reiulf Ramstad Architect, Norwegian Design Studio, Building Photos, Architecture Office, Projects News
Reiulf Ramstad Arkitekter
RRA: Contemporary Norwegian Architects Practice – Oslo design studio, Norway
post updated 4 February 2023
Reiulf Ramstad Arkitekter News
News from Reiulf Ramstad Arkitekter
4 Feb 2023
New Station Building in Gothenburg, Sweden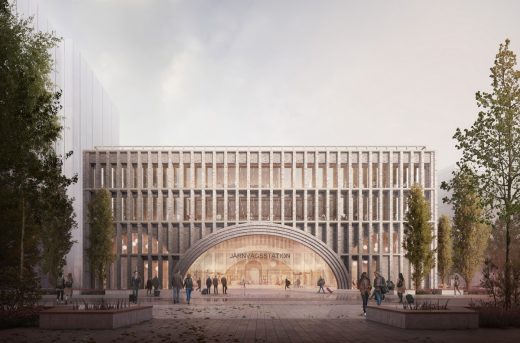 image courtesy of architects office
New Station Building in Gothenburg
29 Sep 2021
Brädgården Art Works, Noormarkku, Western Finland
Design: Reiulf Ramstad Arkitekter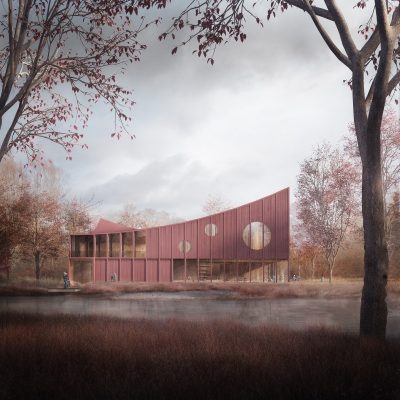 image courtesy of architecture practice
Brädgården Art Works
Brädgården Art ~ Works project is based on a simple and clear idea: embracing the meeting between people and art with an appealing spatial composition. The result is a future-oriented and site-adapted proposal, transparently expressing its content and ambitions.
14 Sep 2021
Kornets Hus, Hjørring, Jutland, western Denmark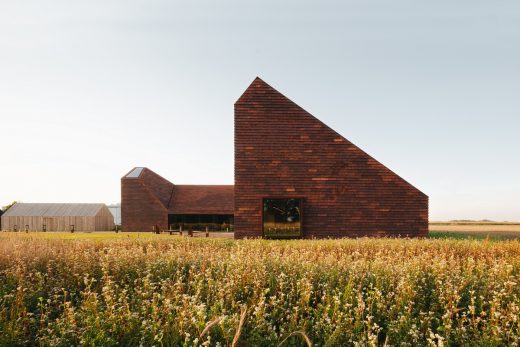 photography © Reiulf Ramstad Arkitekter
Kornets Hus Hjørring
The Jutland region, with its diversity of landscapes and long history, is in many ways the most continental region in Denmark. Hjørring has some of the oldest traces of settlements nationally and an established cultural landscape.
14 September 2021 + 8 July 2020
Pilestredet 77/79, Fagerborg, Oslo, Norway
Architects: Reiulf Ramstad Arkitekter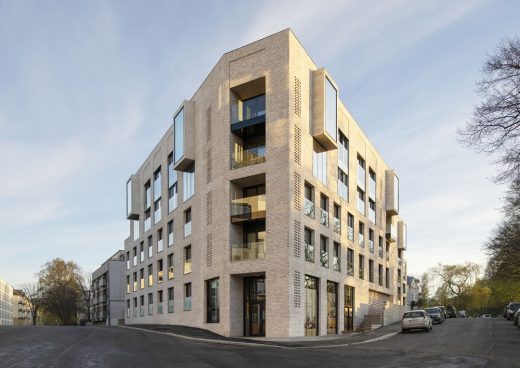 photography : Ivar Kvaal
Pilestredet 77/79
Architizer A+ awards 2021 Jury Winner in the Multi Unit Housing Low Rise (1-4 Floors) category. It is also nominated to Oslo bys Arkitekturpris (Oslo City Architecture Award) 2021.
The project has been developed on a very site-specific approach. It has elaborated solutions, that primarily refer to the historical context of the neighborhood of Fagerborg. The project unites tradition and innovation in a carefully reflected way and provide good homes that will help to form a qualitative neighborhood.
13 Nov 2019
Portes Bonheur, le Chemin des Carrières in Rosheim (Rosheim-St Nabor railway), Alsace, Northeast France
Design: Reiulf Ramstad Arkitekter AS, Norway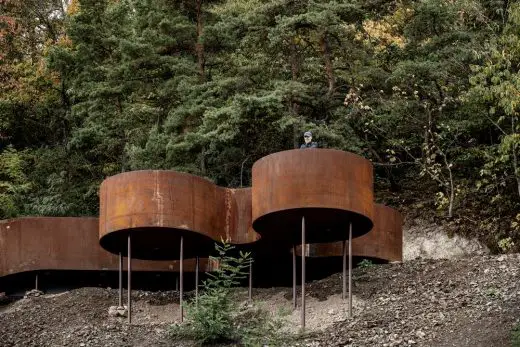 photography : Florent Michel 11h45
Portes Bonheur by RRA
The "Portes Bonheur" greenway is an original creation for the Communauté de Communes des Portes de Rosheim.
2 Nov 2019
Bygdøynesveien 15, Oslo, Norway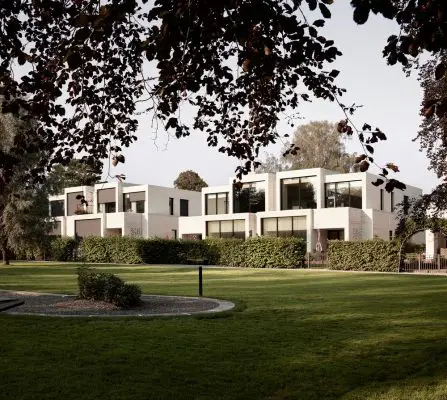 image © Mariela Apollonio – fotografadearquitectura
Bygdøynesveien 15 Oslo Houses
BNV15 has been developed to become a comprehensive facility that combines new buildings within a historic facility in an attractive and innovative way.
20 Mar 2019
Reiulf Ramstad Architects Goes To London!
Friday March 22nd, Reiulf Ramstad Architects will participate in the talk "Cathedral Thinking" at the Zaha Hadid Gallery in London.
Reiulf Ramstad Architects "Cathedral Thinking" Zaha Hadid Gallery London: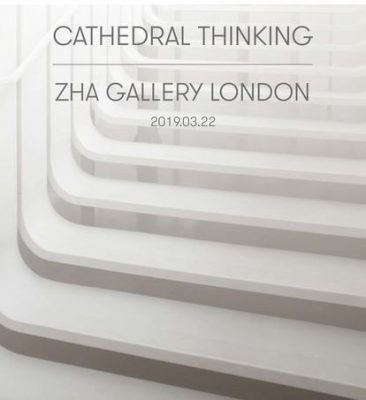 picture courtesy of architects
RRA are delighted to be invited by Geir Rognlien Elgvin, in Moment team, to be a part of this meeting between Oslo and London. Anne Beate Hovind, the project director of the upcoming art piece by Katie Paterson, Future Library, will explain her interesting work and its relation to the concept "Cathedral Thinking". Cathedral Thinking is pointing at the importance of long-term perspectives in projects.
This will be the introduction to a panel discussion by Reiulf Ramstad, Melodie Leung and Ludovico Lombardi. What role does Cathedral Thinking have in architecture and design? Is Cathedral thinking the same in England and Norway? What ingredients are important to create a project with long-term perspective?
Reiulf Ramstad Architects – Contours & Horizons
Bold and daring, yet unpretentious and simple: that sums up the buildings designed by the independent, Oslo-based architectural offices of Reiulf Ramstad Architects (RRA).
Reiulf Ramstad Architects – Contours & Horizons
Publisher: Hatje Cantz, 2018, Language: English, Pages: 400
To order go to our webpage:
https://www.reiulframstadarkitekter.com/publications/store/contours-and-horizons
30 Jun 2018
Two-In-One House, Ekeberglia Shortlisted at World Architecture Festival 2018 Awards
is one of 536 shortlisted entries across 81 countries:
World Architecture Festival Awards 2018 Shortlist
30 Jun 2018
NTNU Gjøvik Shortlisted at World Architecture Festival 2018 Awards
NTNU University Building – Høgskolen i Gjøvik, Ålesund, Norway
Architects: Reiulf Ramstad Arkitekter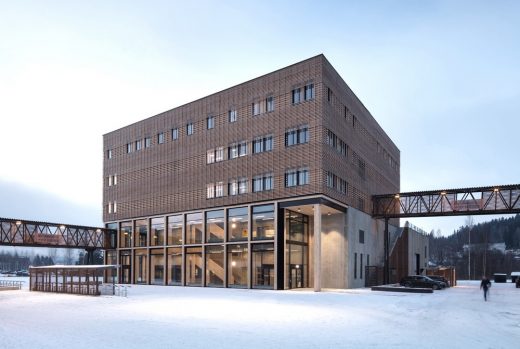 photo : Trond Isaksen
NTNU Gjøvik
The new building for Gjøvik University College is a learning arena for knowledge and education.
24 Apr 2018
Two-in-One House, Ekeberglia, near Oslo, Norway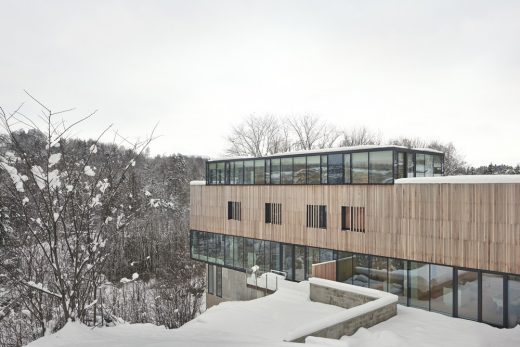 photography © Ivar Kvaal, Reiulf Ramstad Arkitekter
New House in Ekeberglia by RRA
The Two-in-One House is a calm piece of architecture resting on the steep and dynamic landscape of Ekeberglia. Its slender and rectangular form is manifested at the top of the sloping landscape.
17 Apr 2018
Breitenbach Landscape Hotel, Bas-Rhin department, Alsace, north-east France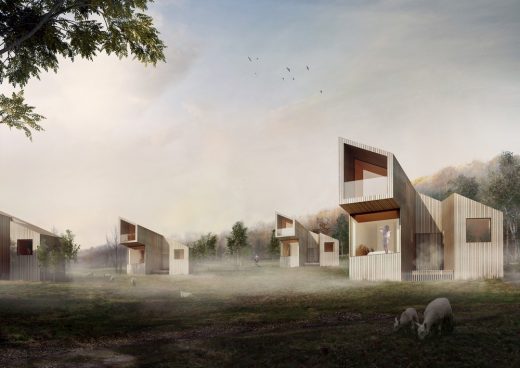 pictures : Reiulf Ramstad Arkitekter, WSBY, Tejo
Breitenbach Hotel
Breitenbach Landscape Hotel will have a prominent role linking the hotel activity to the site and local traditions. At the same time, it will gather the best of architecture, design, spa facilities and food culture in the region. It will connect the local character and landscape with new characteristic forms and create a specific architectural expression.
14 Mar 2018
Slipway Housing Complex, Lower Malmø, Mannefjordl, Norway
Design: Reiulf Ramstad Arkitekter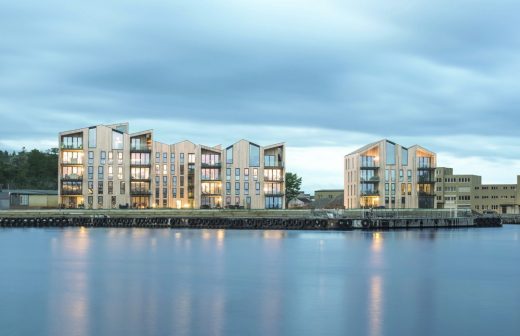 photography: Reiulf Ramstad Arkitekter
Ski Vest Tower
The "Slippen" housing complex is located in the district of Lower Malmø, at the exit of Mandalselva in the Mannefjord. The project is iconic with its unique roof forms and minimal window details, while at the same time evoking the character of the local surroundings, taking its inspiration from the unique character of Mandal: the encounter between timber construction and the open sea.
19 Dec 2017
Ski Vest Tower, Norway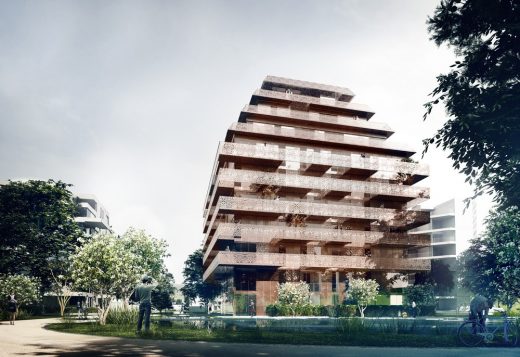 image © RRA
Ski Vest Tower
The new high quality housing project in Ski Vest will offer innovative apartments. On the site of a former military camp, the residential building will band together with the adjacent historical landscape and built environment of buildings from the 1890s in an attractive and humble manner.
5 + 4 Sep 2017
This summer RRA completed a competition for a new Housing construction Freiham Nord WA 1 Munich for the GWG Municipal Housing Company Munich mbH.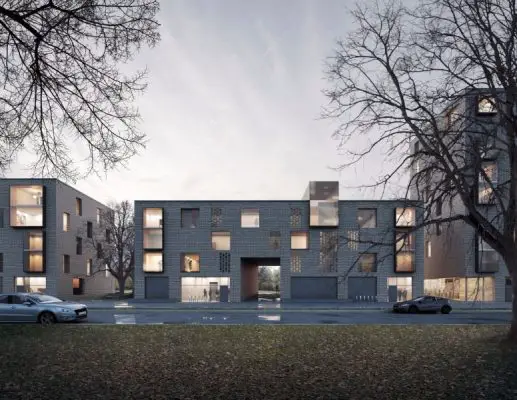 image © RRA
Arch.ZT Benedikt Hörmann did a great job leading the design team in this architectural competition for a freestanding housing project, including a day care center for children. Reiulf Ramstad Architects were one of 3 architecture firms invited to compete for the contract, eventually the contract was awarded to the local architect.
Reiulf Ramstad Architects are one of five teams shortlisted by The Royal Institute of British Architects (RIBA) and Peabody Housing Association to design a new library and civic building for Thamesmead, South-East London, UK. The state-of-the-art building will be located on the south side of Southmere Lake, a short walk to the New Crossrail at Abbey Wood Station.
RRA project for NTNU at Gjøvik is well under construction, to be completed by the end of 2017. NTNU has the main responsibility for higher education in technology in Norway and it is the country's premier institution for the education of engineers.
16 Aug 2017
Kimen kulturhus, Stjørdal, Norway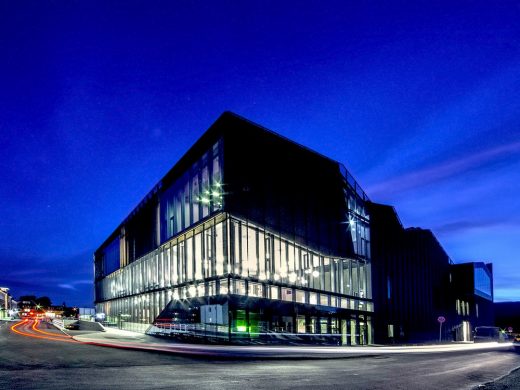 photograph © Odd Rune Wang
The Cultural Center of Stjørdal is an important node of the community, both locally and in the region. The building is a place for all people interested in culture to explore and develop their abilities and talents:
11 Aug 2017
Nominations For Norwegian Architecture Award 2017
Romsdalsmuseet, Molde, and Kimen Kulturhus, Stjørdal, are amongst twenty building nominees for the 2017 Architecture Award in Norway.
2 Aug 2017
Kornets Hus, Aabybro, north west of Aalborg, Jutland, western Denmark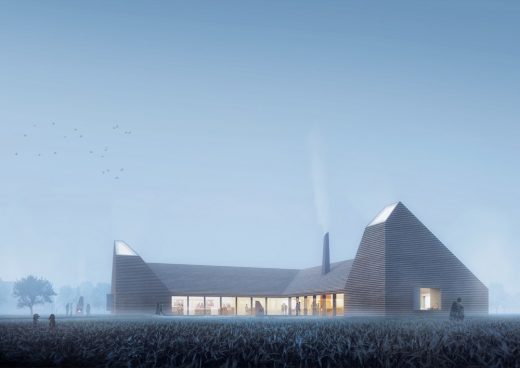 picture © RRA
Kornets Hus
The Kornets Hus – or grain house, is the realisation of a new centre for the dissemination of the region's rich food and farming culture.
24 Feb 2017
Chemin des Carrières, Alsace, Northeast France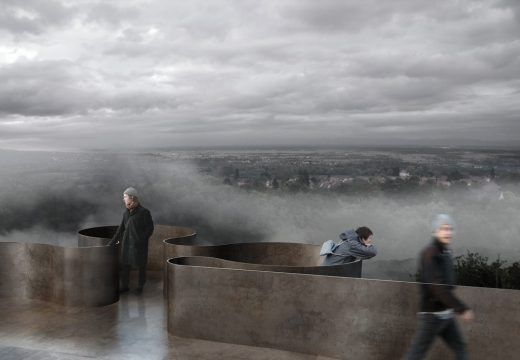 picture © RRA
Chemin des Carrières
Chemin des Carrières, the Quarries' Track, is a lace undulating in the landscape, an invitation to travel as our ambition behind the reconquest of the Rosheim-St Nabor railway in Alsace, France.
Ominous, sometimes hidden, the vestiges of the railway still mark the reading of the site. The desire to create a route to serve the quarries had to adapt to the undulating landscapes of the sub-Vosges hills and the very form of the tracing tells the history of the landscape and the men.
6 Dec 2016
Bygdøynesveien 15 Apartment Building, Bygdøy, Oslo , Norway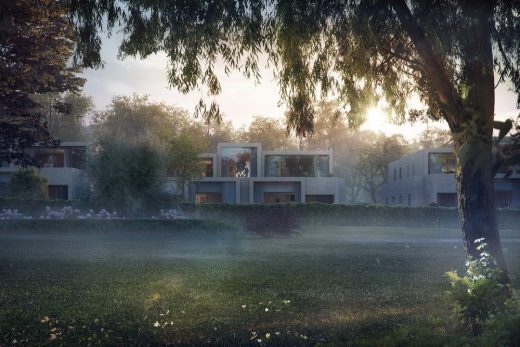 image : eve images
Bygdøynesveien 15
Bygdøynesveien 15 is being developed into a new comprehensive residential area, combining historic buildings with new housing in a captivating and innovative way.
5 Oct 2016
Røldal Cabin, Odda,Hordaland county, Norway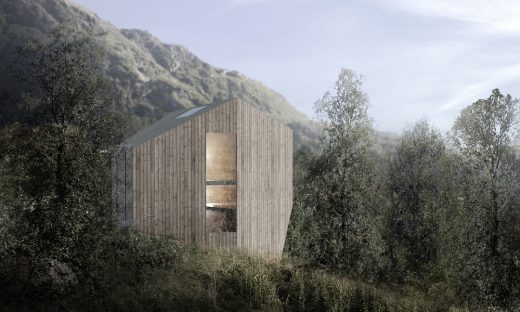 picture © RRA
Røldal Cabin in Norway
The Røldal family vacation home is recognisable for its compact, defined and geometric shape. The objective of preserving as much of the surrounding landscape possible as a high priority resulted in the design of two volumes:
Split View Mountain Lodge, Havsdalen, Buskerud, Norway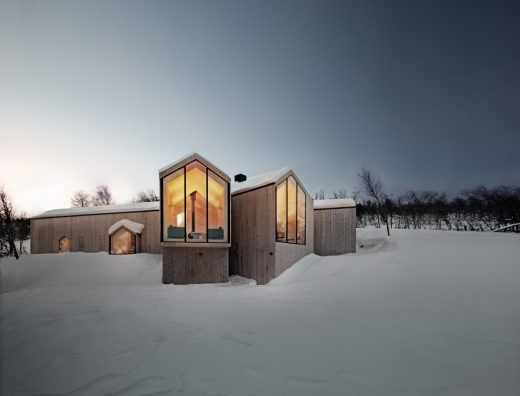 picture © RRA
Mountain Lodge in Havsdalen – page updated 15 Sep 2016 with new images ; 16 Feb 2015
20 Sep 2016
Norwegian Mountaineering Center, Åndalsnes, Møre og Romsdal, Norway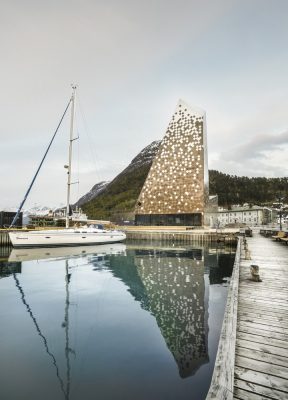 photos © Fotograf André
Norwegian Mountaineering Center Building by RRA
24 Aug 2016
St Kilda Visitor Centre, Isle of Lewis, Outer Hebrides, Northwest Scotland
Design: Dualchas, Scotland, with Reiulf Ramstad Arkitekter
Ionad Hiort is located on a clifftop site that faces west to St Kilda, around 50 miles out into the North Atlantic Ocean.
This project is a collaboration with the well known Scottish architecture studio Dualchas who are based on the Isle of Skye.
18 Feb 2016
Romsdalsmuseet
The Prime Minister of Norway, Erna Solberg, officially opened "Romsdalsmuseet" in Molde on February 9th. It took 9 years from the competition win to the completion.
English garden at Bygdøy
RRA announce another competition win: In the English garden of the former Canadian Embassy at Bygdøy, Oslo. The architecture competition consist of several exclusive condominiums developed by Solon Eiendom. This is one of Oslo's most beautiful sites.
RRA Design Competitions
Reiulf Ramstad Architects are prequalified for several exciting competitions this spring. RRA participate in competitions for a mixed use complex combining library, bank and private residences in Nord-Odal in Norway, as well as Helsfyr Metro Station in Oslo and the parallel mission for the area known as Fløyheia "Sjømannskolen" in Arendal, Norway.
Reiulf Ramstad Architect News
The American Institute of Architects has released the names of the newest members of the College of Fellows. The 2016 Jury also elevated eight individuals to become Honorary Fellows of the Institute. Honorary Fellowship was developed as the international counterpart to the Fellowship program. It recognizes the achievements foreign architects as individuals, but also elevates before the global public and the profession, model architects who have significantly contributed to the profession on an international level.
Espaces libres
RRA are pleased to participate in the group show Espaces libres 01 – 13 mots pour représenter l'architecture at La Galerie D' architecture in Paris. The focus of this project is the raw material of architecture: Space.
Reiulf Ramstad Architects – Recent Buildings + Designs
Fagerborg Kindergarten, Oslo, Norway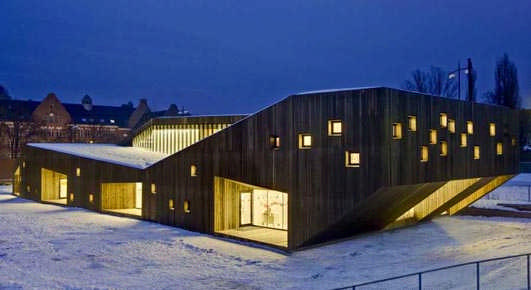 photo © Thomas Bjørnflaten
Fagerborg Kindergarten – added 3 Jul 2012
Reiulf Ramstad Architects has been involved in designing a new kindergarten for Fagerborg Congregation in central Oslo. The kindergarten offers 2 units for children between 1-3 years old and 2 units for children between 3-6 years old. There are many cultural heritage guidelines to be considered in the project site. The area is characterised by residential buildings from 1900-50.
Selvika, Havøysund, Finnmark, Norway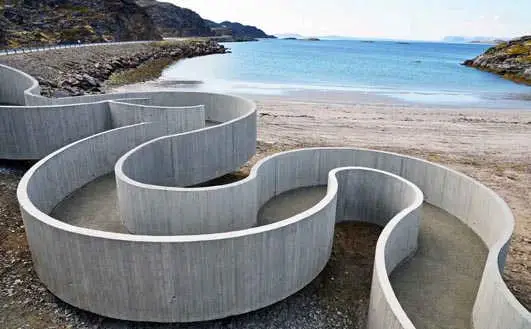 photo © Reiulf Ramstad Architects
Selvika – 2 Jul 2012
The initial approach was to single out and magnify the experience of walking from the roadside down to the seaside at this very special place. Therefore a main concern was to slow down this movement and make the path itself a means of refocusing the experiential mode: a measured, restrained approach that creates awareness.
Trollstigen National Tourist Route Project, Geiranger Fjord, Norway
2004-10


photo : RRA
Reiulf Ramstad Arkitekter – major design to date : Trollstigen National Tourist Route Project
The Trollwall Restaurant and Service building, Møre og Romsdal, Norway
2009-11



photo from Reiulf Ramstad Arkitekter
Trollwall Restaurant + Service Building. 5 Dec 2011
It's a new cursor at the foot of the Troll Wall; The architecture of the new visitors`center next to E139 is an outcome of the sites` close connection to the impressive mountain wall, Europe's tallest vertical, overhanging rock face in The Romsdal Valley.
This location allows for an exciting setting for the new service- and information center. RRAs proposal is carefully planned in relation to the Troll Wall.
5 Oct 2010
Reiulf Ramstad
Interview with Reiulf Ramstad by e-architect editor Adrian Welch


photo : RRA
At 18 National Tourist Routes Norway Conference
Key Projects by Reiulf Ramstad Arkitekter
Featured Buildings by Reiulf Ramstad, alphabetical:
Cabin Inside-Out, Hvaler, Norway
2009



photo : Kim Müller
Cabin Inside-Out
Cultural Center Stjordal, Norway
Reiulf Ramstad Architects, Lusparken Architects, JSTA Architects and Shcønherr Landscaping



picture : MIR Illustrated
Cultural Center Stjordal
Knarvik church, Lindås, Norway
2010-



image from the architect
Knarvik church
Oslo apartment building, Norway
2010



picture from Reiulf Ramstad Arkitekter
Oslo apartment building – new photos 16 Dec 2010
Østfoldmuseet, Sarpsborg, Østfold County, Norway
2008



picture : RRA / MIR Illustrated
Østfoldmuseet
Samien Sitje : South Sami Cultural Center, Norway
2009-



image : MIR
Sami Cultural Center, Norway
University College Østfold, Halden, Norway
2006



image : Kim Müller / RRA
University College Østfold
Villa Hesthagen, Asker, Norway
2008



photograph : Roberto di Trani
Villa Hesthagen
Villa Holmenkollen, Oslo, Norway
2003



photo : Reiulf Ramstad Arkitekter
Villa Holmenkollen
More Reiulf Ramstad Arkitekter – RRA projects online soon
Location: Oslo, Norway
Architects Practice Information
Reiulf Ramstad Architects office based in Norwegian capital – Oslo
Comments / photos for the Reiulf Ramstad Arkitekter page welcome