SO – IL Architects, Solid Objectives – Idenburg Liu, New York Design Studio, Buildings
SO – IL : New York Architecture Studio
Contemporary Brooklyn Architect Practice, NY, USA: New York Design Office News
July 23, 2022
SO – IL Architects News
SO – IL Architecture News
SO – IL welcomes Amin Tadj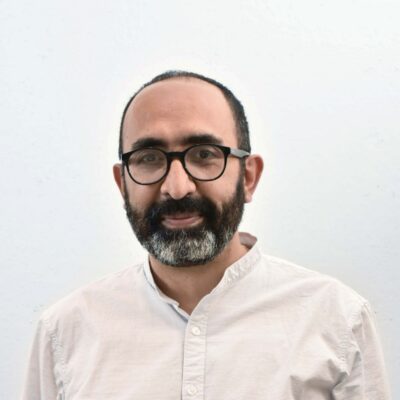 SO – IL welcomes Amin Tadj as a new Senior Associate! With close to 20 years of experience as a design leader, Amin has spent much of his career spearheading a range of cultural and master planning projects.
Throughout more than a decade at NADAAA, he managed various projects, including the Adams Street branch of the Boston Public Library, a master plan for Fordham Landing Redevelopment, and the concept design for the Ancient Near Eastern and Cypriot Galleries of the Metropolitan Museum of Art. As a researcher at the Massachusetts Institute of Technology, he has also developed knowledge at the forefront of architectural innovation.
We are excited Amin will now form part of the SO – IL family and look forward to working together!
May 7, 2021
Amant art campus, East Williamsburg, Brooklyn, NY, USA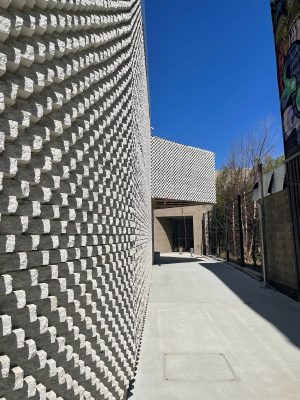 photograph Courtesy the Amant Foundation
Amant art campus, East Williamsburg, Brooklyn
The Amant Foundation is pleased to announce that on June 5th it will open the doors on Amant, a 21,000 square foot multi-building "art campus" in East Williamsburg, designed by the award-winning architecture firm SO–IL. The complex will serve as Amant's new headquarters, as well as the home for its exhibitions, public events, archival projects, performances, and residency program.
Feb 2, 2019
SO – IL News
Farewell Ilias Papageorgiou
As of January 1, 2019 Ilias Papageorgiou has stepped down as partner at SO–IL.
The architecture firm is proud for all the amazing work they have done together in the past 11 years.
SO–IL and Ilias will keep collaborating on the completion of a number of ongoing projects.
Ilias will be starting PILA, a studio based in Athens and New York working on various projects around the world.
You can stay in touch with him at [email protected]
from Florian, Jing and Ilias
Sep 6, 2017
At the Chicago Architecture Biennial and Expo Chicago, this architecture studio will premier a performative collaboration with artist Ana Prvački, speak at two panels, and do a book signing.
This fall the practice will also be in Toronto, Albany, Pittsburgh, Dallas, Miami, Sarasota, Amsterdam, Utrecht, Leuven, and Vilnius to share recent work and speak about their experimental monograph Solid Objectives: Order, Edge, Aura.
CHICAGO EVENTS
L'air pour l'air
Saturday, September 16 4:00 PM – 7:00 PM
Garfield Park Conservatory
In conjunction with the second edition of the Chicago Architecture Biennial titled "Making New History," SO – IL and artist Ana Prvački will debut a special project during the Biennial's opening week. Titled L'air pour l'air, the project aims to ensure the continued legacy of street musicians as our cities' atmospheres grow more polluted.
L'air pour l'air, a SO – IL / Prvački collaboration for the C.A.B: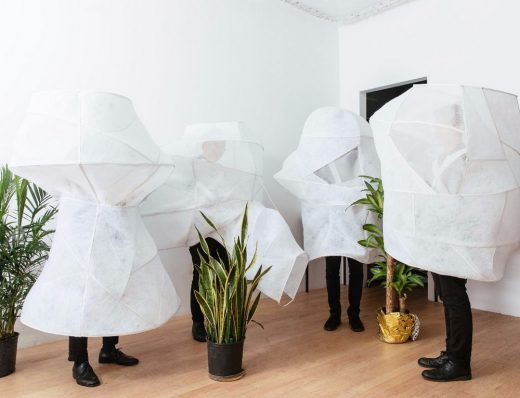 photograph : courtesy of Mark Wickens
Inspired by the abundant plant life in the Garfield Park Conservatory, SO – IL and Prvački have created an ensemble of air-filtering mesh enclosures, designed to clean the air through breathing. Part mask, part shelter, the enclosures will be worn by an ensemble of saxophone, flute, trombone, and vocals from the Chicago Sinfionetta. Through performing an original composition, De Aere (concerning the air), by composer Veronika Krausas, the musicians will "clean the air that produces the music." The installation and performance encourages its viewers to meditate upon the complex notions such as the relationship between purity and pollution, and the distinctions between self, body, objects and nature.
More about Ana Prvački can be found here.
This event is free and open to the public.
Also on view is the SO – IL installation Passage from the last edition of Chicago Architecture Biennial in 2015. This installation is one of the two legacy projects selected to remain on site at the Chicago Cultural Center.
Making Books Now: Architects on Print
Friday, September 15 1:00 pm – 4:00 pm
Chicago Cultural Center, Claudia Cassidy Theater
With recently published SO – IL book Solid Objectives: Order, Edge, Aura, Florian and Jing will have a conversation with Hilary Sample and Michael Meredith from MOS Architects. Hosted by James Graham, Director of Publications at Columbia GSAPP, and titled "Representation", the panel will focus on their various methods of applying illustration — photography, diagrams, drawings, collage — as ways to experiment with the conventions of the monograph in order to reflect a personal design process within the context of architectural history and contemporary practice.
This event is open to ticket holders of the Chicago Architecture Biennial preview.
Make New History: Photography in the Expanded Field of Architecture
Friday, September 15 3:30 PM – 4:30 PM
Expo Chicago, Navy Pier
As part of the Art and Architecture Symposium for Expo Chicago, Florian Idenburg will join a panel discussion on architecture and photography's mutual fascination with the tension between realism and abstraction. Moderated by architect and writer Jesús Vassallo, "Make New History: Photography in the Expanded Field of Architecture" will examine the creative practice of the panel members, including artists Luisa Lambri, Thomas Demand, and architect Adam Caruso.
Attendance to this event is included with the purchase of a ticket for Expo Chicago.
Rooms for Books: Book Signing of Solid Objectives: Order, Edge, Aura
Saturday, September 16 2:00 PM
Chicago Architecture Biennial, Location TBD
Click to learn more about the Chicago Architecture Biennial and the Expo Chicago.
OTHER EVENTS
Jing Liu at Carnegie Mellon University, Pittsburgh
Monday, September 18 5:00 PM – 6:30 PM
Florian Idenburg at Stedelijk Museum, Amsterdam
Friday, September 29 7:00 PM – 11:00 PM
Ilias Papageorgiou at ARCHMARATHON, Miami Beach
Friday, October 13 TBD
Jing Liu and Florian Idenburg at Columbia GSAPP
Monday, October 23 6:30 PM
Jing Liu and Florian Idenburg at John and Mable Ringling Museum of Art, Sarasota
Thursday, November 2 TBD
Florian Idenburg at STAD EN ARCHITECTUUR, Leuven
Thursday, November 9 TBD
See SO – IL also at Rensselaer Polytechnic Institute (September 20), Dallas AIA (October 4),  Architectural Practice and Education (October 18), Utrecht (November 12), IIDEXCanada 2017 (November 30).
Dec 23, 2016
SO – IL Construction Updates
Manetti Shrem Museum completed fall 2016
Harlem Art Studio expected winter 2017
Long Island House expected winter 2017
Hong Kong Arts Museum expected summer 2018
SO – IL Design
Amant in design development
Site Verrier de Meisenthal in design development
M20 Museum Berlin competition entry
Jeju Art Gallery in construction documents
Solo Pool House in concept design
Bergen Street House in construction documents
Yaso Tangbao Restaurant in construction documents
SO – IL Exhibitions
"Beauty — Cooper Hewitt Design Triennial" travels to the San Jose Museum of Art.
"Towards a Critical Pragmatism: Contemporary Architecture in China" opens at Harvard Graduate School of Design.
"Future Work" opens at Design Miami-Basel.
"Museum as Process" opens at Manetti Shrem Museum of Art, University of California, Davis.
SO – IL Awards and Recognition
SO – IL named Architizer Top Firm to Watch in 2016.
Amant receives 63rd Progressive Architecture Award.
SO – IL named 2016 Curbed Groundbreaker.
Manetti Shrem Museum of Art named in "Best-of 2016 lists" for the Wall Street Journal, Los Angeles Times, and Dezeen.
Looking Forward
Knoll pouf goes into production spring 2017.
"Solid Objectives: Order, Edge, Aura" releases spring 2017. Pre-order available.
Amant begins construction summer 2017.
Affordable Housing Project in Leon, Mexico begin construction summer 2017.
Installation at the National Gallery of Victoria in Melbourne, Australia opens spring 2017.
SO – IL Office Updates
SO – IL moves to Downtown Brooklyn
Danny Duong named Senior Associate
Alvaro Gomez-Selles Fernandez named Associate
Ian Ollivier named Associate
Lucie Rebeyrol named Associate
Nov 8, 2016
Manetti Shrem Museum of Art at UC Davis, California, USA
Design: Bohlin Cywinski Jackson architects / SO – IL, architects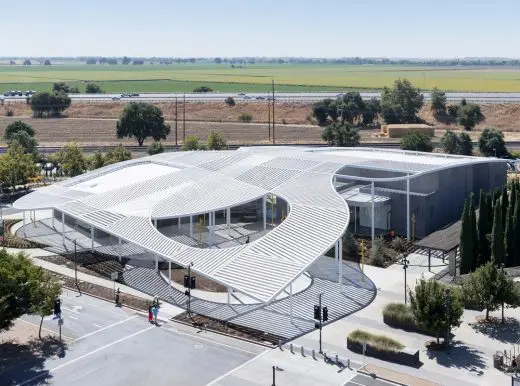 photo : Iwan Baan / Bohlin Cywinski Jackson
Jan Shrem and Maria Manetti Shrem Museum of Art
Associated architects Bohlin Cywinski Jackson and SO – IL announce the opening of their collaborative design effort at UC Davis, the Jan Shrem and Maria Manetti Shrem Museum of Art, which opens its doors to the public on November 13.
22 May 2014
SO – IL announces Ilias Papageorgiou as new partner
New York – May 22, 2014
SO – IL is pleased to announce Ilias Papageorgiou as a new partner. His appointment supports the steady growth in size and scope of the firm over the last 5 years.
Ilias has been with SO – IL since its inception in 2008 and has played a key role in the firm's recognition and success. As a partner Ilias will continue to lead the creative processes in the office and the implementation of the projects in the world, as well as to drive the development and growth of the firm. Ilias joins current partners Florian Idenburg and Jing Liu.
Ilias Papageorgiou:
–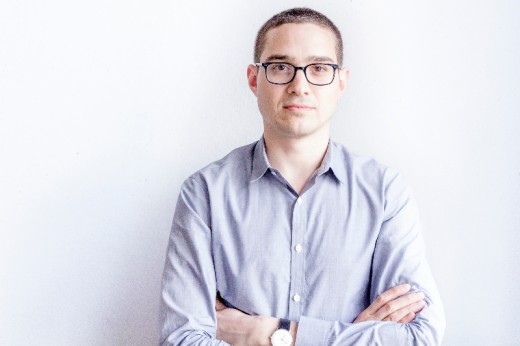 Florian commented: "SO – IL is very happy to be adding the experience and insight of IIias to the partnership, giving us new energy and strength as we continue to grow and develop projects in the US, Europe and Asia."
Ilias has lead projects for prominent cultural institutions and private clients, most notably the Shrem Museum of Art at University of California in Davis, the Pole Dance installation for MoMAPS1's Young Architects Program, Partywall a student housing project in Athens, and New York headquarters for production company Logan.
Besides practicing, Ilias has been a guest critic at many universities, and with SO – IL has taught design studios at Columbia University's Graduate School of Architecture, Planning, and Preservation.
Ilias will participate at the 14th Venice Biennale as part of the Greek Pavilion with a project that revisits the hotel typology through creating new definitions of place and redefining the relationship of artifice and nature.
Ilias was born in Athens, Greece. He holds a Diploma of Architecture from the Aristotle University in Greece, and a Masters in Architecture from Harvard University.
SO – IL Architects – Recent Designs
May 2, 2013
UC Davis Art Museum, California, USA



image from architect
UC Davis Art Museum
The new Jan Shrem and Maria Manetti Shrem Museum of Art at the University of California, Davis, will be created by a team of architects and builders intent on redefining the university museum and fostering a new conversation in the arts.
Jun 13, 2012
Kukje Gallery, Seoul, South Korea



photograph : Iwan Baan
Kukje Gallery Seoul
After 3 years of design and construction, SO – IL, the architectural studio of Florian Idenburg and Jing Liu, complete a space for Kukje Gallery, in the historic neighborhood of Samcheong-ro in Seoul, South-Korea. The new building greatly expands the gallery's programming possibilities with the addition of a 16 x 9 x 6m day lit gallery space, a 60 seat auditorium, offices and art storage spaces.
Mar 7, 2011
Wedding Chapel, Nanjing, China
Design: SO — IL



image from SO — IL
Wedding Chapel Nanjing
This is a proposal for a wedding chapel as part of the China International Practical Exhibition of Architecture, (CIPEA) in Nanjing. The project is located northwest of the old capital, on the lush shores of Foshou Lake, next to a newly constructed hotel. We propose to create an intimate space with a singular gesture situated on a beautiful, mountainous landscape.
Mar 7, 2011
Flockr Pavilion, Beijing, China
Architects: SO — IL



image from SO — IL
Flockr Pavilion
Get It Louder, an acclaimed biannual media and arts festival sponsored by Modern Media of China, features a series of lectures, screenings and exhibitions by over 100 Chinese and foreign designers, artists, writers and filmmakers.
SO — IL was commissioned to design Get It Louder's main pavilion, which serves as a central hub for the event and houses many of the festival's activities.
SO — IL conceived the "Flockr" pavilion as a structure that responds to its environment while also creating a sense of place through its basic form.
More buildings by SO – IL online very soon
Location: 68 Jay Street, #501 Brooklyn, NY 11201, USA
SO – IL – Practice Information
Brooklyn Architecture studio, NY, USA
New York Architect office
SO – IL
Based in NY
SO – IL
Solid Objectives – Idenburg Liu (SO – IL) is an idea driven design office founded by Florian Idenburg and Jing Liu in 2008. With a global reach, it brings together extensive experience from the fields of architecture, academia and the arts. A creative catalyst involved in all scales and stages of the architectural process, SO – IL approaches projects with an intellectual and artistic rigor fueled by a strong commitment to realizing their ideas in the world.
SO – IL has worked on an array of projects ranging in scale from the master plan of a cultural campus in Shanghai, China to a series of prints for the Guggenheim Museum. Recent projects include a temporary classroom for the Whitney Museum, student housing in Athens, Greece, a park pavilion in Amsterdam, the Netherlands and a community center on the Belgian coast.
The work has received numerous awards, including the MoMAPS1 Young Architects Program, as well as the AIA Young Practices Award. SO – IL has been widely featured in international publications such as The New York Times, The Wall Street Journal, Fast Company and Wallpaper* and in exhibitions at the Guggenheim Museum and the Museum of Modern Art in New York, the Los Angles Forum for Architecture and Urbanism, Studio-X in Beijing and Kunsthal KAdE in the Netherlands.
SO – IL worked on the Frieze Art Fair, New York, May 2012, as well as on an installation for the Stillspotting series of the Guggenheim museum.
Website: so-il.org
New Practices NYC Exhibition – featured SO-IL
New York Buildings
New York City Architecture Designs
74Wythe In New York City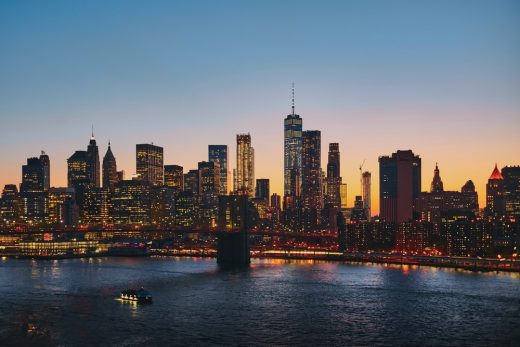 image courtesy of architect
74Wythe Williamsburg
Brooklyn Bridge Competition Entry
Design: Daniel Gillen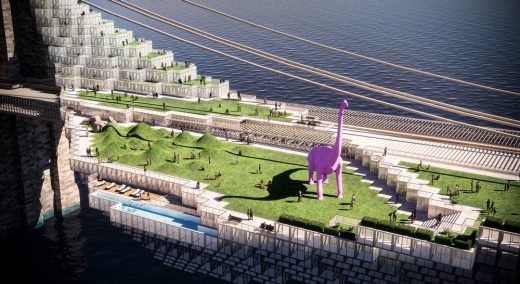 image courtesy of architect
Brooklyn Bridge Competition Entry
Apple Store, 247 Bedford Avenue, Williamsburg
Design: Bohlin Cywinski Jackson Architects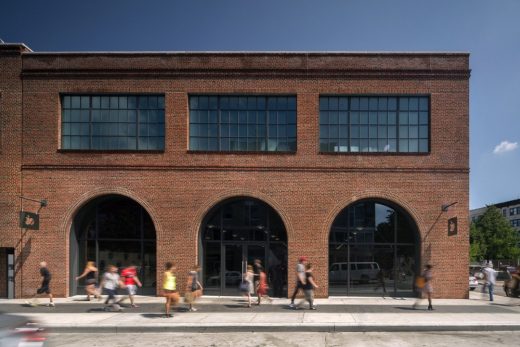 photo : Nick Lehoux
Williamsburg Apple Store Brooklyn
Comments / photos for the SO – IL Brooklyn page welcome