sauerbruch hutton Architects, Building News, Office, Architecture Studio Germany
sauerbruch hutton : Architecture
Contemporary German Architects Practice, Europe: Design Office News + Information
21 Sep 2017
Sauerbruch Hutton News
sauerbruch hutton Architects News
Woodie, Hamburg, Germany
The start of the winter semester is accompanied by the completion of an unusual student housing project. Currently the world's largest residential building of this kind, Woodie has been constructed from modular units of 22 square metre made entirely of timber.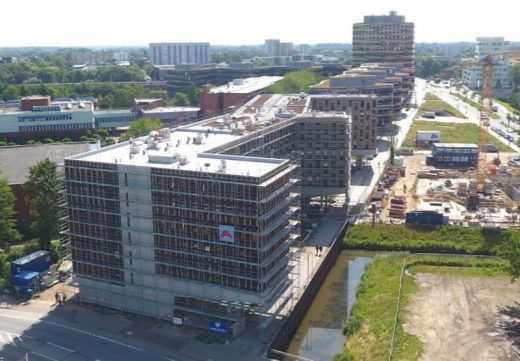 photo courtesy of architects office
Within a mere ten months some 370 student apartments, fully prefabricated in Austria from laminated timber, were stacked upon each other up to six units high. The lowest ones sit on a cantilevered concrete 'table' that shelters a common foyer, co-working spaces as well as a bistro. Woodie forms part of a new residential quarter within Hamburg-Wilhelmsburg, located adjacent to Sauerbruch Hutton's building for Hamburg's Ministry for Urban Development and Housing and opposite the experimental quarter of the International Building Exhibition 2013.
Berlin Metropolitan School, Germany
Within the densely built district of Mitte a curved timber extension of two stories brings a new roofscape to Berlin's Metropolitan School that occupies a cluster of prefabricated Plattenbau constructions from the GDR era. Some 4,700 square metres of additional classrooms, a music room, a library with access to a common roof garden, offices as well as a sizeable multifunctional auditorium together create a sequence of spaces with varied proportions and qualities. These are united by the tactile – and olfactory – qualities of timber that together provide a warm and productive atmosphere. The first section of the project was inaugurated at the beginning of the school year earlier this month; completion is expected in spring 2018.
Experimenta, Heilbronn, Germany
Topped-out in July, the new Experimenta in the centre of Heilbronn is now quickly taking shape. As of early 2019, young and old visitors alike will be able to interact with scientific phenomena as they explore within this place of extracurricular learning. Located at its centre – both visually and conceptually – is the Space-Time-Spiral – a helical space that, as it moves upwards, gives access to four levels of exhibition and laboratory areas. The large scale glazing of the facade seeks to include both the surrounding landscape and the complex steel construction of the building itself as part of the overall exhibition experience.
Haus 6, Berlin, Germany
Our second co-housing project is now almost complete, with hand over for the fourteen units in the coming weeks. This residential and atelier building fills the last remaining empty plot on Werkhof L57 — an ensemble of historical barracks, contemporary extensions and new buildings that has developed into a lively and creative quarter over the last 25 years. Constructed of steel and precast concrete elements, Haus 6 offers 12 metre deep spaces that are lit on both sides and completely column-free. As all service ducts are placed in the outer walls, high flexibility is achieved regarding both present and future use of each unit.
GIRA Manufacturing and Logistics Centre, Radevormwald, Germany
The largest building with which we are currently concerned was topped-out on September 15th. Gira, a premium manufacturer of electro-technical devices in the German town of Radevormwald, asked Sauerbruch Hutton to develop a new complex that optimally combines their innovation, production, logistics and shipping departments under a single roof. Our spatial concept also takes future expansion and changing needs of the company into account, allowing the complex to grow from its initial size of 30,000 to a total of 50,000 square metres whenever demand requires.
Airut, Helsinki, Finland
An entire residential block will be completed by the end of the year on Helsinki's peninsula of Jätkäsaari. An open formation of five buildings encloses a public courtyard that gives access to diverse communal facilities. Semi-public external green spaces occupy elevated decks, giving the inhabitants direct access to the neighbouring Jätkäsaari Park. A cladding of pale brick faces the street, while the interior of the block is given its own dynamic through the use of colored glass parapets for the continuous balconies.
Hager Corporate Head Office, Obernai, north-eastern France
The amorphically shaped new Corporate Head Office of the Hager Group in Alsace forms a cluster with three exisiting buildings from the 1980s that have been simultaneously transformed to provide a range of contemporary office spaces. A central hub with a sculptural staircase links these four rather disparate buildings on all levels.
The project is in close proximity to our Hager Forum building that, since its completion in 2015, has become the epitome of the entire Hager Campus, having already attracted more than 30,000 visitors.
M9, Venice-Mestre, Italy
The M9 Museum of the Novecento – that is, of the 20th century and Italy's rôle within it – forms the heart as well as the driving force of a comprehensive inner-city regeneration program for the centre of Mestre.
Since our competition win in 2010 the project has expanded into an entire museum district. This includes the transformation of a former 16th century convent and other existing buildings as well as the creation of new pedestrian routes and squares. The M9 project will help redress the disparity of cultural wealth between the tourist magnet of Venice across the lagoon and the city of Mestre, providing a centre for local activities as well as a new point of identity for its 250,000 Venetian inhabitants. The opening of M9 is scheduled for December 2018. more
More Sauerbruch Hutton news for Autumn 2017:
Refugio Berlin is a project belonging to Berlin's City Mission. Within this old five-storey building in Neukölln, refugees and other people looking for a new life are live together in an active community. In 2016 Sauerbruch Hutton supported this wonderful project by donating the prize money we won for the German Architecture Award for the Immanuel Church in Cologne. In addition to this we went on to help with a re-design, renovation and fit-out of the former assembly hall, making it more suitable for Refugio's different events such as concerts, language and dancing classes, dinners or external symposia. A favourite feature is the eight chandeliers, which we designed, developed and produced together with Zumtobel and other sponsors. http://refugio.berlin/
Sauerbruch Hutton's KfW-building in Frankfurt is "Best Tall Building in the World 2011"



photo © Sauerbruch Hutton
KfW Westarkade Building
The KfW Westarkade building, completed in 2010, has been announced as the World's best Tall Building 2011, awarded by Chicago-based Council on Tall Building and Urban Habitat, CTBUH.
The 85m high-rise is a prototype for a new generation of ecological building, running on less than 100 kWh/a/m² of primary energy it is one of the most energy-efficient office towers in the world.
3 Jun 2011
60 Ludgate Hill and 30 Old Bailey, London, England, UK
Design with Fletcher Priest Architects



image © GMJ and Fletcher Priest Architects
60 Ludgate Hill and 30 Old Bailey by Sauerbruch Hutton
60 Ludgate Hill and 30 Old Bailey will replace two existing buildings built in the 1960's and together will transform the streetscape around a new public space, inspired by the theatrical Piazza di San Ignazio in Rome. Polychromatic glazed frontages to the new piazzetta will also highlight an original and distinctive terracotta facade on Old Bailey. With 60 Ludgate Hill, Fletcher Priest extends its contextual work in the City with a building that responds to and celebrates the complex historic fabric around the Cathedral precinct.
sauerbruch hutton – Key Projects
Architektur / Städtebau / Innenraumplanung in Deutschland
sauerbruch hutton architektur : buildings list, no images
Key Buildings by sauerbruch hutton, reverse chronological:
Low2No Competition, Helsinki, Finland: architecture contest win
Date built: 2009-



image by architects firm
Low2No Competition
Museum for the Brandhorst Collection, Munich, Germany
Date built: –



photo from museum
Brandhorst Museum Building
Lubetkin Prize – Shortlist of six : 11 Jun 2009
GSW Headquarters, Berlin, Germany
Date built: 1999



photo © Adrian Welch
GSW Headquarters Berlin
Federal Agency for the Environment, Dessau, former East Germany
Date built: 2001-05
Client: Federal Environmental Agency
(Federal Republic of Germany)
Location: former gasworks site
Facilities: office building with public auditorium, library and restaurant
In our view this is the building that really put this German architectural practice on the world stage
More architecture projects by this Berlin architecture studio online soon
Location:Lehrter Straße 57, D – 10557, Berlin, Germany
sauerbruch hutton Berlin – Practice Information
This contemporary architects studio based in Germany


photograph © architets office
This Berlin design practice was established in 1989.
German Architecture – best new buildings in Germany


picture © architecture firm
German Architect – design firm listing on e-architect
Comments / photos for the sauerbruch hutton Architects page welcome
sauerbruch hutton Architects – page
Website: www.sauerbruchhutton.de