Rem Koolhaas, Architect, OMA Building, Dutch Project, Photo, Studio, Rotterdam, Office, Designs
Rem Koolhaas Architect, Holland
Contemporary Dutch Architecture Practice: Rotterdam Design Studio, The Netherlands, Europe
6 Dec 2017
Rem Koolhaas Architect News
Rem Koolhaas Plans a Countryside Exhibition at the Guggenheim
Rem Koolhaas, the architect whose ties to urbanism run so deep that his firm is even called the Office for Metropolitan Architecture, Rotterdam, Holland, has shifted his focus to the countryside, reports the New York Times.
His recent research obsession will be the subject of "Countryside: Future of the World," an exhibition planned for the Guggenheim Museum's spiral rotunda in fall 2019, the museum announced on Wednesday.
The exhibition — organized by Troy Conrad Therrien in his most ambitious project since he was hired as the Guggenheim's first curator for architecture and digital initiatives three years ago — will explore how the world's rural landscapes have been altered by technology, migration and climate change.
source: Rem Koolhaas Countryside Exhibition at Guggenheim New York Museum
17 Jun 2016
Rem Koolhaas claims Brexit Leave campaigners are fighting for an England that doesn't exist
OMA founder Rem Koolhaas says that Britain's EU Leave campaigners believe they can change England back to the way it was, but don't understand what that really means.
Dutch architect Rem Koolhaas recently chaired a 12-hour debate on "what is Europe?". He argues the EU has been a good thing for his country and for the UK, where he began his architecture studies in the 1960s.
Sitting in his Rotterdam office, he told me the Brexit camp was full of people who "fundamentally want to change England back to the way it was before" and lamented the way, as he sees it, the EU has been used as a scapegoat.
"It is the nations and prime ministers that take the decisions, but because of this myth of Brussels, they are also able to blame Brussels for the decisions they took themselves," he said.
But Mr Koolhaas seems to be an increasingly rare voice in a country re-examining its own relationship with the EU and where fears are rising that the club of nations opposed to a more federal, political union is about to lose a member.
Tomas Koolhaas, Son Of Rem, Prepares Doc About His Father
7 Jan 2014 – "REM," a documentary by the filmmaker Tomas Koolhaas about his architect father, reports Metropolis from an article that originally appeared on ArchDaily as "Tomas Koolhaas Releases Official 'REM' Trailer, Exclusive Interview with Kanye West."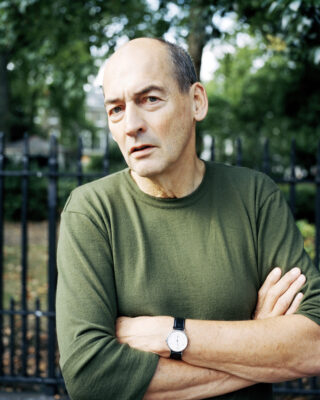 Los Angeles-based cinematographer Tomas Koolhaas is nearing completion of his highly anticipated film, REM. The feature length documentary, which focuses on the work of Tomas' famed father, Rem, is the first architectural film to "comprehensively explore the human conditions in and around Rem's buildings from a ground-level perspective." Rather than lifeless still shots and long-winded, intellectual discourse, REM exposes the one thing that gives each building function and purpose: how it is used by people.
So far, REM has been funded entirely by grants. However, in order for Tomas to collect the necessary funds to complete the film, he has turned to the internet. He recently launched a Kickstarter campaign with a goal of raising $30,000, which he says will be used for the last stages of photography and overall post-production.
Koolhaas to be Director of 2014 Venice architecture biennale
11 Jan 2013 – The Board of Directors of la Biennale di Venezia, chaired by Paolo Baratta, met today in the headquarters of Cà Giustinian and, after thanking and expressing its gratitude to David Chipperfield for the excellent results of the 13th International Architecture Exhibition, appointed Koolhaas Director of the Architecture Sector, with the specific responsibility of curating the 14th International Architecture Exhibition to be held in 2014.
Dutch architect Rem Koolhaas:



image copyright Dominik Gigler
At the end of the meeting of the Board, President Paolo Baratta stated: "The Architecture Exhibitions of the Biennale have gradually grown in importance internationally. Koolhaas, one of the most significant personalities among the architects of our time – who has based all his work on intense research, now renowned celebrity – has accepted to engage himself in yet another research and, why not, rethinking".
On his part, Rem has stated: "We want to take a fresh look at the fundamental elements of architecture – used by any architect, anywhere, anytime – to see if we can discover something new about architecture."
Recent Rem Koolhaas News
Maggies Gartnavel, Glasgow, Scotland, UK



photos © Philippe Ruault
Maggies Gartnavel Building
2012 Jencks Award Winner
Tuesday 20 November 2012, 18.30, RIBA – Public lecture by Rem chaired by Charles Jencks, and presentation of award
Golden Lion for Lifetime Achievement / Leone d'oro alla carriera 12. Mostra Internazionale di Architettura – la Biennale di Venezia



photo © OMA; image by Blommers+Schumm
Central China Television headquarters in Beijing:



image copyright Philippe Ruault
Rem Koolhaas – Key Projects
Featured Buildings by this Dutch architecture studio, alphabetical:
Casa da Música, Porto, Portugal



photo : Phillipe Ruault
Casa da Música Porto Building
Central Chinese Television Tower, China



picture from architect studio
Central China TV Tower, Beijing
Maison á Bordeaux, France



photo : Hans Werlemann
French House
Netherlands Embassy, Berlin, Germany



photo © Adrian Welch
Dutch Embassy Berlin Building
Scotts Tower, Singapore



image from OMA
Singapore Tower Design
Shenzhen Stock Exchange HQ, China



image © OMA Architects
Shenzhen Stock Exchange
More buildings / projects by Rem Koolhaas architect online soon
Location: Rotterdam, Netherlands, Europe
OMA Practice Information
OMA Background
Rem Koolhaas was born in Rotterdam, The Netherlands. He studied architecture at the Architectural Association, London, 1972


photograph from Nitropix 240507
Office for Metropolitan Architecture – Dutch architects studio led by Rem
Key Architecture Awards
– Pritzker Laureate 2000
– Mies van der Rohe Award 2005 [European Union Prize for Contemporary Architecture] for Netherlands Embassy Berlin
Rem Koolhaas Buildings
Major Projects listed chronologically:
Central Chinese Television Tower, Beijing, China 2006-08
Cornell University School of Architecture, Art & Planning, New York, USA 2007-
White City masterplan, northwest London, UK 2006-
Illinois Institute of Technology – New Student Center, USA –
Dallas Center for Performing Arts building, USA –
Almere Megabioscoop – cinema multiplex, Netherlands 2007
Casa da Música, Porto, Portugal 2006
Seattle Public Library, Seattle, Washington, USA 2004
McCormick Tribune Campus Center – IIT, Chicago, Illinois, USA 2003
Prada New York, USA 2001
Netherlands Embassy, Berlin, Germany 2001
Maison at Bordeaux, Bordeaux, France 1998
Educatorium Utrecht University, Utrecht, Netherlands 1997
Lille Grand Palais, Lille, France 1994
Kunsthal Rotterdam, Rotterdam, Netherlands 1992
Checkpoint Charlie building, Berlin, Germany 1990
Netherlands Dance Theater, The Hague, Netherlands 1987-88
Rem was the winner of the RIBA Gold Medal in 2004.
Residential Complex, Singapore



image © OMA / Ole Scheeren
Singapore Residential Complex
Rem Koolhaas Books
S,M,L,XL with Bruce Mau
Delirious New York
Rem Koolhaas and the Place of Modern Architecture
S,M,L,XL with Bruce Mau



Authors: Rem Koolhaas, Bruce Mau
Editors: Jennifer Eigler, Hans Werlemann
Delirious New York: A Retroactive Manifesto for Manhattan
Rem Koolhaas manifesto
OMA Website: www.oma.nl
Rem was Pritzker Prize architects Winner in 2000
Buildings / photos for the Rem Koolhaas Architecture – Dutch Architect Studio page welcome