Rottet Studio Architects, US Buildings, Design Studio California, News, Office Photos
Rottet Studio San Francisco : Architecture & Design
Contemporary American Architects Practice – Californian Architectural Designers
post updated May 31, 2021
Rottet Studio – Key Projects
Rottet Studio News
New Firm, Rottet Studio, Announces Awards, Appointments, and New Clients in San Francisco
One of six new U.S. locations opened recently, the San Francisco office has announced new service offerings in architecture and design. In its first six months, the firm has garnered local acclaim for major new projects, key hires, and design awards.
Projects for the law firm Paul Hastings: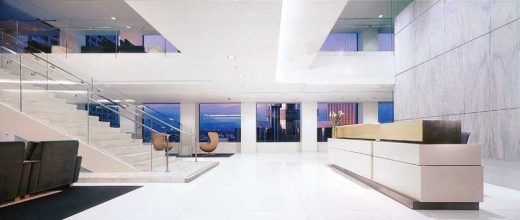 Rottet Studio News
SAN FRANCISCO, January 20, 2009 – World-renowned architect Lauren Rottet, FAIA, has announced new awards and appointments for the San Francisco office of her recently formed architecture-and-interiors firm, Rottet Studio. Among the latest wins is the award-winning office design for hedge fund Artis Capital Management, led by YouTube investor Stuart Peterson. The elegant, serene spaces in the Tower at One Market Plaza were leased by Peterson in a record-breaking real estate deal with one of the highest-valued leases ever in the city.
This project and others in San Francisco come on the heels of major design awards for Rottet Studio, including twin "Best of Year" finalists from Interior Design magazine and a sweep of the office category in Paper City magazine's Design Excellence Awards.
Rottet has also announced the opening of offices in Los Angeles, Phoenix, New York, Houston and Washington D.C., as well the appointment of industry leaders such as Stuart Laff, one of California's best-known real estate experts, now head of Rottet Studio's consulting arm. Other top names include: Richard Riviere, AIA, design principal and longtime Rottet colleague in Los Angeles; Kelie Mayfield, Houston design principal and lead designer for Artis; and noted hospitality expert David Davis, AIA.
Hot start, even as economy cools
All the news has taken place in the fast-moving few months since the privately held firm launched in May 2008, says Rottet, an internationally acclaimed architect and designer who had Lauren Rottet, founder of the architecture and interior design firm, Rottet Studio. been principal-in-charge of DMJM Rottet, a subsidiary of architecture-and-engineering giant AECOM Technology Corporation, since 1994. The new firm, Rottet Studio, brings expertise in a variety of commercial building types, with special knowledge of office interiors, law firms, global branding, and hotels. The firm is well regarded among leading commercial real estate brokers throughout the United States, one of its primary market advantages.
"We've continued to experience a high level of activity with new commissions for buildings and interiors in the United States, Europe and Asia," says Rottet, who splits her time among the six offices. "But it is heartening to also be recognized for projects like Artis in San Francisco and for our design efforts overall, from both major magazines and business groups."
Globally recognized
The recent awards and new commissions announced by Rottet Studio's San Francisco office have not surprised business leaders and design critics familiar with the firm leadership. Rottet is recognized around the world as a leading innovator in the fields of interior design, architecture, and product design, having won every major award and accolade within her industry. Honors include Designer of the Year awards from both Interiors and Contract magazines, induction into Interior Design magazine's Hall of Fame, and appointment to the American Institute of Architect's prestigious College of Fellows.
Other buildings and interiors by Rottet can be seen across the United States and around the world in cities like Los Angeles, New York, Washington, London, Paris, Milan and Shanghai. Recently, Rottet and her work have been featured in Dwell, Metropolis, The New York Times and the Houston Chronicle. Last January, an exhibition on international avant-garde furniture design curated by Rottet – and featuring her work – opened to critical acclaim, with coverage in the Houston Chronicle and The New York Times as well as the European and Asian press.
A splash in San Francisco
Among the firm's first projects to be completed was the new office design for Artis Capital Management, which opened in Steuart Tower at One Market Plaza in October to accolades from the media and business community. The impressive space overlooks The Embarcadero and is among the most coveted corporate addresses in Northern California.
Inside, elegant and serene workspaces and common areas encourage visitors to focus on the impressive contemporary art Rottet Studio designed the offices for the hedge fund Artis Capital Management, marked by its serene, modern workspaces meant to highlight the client's art collection. collection held by the company's owner, Stuart Peterson. (See photos below.) The workspaces feature vibrant patterns and textures, contrasting with the minimalist meeting areas.
"It's important to look at design from a holistic perspective," said Rottet at the opening. "That is, the best possible approach to design combines architecture, craft, graphics, lighting, and art into our environments. Design isn't just about the one-time image of a space or a building; it's about the daily exposure to an environment that delivers the necessary objects and services, and also brings pleasure and satisfaction to the inhabitants."
Recent praise for Rottet's work reflects this versatility and her unmistakable imprint. According to Interior Design magazine, Rottet "has developed her own brand of design for corporate interiors," one that Architectural Record commended for its "refined geometry, with precise details, calculated angles, and edgy material applications." The glowing reviews have extended to influential consumer media also, most recently in Robb Report and Wallpaper.
According to the firm's principals, Rottet Studio is a full-service firm offering design services ranging from commercial and hospitality interiors to base building architecture and expertise across the commercial markets and corporate real estate spectrum. Also, the firm's service offerings currently are being expanded to include furniture and product design, branding, and graphics.
More projects by Rottet Studio online soon
Location: New York, USA
USA Architects Practice Information
Architect studio based in USA
Rottet Studio design offices in Houston, TX ; Los Angeles, CA ; New York, NY ; San Francisco, CA ; Shanghai, China
Recent critical praise for Lauren Rottet and Rottet Studio
"Lauren Rottet has developed her own brand of corporate design, grounded in precise detailing and what she terms 'architecturally derived solutions.' These characteristics pervade every Rottet project." —Interior Design magazine
"Refined geometry … with precise details, calculated angles, and edgy material applications." —Architectural Record
"Houston will get a little more fabulous when two design-themed exhibitions open there … 'Imperative Design' will show artinspired furniture designs by artists and architects, including Lauren Rottet …" —The New York Times
"Rottet's reference to sustainability is certainly true and an under-lauded offshoot of design art." —Wallpaper* magazine
"The renowned interior architect's clean signature and timeless architectural elegance …" —Interiors & Sources
"Rottet uses form and reflective surfaces to make her pieces appear larger, deeper, and more complex …" —Houston magazine
"Taking a cue from Origami, Lauren Rottet turned a flat plane into a table using as few folds as possible." —Dwell magazine
"Rottet's award-winning commercial interior, furniture and carpet designs have received international recognition. In her years of practice, Rottet has garnered an impressive array of accolades … and she became one of an elite few interior architects to be elevated to the American Institute of Architects' prestigious College of Fellows." —Contract magazine
"Hall of Fame member Lauren Rottet's new furnishings line embodies the sophistication of the architect's style." —Interior Design
"Rottet is known globally for her awardwinning interiors and product designs. Her work is exhibited and published widely, and permanently installed at the Chicago Art Institute …" —Architectural Products magazine
"An award-winning designer of commercial interiors, furniture, and carpets." —Metropolis magazine
Architecture
New York State Architecture Designs
Comments / photos for the Rottet Studio Architects page welcome