Stanton Williams Architects UK, London Architecture Office, England
Stanton Williams Architects Practice
London Architecture Practice – Design Firm News
post updated 19 Apr 2021
Stanton Williams Stirling Prize News
13 Oct 2012
Stanton Williams win RIBA Stirling Prize in 2012 for Sainsbury Laboratory, Cambridge, UK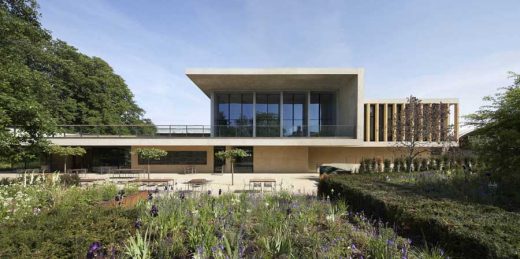 photograph © Hufton+Crow
Stirling Prize : Architecture Event News – Six Buildings + Architects
14 Sep 2012
Stanton Williams Exhibition News
Stanton Williams' RA Bronze Exhibition opens
BRONZE, an exhibition presented by the Royal Academy of Arts and designed by Stanton Williams, will be on show from 15th September to 9th December.
The exhibition celebrates the remarkable historical, geographical and stylistic range of Bronze as an enduring medium, bringing together works from the earliest times to the present in a thematic arrangement. With works spanning 5,000 years, no such cross-cultural exhibition on this scale has ever been attempted. The exhibition features over 150 of the finest bronzes from Asia, Africa and Europe and will include important discoveries as well as archaeological excavations. Many of the pieces have never been seen in the UK.
Stanton Williams' exhibition design presents the bronzes as individual objects, reconciling their immense weight, wide range of scales and patinas, whilst allowing space to enjoy the exhibits, carefully displayed for viewers to appreciate and understand their significance. The style and intensity of lighting levels consider the individual bronze, whilst embedding them into the overall atmosphere of the exhibition. The scale of the whole gallery to the detailed design of showcases were considered to create a space for display, founded on the nature of the relationship between object and viewer and an understanding of the way people move through space.
Paul Williams, director at Stanton Williams explains: "Bronze is a very special exhibition to be involved with. Having worked with the material on several of our architectural projects, we have developed a passion for its qualities and respect for its diversity. Our work on exhibitions remains an integral part of our studio, with the detailed use of space, material and light informing our large scale projects and enhancing our creative sense of space."
Bronze has been employed as an artistic medium for over five millennia. It is an alloy consisting mainly of copper, with lesser amounts of tin, zinc and lead. Due to its inherent toughness and resistance, the material's uses over the centuries have been remarkably varied. A section of the exhibition is devoted to the complex processes involved in making bronze, enabling visitors to explore how models are made, cast and finished by a variety of different techniques. The exhibition offers a unique exploration of artistic practice, an understanding of the physical properties and distinctive qualities of bronze, and the rare opportunity to see the very best examples in one place.
Organisation
Bronze has been organised by the Royal Academy of Arts. The exhibition is curated by Professor David Ekserdjian, University of Leicester, and Cecilia Treves, Exhibitions Curator at the Royal Academy of Arts, with an advisory committee of experts in the relevant fields.
Dates and Opening Hours
Open to the public: 15 Sep – 9 Dec 2012
10am – 6pm daily (last admission 5.30pm)
Late night opening: Fridays until 10pm (last admission 9.30pm)
26 Jun 2012
Stanton Williams – Studio News
Stanton Williams appoints new associates
June 26, 2012 – Architects Stanton Williams are pleased to announce the appointment of four new associates: Anne Fehrenbach, Caryl Stephen, Stephen Hadley and Stuart Bourne. These promotions recognise the significant contribution which each of them has made to Stanton Williams and their central role in the future development of the practice.


photo © Hufton+Crow
Director Alan Stanton said: "Our ability to maintain high design standards and to deliver award-winning projects of every scale, nationally and internationally, is largely down to the commitment and enthusiasm of our team. The new associates will make an important contribution to the future of our practice."
Stanton Williams is currently on site with the Musée d'Art de Nantes and an archive building for the Britten Pears Foundation in Aldeburgh. The practice has recently been appointed to join the team of architects working on the redevelopment of the Shell Centre site on London's South Bank. Other recent projects include: the new University of the Arts London Campus for Central Saint Martins at King's Cross, the Sainsbury Laboratory in the Cambridge University botanical gardens, the Hackney Marshes Centre and sporting facilities for the London 2012 Olympic and Paralympic Eton Manor site.
17 May 2012
Stanton Williams Award News
Stanton Williams' Central Saint Martin's College in King's Cross awarded "Building of the Year" prize at this year's AJ 100


photo © Hufton+Crow
Stanton Williams : AJ100 Building of the Year Award
Stanton Williams' New University of the Arts London Campus for Central Saint Martin's at King's Cross was last night awarded the "Building of the Year" prize at the annual AJ 100 Awards in London.
AJ 100 practices were invited to nominate a single project completed in 2010 for the award, and the project to re-house London's Central St Martin's school of art and design faced stiff competition in the category from a shortlist of eight prestigious projects.
Stanton Williams master planned and designed the new 32,000 m² campus, accommodating 5,000 students. The design combines the 19th century Grade II listed Granary building and transit sheds – with a 200 metre long new building that uses industrial materials and creates robust spaces for the students, full of natural light. An internal street draws daylight in and acts as a central circulation spine with suspended walkways, cafes, film, graphic and light projections.
17 Nov 2011
Architect of the Year Awards – 2011
Stanton Williams has been presented with the Schüco Gold Award at BD's Architect of the Year Award.
BD Architect of the Year Award Winners for 2011
Architect of the Year: Stanton Williams
Stanton Williams Book
Stanton Williams book – 'Volume'
Stanton Williams Shortlisted International Museum Design Competition
3 Nov 2009
Stanton Williams has been shortlisted for a competition to design a major extension to the world-renowned Sprengel Museum, Hannover. The brief asks for an additional floor area of 4350 sqm comprising of exhibition spaces, an events area, offices and a new delivery bay.
The Museum houses one of the most comprehensive permanent collections of 20th and 21st century art alongside regular and diverse temporary exhibitions. New acquisitions to the collection now mean that an extension to the existing building is necessary.
The existing building was designed by the architectural practice of P & U Trint, Cologne, and Dieter Quast, Heidelberg, following their success in the international architectural competition of 1973, and erected in two phases, in 1979 and 1989. The building is regarded as a high-quality example of German museum architecture.
Stanton Williams Appoints Two New Associates
26 May 2009
Architects Stanton Williams are pleased to announce the appointment of two new associates: Kalpesh Intwala and Kaori Ohsugi. These promotions recognise the significant contribution which each of them has made to Stanton Williams and their central role in future development of the practice.
Founding Director Paul Williams said: "We are continuously facing new challenges and have proved ourselves capable of delivering successful projects of every scale, nationally and internationally, while respecting the rigorous design standards we have always strived for. I have no doubt that the new associates will help maintain and reinforce this guideline objective in the future."
Stanton Williams is currently on site with the new Central St Martin's College of Art & Design at King's Cross Central, and responsible for the public space around Centre Point Tower including sculptural glass pavilions to mark the entrances of the new Crossrail and underground station at Tottenham Court Road. Other notable current Stanton Williams projects include: ceramic galleries for the Victoria & Albert Museum; a new plant science laboratory for Cambridge University; a second phase of student accommodation for Cranfield University; the Marinehaus Museum in Berlin; new offices for Wiltshire Council in Salisbury; and sporting facilities for the London 2012 Olympic Eton Manor site.
Stanton Williams – Buildings
Buildings by Stanton Williams Architects, no links, alphabetical:
Compton Verney Art Gallery, Compton Verney, Warwickshire, UK
2003
Stanton Williams with Rodney Melville & Partners
Robert Adam house conservation + new-build
Hayward Gallery – Bookshop, South Bank Centre, south London
1991
Issey Miyake, 270 Brompton Road, Knightsbridge, southwest London
1990
£600k
King's Cross – Central St Martin's College of Art & Design building – proposal, UK
2007-11
Central St Martin's College of Art & Design building – proposal
Osho Gallery, The Economist Building, St James's St, central-west London
1994
Pleats Please – Issey Miyake shop, 20 Brook St (off Bond Street), London W1
–
Riverwalk House redevelopment, Millbank, southwest London
2007-
Stanton Williams win for Derwent London
Shortlisted architects: David Chipperfield; Rafael Vinoly; Stanton Williams
Royal Botanic Gardens – Millennium Seedbank, Wakehurst Place, Sussex, UK
–
Whistles, St Christopher's Place, west London
1991
Whitby Abbey Headland Project, Whitby, North Yorkshire, UK
2003
More Stanton Williams Architects buildings online soon
Location: 36 Graham Street, London N1 8GJ, UK
London Architects Practice Information
Architect Office based in English capital
Stanton Williams is an award-winning architectural practice with an impressive portfolio across a number of sectors. These include arts and culture, retail, commercial, education and urban design. Stanton Williams Architects is led by directors Alan Stanton, Paul Williams, Gavin Henderson, Peter Murray and Patrick Richard, with the support of associates Doriano Chiarparin, Kalpesh Intwala, Kaori Ohsugi, Rawden Pettitt, Juliet Phillips and Richard Wardle.
Kalpesh Intwala studied Architectural Engineering at Leeds and Penn State University, USA. During this period he was sponsored by Arup working on prestigious projects such as Kansai international Airport in Japan and the Lingotto Fiat Factory in Turin, both with Renzo Piano Building Workshop. After completing his Diploma in Architecture at Nottingham University, he worked with Sir Denys Lasdun for 3 years. Kalpesh joined Stanton Williams in 2001 and is currently project architect for the new pavilion entrances to Tottenham Court Road Underground Station.
Kaori Ohsugi studied architecture at Bartlett University College and at the University of Bath. She has previously worked for David Chipperfield, Pollard Thomas Edwards Architects, Jun Itami Architects (Japan), and Cesar Pelli & Associates (USA). Kaori joined Stanton Williams in 2005 where she is currently project architect for the Cranfield University Student Accommodation project and she has also worked on the Padova Botanic Gardens redevelopment, a UNESCO World Heritage Site.
Studio Information from Stanton Williams Architects
Website: www.stantonwilliams.com
British Architecture
Buildings / photos for the Stanton Williams Architects UK page welcome