Saucier + Perrotte Montreal, Quebec Architects Office, Canada Design Studio
Saucier + Perrotte architectes : Montreal Architects
Quebec Architect Practice – Canadian Design Office Information and News
post updated 6 June 2023
Gilles Saucier and André Perrotte
Saucier + Perrotte Montreal Architects Practice
Founded in 1988 by Gilles Saucier and André Perrotte, Saucier + Perrotte architectes is a multidisciplinary practice internationally renowned for its institutional, cultural, and residential projects. The firm represented Canada at the prestigious Architecture Biennale of Venice in 2004, and has been honoured with numerous awards, including 7 Governor General's Medals and Awards in Architecture and two International Architecture Awards (presented by the Chicago Athenaeum and the European Centre for Architecture Art Design and Urban Studies).
Saucier + Perrotte's highly acclaimed buildings have been published the world over, reflecting the office's status as one of Canada's premier design firms. While continuing to add to its significant body of built work in Canada, the firm is expanding its international portfolio of work in Japan, China, and the Middle East and Africa. In 2009, Saucier + Perrotte received the RAIC Award of Excellence for Best Architectural Firm in Canada.
The firm believes that the architectural process can touch all aspects of design intervention — from master planning and redevelopment to single family homes, from sustainably-designed dwelling complexes to museums and theatres, from interiors to object design. Since its inception, this Montreal architecture practice has integrally linked its architecture to geology and the landscape, stressing the physical and symbolic importance of the site and reflecting the firm's understanding of architecture's role in shaping the contemporary city and the rural landscape.
Located in the heart of Montreal's 'Little Italy,' this Montreal architectural practice occupies a 60-year-old industrial building converted by the firm. The partners are proud to be part of the renewal of this area of the city.
S+P projects that have garnered top awards include Scandinave les Bains Vieux Montréal, the Private Residence and Guest House in the Laurentian Mountains, the Communication, Culture and Technology Building (University of Toronto at Mississauga), the Perimeter Institute for Theoretical Physics (Waterloo, Ontario), and the First Nations Exhibition Pavilion in Montreal, all of which have received, among others, Governor General Medals and Awards in Architecture; the new Schulich School of Music Building (McGill University); the New College Student Residence (University of Toronto); the School of Architecture and Design for University of Montreal; Gerald-Godin College in Ste-Genevieve; the Canadian Embassy in Abu Dhabi; Michel Brisson_ menwear stores in Montreal; and the Philippe Dubuc stores in Montreal and Quebec.
Ongoing major projects include River City, a 1000-unit, 3.8 acre LEED Gold master plan in Toronto's industrial West Don Lands; Thompson Residences, a mixed use residential project in downtown Toronto; a new residence/hotel in Toronto's Distillery district; the Faculty of Pharmacy for University of British Columbia, the Science and Health Technologies Building for John Abbott College in Ste-Anne-de-Bellevue; the National Mountain Centre Museum and Climbing Facility in Canmore, Alberta; and the Centre de Villégiature Montcalm, a 70-room hotel in Quebec's Lanaudière region.
Throughout the firm's history, Gilles Saucier and André Perrotte have been involved in lecturing and teaching locally and abroad. Recently, Gilles has taught at MIT and lectured at AIA Seattle and San Francisco as well as for the Séminaire international Phyllis Lambert at University of Montreal. André also continues to be active in architectural education and in July 2008, he spoke at the Annual Conference of the Society of College and University Planning.
Past lecture series for S+P have included talks at several universities, the New York Architectural League, and "Architecture Rampant" at the Royal Ontario Museum. Notably, Gilles was one of three architects in Canada invited to accompany the Governor General team to promote Canadian culture through a series of state visits to Finland and Iceland.
In addition to the 2004 Architecture Biennale in Venice, Saucier + Perrotte has previously been part of three important exhibitions: "Les lieux de la couleur," presented at the CCA in 2000, "Childhood Landscapes / Topographical Unfoldings" presented in Montréal, Toronto, Ottawa, and Buffalo (USA) between 2002 and 2004, and more recently "Substance Over Spectacle" in Vancouver (2005). In 2002, the Canadian Centre for Architecture began archiving architectural drawings and models by Saucier + Perrotte, and in 2007, the CCA selected the firm to design its exhibition on the Oil Crisis of the 1970's, entitled "1973: Sorry, Out of Gas."
Saucier + Perrotte is regularly invited to participate in major international competitions and has been a finalist in several in recent years. The office won the prestigious competition for the Bank Street Building on Parliament Hill in Ottawa and, more recently, the competition for the St-Laurent Sports Complex. The firm was short-listed for the Bogota International Convention Center Competition, the Fallingwater Educational Cottage Competition, the Cantos National Music Centre in Calgary, the New Montreal Concert Hall, the new Montreal Planetarium, the Musée national des beaux-arts du Québec, Grande Bibliothèque du Québec, the Canadian Museum for Human Rights in Winnipeg, and the AIST African Institute of Science and Technology International Competition in Nigeria.
Saucier Perrotte : main page with news + building images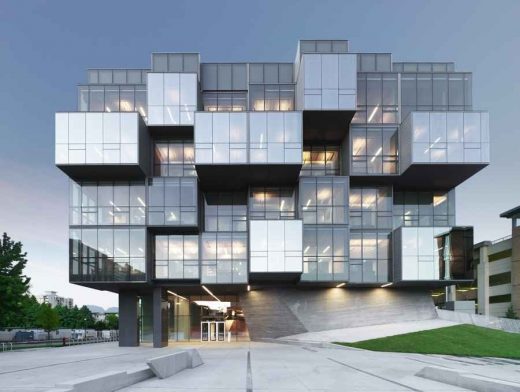 photo : Marc Cramer
Location: 7043 Waverly Montreal, Quebec H2S 3J1, Canada
Montréal Architect Practice Information
Architect office based in Montréal, Québec, Canada
Gilles Saucier
Gilles Saucier received his diploma in architecture from the University of Laval (B.Arch in 1982). Since 1990, he has been a visiting professor and an invited critic at several Canadian and American universities, including MIT, University of Montreal, McGill University, University of Toronto, University of British Columbia, and University of Seattle. As Design Partner, he is responsible for the overall design of each project, ensuring that the design team responds to all design criteria. His commitment to design excellence is well recognized by the architectural press worldwide.
In addition to lecturing extensively at universities in North America, Gilles has been invited as a guest speaker for AIA Seattle and San Francisco as well as for the Canadian Centre for Architecture and the New York Architectural League. He has also lectured at the Power-Plant series in Toronto and for "Architecture Rampant" at the Royal Ontario Museum in Toronto. His work as a photographer has fine-tuned his approach to architecture and helped evolve his perspective on the world and his work.
André Perrotte
André Perrotte studied architecture at Laval University in Quebec City where he received his degree in 1982 (B.Arch).
As Project Architect, André Perrotte is in charge of the coordination for each step of the design and construction process and is in charge of the administrative management of each dossier with the client. He is involved in the design in conjunction with Gilles Saucier and directs the flow of information between all parties involved in the design process.
André Perrotte possesses a vast field of expertise, mainly in managing multidisciplinary teams from control to production, costs to schedules, and techniques to construction systems. He is widely recognized for the rigor and creativity of his approach towards construction as an expression of contemporary culture. Since 1989
Exhibitions by Saucier + Perrotte architectes
Found Objects _ Objets Trouvés, Saucier + Perrotte architectes Université du Québec à Montréal, Octobre 2005
Substance Over Spectacle, 2005, Vancouver Found Objects _ Objets Trouvés, Saucier + Perrotte architectes Venice Biennale 2004 _ 9th international Architectural Exhibition
Childhood Landscapes / Topographic Unfoldings
_November 14 to December 15, 2002 _ University of Montreal, Centre d'Exposition, Faculty of Design and Planning, Montreal, Canada, sponsored by the Canada Council for the Arts
_September 8 to October 12, 2003 _ Carleton University Art Gallery, Ottawa, Canada
_October 20 to December 17, 2003 _ University of Toronto, Faculty of Architecture, The Eric Arthur Gallery, Toronto, Canada
_January 12 to February 14, 2004 _ School of Architecture, University of Buffalo, NY, USA
_April 2005 _ MIT, Massachusetts Institute of Technology, School of Architecture and Planning, Wolk Gallery, Cambridge, MA, USA
Topographic Unfoldings / Strata _ Ballenford Books on Architecture, Toronto, Canada, October 22 to January 9, 2004. Sponsored by the Canada Council for the Arts and the Toronto Society of Architects
Les lieux de la couleur: An installation by Saucier + Perrotte, March 30 – August 20, 2000, CCA, Canadian Centre for Architecture, Montreal, Canada, sponsored by the Canadian Centre for Architecture
Participant in an exhibition at the 'Maison du Canada' Canadian Embassy, London, England, 1998
Canadian Architecture
Canadian Architects Offices
Comments / photos for the Saucier + Perrotte architectes Montreal page welcome
Website: www.saucierperrotte.com