Sverre Fehn Architect Norway, Buildings, Norwegian Design Studio, Projects, Office, Museum, Info
Sverre Fehn Architect : Architecture
Contemporary Norwegian Architect Practice, Europe: Architectural Information + News
post updated 5 Apr 2021
Sverre Fehn – Key Projects
Celebrated Norwegian architect, born on 14 Aug 1924
One of Norway's best known architects, Sverre Fehn died at the age of 84.
23 Feb 2009
Nordic Pavilion, Venice Biennale, Italy by this architect: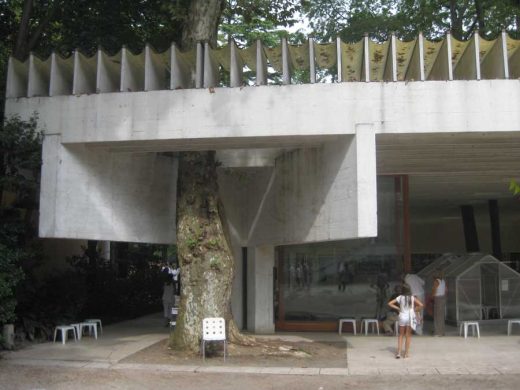 photograph © Adrian Welch, 2010
Nordic Pavilion Venice building – film:




photographs © Adrian Welch, 2010
The Nordic Pavilion, by this Norwegian architect, was completed in 1962 and has since been a space for collaboration between three nations – Sweden, Finland and Norway. For the period 2017-2021, the art in the Nordic Pavilion will be presented as a joint project, where the three countries are represented on equal terms.
These three Scandinavian countries (note, Denmark not included) will alternate as principal commissioner and manager of activities at the Nordic Pavilion in this order: 2017, Moderna Museet, Sweden; 2019, Frame Contemporary Art Finland, Finland; 2021, Office for Contemporary Art (OCA), Norway.
Key Buildings by architect Sverre Fehn
Aukurust Centre – Aukrustsenteret, Alvdal, Norway
Date built: –
Gyldendal building, Oslo, Norway
Date built: 2008
Hamar Bispegaard Museum, Norway
Dates built: 1969-73
Architecturally, the main objective was to create a museum form to preserve what remains of Hamar Bispegard and Storhamarlaven and make it possible for the digging to be an important feature, like the objects on exhibition. The answer is the "suspended museum" allowing the public to experience history not as book-learning, but brought alive by archeology."
— Dag Rognlien, ed. Treprisen, Thirteen Norwegian Prize-Winning Architects. Norway: Arkitektnytt, 1988. p118.
"In architectonic terms, we are the eternal passers-by. We walk in and out of buildings and towns, impressed by edifices and squares, but ourselves making no impression. But suddenly, at the end of the 1960s, confronted with nothing but an old barn and a few medieval ruins, one has to reconsider. How to make such a place yields its secrets, how to create a visible record of 1000 years of history."
– the architects practice
Hedmark Cathedral Museum, Hamar, Norway
Date built: –
Ivar Aasen Centre, Ørsta, Norway
Date built: 2000
Museum Extension, Lillehammer, Norway
Date built: 1959
Design with Geir Grung; Maihaugen
Nordic Pavilion, Biennale di Venezia – Venice Biennale shelter, Italy
Dates built: 1958-62




photos : Neale Smith Photography
Nordic Pavilion Venice
Norwegian Museum of Architecture, Oslo
Date built: 2008
Norwegian Glacier Museum – Norske Bremuseum, Fjærland, Norway
Date built: 1991
Studio Holme, Holmsbu, Norway
–
Venice Biennale shelter, Italy : see Nordic Pavilion
Villa Busk, Bamble, Norway
Date built: 1990
More Sverre Fehn buildings online soon
Location: Oslo, Norway, northern Europe
20th Century Norway Architect Practice Information
born & died in Norway: 14 Aug 1924 to 23 Feb 2009
ARCHITECT SVERRE FEHN : INTUITION – REFLECTION – CONSTRUCTION
23 Sep – 29 Nov 2009
Sverre Fehn Exhibition at Museum of Finnish Architecture

photo : Stina Glømmi
The work of Norway's most prominent architect is exhibited in 25 built and unbuilt projects selected by himself. Included are the Norwegian Pavilion at the Brussels World fair 1958 and the Norwegian National Museum – Architecture in Oslo, built 2008.
Producer: Norwegian National Museum of Art, Architecture and Design
MUSEUM OF FINNISH ARCHITECTURE
Kasarmikatu 24, 00130 Helsinki
Architectural Design
Comments / photos for the Sverre Fehn Architects – Norwegian Architecture Studio page welcome