China Developments, Building Project News, PRC Architecture Design, Property, Architect
China Developments : Architecture
Chinese Architectural Development, Asia Building Designs – Built Environment
post updated 28 February 2022
Chinese Building Developments
Chinese Architectural Projects + Key New Property Designs, alphabetical:
China Architecture Designs – chronological list
AD Architecture Office in Shantou, Guangdong
Arachne 3D Printed Building Facade
Art Museum Yue Minjun
AYO Room, Hangzhou Night Club
Bank of Chéngdu Headquarters
Bao'An Bay Industrial Investment Tower
Bao'an Cultural Complex in Shenzhen
Baqiao District Housing
Bayuquan Flag Tower Yingkou Plaza
Bayuquan Library Yingkou Plaza
Bayuquan Poly Theatre Yingkou Plaza
Bayuquan Vanke Exhibition Center
Beihai Fake Hills
Bike Pavilion Hainan Province
Fuzhou Building
Blossom Dreams Hotel
Bo Space in Hangzhou Shi
Brick House
Chancheng Greenland Center
Changsha Meixihu Centre
Changsha Meixihu International Culture & Arts Centre
Changzhou Culture Center
Chengdu Buildings
Chengdu Complex
Chengdu Museum
Chengdu Technology Centre
Chengdu Tianfu Cultural Centre
Chengdu Tianfu Great City
Chicony Plaza Chengdu
China Comic and Animation Museum
China Investment Corporation
China Optics Valley Convention and Exhibition Center
China Resources Changchun Center
China Wood Sculpture Museum
Chinese Architect
Chinese Architectural News
Chinese Architecture News
Chinese Building News
Chinese Buildings News
Chinese German Eco Park Qingdao
Chinese Office Buildings
Chinese University of Hong Kong Campus Shenzhen
Chongqing Jiangshan Yun Chu, Southwest China
Chongqing Shopping Center
Chongqing Vanke Forest Park Sales Gallery, Southwest China
Chungnam Complex
Church of Seed Huizhou
CITIC Headquarters Tower Hangzhou
City of Sky in Vanke
Civic Sports Center Shenyang
Congress Center Hangzhou
Courtyard Community Center
Dalian Aeropolis
Dalian Football Stadium
Dalian International Conference Center
Dalian Library
Dalian Library Building
Dalian Medical University Hospital
Dalian Planning Museum
Datong Art Museum
Datong Sports Park
Datong Towers
Dawang Mountain Resort Changsha
Dinosaur Egg Museum in Qinglong Mountain National Geo-Park
Do Think · Wings Hangzhou Sales Center
Dongting Lake Museum in Yueyang City
DQZ Cultural Center Daqiuzhuang
Dune Art Museum in Qinhuangdao
Ecological Masterplan Jinan: Southern Mountains
Exhibition Center of Zhengzhou Linkong Biopharmaceutical Park
Exhibition Center Nanning
Famen Temple Zen Meditation Centre
First People's Hospital
Flowing Gardens
Forte Nanshan
Futureland Puye Experience Centre and Show Office
Fuzhou Taihe Qingyun Sales Center
GBD House
German Villas The World
Gingko Restaurant
Grand Hyatt Dalian
Green Health City
Greenland Group Suzhou Center
Guangdong Museum
Guangfa Securities Headquarters in Tianhe District
Guangzhou Buildings
Guangzhou Science Town
Hallelujah Concert Hall
New Restaurant in Guangdong
Hangzhou Building
Hangzhou Competition
Hangzhou Gateway
Hangzhou New District
Integrated Campus Complex for Hangzhou Normal University
Hangzhou South Railway Station
Hangzhou Store
Hanjie Wanda Square Wuhan
Harbin Twin Towers
Haxi Office Building
Hefei Pavilion
Hefei ID Mall
Heli-stage in Shaoxing
Hengqin CRCC Plaza Zhuhai Buildings
HEYTEA at Zhengzhou Grand Emporium in Henan Province
Hong Leong City Center in Suzhou
Hong Kong Mansion South Area
Huangshan Theatre
Hua'An County City Masterplan
Huarong Hengqin Tower Zhuhai
Huijin International Center
Jiangyin Greenway in Jiangsu Province
Jinan Cultural Center
Jining Stadium
Jinsha Lake Pedestrian Bridge
Jinwan Shopping Mall, Zhuhai Building
JOOOS Fitting Room in Hangzhou
Junxi Mountain Villa Sales Centre in Hangzhou City
Marina at Keppel Cove in Zhongshan
Keqiao Water City
Kunshan Science and Technology Park
La Nova shopping centre
Lafayette 148
Le Méridien Zhongshan
Lefo Mall Shopping Centre Suzhou
Li Man • Shen Mi Ji Hotel, Lijiang
Liangzhu Culture Museum
Lilanz Creative Center Jinjiang
Lin'an Sports and Culture Center, Hangzhou
Linden Center at Shilong Village
Linked Hybrid
Lishui Science Park
Liuzhou Project
Longgang City Deep Ground
MAD Travel Fellowship
Maritime Museum Lingang
Mesh office Ordos
Molly Club in Wuhan
Museum in Wangwu Mountain Geopark of China
Museum in Yuntai Mountain Geopark of China
Museum of Handcraft Paper
N+ Ningbo
New 4 Army Museum
News & Media Building in Ningbo
Nanjing Buildings
Nanjing Eco-housing
Nanjing Greenland Financial
Nanjing Medical University
Nanjing Museum
Nanjing Road Development Qingdao
Nanjing Tower Buildings
Nanjing Youth Olympic Games
Nanning Wuxiang Headquarters
National Maritime Museum Tianjin
Ninetree Village
Ningbo Xikou Da'ai Academy Town Buildings
Niu He Liang Museum
Pan Long Gu Center
Panasonic Flagship Store Hangzhou
Parc 66 Jinan
Park Hyatt Guangzhou
Passive House Bruck
Pearl River Tower
Pingtan Art Museum
Pinnacle One Chengdu
Poan Education, Yunxiao, Zhangzhou
Poly Office Tower Shunde
Shandong Province Buildings
Public Academy Suzhou Campus
Purified Residence
Qianhai SZ-HK Fund Town in Shenzhen
Qingdao Culture and Art Center
Qingdao Resort
Qintai Center Wuhan
Qixing District Urban Planning Museum
Raffles City Hangzhou
Raffles City Ningbo
Red Cross Housing Obra
Samaranch Memorial Museum Tianjin
Sanlitun Building
Sanya Hai Tang Bay Hotel
Sanya Super Market
Seven Chambers Dalian
Shandong University of Sports
Shangen Blossom Pavilion Zhejiang Province
Shanxiao Sales Pavilion in Chongqing
Shaoxing CTC Mall
Shennong Valley Resort Building
Shenyang Building
Shidai Tower Harbin
Shijiazhuang Convention Center
Shopping Mall Chongqing
Shuyang Art Gallery Building
Silk Museum Chengdu
Silo Apartments
Singapore Culture City
Sinosteel International Plaza Tianjin
Sky City Tower Changsha
Sliced Porosity Block
Slit House
Soochow Securities Headquarters
South Lake Retail Center
Spiritual Bay Pavilion in Qingdao
Suning Plaza in Xuzhou
Suzhou Buildings
Suzhou Jin Ji Lake Project
Suzhou New District Commercial Plaza
Tadao Ando Designed He Art Museum in Guangdong
Taihu Science Technology Industrial Park
TEA Community Center in Xiamen, Fujian Province
Tianshui Jialangyuan Sales Center in Gansu
The LOOP in Chongqing, Southwest China
The New Qingpu Wetlands
Tian Fang Tower
Tianjin Architecture
Tianjin Bridge Culture Museum
Tianjin Building
Tianjin Development
Tianjin Grand Theater
Tianjin Hotel Design
Tianjin National Convention Exhibition Centre
Tianjin R&F Guangdong Tower
Tianjin Tuanbo Tennis Center
Tianjin West Railway Station
Tianjin WIT Riverside Park
Tianjin Xiqing School
New Shijiazhuang Building
Tower of Ring
TUSPARK Nanjing
Twin Cities Kunming
Unicorn Island Masterplan in Chengdu
Vanke Triple V Gallery
Vantone Center Tianjin
vivo Headquarters in Dongguan
New Office Building in Zhengzhou
Voisin Organique Restaurant & Lounge in Shenzhen
Wanda Cinema
Wanda Harbin Indoor Ski Resort
Water Edge Housing Zhuhai
Wedding Chapel Nanjing
Weihai Pavilion
White Comedy of Xi'an Zhongshu Bookstore in Shanxi
Wuhan Greenland Center Apartment
Wuhan Pebble Towers
Wuxi Grand Theatre
Wuxi TaiHu Masterplan
Xiang River Tower
Seafood Restaurant in Xiamen City
Xian World Fair 2011
Xichen Paradise Walk Retail Complex in Chengdu
Xiling Cable-Car Station
Xiling Ski Resort
Xingtai Grand Theater in the Hebei Province
Xintiandi Factory Hangzhou
Xixi Wetland Art Museum
Y House
Y20 Space in Hangzhou Zhejiang
Yangqiao Greenland Business Centre
Yellow River Arts Centre
Yingxiu Memorial Museum
Yiwu Cultural Square
Yiwu Grand Theater Building
Yiwu City World Trade Centre
Yu Public Art Installation by Lin Xueming
Z Hotel
Zhejiang World Trade Center in Hangzhou
Zhengzhou Greenland Plaza
Zhengzhou Masterplan
Zhuhai Opera House, Guangdong
Zhuhai Shizimen Bridge
Location: P. R. China
More China Developments online soon
Chinese Building Designs
Fuzhou Taihe Qingyun Sales Center, Fujian building designed by architects Shanhejinyuan Art Design: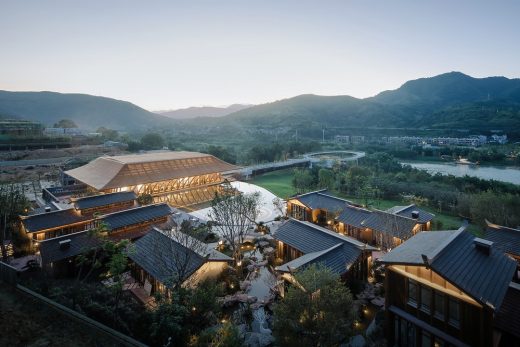 photograph : Shi Yunfeng
Fuzhou Taihe Qingyun Sales Center
Since the period of Wei and Jin dynasties in China, literati who has been in officialdom for a long time always has the fantasy of retirement and life in nature. Today, even though the hustle and bustle of the city blurs out the true meaning of life, the eagerness of Chinese literati to break away from the world has not diminished.
TEA Community Center, Xiamen City, Fujian Province, Southeast China designed by architects Waterfrom Design: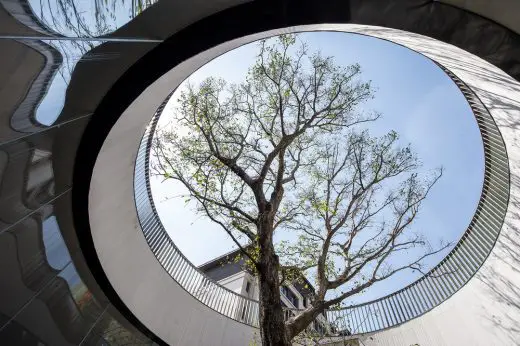 photograph : Yuchen Chao © Waterfrom Design
TEA Community Center in Xiamen, Fujian Province
Two premises make the TEA Community Center project differ from others: Firstly, the sales office building will be for the community's sustainable use in the future. Secondly, except the reception entrance, most of the use area of the two-story building is located in the landscape.
Tianshan Gate of the World, Shijiazhuang, Hebei Province, Northern China
Design: Aedas, Architects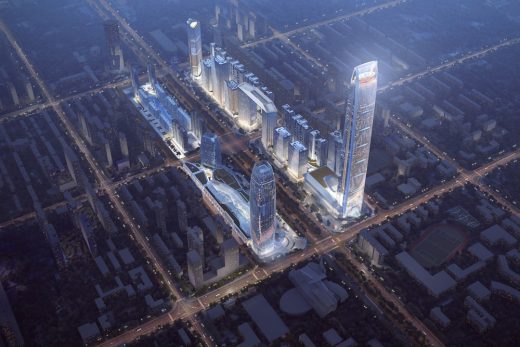 image from architecture office
New Shijiazhuang Building
The appearance of the tower reflects the curvy form of Chinese zither and Chinese sleeves dance, expressing the rhythmic beauty of the flow of strings and long dancing sleeves. Integrating with the tower form, a conference centre with indoor four-seasons greenhouse garden is created on top of the podium, whilst six sky gardens with food and beverage amenities on different heights of the tower offer unique vertical urban spaces to the city.
Comments / photos for the China Developments – P.R.C. Architecture Information page welcome