Chinese Architectural News 2020, Buildings China, Construction Design, Property Images
Chinese Architectural News
post updated 19 Dec 2020
Chinese Architectural Design News in Early 2020
Chinese Architecture Design News in Winter to Summer 2020, chronological:
Chinese Architecture News – current posts
key posts from July to January:
29 July 2020
Jilin Financial Centre Commercial Complex, Jilin Province
Architects: Aedas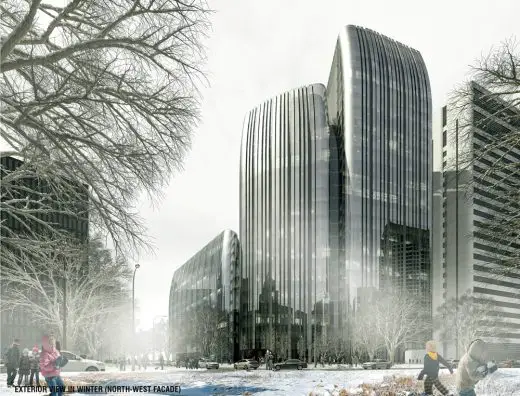 image courtesy of architects office
Jilin Financial Centre Commercial Complex Building
Jilin Financial Centre designed by Aedas is a commercial complex built to bring greenery to the heart of Changchun, where winter dominants almost half the year.
21 July 2020
Guanhu Sales Center in Guizhou
21 July 2020
Guizhou Buildings
20 July 2020
Q-CITY International Young Designer Competition
20 July 2020
HyperLane Chengdu Development
15 July 2020
Industrial Service Centre in Jinwan Aviation City, Zhuhai
Architects: 10 DESIGN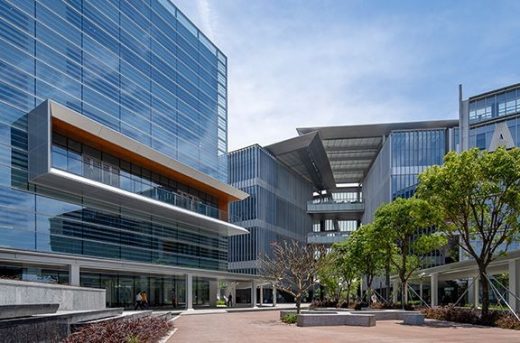 image courtesy of architects office
Industrial Service Centre in Jinwan Aviation City
The Industrial Service Centre provides 54,699sqm of office space for burgeoning start-up companies and entrepreneurs to collaborate, establishing an incubation platform in the new Jinwan Aviation City Zhuhai, China.
27 June 2020
La Pizza, Xiamen, Fujian Province, Southeast China
Architects: Movingarc design & decoration Co., Ltd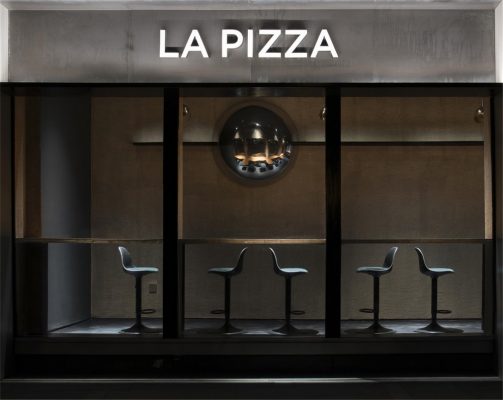 photo : KunRong Chen
La Pizza Xiamen Restaurant
The designer skillfully uses the combination of rough Japanese rock materials and soft lighting to create an amazing time tour.
22 June 2020
The Village Apartments, Guangzhou
Architects: TEAM_BLDG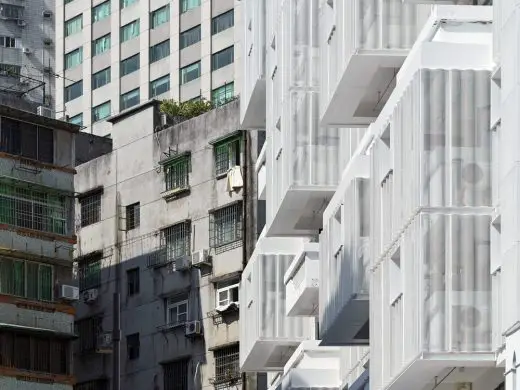 photograph : Jonathan Leijonhufvud
The Village Apartments in Guangzhou
In his book Arrival City: The Final Migration and Our Next World, Doug Saunders points out that the development of the arrival city (also known as urban village) is an important part in the urbanization process. It may be the birthplace of the next wave of economic and cultural development, or the explosive place of the next wave of violent conflicts, which needs to be properly handled.
21 June 2020
White Square, G54 exhibition center, Nanjing
Design: MINGGU DESIGN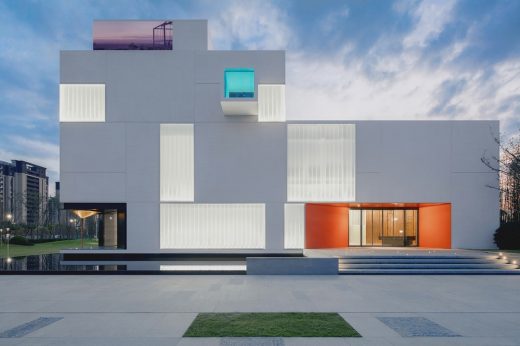 photograph : Xia Zhi
White Square, G54 exhibition center
White Square, located at No.99 Yunxi road, the central area of Nanjing airport city. With the construction development of new airport city, a vast comparative maturity residential area has been built.
20 June 2020
Hunan OCT Caoqiao Cultural Commercial Street
18 June 2020
Ningbo Hanvos School in Zhenhai District
15 June 2020
Xi'an Vanke View Lake Sales Center in Shaanxi Province
15 June 2020
Yangliuqing National Grand Canal Culture Park
15 June 2020
Xixi Wetland Estate Hangzhou, Chinese Housing
12 June 2020
Opus One Sales Centre in Foshan, Guangdong
8 June 2020
Gongshu Intelligence Valley's Eye, Hangzhou, Zhejiang
Interior design: E+LAB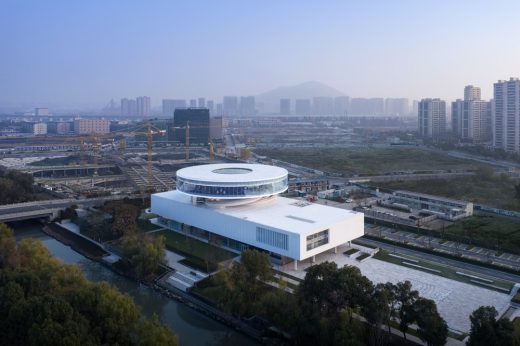 photograph : Schran Images – Su shengliang
Gongshu Intelligence Valley's Eye Hangzhou
The Eye of Intelligence Valley is the exhibition center in the intelligence valley town in Hangzhou. It is a multi-functional public building for culture display, investment attraction, office meeting, recreation and etc. The design philosophy starts with the geometric relation of 'round sky and square earth'.
9 June 2020
Pukou Community Centre in Nanjing
5 June 2020
The Crystal Exploration Deck opens at Raffles City Chongqing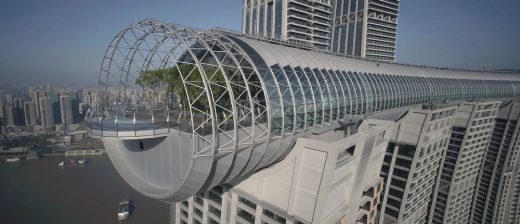 image courtesy of CapitaLand
The Crystal Exploration Deck Raffles City Chongqing
One of the year's most eagerly awaited attractions in China, the 250-metre-high Exploration Deck Viewing Gallery (Exploration Deck), a star feature of The Crystal sky bridge at Raffles City Chongqing, opened to the public last weekend.
3 Jun 2020
Peak Tea Cafe, Haiya Mage Mall Shenzhen
2 Jun 2020
Pukou Community Centre in Nanjing
1 Jun 2020
Shijiazhuang Zhao Hua Hospital
25 May 2020
Musae's Laurel Garden in Guangzhou
18 May 2020
One Sino Park Offices and Spa, Chongqing City, southwest China
Architects: aoe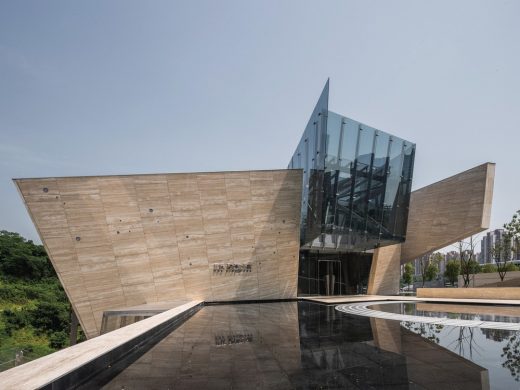 photography : Huang Ligang
One Sino Park Offices and Spa
The project consists of a cliffside building, designed and constructed into its surrounding mountain façade. The main structure has been completed, and designers have deconstructed and reconstructed its internal spaces with an infusion of architectural elements conducive to the topography, resulting in the creation of a rich architectural, urban space.
17 May 2020
Dothink · Airport City Sales Center in Hangzhou
17 May 2020
Ningbo New Library Building
12 May 2020
The Jin Life Aesthetics Hall in Hangzhou
12 May 2020
Park View Manor in Shenzhen
8 May 2020
Pony Running Daycare Showroom in Shenzhen
1 May 2020
Sunac · Grand Milestone Modern Art Center, Xi'an City
Interior design: Cheng Chung Design (HK)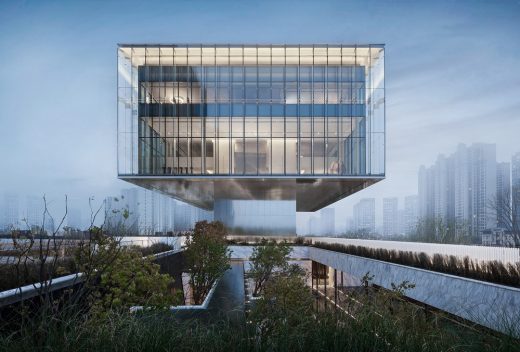 photo © Qilin Zhang
Sunac · Grand Milestone Modern Art Center in Xi'an
Erecting in the magnificent ancient capital Xi'an with a modern and stylish gesture, Sunac · Grand Milestone Modern Art Center appears like a large crystal "gift box", which brings amazing fashionable touches to the land featuring a long history and profound culture. It aims to become a city landmark, and to lead the trend of the era.
29 Apr 2020
Vanke Cloud City in Shenzhen
27 Apr 2020
Chishui Cemetery Memorial Hall in Guizhou
27 Apr 2020
Zhongshan OCT Harbour Development
27 Apr 2020
Quzhou Sports Campus Stadium, Zhejiang
17 Apr 2020
Anshuka Restaurant in Hangzhou
8 Apr 2020
Auvers Restaurant Interior in Shenzhen
31 Mar 2020
Shou County Culture and Art Center, Anhui
Architects: Studio Zhu-Pei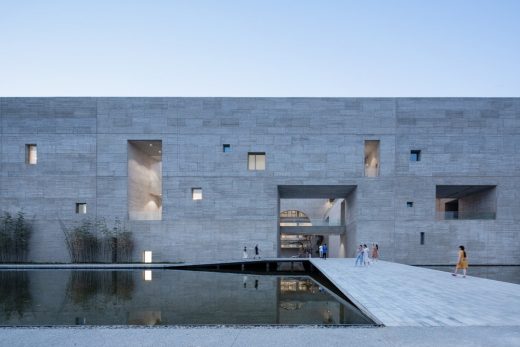 photograph : Schran Images
Shou County Culture and Art Center
Shou County is located in the center of Anhui Province, on the south bank of Huai River. In ancient times, it was the home of the Chu culture and where Liu An, King of Huainan, edited a compendium of ancient Chinese philosophy and composed poetry.
1 Apr 2020
Conemoting Market in Shenzhen
31 Mar 2020
Hebei Grand Hotel, Anyue in Shijiazhuang
26 Mar 2020
Da Ya Li Roast Duck Restaurant, Chengdu, China
Architects: IN • X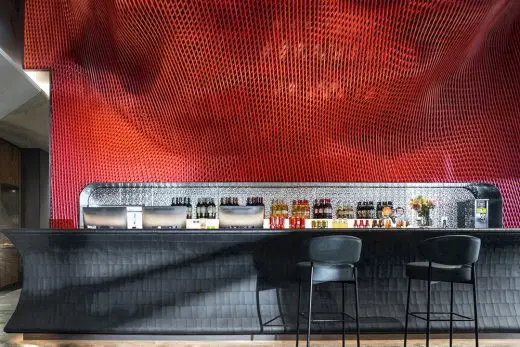 photograph : Shi Yunfeng
Da Ya Li Roast Duck Restaurant in Chengdu
Wu Wei: Discovering the New Vitality of Traditional Brand – Da Ya Li Roast Duck Restaurant Chengdu Vanke Tianhui Branch. Food is a good embodiment of civilization, as well as the past and the present of a city. Chinese people have been good at tasting food since ancient times.
25 Mar 2020
JinLin Royal Park in Nanjing City, China
25 Mar 2020
Huiya Ceramics HQ & Exhibition Hall in Foshan
23 Mar 2020
A Woodwork Enthusiast's Home in Xiamen, Fujian Province
14 Mar 2020
SOHO 3Q Chengdu Co-working Space
11 Mar 2020
Greentown Fuchun Rose Garden in Zhejiang Province
9 Mar 2020
National Maritime Museum, Tianjin, north east China
Design: Cox Architecture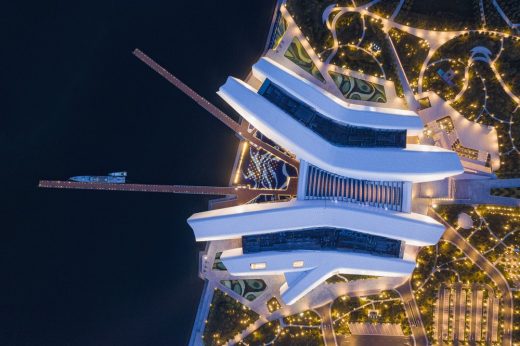 photograph : Terrence Zhang
National Maritime Museum of China in Tianjin
Major new cultural landmark for China takes its place on the Global stage China's first National Maritime Museum has now commenced formal operation, the culmination of a 6-year process which began with an international design competition, followed by an intensive design and construction process.
23 Feb 2020
Xichen Paradise Walk, Chengdu
Architects: LWK + PARTNERS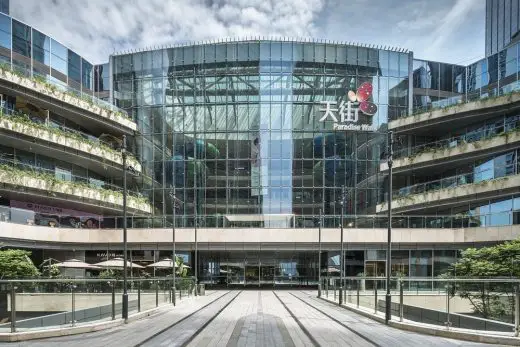 image courtesy of architects office
Xichen Paradise Walk Retail Complex in Chengdu
Retail spaces are evolving into lifestyle complexes that are inspiring, diversified and immersive to surround visitors with a curated experience to fulfil various lifestyle and social needs.
20 Feb 2020
Poan Education Building, Zhangzhou, Yunxiao, Fujian Province, Southeast China
Architects: Panda Office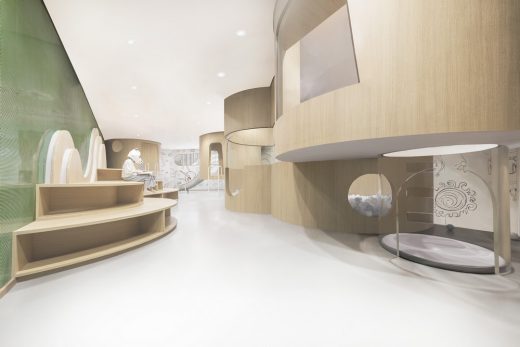 photograph : GL YANG
Poan Education, Yunxiao, Zhangzhou
This educational project is located in Yunxiao, a county-level city of southern Fujian in China. With the development of the society, the younger generation often seeks employment opportunities outside the city.
6 Feb 2020
Vniau Office, Zhengzhou, Henan province
Design: AFFD Design Firm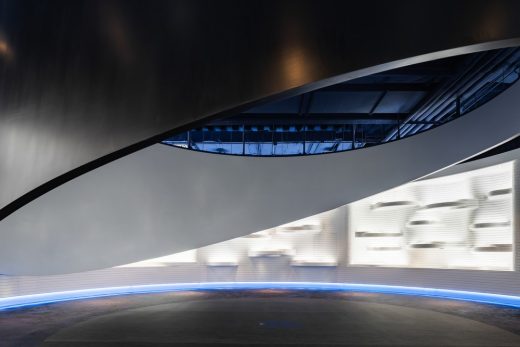 photograph : SHI Yunfeng
New Office Building in Zhengzhou
The essence of space design is to pay attention to people's emotional needs, especially in office designs.
4 Feb 2020
Guangfa Securities Headquarters, Tianhe District, Guangzhou, southern China
Design: Jaeger Kahlen Partners Architects Ltd.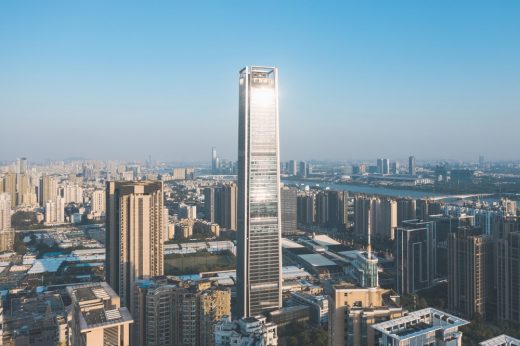 photograph : Wenrui Ye
Guangfa Securities Headquarters in Tianhe District
A 308-meter tall super high rise located in the Zhujiang New Town district of Guangzhou.
29 Jan 2020
Chinese University of Hong Kong, Shenzhen
Architects: Rocco Design Architects Associates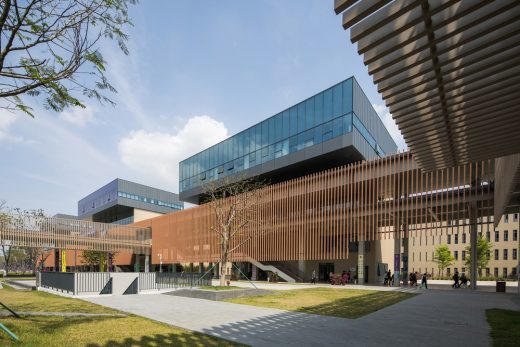 image courtesy of architects office
Chinese University of Hong Kong Campus Shenzhen
The CUHK SZ brings the global perspective and academic excellence to the city Shenzhen – China's rapidly-growing innovation and tech hub.
20 Jan 2020
He Art Museum, Shunde, Guangdong
Design: Tadao Ando Architect & Associates



image © HEM
Tadao Ando Designed He Art Museum in Guangdong
HEM in Shunde will open on 21st March 2020 with an inaugural exhibition curated by leading Chinese curator Feng Boyi, From The Mundane World.
15 Jan 2020
Unicorn Island Masterplan, Chengdu
Architects: Zaha Hadid Architects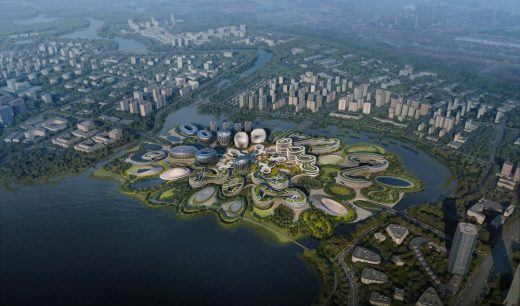 render : MIR
Unicorn Island Masterplan in Chengdu
The Start-Up exhibition and conference centre, the first building within Chengdu's Unicorn Island Masterplan, nears completion, reports ZHA in London.
16 Jan 2020
Jiangyin Greenway, Jiangsu
Architect: BAU (Brearley Architects + Urbanists)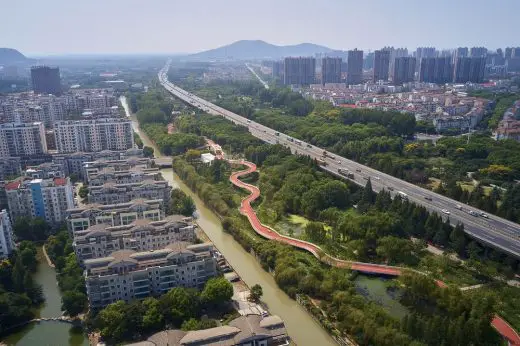 photography : Pavel Shubskiy – Egghead Photo
Jiangyin Greenway in Jiangsu Province
This development is part of a growing movement in China towards healthy, sustainable transportation and urban enjoyment. Infrastructure of this scale has an opportunity, or more correctly a responsibility, to create meaningful places in the city.
11 Jan 2020
Fuzhou Taihe Qingyun Sales Center Building, Ge ling, Fuzhou, Fujian
Architects: Shanhejinyuan Art Design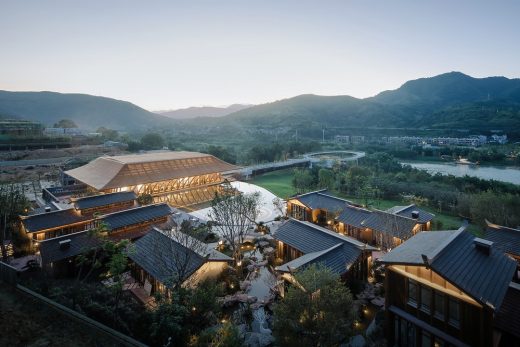 photograph : Shi Yunfeng
Fuzhou Taihe Qingyun Sales Center
Since the period of Wei and Jin dynasties in China, literati who has been in officialdom for a long time always has the fantasy of retirement and life in nature. Today, even though the hustle and bustle of the city blurs out the true meaning of life, the eagerness of Chinese literati to break away from the world has not diminished.
10 Jan 2020
Ecological Masterplan Jinan Design, northern China
Design: KCAP Architects&Planners, Netherlands, in collaboration with Ramboll Studio Dreiseitl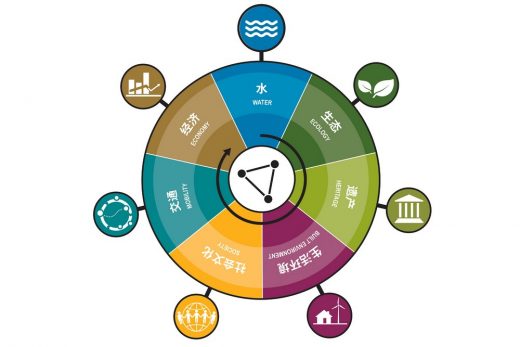 visual © KCAP
Ecological Masterplan Jinan: Southern Mountains
KCAP, in collaboration with Ramboll Studio Dreiseitl, designed an ecological masterplan for Jinan's Southern Mountain area in northern China. Its purpose is to restore and protect the mountainous geological structure and ecology of the region.
9 Jan 2020
Bao'An Bay Industrial Investment Tower, Shenzhen
Architects: Jaeger Kahlen Partner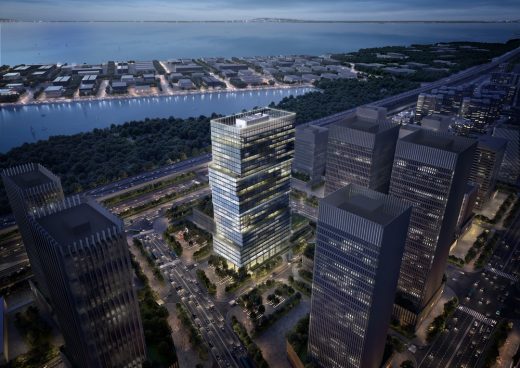 image courtesy of architects office
Bao'An Bay Industrial Investment Tower
The office building is a set of shifting volumes that break the tower into a series of terraced stacked urban blocks. The design offers a distinctive landmark office experience in Shenzhen that provides state-of-the-art work environments and enhances the surrounding urban fabric with pedestrian green spaces and a new bus terminal.
7 Jan 2020
Voisin Organique, Upper Hills, Futian District, Shenzhen
Architects: Various Associates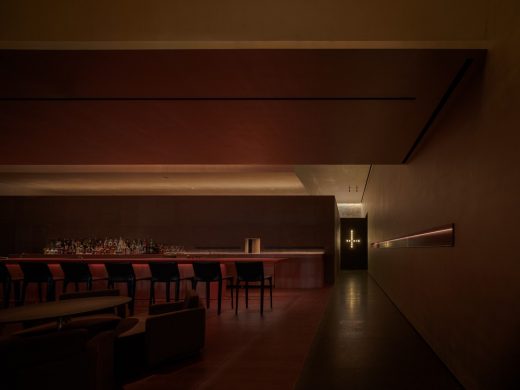 photograph : Shao Feng
Voisin Organique Restaurant & Lounge in Shenzhen
This farm-to-table restaurant features contemporary Chinese cuisine. The restaurant draws on classic aesthetics, uses ingredients grown in its ECOCERT-certified farm, and integrates age-old Chinese cuisine with fine dining experiences.
6 Jan 2020
Do Think · Wings Sales Center, Hangzhou Shi
Interior design: GFD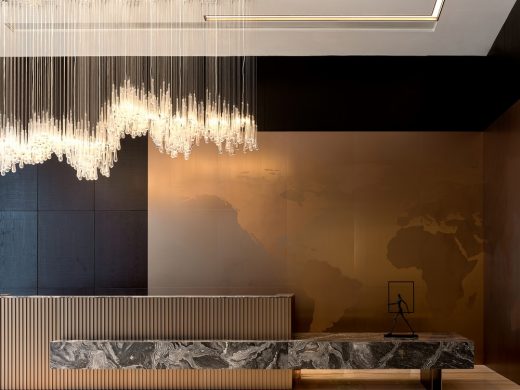 photograph : Liu Gangqiang
Do Think · Wings Hangzhou Sales Center
Thus residential property is situated in Chengdong New Area, closely connected to Wulin Commercial Hub and Qianjiang New Town. The architectural development was for developer DoThink in Hangzhou, China.
2 Jan 2020
TEA Community Center, Xiamen City, Fujian Province, Southeast China
Architects: Waterfrom Design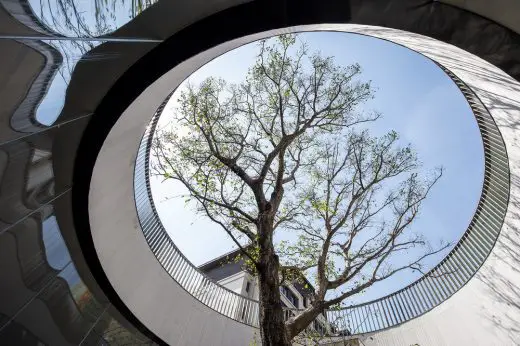 photographer: Yuchen Chao © Waterfrom Design
TEA Community Center in Xiamen, Fujian Province
Two premises make the TEA Community Center project differ from others: Firstly, the sales office building will be for the community's sustainable use in the future. Secondly, except the reception entrance, most of the use area of the two-story building is located in the landscape.
More Chinese Architecture News for 2020 online soon
Chinese Architecture News 2019
26 Dec 2019
Bo Space in Hangzhou Shi
9 Dec 2019
Xingtai Grand Theater in the Hebei Province
8 Dec 2019
Changsha Meixihu International Culture & Arts Centre
5 Dec 2019
Bao'an Cultural Complex in Shenzhen
29 Nov 2019
Shanxiao Sales Pavilion in Chongqing
25 Oct 2019
vivo Headquarters in Dongguan
23 Oct 2019
Tianshui Jialangyuan Sales Center in Gansu
20 Oct 2019
The LOOP in Chongqing, Southwest China
16 Oct 2019
Chongqing Vanke Forest Park Sales Gallery, Southwest China
14 Oct 2019
Chongqing Jiangshan Yun Chu, Southwest China
14 Oct 2019
Spiritual Bay Pavilion in Qingdao
11 Oct 2019
Molly Club in Wuhan
15 Apr 2019
Blossom Dreams Hotel, Yangshuo, Guilin, Guangxi Province
Design: Co-Direction Design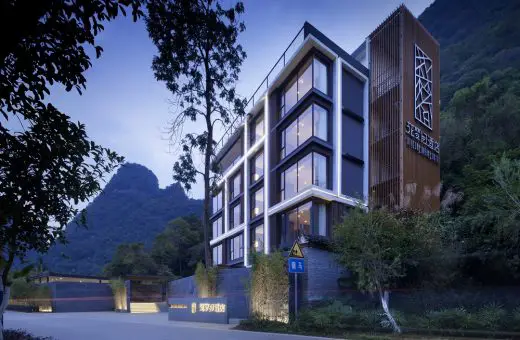 photograph : Jing Xufeng
Blossom Dreams Hotel
The project is situated at Jima Village in the east of Yangshuo — a famous tourist county surrounded by karst mountains, winding rivers and beautiful scenery. The name "Jima" in Chinese is very poetic, meaning "steed", which makes the secluded, old and austere village appear to be dreamy to some extent.
2 Apr 2019
Le Méridien Zhongshan, Shantou City, Guangdong
Architects: BLVD International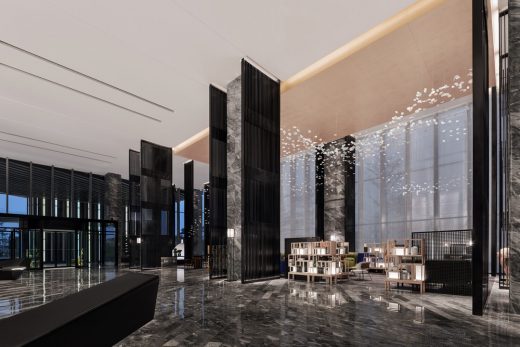 photograph : En Xiao
Le Méridien Zhongshan
Le Méridien Zhongshan is located in Gangkou Town of Zhongshan City, with monuments, temples, modern shopping malls and verdant wetland parks all close by. As the first five-star destination of business trip in North Gate of Zhongshan urban area, the 100m high-rise of 24 floors is regarded as the most impressive skyline of Gangkou Town.
22 Mar 2019
Suning Plaza in Xuzhou
21 Mar 2019
Y20 Space in Hangzhou Zhejiang
19 Mar 2019
HEYTEA at Zhengzhou Grand Emporium in Henan Province
17 Mar 2019
City of Sky in Vanke
More Chinese Architectural News online soon
Chinese Architecture News – current page
Chinese Building News – archive for 2018
Location: People's Republic of China
China Architecture
China Architecture Design – chronological list
Chinese Architect – Design Practice Listings
Zhejiang World Trade Center
Architects: Leigh & Orange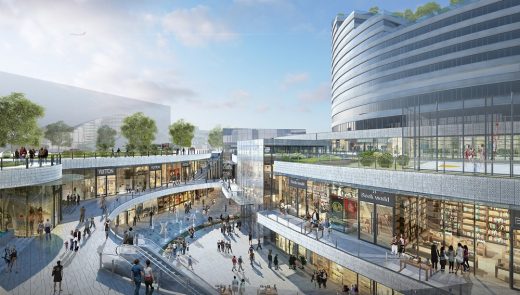 image from architecture office
Zhejiang World Trade Center in Hangzhou
JOOOS Fitting Room, Xingguang Avenue
Architects: X+Living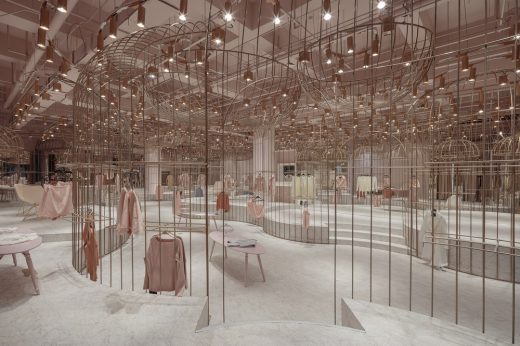 photograph : Shao Feng
JOOOS Fitting Room in Hangzhou
Comments / photos for the Chinese Architectural News 2020 page welcome