Nanjing Buildings, Architectural Competition China, Tower Images, City, Hotel Project News
Nanjing Buildings: Architecture
Key Chinese Architecture in Jiangsu Province, Asia Built Environment Developments
post updated 20 June 2022
Nanjing Buildings – Latest Designs
Nanjing Architecture News
We feature the best new Nanjing buildings on e-architect below, in chronological order:
20 June 2022
OCT Exhibition Center, east side of Baota Road, Lishui District
Design: Lacime Architects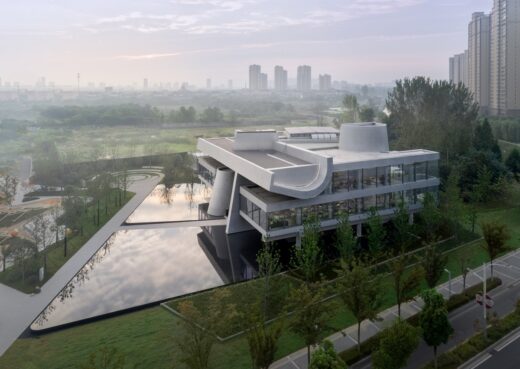 photo : Liangshan
OCT Exhibition Center
The project site is located on the east side of Baota Road in Lishui District, Nanjing city, and on the north bank of Yigan River (one of the headwaters of Qinhuai River), enjoying excellent surrounding natural environment. The whole surrounding area will be planned as a characteristic cultural travel center of Nanjing.
27 May 2022
Taste Jiangnan, 50th floor of Golden Eagle International Hotel
Architects: LDH Design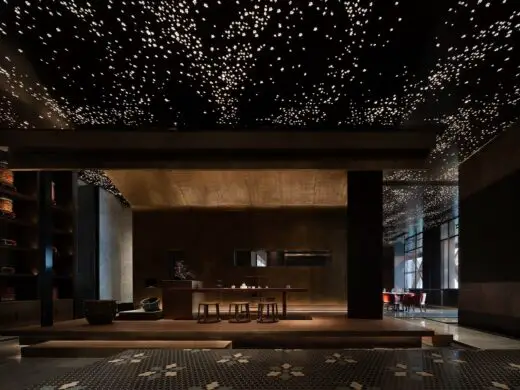 photo : Lu Haha
Taste Jiangnan Restaurant, Golden Eagle International Hotel
Simmering means making delicacies with small firepower in a slow way to stimulate beautiful experience from food, and tasting means enjoying delicacies from good simmering practice. They mutually have a relationship of cause and effect. Taste Jiangnan not only is about the meaning of words, but also contains the life style, life pace and food culture in Jiangnan. The Chinese restaurant "Taste Jiangnan" was named for this reason.
22 Mar 2022
Dexing Lou
Architects: Office ZHU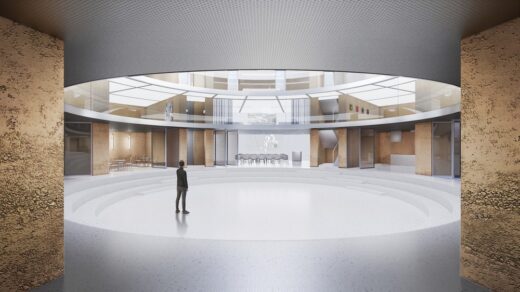 photo : Office ZHU
Dexing Lou, Nanjing Tulou Renovation
Nanjing county in southeastern china is known for its hakka tulou complex, which was inscribed on the UNESCO world heritage list in 2008. In 2021, the competition committee of nanjing county selected 10 old tulou structures, with varying forms, to be renewed. office ZHU has designed the renovation of a three storey tulou called Dexing Lou.
22 Sep 2021
Suning Zhongshan Golf Resort
Architects: CCD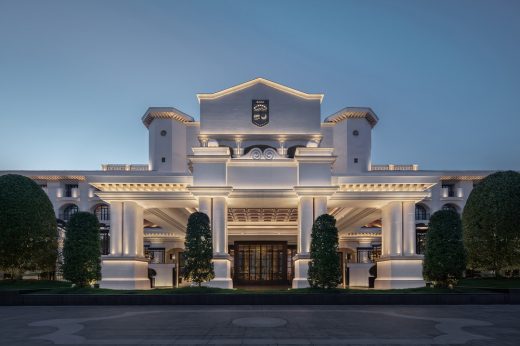 photo : CCD
Suning Zhongshan Golf Resort
Nanjing, also known as "Jinling", used to be the capital of six dynasties in ancient China. Every lane, brick or tile here may carry the marks of the past royal palace and indicate the city's profound history and culture.
25 Oct 2021
KUROGI
Architects: CCD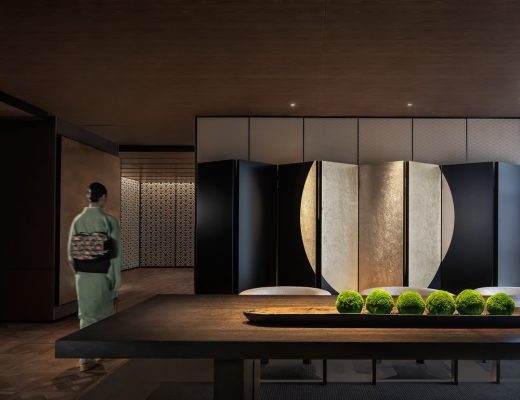 photo : Wang Ting © CCD
KUROGI at Suning Zhongshan Golf Resort
The Michelin-starred Japanese restaurant KUROGI, known as the hardest restaurant in Tokyo to make a reservation, opened a new premise in Suning Zhongshan Golf Resort, Nanjing. Designed by CDD, the restaurant provides a divine, Zen-like dining environment.
13 Sep 2021
Nanjing Drum Tower Hospital, Zhongshan Road, Gulou District, Nanjing City, Jiangsu Province, China
Architects: Lemanarc SA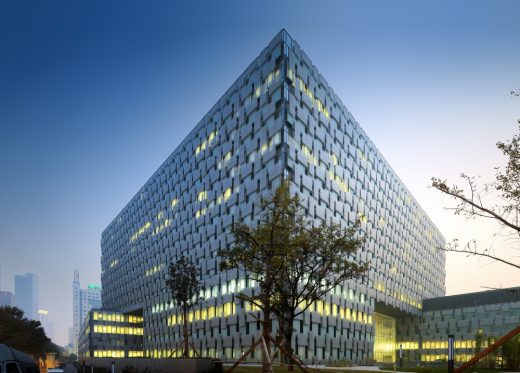 image courtesy of architects office
Nanjing Drum Tower Hospital
Nanjing is both a historic ancient capital of the Six Dynasties as well as a noisy and busy modern city. As one of the most popular cities in the world, Nanjing, like other cities, faces its own needs and problems.
6 Sep 2021
Nanjing Public Medical Center, 1 Kangfu Road, Tangshan St, Jiangning District, Nanjing City
Design: Lemanarc SA, Architects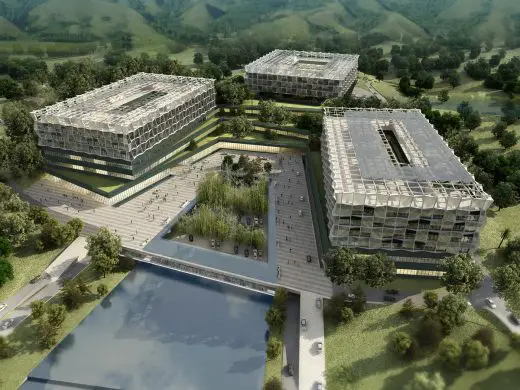 image courtesy of architecture office
Nanjing Public Medical Center Building
Nanjing Public Medical Center, surrounded by hills, with one thousand and two hundred beds, is located by the Qinglong Mountain, which lies to the southeast of the city. It has a total floor area of about 150,000 sqm.
11 August 2021
Nanjing Dajiaochang Airport Mixed-Use Development
Design: 10 Design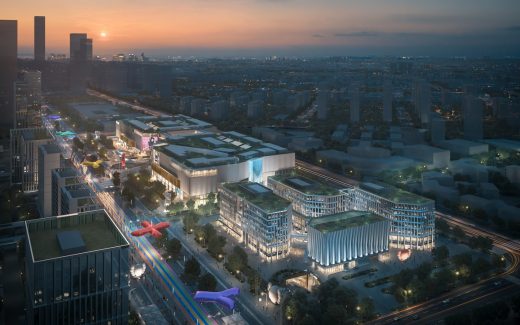 image courtesy of architects office
Nanjing Dajiaochang Airport mixed use development
International architecture practice, 10 Design, has released new plans for one of the largest transport-oriented retail destinations and most complex developments in Nanjing.  In 2020, 10 Design won an international design competition to transform developer China Fortune's 243,768sqm site into a contemporary mixed-use project.
1 Jul 2021
Grand Central Park Masterplan
Design: KCAP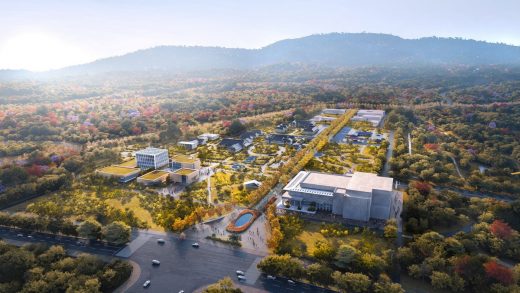 image © Frontop
Grand Central Park Masterplan Nanjing
KCAP, in cooperation with a multidisciplinary team, has won the competition for a new comprehensive masterplan for two previously separated parks in Nanjing: Zijin Mountain and Xuanwu Lake. The competition, organized by Nanjing Municipal Planning and Natural Resources Bureau and other municipal authorities, aims to launch a multilayered masterplan that unites both historical landmarks, and the ecological core of Nanjing, referred to as the new Grand Central Park Nanjing.
29 Oct 2020
Radisson Collection Resort
Design: LWK + PARTNERS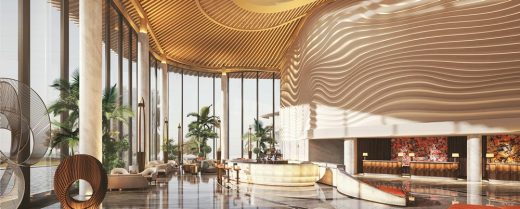 image courtesy of architects firm
Radisson Collection Resort, Nanjing
Interior spaces are a medium of cultural inheritance. Generations after generations, local wisdom has been passed on through design in everyday life. LWK + PARTNERS recently designed the interiors of Radisson Collection Resort, Nanjing in China, fusing modern hospitality with fine Chinese artisanship through a contemporary depiction of the famous local weaving tradition called Yunjin (meaning 'cloud brocade').
21 June 2020
White Square, G54 exhibition center
Design: MINGGU DESIGN
White Square Nanjing
3 Jun 2020
Pukou Community Centre
Design: BAU Brearley Architects + Urbanists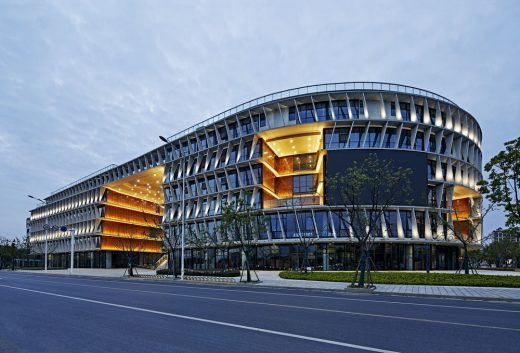 photograph : Shu He
Pukou Community Centre
Pukou Community Centre is located in a new district on the fringe of Nanjing, formulated on the green dream of modernist planning, and comprised mostly of large autonomous gated housing communities has left Pukou as a well-engineered city but one with limited opportunity for dynamic public life.
25 Mar 2020
JinLin Royal Park in Nanjing City
16 Sep 2019
Byton Office in Nanjing
14 Dec 2018
Nanjing Zendai Himalayas Center
Design: MAD Architects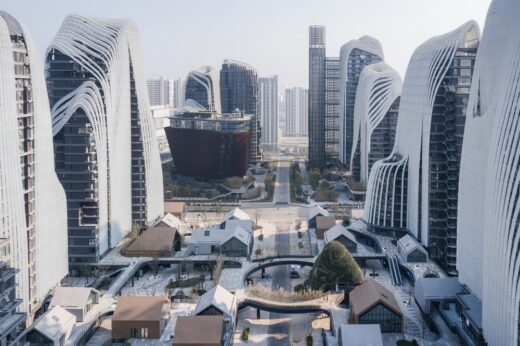 image : CreatAR Images, MAD Architects
Nanjing Zendai Himalayas Center Building
The mixed-use development has an overall building area of approximately 560,000 sqm, comprised of commercial, hotel, office, and residential programs.
4 Dec 2018
Nanjing International Youth Cultural Centre, Jiangsu
Design: Zaha Hadid Architects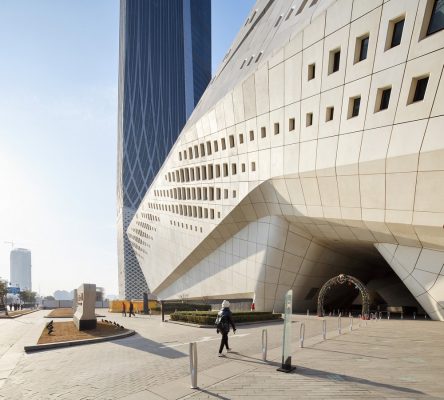 photography ® Hufton+Crow
2nd Nanjing Youth Olympic Games International Convention Center
19 Jun 2018
Futureland Puye Experience Centre and Show Office
Design: HASSELL, Architects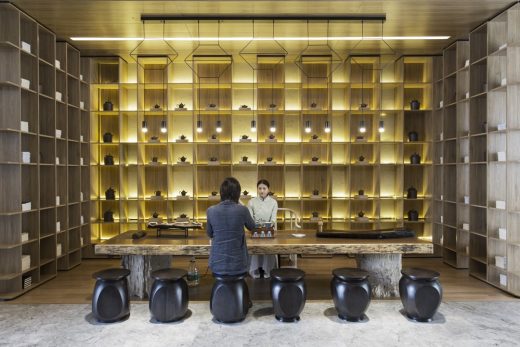 image courtesy of architects
Futureland Puye Experience Centre and Show Office
PUYUE HESHAN is a high-end property brand created by developer Future Land, who commissioned HASSELL to design an experience centre for this suite of new residential apartments.
21 Apr 2017
Purified Residence
Design: Wei Yi International Design Associates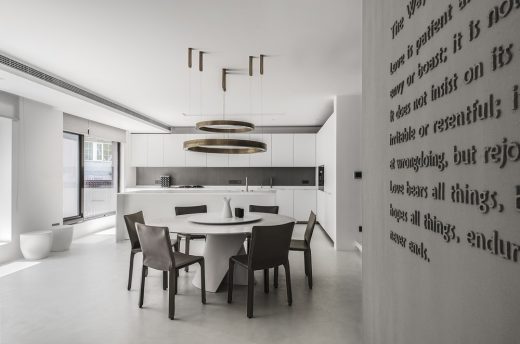 photograph : JMS
Purified Residence
In this project, white is the most important memory factor. This simple factor is placed into the space through using many different blocks and it shapes functional spaces of every floor, creating a clear, cozy and refined atmosphere appropriately.
19 Aug 2016
2nd Nanjing Youth Olympic Games International Convention Center, Jiangsu
Design: Zaha Hadid Architects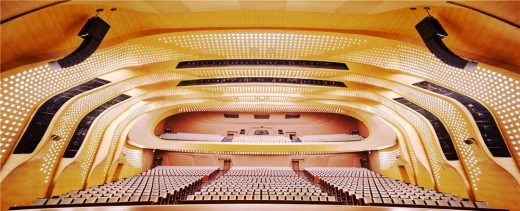 photograph : He Shu
2nd Nanjing Youth Olympic Games International Convention Center
Nanjing Youth Olympic Games International Convention Center is the 2014 Youth Olympic Game's reception center. Both architectural and interior design was done by the "master of deconstruction", Zaha Hadid, who has opened the door of time with her unique architectural expressions.
page updated 24 Aug 2016
Nanjing Financial City II Master Plan
Design: von Gerkan, Marg and Partners (gmp)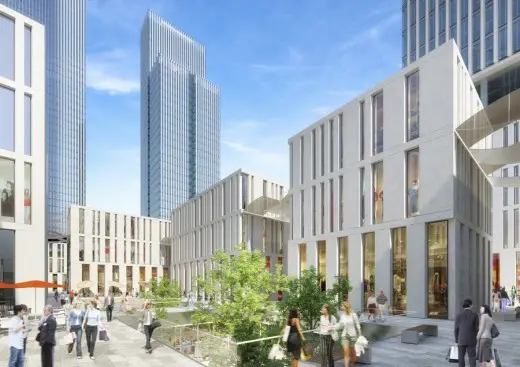 View of plaza with sunken garden © Gärtner Christ
Nanjing Financial City II Masterplan
German architects practice gmp has won the competition for Nanjing Financial City II and has been commissioned to produce the master plan and the design for the first development stage. The design for the large-scale financial center is based on intricate detail and references to Nanjing's historic city structure.
29 Jan 2016
Nanjing South Station Train Station Hubs
Design: Chen Wu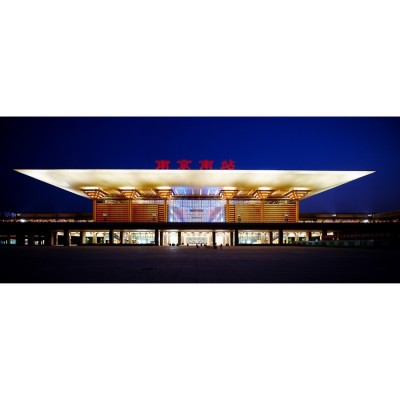 photograph : BIAD
Nanjing South Station Train Station Building
18 Apr 2014
Vanke New City Center Nanjing
14 Feb 2014
La Vita Nanjing, Chinese Development
5 Feb 2013
Nanjing Road Mixed Use Area – Qingdao Building
6 Oct 2011
Nanjing Tower Block Buildings
Architects: von Gerkan, Marg and Partners (gmp), Germany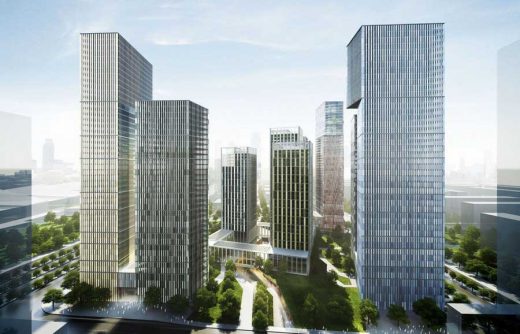 image from von Gerkan, Marg and Partners (gmp)
Nanjing Tower Buildings
Following their success in winning first prize in an international competition, the architects von Gerkan, Marg and Partners (gmp) have been commissioned to realize a tower block complex of ten buildings in the city.
17 Aug 2011
Wanda Cinemas, Luoyang + Nanjing
Design: AXIS design union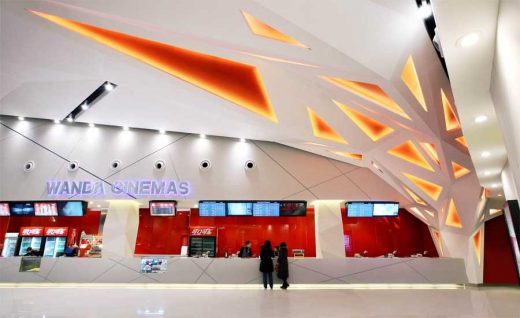 photograph : Dereck Cheung
Wanda Cinemas
11 May 2011
Nanjing Eco-housing
Design: BDP, UK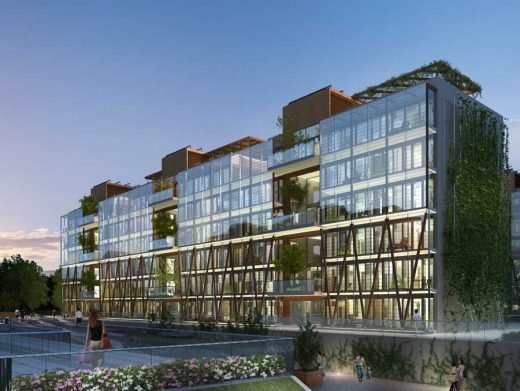 image from BDP Architects office
Nanjing Eco-housing
7 Mar 2011
Wedding Chapel Building
Design: SO — IL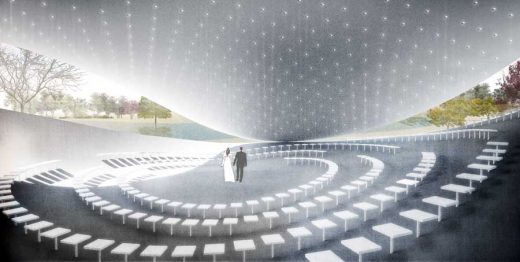 building image from SO — IL
Wedding Chapel Nanjing
2 Mar 2011
Nanjing Youth Olympic Games Masterplan
Design: Populous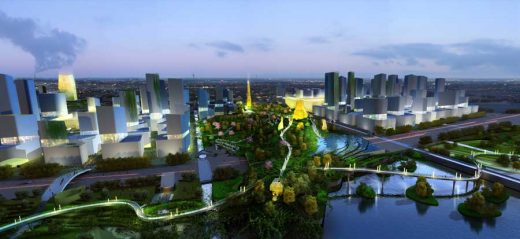 buildings image © Populous
Nanjing Youth Olympic Games
Nanjing Architecture
Major Jiangsu Province Buildings / Projects, alphabetical:
Nanjing Convention & Exhibition Centre
2003
Design: Gerkan, Marg & Partners
Nanjing Greenland Financial Center
-2009
Design: Skidmore Owings Merrill LLP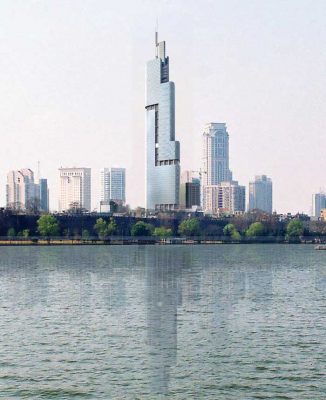 image : SOM
Nanjing Greenland Financial Center
Nanjing Medical University Buildings
2010-
Design: BDP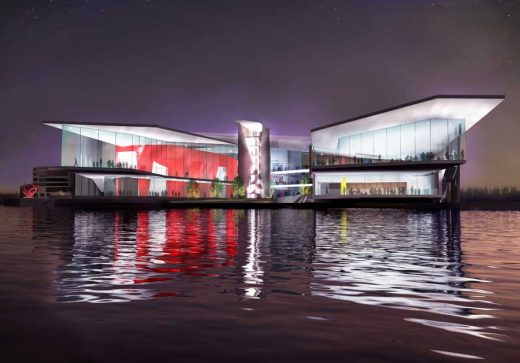 building picture : BDP
Nanjing Medical University
Nanjing Museum of Art & Architecture
2011
Design: Steven Holl Architects, USA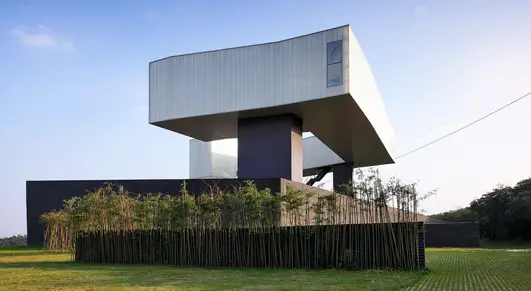 photograph © Sifang Art Museum
Nanjing Museum
Brief History: Capital of Jiangsu Province & Former capital city of Republic of China
Location: Nanjing, People's Republic of China
China Architecture
China Architecture Design – chronological list
Chinese Architect – Design Practice Listings
Yantai Experience Centre
Architects: More Design Office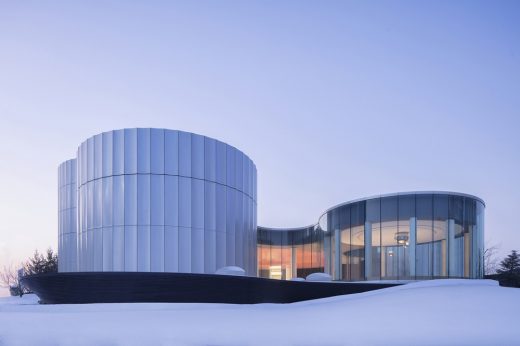 photography by Hai Zhu, Zhi Xia
Yantai Experience Centre Shandong
Beijing Olympics – The Water Cube
Design: PTW with Arup
Water Cube Beijing – famous Chinese architecture
Comments / photos for the Nanjing Building page welcome