Chinese Building, Architecture China, Property Development Projects News, Designs
Chinese Architecture : Buildings in China
Key Architectural Developments in the Far East, Asia Built Environment
post updated 21 May 2023
Architecture in China
We have 8 pages of contemporary Chinese Architecture selections with links to hundreds of individual project pages. We aim to select high quality design-led Chinese building projects.
e-architect feature completed buildings, new building designs, architectural exhibitions and architecture competitions across China.
Chinese Architecture : news + key projects (this page)
Chinese Architecture Developments : A-C
Chinese Architecture Designs : D-G
Chinese Architectural Designs : H-J
Chinese Building Designs : K-P
Chinese Architectural Developments : Q-R
Chinese Building Developments : S
Chinese Buildings : T-Z
Chinese Building Developments – by city


Tianjin image from de Architekten Cie.
Major recent Chinese Buildings include the Bird's Nest – Chinese National Stadium Building (2008), Beijing Olympics – The Water Cube (2008), Guangzhou Opera House (2011), Central Chinese Television Tower (2008) and the Chengdu Museum Building (-).
Comments on our Chinese buildings selection welcome. These Chinese buildings are not selected due to their fame but because each in its way achieved a milestone and signified strong creative achievement.
Major Recent Chinese Building Designs
Architecture Designs in China – latest additions to this page, arranged chronologically:
21 Aug 2017
Jingshan Boutique Hotel, Hangzhou
Design: Continuation Studio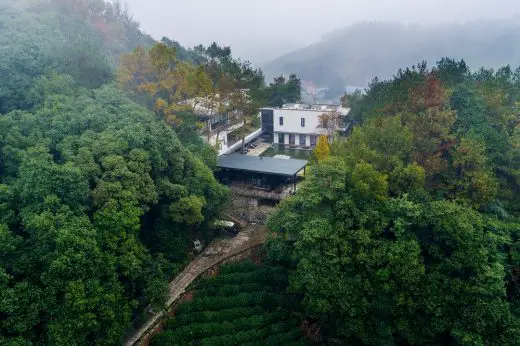 photo courtesy of architects office
New Hotel Building in Hangzhou
25 Jul 2017
Haifeng Da'an Temple, Lotus Mountain, Haifeng town, Shanwei City, Guangzhou Province
Design: Shaanxi Lvyun Ancient Landscape Architecture Engineering Co., Ltd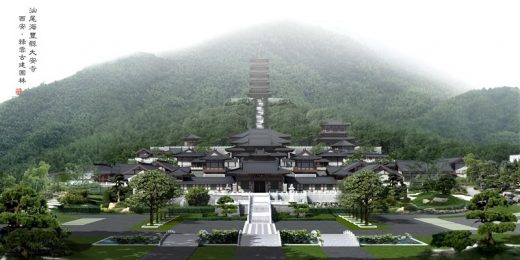 photo courtesy of architects office
Haifeng Da'an Temple, Guangzhou
9 Jun 2017
Public Square and Passenger Facilities, Shenzhen, southeastern China
Design: Architectural design and Research Institute of SCUT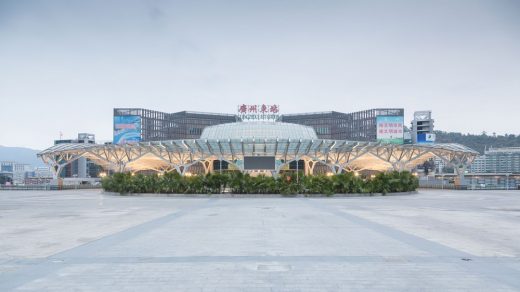 photograph : Liky Lam
Public Square and Passenger Facilities Shenzhen
Shenzhen Stock Exchange Headquarters – 8 Oct 2013
Design: OMA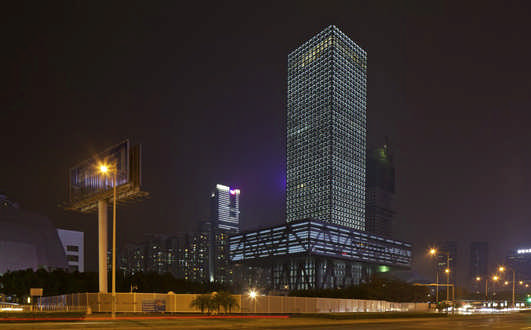 image courtesy of OMA ; photography by Philippe Ruault
SZSE's three-storey base is cantilevered 36m above ground. This format provides a public space below, and a roof garden atop. The dramatic positioning creates a commanding form in the city.
Emporis Skyscraper Award 2012 shortlisted – 17 Sep 2013
Pearl River Tower



photo SOM © Si-ye Zhang
Zhengzhou Greenland Plaza



photo SOM © Si-ye Zhang
Harbin Twin Towers, Haxi District, north east China – 2 Sep 2013
Design: spatial practice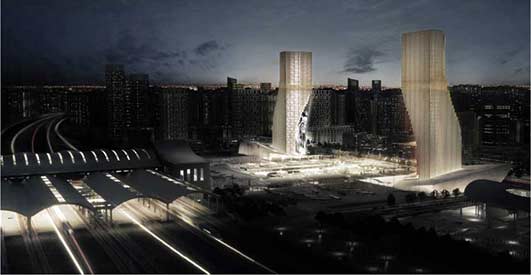 image from architect
spatial practice has designed the Harbin High Speed Railway (HSR) west train station Twin Towers. The iconic project includes: office spaces, residential apartments, retail spaces and a hyper link to a new underground infra-structural hub.
Shanghai Pudong Development Bank Suzhou Branch, eastern China – 2 Sep 2013
Design: FTA Architectural Design Group



image from architects
The SPD Bank building in Suzhou is located at the crossing of Zhongyuan Road and the River in Suzhou Induatrial Park. The building is composed of a three story high podium building and a 15 story high tower in the form of a board.
Bayuquan Vanke Exhibition Center, Liaoning Province, north east China – 22 Aug 2013
Design: Vector Architects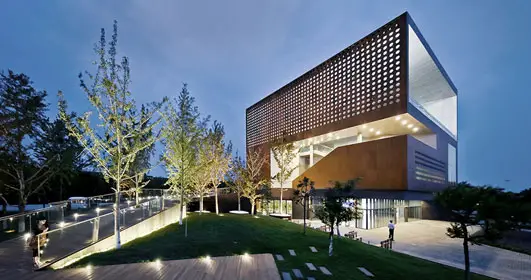 photo : Shu He Photo, Shengliang Su
The site is flat and vast, with the endless ocean view at one side. The "height" and "distance", consequently, becomes the key factors through the concept generating process.
Bayuquan Poly Theatre, Yingkou Plaza, Liaoning Province, north east China – 9 Aug 2013
Design: SH-DSD


image from architect
Bayuquan Poly Theatre has 3 levels above the ground level. The main construction contains a large Dance Theatre which is specific for dancing and musical performaces with a capacity of 1600 people and a multi-functional theatre which can hold 800 people for drama play.
Bayuquan Library Yingkou Plaza, Liaoning Province, north east China – 9 Aug 2013
Design: SH-DSD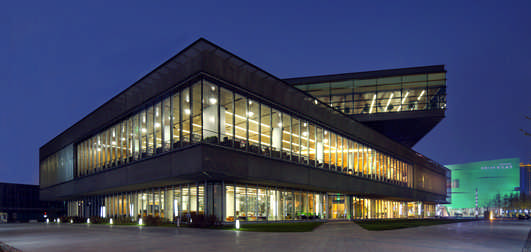 photo from architect
Bayuquan library is another project designed by DSD in Bayuquan near Bayuquan Theatre. The idea of this design was from two rotated books. And the rotated blocks provide a best view. The library is mainly made up of 3 parts including the basement block containing 2 levels, the cantilever (3rd floor) and the connection.
Pingtan Art Museum, China – 12 Jul 2013
Design: MAD architects



image from architect
Pingtan is the largest island in the Fujian province, and also the Chinese island nearest to Taiwan. In 2010, the 'Comprehensive Experimental Zone' project in Pingtan was officially launched; the island is expected to become the primary location for trade and cultural communication between Taiwan and the mainland.
Lan Kwai Fong Development, Wuxi, eastern China – ground breaking news – 12 Jul 2013
Design: Benoy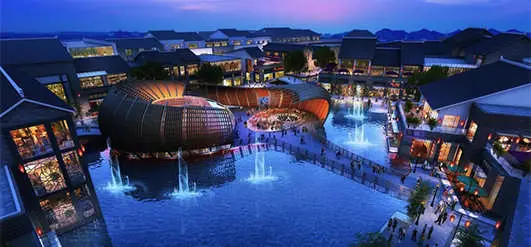 image from architect
Simon Blore, Global Managing Director of Benoy explained the design philosophy of the project, 'We have ensured unity and harmony in the overall architectural design of Lan Kwai Fong Wuxi and are confident that the development will be the iconic cultural and entertainment landmark of Taihu New City.'
Parc 66, Jinan, north east China – award news
Design: Benoy



image from architect
Parc 66 China – 20 May 2013
Benoy is extremely honoured to announce that Parc 66 has won the 2013 Best of the Best VIVA (Vision-Innovation-Value-Achievement) Sustainable Design and Development Award. The award was presented as part of the International Council of Shopping Centre's (ICSC) global awards program at the ICSC annual RECon Conference in Las Vegas.
Museum of Handcraft Paper, Gaoligong, province of Yunnan
Design: Trace Architecture Office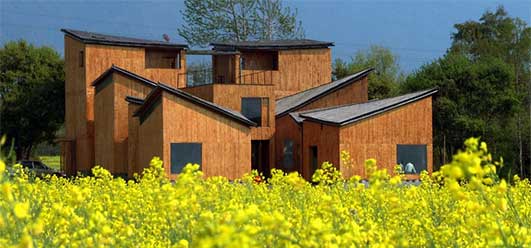 photo : AKAA
Museum of Handcraft Paper – 1 May 2013
The museum building is located close to a village at the foot of Gaoligong Mountain in an area of significant Muslim presence. This building provides exhibition space for ancient paper craft and artefacts produced locally.
Sanya Super Market, Hainan, southern China



image from architect
Sanya Supermarket Building Hainan – 29 Apr 2013
The idea is now to place the main shopping volume underground. The Super Market can directly draw its customers from the large basement parking below the residential buildings. In addition delivery and logistics can now disappear underground as well.
Dalian Library Building, north east China
Design: Preston Scott Cohen, Inc.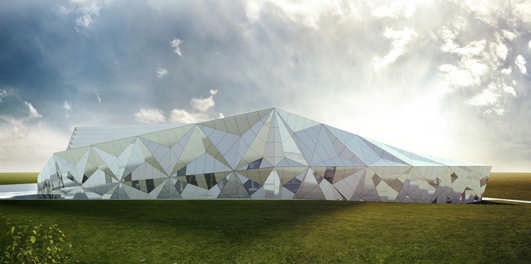 image from architect
Dalian Library China – 26 Apr 2013
Datong Library aims to resolve the tension between the two major roles of a central library: as a place of community promenade and gathering and as an archive of knowledge and quite place of study. The form of the building embodies this tension, centering on a reflected pair of exceptional spaces.
Hongqiao Airport Central Business District, Shanghai, easterm China
Design: MVRDV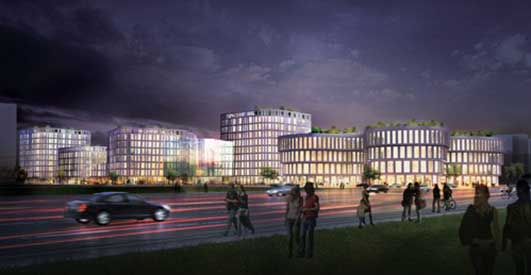 image from architect
Hongqiao Airport CBD – 25 Apr 2013
Construction starts on CBD development at Shanghai's mostly domestic airport Hongqiao.
National Maritime Museum, Tianjin, north east China
Design: HAO + AI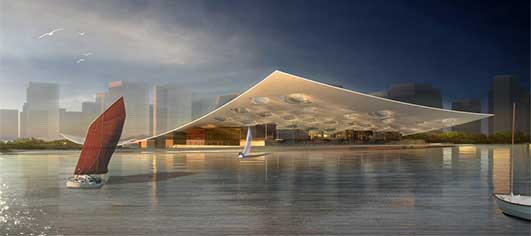 image from architect
National Maritime Museum Tianjin – 19 Apr 2013
This design proposal outside the city of Tianjin is designed to contain both new and old maritime items with a focus on celebrating the historical achievements of Chinese naval exploration. HAO and AI, along with three other architectural teams, were invited to participate in the National Maritime Museum competition.
Forte Nanshan, Chongqing, central China
Design: SPARK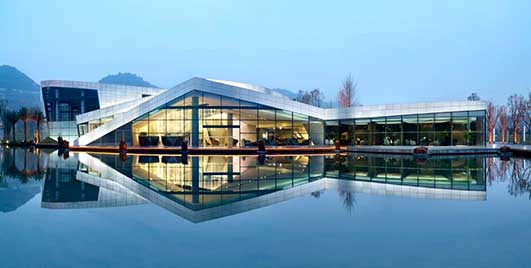 photo : Jonathan Leijonhufvud / Fernando Guerra
Forte Nanshan – 18 Apr 2013
SPARK's playful Clubhouse in Chongqing has opened to the public. The Clubhouse is the first part of a series of leisure facilities SPARK designed for a large villa community in the outskirts of Chongqing.
Guangzhou Science Town, Guangzhou, southern China
Design: SPARK



photo : Guangzhou Vanke
Guangzhou Science Town – 17 Apr 2013
Located at the heart of East Guangzhou's Science Town district Spark's project comprises a retail street and a SOHO residential development. A contemporary interpretation of the Xintiandi (Heaven on Earth) urban village a car-free shopping, eating and residential district is composed of 2 storey shop lots that face the highway and a central alley and public square.
China Wood Sculpture Museum, Harbin, northern China
Design: MAD Architects



photo : Iwan Baan
China Wood Sculpture Museum Building – 10 Apr 2013
This 200m long Chinese building by celebrated architects office, is unusually located in a densely residential area, creating a 'cultural' tension with the built context. Set in a thriving metropolitan district surrounded by a densely populated neighborhood and residential complexes it seems out of place.
National Convention and Exhibition Centre, Tianjin, north east China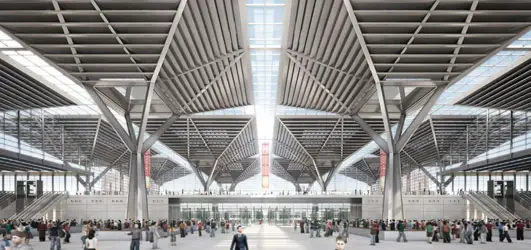 image from architects
Tianjin National Convention and Exhibition Centre – 19 Mar 2013
With their design for this major new building, the architects won the 1st prize of an international design competition, beating FUKSAS, HHP, NBBJ/BIAD and others. In addition to Shanghai and Guangzhou, Tianjin is now the third city where an exhibition centre of international importance will be built. With a total square area of 1.2 million square metres and dedicated exhibition floor space of 400,000 square metres, one of the world's largest exhibition centres will be created in the east of China over the next few years.
Nanjing Road Development Qingdao, eastern China
Design: Santiago Parramón, RTA-Office in collaboration with Tengyuan Design Institute Co.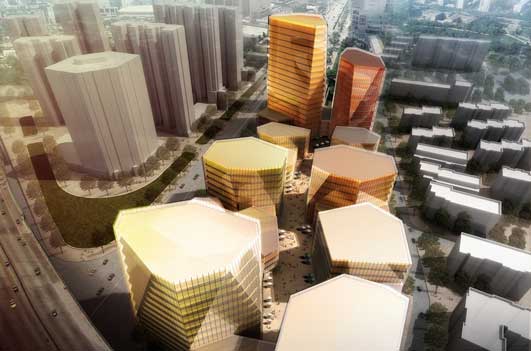 image courtesy of RTA-Office
Nanjing Road Development Qingdao – 5 Feb 2013
The mixed-use project occupies an entire block of the city of Qingdao. We have studied thoroughly the environment and character of the city to propose a project that the city can feel its own project and that has a unique character.
Bamboo Courtyard Teahouse, ShiQiao garden, Yangzhou, north of Shanghai, eastern China
Design: Harmony World Consulting & Design (HWCD)


photograph : T+E
Bamboo Courtyard Teahouse – 22 Jan 2013
A Chinese teahouse designed by Chinese architect Sun Wei, HWCD.
Chengdu Tianfu Cultural Centre
Design: Massimiliano and Doriana Fuksas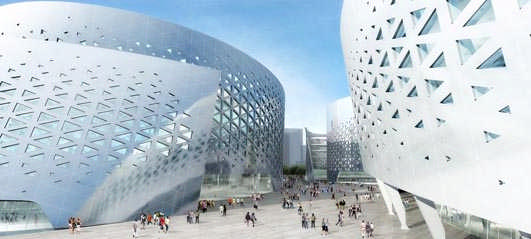 image © Studio Fuksas
Chengdu Tianfu Cultural Centre – 21 Dec 2012
Massimiliano and Doriana Fuksas have won the international competition for the construction of the first cultural center in the city of Chengdu. This city is the capital of Sichuan province and was hit by a terrible earthquake in 2008.
Tower of Ring, Tianjin
Design: EASTERN design office + Kawaguchi & Engineers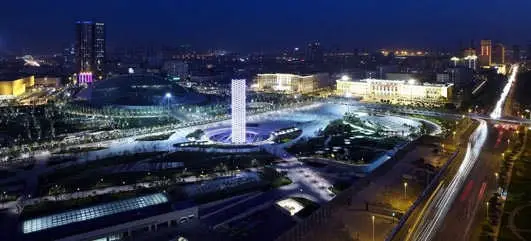 photograph : Koichi Torimura
Tower of Ring – 11 Dec 2012
People forget which one they look up to: the tower or the sky. It has an eye-opening shape, its beginning and ending is invisible. It is designed like a flow of stream, yet the form is very simple.
No observatory to climb up.
Sky City Tower – World's Tallest Building, Changsha
Construction is due to start in December on the world's tallest building, China, which will be completed in just 90 days.



World Tallest Building image © BROAD Group
World Tallest Building – 26 + 23 Nov 2012
Height: 838 m high; Floors: 220 storeys
Expected completion: Mar 2013
Qintai Center, Wuhan, east China
Design: Adrian Smith + Gordon Gill Architecture



image from architects
Chinese skyscraper Building – 2 Oct 2012
Adrian Smith + Gordon Gill Architecture is pleased to announce that it has won an international competition to design Qintai Center, a 248-meter (814-feet) tall, high-performance corporate headquarters tower and related podium structure in Wuhan, Hubei Province, China. AS+GG's winning entry was selected over competing schemes from firms based in the Netherlands, Japan and Hong Kong.
Oct Design Museum, Shenzhen, southern China
Design: Studio Pei-Zhu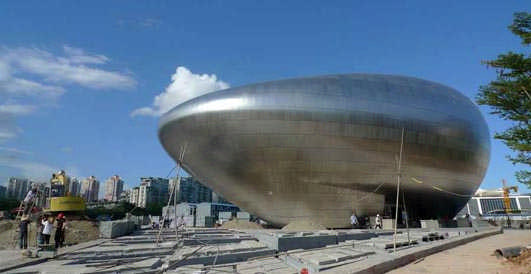 photo : Studio Pei-Zhu
Oct Design Museum China – 30 May 2012
A surreal space for fashion shows, product design exhibitions and automotive shows.
Chinese Buildings – Major Designs
Chinese Architecture Designs, alphabetical:
Beijing Olympics Aquatic Building – The Water Cube
PTW with Arup



photograph © Arup_Ben McMillan
Water Cube Beijing
Bird's Nest – Chinese Nat. Stadium Building
Arup, Herzog & De Meuron, China Architecture Design & Research Group



photo © Arup_Ben McMillan
Birds Nest Beijing
British Pavilion Shanghai 2010
Heatherwick Studio



picture from architect
Shanghai Expo Building
Capital Airport, Beijing
Foster + Partners


image : Nigel Young_Foster + Partners
Chinese Airport Building
Central Chinese Television Tower
Rem Koolhaas Architects / OMA



picture from architect
Chinese TV Building, Beijing
Chengdu Complex, southwest China
Design: Steven Holl Architects



photo : Iwan Baan
Sliced Porosity Block
Chengdu Museum
Sutherland Hussey



picture from architect
Chengdu Museum
China World Trade Tower, Beijing
Skidmore Owings & Merrill (SOM)



photo : SOM, architects
China World Trade Tower
CITIC Headquarters Tower, Hangzhou
Foster + Partners



image © Foster + Partners
CITIC Headquarters China
Congress Center, Hangzhou
Peter Ruge Architekten



photo : Jan Siefke
Congress Center Hangzhou
Dalian Football Stadium
UNStudio



image from architect
Dalian Football Stadium
Dalian International Conference Center
Coop Himmelb(l)au



render : COOP HIMMELB(L)AU
Dalian International Conference Center
Galaxy Soho Beijing
Zaha Hadid Architects



image from architects
Galaxy Soho Beijing
Guangzhou Opera House, Guangzhou
Zaha Hadid Architects



photo : Virgile Simon Bertrand
Guangzhou Opera House
Guangzhou TV Tower
Information Based Architecture



photo : Information Based Architecture
Guangzhou TV Tower
Lafayette 148, Shantou, Guangdong
Studio for Architecture



photograph : But-Sou Lai
Lafayette 148
Liangzhu Culture Museum, Zhejiang
David Chipperfield Architects



photograph © Christian Richters
Liangzhu Culture Museum
Linked Hybrid, Beijing
Steven Holl Architect



photo from SGLA
Linked Hybrid
Museum of Contemporary Art Shenzhen
Coop Himmelb(l)au



image : SILKROAD Digital Technology Co. LTD
Shenzhen Museum of Contemporary Art Planning
Nanjing Museum of Art & Architecture
Design: Steven Holl Architects



picture from architect
Nanjing Museum
Phoenix International Media Center
BIAD UFo



picture from architects
Phoenix International Media Center, Beijing
Shanghai Tower Skyscraper Building
Marshall Strabala architect



picture from architect
Shanghai Tower
Shenzhen 4 in 1 Tower Buildings Design
MVRDV



image © MVRDV
Shenzhen 4 in 1 Towers
Shenzhen Stock Exchange HQ
Office for Metropolitan Architecture



image from OMA
Shenzhen building
Shenzhen Vanke Center Buildings
Design: Steven Holl Architects



picture from SHA
Shenzhen Vanke Center : Competition win
Z15 Tower, Beijing
TFP Farrells, BIAD, ARUP and MVA



picture from architect
Z15 Tower
More New Chinese Architecture online soon
Location: China, Eastern Asia
Architectural Designs in China
Chinese tower : Shenzhen building
Hong Kong Architecture : selection of major HK Buildings
China Green Building Forum : Shanghai Architecture Event
Buildings / photos for the contemporary Chinese Architecture page welcome