First People's Hospital, Chinese Healthcare Building Project, News, Design, Property Image
First People's Hospital Development, Foshan
Chinese Design Competition Winners – design by HMC Architects, China
11 Nov 2009
First People's Hospital Foshan
East-West Team Wins Design Competition for 1,500-Bed Hospital in China
First People's Hospital Development in Foshan: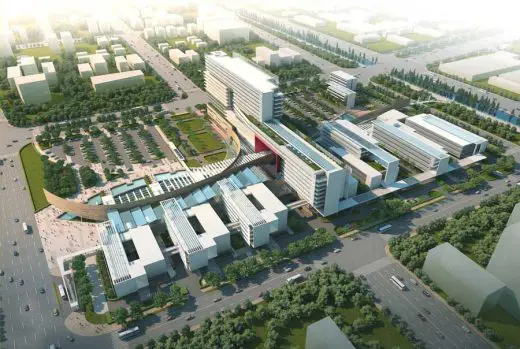 image by HMC Architects and Shunde Architectural Design Institute
The winning concept, designed by HMC Architects and Shunde Architectural Design Institute, integrates Eastern medicine and culture with Western innovation in healthcare planning and design to serve 6,000 outpatient visits per day.
LOS ANGELES, Calif., November 2009—Things are changing in China—and not just in Shanghai and Beijing—but all over the country. It's growing stronger, and in turn, China is improving the quality of the vital services they provide their people—including essential services that they deem strengthen the productivity and longevity of their country such as healthcare.
Recognizing that efficient healthcare starts with effective design, the Chinese government held a design competition that invited five teams from more than 50 submittals from all over the world to compete for a 200,000-square-meter (2,150,000-square-foot) hospital project: The First People's Hospital in the Shunde District of Foshan, China.



images by HMC Architects and Shunde Architectural Design Institute
On August 27, 2009, the Shunde District government announced the winners of the design competition—a team consisting of US-based HMC Architects and China-based Shunde Architectural Design Institute.
The team's winning concept offers a hospital that celebrates the longstanding traditions of Eastern medicine, culture, and design, as well as the innovative Western approach to healthcare design that minimizes hospital errors, maximizes productivity, promotes efficiency, and incorporates sustainable design choices. The plan represents the next step in the evolution of healthcare delivery.
The design itself combines a series of organized buildings linked by a dynamic, curved spine element, which creates a grand interior promenade and 'eco-atrium,' connecting and harmonizing the elements of the hospital. A tower intersects the spine and marks the location of the main plaza and serves as the symbolic heart of the campus. The curving spine structure and main tower work together to organize the site into four distinct quadrants—public access, outpatient services, support space, and quiet zone. The separation of these functions serves to avoid conflicts, improve privacy, and enhance wayfinding.
By incorporating indoor and outdoor green spaces and healing gardens, the campus honors both Eastern and Western ideas regarding the therapeutic properties of nature and provides places for patient healing, family gathering, and privacy.
Local materials and products used to construct the facility will help stimulate the local economy and add to the sustainable features, which include recycled water features for cooling. The water features also serve to mask ambient noise and provide visual comfort for patients.
The hospital campus will be a vital component of the new master planned urban community in which it resides, tying directly into the urban transportation system for patient access.
Abundant natural light in the interior spaces serves to support the healing environment and reduce energy consumption. Additional sustainable design features include photovoltaic panels on the roof, chilled beams in the eco-atrium, and non-toxic paints throughout the hospital to limit indoor air contaminants.
Hal Sibley, AIA, LEED® AP, managing principal for HMC Architects' Los Angeles office, noted that the strategic teaming between HMC and Shunde Architectural Design Institute was critical to the design's success. "We worked together as a coordinated team—learning from each other and integrating our strengths. We found that good design is a common language that transcends language and cultural differences."
The teaming also offered efficiencies in working around the clock in two time zones, producing a winning design in record time—less than 45 days.
According to HMC President and CEO, Randy Peterson, FAIA, LEED AP, "This win is a
significant achievement. We are honored to contribute to this important project for the people of China and strategically expand our international practice through our commitment to design excellence. Improving the quality of healthcare delivery is a global issue and this type of collaboration is needed to advance healthcare around the world."
First People's Hospital China Development images / information from HMC Architects
Location: Foshan, China
Architecture in China
China Architecture Designs – chronological list
HMC Architects > Design can change the world.
With an established reputation as an award-winning design firm and thought leader for healthcare, education, and government facilities, HMC Architects is one of the most prominent California-based planning and design firms engaged in projects around the world.
Chinese Buildings
Comments / photos for the First People's Hospital Chinese Architecture page welcome