Gunther Domenig, Asutrian Architects, Graz Buildings News, Design Office Projects
Günther Domenig Architect : Architecture
Key Buildings – Information re Graz architect : Architektur Österreich
13 May 2022
Architecture Exhibition Guenther Domenig: DIMENSIONAL, Austria
Das Domenig Steinhaus in Steindorf am Ossiacher See design by Günther Domenig: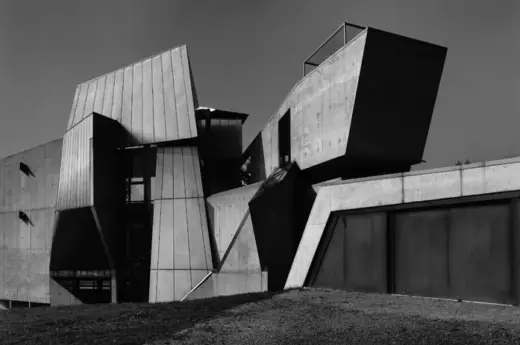 photo © Gerald Zugmann
Günther Domenig Architecture Exhibition
Located at four unique venues with a packed programme over four months, this Carinthia-wide exhibition shows for the first time the spectacular oeuvre of one of Austria's most prominent architects: Günther Domenig.
Exhibitions at the MMKK (Museum of Modern Art Carinthia) and the Architektur Haus Kärnten (Architecture House Carinthia) encompass a wide range of Günther Domenig's artistic and architectural body of work.Two of his key works, the Domenig Steinhaus and Heft/ Hüttenberg, will themselves become exhibition objects and play host to a comprehensive programme.
The exhibitions will take place from June 10 to October 16, 2022. Günther Domenig: DIMENSIONAL is an exhibition at four locations in Carinthia that show the Austrian architect's work as a comprehensive presentation, contextualised through contemporary artistic and architectural positions.
Exhibition Dates:
June 12 – October 16, 2022
Tues – Sun, 10 am – 6pm
The MMKK (Museum of Modern Art Carinthia) explores the relationship between art and architecture, while the Architektur Haus Kärnten (Archictecture House Carinthia) focuses on Günther Domenig's impact on contemporary architectural production.
The Domenig Steinhaus and Heft / Hüttenberg are buildings designed by Günther Domenig and therefore themselves exhibition objects; these locations will be "activated" by artists.
The physicality of the Domenig Steinhaus will be investigated through the medium of performance, curated by the Tanzquartier Wien.
The former regional exhibition centre at Heft will be opened up to the public again for the first time in decades and features contemporary artistic interventions and works by students from selected art and architecture universities.
The exhibition is accompanied by two books published by JOVIS Verlag.
The first publication In Resonance, published in June 2022, creates a dialogue between over thirty Domenig buildings photographed by Gerhard Maurer and an essayistic exploration by the contemporary writer Anna Baar.
The second publication In Reflection documents retrospectively the exhibitions, the lectures and the artistic works and will also include texts by relevant architectural theorists. This and other content will be made permanently accessible to a broad public in the online archive from June 10, 2022 onwards.
In Resonance available in June 2022
In Reflection available in December 2022
German / English / Slovenian
An Architektur Haus Kärnten project in cooperation with the Province of Carinthia together with the Museum Moderner Kunst Kärnten, the STEINHAUS Günther Domenig Privatstiftung and Heft/ Hüttenberg.
post updated 2 May 2021
Günther Domenig – Major Building
Central Savings Bank Vienna, Austria
Date built: 1979
Wild rippling facade, utterly uncontextual – anthropomorphic organicism.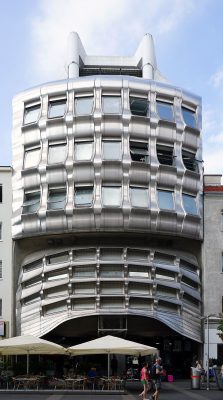 photograph : Carl Ha, CC BY-SA 4.0 , via Wikimedia Commons
Günther Domenig – key buildings – all Austria
Educational Academy, Graz Eggenberg
Dates built: 1963-69
Günther Domenig with Eilfried Huth
Catholic Church Centre, Oberwart, Steiermark
Dates built: 1965-69
Günther Domenig with Eilfried Huth
Multipurpose Hall, Graz Eggenberg, Styria
1972/3-77
Central Savings Bank, Vienna – aka Z Bank or Zentralsparkasse Bank, Wien
1974/5-79
Technical University, Graz
1983-93
Stone House, Ossiacher See (Lake Ossiach), Kaernten (Carinthia)
1986-
Founder Innovation Centre, Völkermarkt, Carinthia
1993-95
More projects by Günther Domenig online soon
Stonehouse (architectural design by Guenther Domenig) on Uferweg #31, municipality Steindorf am Ossiacher See, district Feldkirchen, Carinthia, Austria, EU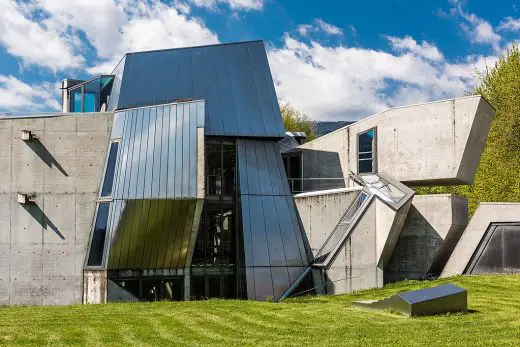 photo © Johann Jaritz / CC BY-SA 4.0, CC BY-SA 4.0 , via Wikimedia Commons
Günther Domenig – buildings
Designs, reverse chronological:
AHS Wolkersdorf
2000
Dokumentationszentrum Reichsparteitagsgelände Nürnberg, Germany
1998
Kraftwerk Río Ebro, Xerta
1998
National Exhibition Leoben, Upper Styria, Austria
1997
Kunstakademie Münster, Westphalia, north Germany
1997
National hospital Graz-West (Landeskrankenhaus Graz)
1997
Augartenhotel Graz
1996
Landesausstellung Steiermark, Ausstellungspavillon Murau
1995
Leoben – Museum extension
1995
Klagenfurt City Theatre (Stadttheater Klagenfurt), Carinthia, Austria
1995
Heidenbauer Werk, Wiener Neudorf
1994
GIG Völkermarkt Industriepark
1993
Hauptschule Simonsgasse, Wien – Essling
1993
Bank Austria AG, Villach
1993
Karl Franzens Universität, Graz
1993
Landesausstellung Kärnten, Hüttenberg
1993
Landesausstellung Kärnten – Ausstellungsgebäude am historischen Hochofen in der Heft, Hüttenberg, (exhibition building at the historic blast furnace), 1993, taken on 6 May 2008: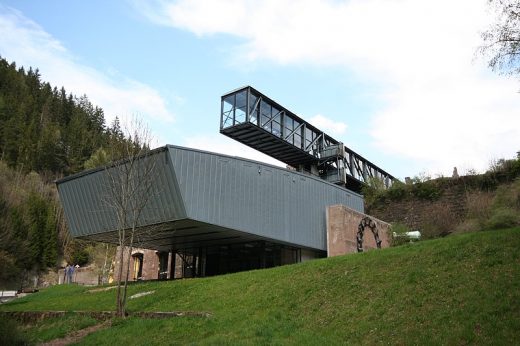 photograph : JJ55, CC BY-SA 3.0 , via Wikimedia Commons
Dr. Pelzmann house, Klagenfurt, Carinthia, Austria
1989
Renaissance Hotel, Salzburg, Austria
1988
Murkraftwerk Frauenburg / Unzmarkt
1987
Z Dietrichsteinplatz Graz
1981-86
Neufeldweg Housing estate, Graz
1984
Technische Universität, Steyrergasse
1984
Rikki Reiner – fashion store / offices, Klagenfurt, Carinthia, Austria
1983-84
Technische Universität Graz – Extension building
1983
Klagenfurt Dockyard
1979-82
Z Cafe, Vienna, Austria
1982
Humanic Leoben
1980
Z-Bank, Vienna
1979
Haus Eigner, Neunkirchen
1978
Swimming Pavilion, Munich
1970
– For 1972 Olympic Games
Catholic Church Centre, Oberwart (Katholisches Kirchenzentrum)
1966
Academy, Graz (Pädagogische Akademie)
1964
More Günther Domenig buildings online soon
Moses & Aaron Scenery, Graz
1998
Location: Graz, Styria, Austria, central Europe
Gunther Domenig Practice Information
Günther Domenig studio based in Graz, Styria, Austria
Günther Domenig (1934-)
Austrian architect
Born in Klagenfurt, Austria – famous for bold, organic architecture
Günther Domenig – Education
TU Graz (Technical University in Graz), Austria: Architecture
1953–59
Günther Domenig – Early Career
Worked in various architecture practices
1960–64
Partnership with Eilfried Huth
1963–73
Professorship at TU Graz
1980-
Architekten Domenig & Wallner ZT GmbH are based in Graz
Website: https://en.wikipedia.org/wiki/G%C3%BCnther_Domenig
20th century Building Designs
Modern Architecture
Similar architects to Günther Domenig include Coop Himmelb(l)au, Morphosis Architects, Bernard Tschumi and Daniel Libeskind
Buildings for Günther Domenig Architecture page welcome
Austrian Building Designs
Austrian Architecture Designs – architectural selection below:
Austrian Architecture Design – chronological list
Vienna Architecture Walking Tours by e-architect
Austria Architect : Studio Listings
Parish church in Mank, Mank, district of Melk, Lower Austria
Design: X Architekten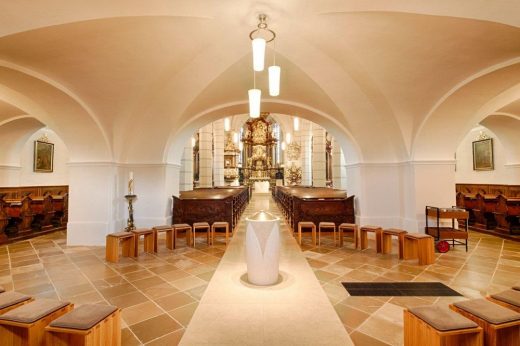 photo : LITE Studio
Parish church in Mank
Swarovski Manufaktur, Wattens, Tyrol
Architects: Snøhetta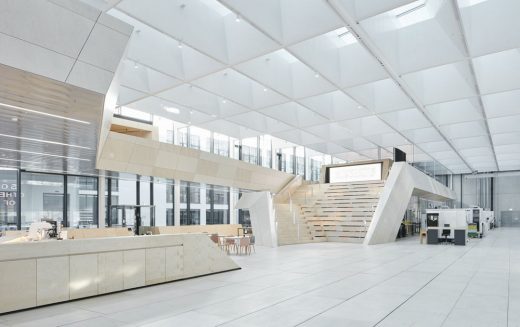 photography © David Schreyer
Swarovski Manufaktur in Wattens, Tyrol
World Museum, Vienna, Austria
Design: Hoskins Architects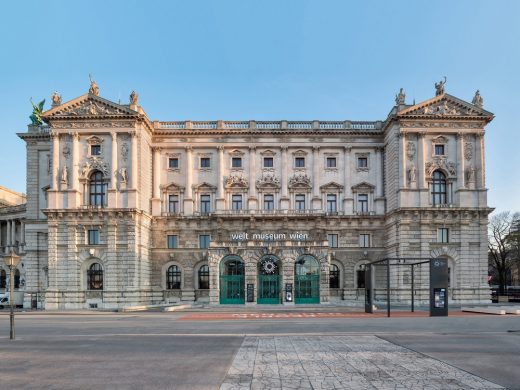 photography © Pierer.net/ARGE Ralph Appelbaum Associates/Hoskins Architects
World Museum Vienna Building
Comments / photos for the Günther Domenig Architect, Austria, page welcome