Design: Foreign Office Architects, FOA Studio, Buildings Images, Designs, Photos, Projects
FOA – Foreign Office Architects
Farshid Moussavi + Alejandro Zaera Polo, London, England, UK
post updated 19 Apr 2021
FOA – Foreign Office Architects News
Alejandro Zaera Polo
born in Madrid, Spain – 1963
Farshid Moussavi
born in Shiraz, Iran – 1965
A recent building by Farshid Moussavi, completed post F-O-A:
Museum of Contemporary Art Cleveland, Ohio, USA
Design: Farshid Moussavi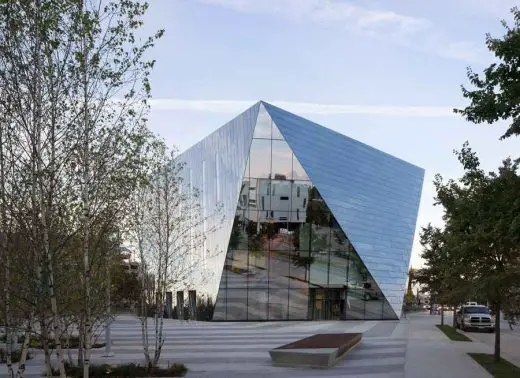 photo : Dean Kaufman
Museum of Contemporary Art Cleveland
FOA – Foreign Office Architects Education
Alejandro Zaera Polo
1981-88 ETS of Architecture, Madrid, Spain
1988-90 Harvard Design School, USA – Masters degree in Architecture
Farshid Moussavi
1983-86 University of Dundee, Scotland, UK
1986-87 Renzo Piano Building Workshop, Genoa, Italy
1987- Bartlett School of Architecture, University College London, UK
1988-90 Harvard Design School, USA – Masters degree in Architecture
1991 Rem Koolhaas / Office for Metropolitan Architecture, Rotterdam, Netherlands
Foreign Office Architects -Teaching
1993- Architectural Association, London, UK
University of Princeton, USA
UCLA, USA
Columbia, USA
2002 – Zaera Polo : Dean of the Berlage Institute in Rotterdam, Netherlands
2002 – Moussavi : Professor at the Academy of Fine Arts, Vienna, Austria
Foreign Office Architects – Books
Foreign Office Architects: Working, University of Michigan Press, 2005
Albert Ferre, The Yokohama Project: Foreign Office Architects, Actar, 2003
Agneta Eriksson, Foreign Office Architects, Eriksson + Ronnefalk Forlag, 2001
Foreign Office Architects – Exhibitions
Breeding Architecture
Date built: 2004
ICA – Institute of Contemporary Arts, London
First UK exhibition
Designing Modern Britain – Design Museum
Date built: 2006
Design Museum, London
8th Venice Biennale – 2002
FOA exhibition : British Pavilion
Yokohama Port Terminal
Key Buildings by FOA
Yokohama International Port Terminal, Tokyo, Japan
Date built: 2002



photograph from Foreign Office Architects via RIAS in 2004
Yokohama Ferry Terminal : architecture competition winner
Auditoria Park, Barcelona, Spain
Date built: 2004



photo © Adrian Welch
Auditoria Park Spain : Parc dels Auditoris
Birmingham Library>, central England, UK
Date: 2008-
Shortlist of 7 architect practices
Birmingham Library Competition
Hadspen Parabola – Competition Winner, Somerset, England, UK
2007-



image from Foreign Office Architects
Hadspen Parabola
Masterplan for 2012 Olympic Games, east London
2012
Selected in 2004 with Allies & Morrison, HOK Architects and EDAW
London Olympic Games Architecture
Ravensbourne College building, London
2006-11



photograph © Benedict Luxmoore
Ravensbourne College
Trinity EC3 tower, London, UK
2007-



image from Beetham
Foreign Office Architecture : for Beetham, revised due to new protected view.
Foreign Office Architects : main page on FOA
Location: London, England, UK
F-O-A Foreign Office Architects Practice Information
Foreign Office Architects Lecture at RIAS Convention 2004 by Farshid Moussavi:
Foreign Office Architects, London
Farshid studied in Dundee for her first three years at University and proposed to show us four infrastructure projects by Foreign Office Architects. She claimed to be 'more interested in the plastic aspect of architecture'; 'we try to compose new aggregates, a synthetic material…geometry in our projects has been a very important tool…constantly layering decisions…at a certain moment the project freezes…precise crystallisations of decisions'.
First we were shown a simple flowing train station in Korea, then a competition in Venice that was not judged as the 'courier didn't deliver that day, lost to Norman Foster with a shed'. Next came Barcelona Forum 2004 proposals by Foreign Office Architects on the seafront. The architecture is generated by a complex tiling geometry that is 'not matched by nature but generative of it': lots of diagrams interspersed with photos and sketch images show a very logical and technologically-rooted practice. I'm reminded of Future Systems and, to a certain extent, my former employer Eva Jiricna. The earth 'dunes' are 'grown out of very rational decisions, a geometrical exploration', organic and rationalist in the same breath.
Major building by F O A Architects – Yokohama Ferry Terminal, Japan:



Yokohama Ferry Terminal photo from Foreign Office Architects via RIAS in 2004: Saturo Mashima
Finally, the finale. Yokohama. This is the kind of project many of us dream of. After the description of the initial 32 sections becoming 124, and the ability to keep control of such a large irregular geometry building, I felt drained and guess that many of the audience were between bafflement and amazement.
Farshid wanted users to get close to the heavy structure: 'at times it is more baroque like' and in the terminal, more classical. She asked 'how far you can take a package to make a system'. I enjoyed her simple pursuit of simplicity, the rough wood outside, the smooth inside, also the inventiveness of it all, 'the floor became a kind of bench…bodily contact with the buildings is… very effective'. Some of the ideas and geometries seemed a little contrived, and expensive, but the radical newness forces us to evaluate the potential of building anew.
Major building by F-O-A Architects – Yokohama Ferry Terminal Building:



Yokohama Ferry Terminal image from Foreign Office Architects via RIAS in 2004
Website: www.f-o-a.net
London Architecture
London Architecture : news + key projects
Buildings / photos for the Design: Foreign Office Architects – F-O-A page welcome