Ennead Lab Architects, Manhattan Architect Practice, NYC Design Studio, Buildings
Ennead Lab Architects
Contemporary American Architecture Practice based in New York City
post updated Apr 27, 2021
Ennead Lab News
Ennead Lab News – latest additions to this page, arranged chronologically:
Ennead Recogized for Leading Innovation in Resilient Waterfront Development
FAR ROC For a Resilient Rockaway Competition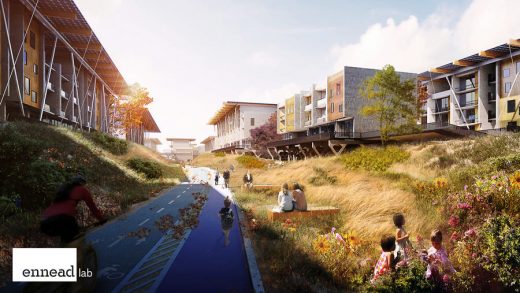 picture from Ennead Architects
New York, NY, October 28, 2013 – Ennead Architects/Ennead Lab was recognized for Leading Innovation in Resilient Waterfront Development and named runner-up in the For a Resilient Rockaway (FAR ROC) design competition. The New York City Department of Housing Preservation and Development (HPD), L+M Development Partners, The Bluestone Organization, Triangle Equities, American Institute of Architects New York Chapter (AIANY) and Enterprise Community Partners, Inc. (Enterprise) made the announcement on Wednesday at the Arverne East site in the Rockaways. Titled Fostering Resilient Ecological Development (F.R.E.D.), Ennead's submission creates a solution that is not only practical but also replicable for low-lying coastal communities up and down the Atlantic seaboard.
Ennead Selected as Finalist in FAR ROC Competition
ENNEAD ARCHITECTS / ENNEAD LAB ONE OF FOUR FINALIST TEAMS IN FAR ROC DESIGN COMPETITION
New York, NY, July 23, 2013 – Ennead Architects / Ennead Lab is one of four finalist teams to proceed to Phase II of the For a Resilient Rockaway (FAR ROC) design competition for the sustainable and resilient development of Arverne East, an approximately 80-acre parcel on the Atlantic Ocean devastated by Hurricane Sandy.


picture from Ennead Architects
The catastrophic impact of the storm on low-lying communities, such as those on the Rockaway Peninsula, emphasized the need for critical consideration of new sustainable development in waterfront areas. The FAR ROC design competition was created to guide the development of Arverne East, exploring best practices for design and construction in order to address the area's outdated infrastructure and incorporate changes to the physical and regulatory landscape generated by the disaster.
The FAR ROC Steering Committee announced the finalists Thursday July 18 at the AIA Center for Architecture. Following the announcement, representatives of the Ennead Architects / Ennead Lab team joined the Steering Committee and the other finalist teams for a physical tour of the competition site and a meeting with community stakeholders to engage them and receive initial feedback to help guide the continued development of the project proposal.
Ennead Architects entered the FAR ROC design competition as a project of Ennead Lab, Ennead's research and advocacy initiative. This competition and Ennead's design entry are exemplary of the Lab's primary goal: to identify design challenges and opportunities of social, environmental, and technological importance, underscoring the firm's conviction that beyond individual, commissioned projects, a vital architectural practice has a responsibility to society to address challenging issues of immediate concern.
Throughout this competition, the Ennead team debated how best to build in coastal areas, even questioning if, as the climate changes and the sea rises, areas of particular geographic vulnerability should be rebuilt at all. The team concluded that such development is possible but with specific guidelines: new development should minimize its human footprint, maximize the area's ecological potential, be a good neighbor to surrounding communities and ultimately be adaptable to a myriad of environmental and human scenarios.
Ennead's Phase I submission embodied this thesis, forging strong physical connections with the neighboring community, providing a place of shelter for the community during storm-surge events, and perhaps most importantly, creating a strong sense of place and identity for this community so closely connected with its coastal surroundings.
The Ennead Architects / Ennead Lab team will develop the proposal further in Phase II. The competition winner, along with the other Finalists and Honorable Mentions, will be recognized formally at the AIA New York Heritage Ball on October 24.
Design Team
Andrew Burdick, Christina Cardiullo, Billy Erhard, Dalia Hamati, Stefan Knust, Eliza Montgomery, Richard Olcott, Nikita Payusov, Adam Sheraden, David Tepper, Justin Wadge
ABOUT ENNEAD LAB
Drawing on Ennead Architects' extensive body of work and experience in the public realm designing largely for public and private educational, cultural, scientific and governmental institutions, Ennead Lab seeks to expand the traditional boundaries of professional architectural practice, particularly the relationship between practice, education, advocacy and research.
ELab promotes discourse, experimentation, invention, education, collaboration and action in the fields of architecture and design. It engages directly in explorations that not only enrich our own level of inquiry and approach to design but expand upon the field of architecture at large through these investigations into related disciplines including conservation of resources, public information, sociology, information technologies and graphics.
ABOUT ENNEAD ARCHITECTS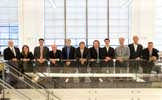 picture from Ennead Architects
Known for powerful building designs for cultural, educational, scientific, and governmental institutions, Ennead Architects is an internationally-acclaimed 160-person New York City studio. Ennead engages in work across the spectrum of architectural endeavor, including new building design, planning and adaptive re-use. Projects have been recognized for their significant contributions to both the cultural life of their communities and the enhancement of their physical contexts.
Among the studio's award-winning projects are: Rose Center for Earth and Space at the American Museum of Natural History; William J. Clinton Presidential Center; Yale University Art Gallery Renovation and Expansion; Natural History Museum of Utah; The Standard, High Line; Newtown Creek Wastewater Treatment Plant; Stanford University Bing Concert Hall; Frank Sinatra School of the Arts; New York City Center Renovation; and the Brooklyn Museum Renovation and Expansion.
More projects by Ennead Lab online soon
Location: New York City, NY, USA
Architect Practice Information
Architect studio Location
Ennead Architects office based in Manhattan, NY, United States of America
Ennead Architects
Known for powerful building designs for cultural, educational, scientific and not-for-profit institutions, Ennead Architects is a 150-person firm based in New York City. Projects by Ennead Architects have been published internationally and recognized with numerous awards for design excellence and for their important contributions to the life of their cities and campus precincts. The firm's research-based design process sponsors the creation of signature building designs that are expressive of an institution's philosophy and vision and address each project's unique programmatic, technical, aesthetic and environmental issues.
USA Architecture
Ennead Architects : formerly known as Polshek Partnership
Buildings / photos for the Ennead Lab New York page welcome