EDSA American Landscape Architects, Fort Lauderdale Design Practice
EDSA Landscape Architects
Contemporary Landscape Architecture Practice, USA
Oct 1, 2013
EDSA Landscape Architects News
EDSA global landscape architecture projects
Major EDSA Projects:
* Al Ain Wildlife Park & Resort
* Golden Pebble Winery
* Guacalito de la Isla
* Lustica Bay Resort
* Mission Hills Haikou, Hot Springs & Spa
* Pompano Beach Streetscape & Dune Enhancement
EDSA Unveils New Global Projects Showcasing Authenticity in Landscape Architecture, Urban Planning and Sustainable Design
FORT LAUDERDALE – EDSA, an internationally renowned, full-service planning, landscape architecture and urban design firm, currently has its imprint across the globe working on an astounding number of high-profile projects that specialize in sustainable design. Having completed more than 500 projects in 100 countries including resort destinations, residential communities, cultural and educational environments and urban developments, each of EDSA's six offices aims to create distinctive and inspiring environments which factor in the delicate balance between each local economy and distinct society.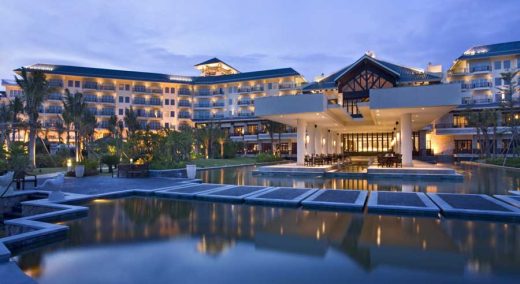 image of design
"It's essential that we create places that consider the cultural, environmental and social needs of the local people, including their unique traditions and customs," says Douglas C. Smith, EDSA President. "This knowledge enables us to truly fulfill a client's vision and enables us to showcase work that also delivers authenticity to each region of the world that we work in."
With more than 90 projects that were launched this year alone, the following are some of EDSA's latest works that showcase its global reach and exceptional ability to implement the most current techniques and knowledge in the field, with the overarching goal of connecting people with their natural surrounding environment.
Al Ain Wildlife Park and Resort, Al Ain, United Arab Emirates
The vision for this project is to become a world class leisure, learning and living destination by developing an integrated, commercially and environmentally sustainable "deserts of the world", safaris, resort and residential community. The Park offers tourists a genuine opportunity to experience desert flora and fauna of the region as well as being educated about other deserts of the world. The Park also pays tribute to the legacy of the late Sheikh Zayed Bin Sultan Al Nhyan, and builds on the wildlife and conservation initiatives of more than four decades. EDSA is leading a multi-disciplinary team of consultants with a goal to encourage life-long respect for the complex desert ecosystem and the symbiotic relationships between people, culture and the environment. Inspired by conservation and environmental stewardship, the Al Ain Wildlife Park & Resort is slated to include a mix of resort, residential, commercial, retail, educational and entertainment elements all surrounded by the natural beauty of Al Ain and the created desert landscapes of Arabia, Africa, and Asia.
Four Seasons Reserva do Paiva, Recife, Brazil
As the first Four Seasons branded hotel in Brazil, Reserva do Paiva opens to a picturesque shoreline, tropical rain forests and mangroves. By establishing a genuine connection with the local community, understanding Brazilian culture and employing sustainable practices, more than 80% of the land will remain undisturbed. Showcasing an authentic Brazilian experience, the 153-suite resort destination includes a signature Greg Norman golf course and club house, multiple food and beverage outlets, appropriately sized meeting and banquet facilities, a spa, fitness center and other recreational amenities. Up to 100 branded luxury residential units and serviced apartments complete the destination program. As one enters the site, a deep-blue lagoon will welcome guests and residents holding the pristine ocean in the background. The architecture brings in the local flavor of colors and materials while the landscape celebrates Brazilian natural forms. Roberto Burle Marx inspired gardens will immerse visitors in the discovery of this beautiful resort, its amenities and coastline. EDSA is providing concept design, schematic design, design development, contract administration and construction supervision for all landscape and hardscape elements.
Four Seasons Resort Orlando at Walt Disney World, Orlando, Florida
Walt Disney World is opening its gates to the World's largest Four Seasons Resort. Set within Disney's new Golden Oak Resort Community, this 444-room Luxury Resort will be the first five star hotel inside the Walt Disney World Resort. Set around a feature lake and adjacent wetlands, the resort includes 38,000 square feet of meeting space, a rooftop restaurant to view the Magic Kingdom and Epcot fireworks, 19,000 square feet spa, adult pool with infinity edge, tennis courts, wedding pavilion, multiple outdoor function areas, and a large amenity island. The amenity island, located across a canal, disembarks from the formal Mediterranean gardens surrounding the Hotel to a more natural Florida experience. The amenity island features a lakeside bar and grill, family pool with dive in movie theater, lazy river, kids' water activity pool, kids club with playground, and a teen's club with its own private access to the lazy river. In addition to the resort, the project will also include 40 Four Seasons Residence Club Units, and up to 90 branded Four Seasons Residences. EDSA provided master planning, detail design, and on site observation services for all resort areas.
Golden Pebble Winery, Dalian, China
As the region's first winery, the Golden Pebble Winery offers a relaxed, agrarian escape from the nearby city of Dalian. Nestled within the rolling hills of the Liaoning Province in China, the 230-hectare site is just minutes away from Dalian's picturesque Golden Pebble Beach and boasts a world class winery, boutique hotel, commercial village, welcome center and luxury residential offerings. The unique character and natural setting of the development positions the Golden Pebble Winery as the region's charter wine destination and premier agro-tourism resort.
Guacalito de la Isla, Nicaragua


image of design
Guacalito de la Isla is a private, oceanfront community by the Pellas Development Group located along a four-mile stretch of Pacific waters and untouched beaches on Nicaragua's lush Emerald Coast. This is the country's first five-star sustainable residential resort destination offering its residents and visitors a private, oceanfront resort lifestyle. The property features two pristine white sand beaches, dramatic cliffs and high elevations capturing dramatic ocean views with amenities including a David McLay Kidd signature golf course, and a five-star boutique hotel which is part of the Small Luxury Hotels of the World collection. Future phases of the development include a world class marina and equestrian community. Those in search of five-star design and amenities in direct connection with nature call the land at Guacalito de la Isla home.
Indura Beach and Golf Resort, Bahia de Tela, Honduras
A project envisioned nearly 45 years ago in Honduras will soon be realized as a premier hospitality destination. Set to compete with the quality resorts of Mexico, Costa Rica and the Dominican Republic, the $111 million Indura Beach and Golf Resort targets the sophisticated adventurer, while respecting and preserving the environment and natural beauty of the land. Indura is located along the Caribbean coast of Honduras, in Bahia de Tela, a site of immense natural beauty and rich cultural history. Planned with the utmost care to both guard and protect, it will absorb and articulate the heritage of the area while providing a catalyst for tourism growth for the whole country. Architectural styles, structural footprints, and design processes were all undertaken in such a way to cause as little disturbance to the native landscape while also accurately reflecting the local fabric. The architecture for all of the structures remains true to the region's history and has little impact on the site. The nearby Garifuna community of Miami is the only one that to this day is still completely built of thatched huts. Indura replicates this building style along with the addition of stilts to its buildings allowing for zero disturbance in natural animal migration patterns as well as assisting with irrigation, drainage and air flow. Elevated roads permit wildlife passage without danger from vehicular traffic. The 750-acre property will integrate a 18-hole Gary Player golf course, residences and a 5-star boutique hotel.
Lustica Bay Resort, Radovici, Montenegro
The richly textured landscape combined with the presence of a strong history and architectural language provides the inspiration for the planning and design of Luštica Bay Resort. With its dramatic setting, the property offers a variety of residential and hotel offerings. The heart and soul of the resort will be a 120 berth marina with adjacent mixed-use hillside village designed to reflect the historic massing, character and detail of a traditional Montenegrin town and other authentic hillside developments of the region. On the hillside overlooking the Marina Village, a former military site is reconfigured to provide a park-like setting with views to both the Adriatic Sea and the Mountains. The resort boasts a world class 18-hole golf course, Thallasso Spa, Secondary Marina Village, and an exclusive peninsula with high-end real estate offerings as well as one of the project's eight luxury hotels. Throughout the design process, sustainability issues remained in the forefront with special attention to preserving the existing ridgelines, protecting archaeological remains, maintaining the site's natural hydrology, building orientation and energy efficiency, and the use of native plants. EDSA was responsible for full master planning services for the project, which is a recent recipient of a 2013 Award of Excellence by the Fellow of the American Society of Landscape Architects (FASLA).
Mission Hills Haikou, Hot Springs and Spa, Haikou, Hainan Island, China
The Hot Springs and Spa is an outdoor themed amenity area for the new 500-room luxury Mission Hills Haikou Hotel. The site is approximately on 6.5 hectares of lush tropical landscape and rockwork and nearly 300 themed individual pool spa experiences from around the world. Dramatic themed buildings with native bamboo architecture help define the different areas and compliment the numerous pools, waterfalls and landscape. All these themed areas are tied together with strong and powerful cohesive architecture, focusing on the natural bamboo structure and materials. The existing lava stone found prevalent throughout the island of Hainan, as well as within the Hot Springs site, plays an important role in defining spaces and further tying the relationship between the built environments and surrounding natural conditions. The Spa is designed to create a holistic experience from the moment of arrival at the dramatic semi-circular bamboo building arising from the lava stone base, to the mineral spring's ritual garden, and the very private and spacious spa villas, overlooking infinity edge water features and pools to the golf course in the background.
Pompano Beach Streetscape & Dune Enhancement, Pompano Beach, Florida, USA
Working with the Pompano Beach Community Redevelopment Agency (CRA), EDSA led a multidisciplinary team of consultants tasked to create a plan for the beach environment and existing streetscape along Florida's Pompano Beach Boulevard. Due to the public nature and high visibility of the project, promoting public involvement and building consensus within the community at the earliest stages were imperative to guiding the framework of the plan. The collaborative process, which bolstered public support and approval, was very successful and led to the inclusion of additional funds to benefit the project. Some primary elements of the design include a signature public plaza which also includes an interactive water feature, roadway and parking improvements, an extensive beach promenade, multi-purpose kiosk building, and state of the art playground. Another key element which was negotiated at the state level as a tradeoff to expanding the beach development involved reestablishing the deteriorated dune system through native dune plantings, protective barriers and controlled beach accesses. This South Florida project is a recent recipient of a 2013 Award of Honor by the Fellow of the American Society of Landscape Architects (FASLA).
More projects by EDSA online soon
Location: Fort Lauderdale, Florida, USA
Fort Lauderdale Landscape Architecture Practice Information
EDSA are a Landscape architect studio based in Fort Lauderdale, USA.
Founded by Edward D. Stone, Jr. in 1960, EDSA is headquartered in Fort Lauderdale, and has offices in Orlando, Baltimore, Abu Dhabi and Shanghai as well as a joint venture partnership with EDSAOrient in Beijing. The award-winning firm has 110 employees that represent varied cultural backgrounds with origins from more than 25 countries.
Website: www.edsaplan.com
Landscape Architecture
USA Architecture
Comments / photos for the EDSA Landscape Architecture page welcome