Goettsch Partners Architects news, America buildings, Chicago design office, USA tower pictures
Goettsch Partners : Chicago Architects
GP, Illinois: Contemporary American Architects Practice: US Design Office News Updates
post updated August 12, 2023
Goettsch Partners News
Architecture News from Goettsch Partners
August 12, 2023
One Chicago Wins Prestigious 2023 International Architecture Award, River North area, Downtown Chicago, Illinois, USA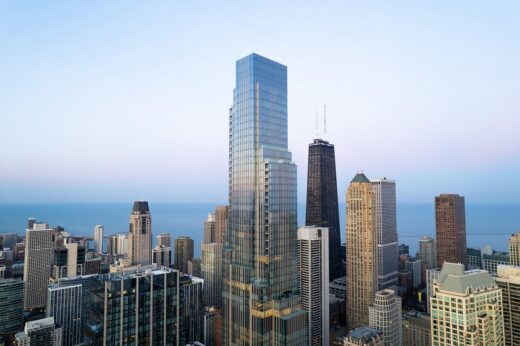 photo © Ian Jolipa
One Chicago Downtown Residences
One Chicago, a two-tower luxury residential and mixed-use complex completed last year, has won the 2023 International Architecture Award. The project was led by JDL Development and designed in partnership between renowned architecture firms Goettsch Partners (GP) and Hartshorne Plunkard Architecture (HPA).
25 May 2023
China Resources Qianhai Center, Shenzhen, Guangdong, southeast China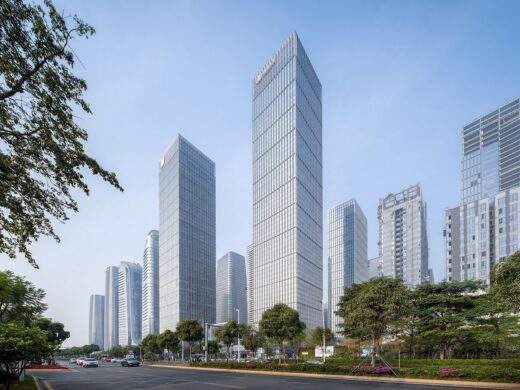 photography © CreatAR
China Resources Qianhai Center Development
GP announces the completion of the China Resources Qianhai Center, a massive mixed-use complex in Neighborhood 2 of Shenzhen's Qianhai district. Developed by CR Land, the project covers 6.18 hectares and includes five towers totaling nearly 472,000 square meters—GP's largest completed project to-date in China.
Jan 27, 2022
Mennica Legacy Tower, Warsaw, Poland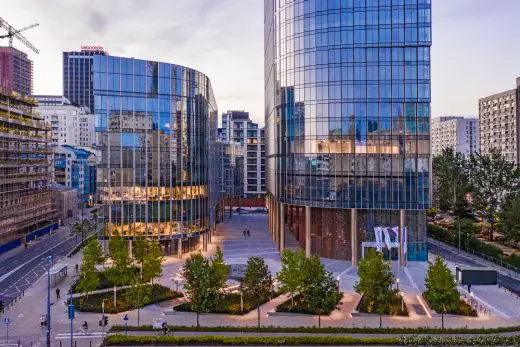 photography © Sebastian Deptuła, Anatomia Formy
Mennica Legacy Tower Warsaw
A new 115,000-square-meter, two-building office complex in Warsaw anchored by mBank, one of Poland's largest banking institutions, and leading co-working provider WeWork. Located at the intersection of Prosta and Żelazna streets in the CBD, the 35-story and 10-story office buildings open to a large, landscaped plaza, with a pedestrian path that winds between them.
Nov 19, 2021
Pepper Family Wildlife Center At Lincoln Park Zoo, Chicago, Illinois, USA
Design: Goettsch Partners (GP) with PJA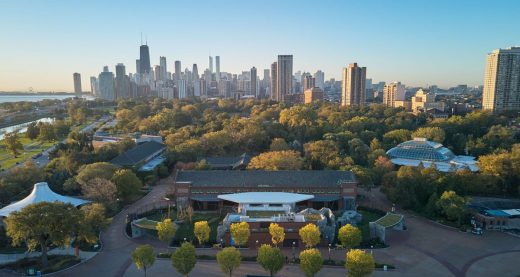 photo © Tom Harris
Pepper Family Wildlife Center Lincoln Park Zoo
This is a $41 million renovation, restoration and expansion of the historic lion house at Chicago's Lincoln Park Zoo. The 54,000-sqft state-of-the-art facility nearly doubles the size of the previous lion habitat and provides increased transparency and a more immersive experience for visitors while restoring the architectural integrity of the original landmarked building.
April 17, 2020
Alcove Residential Tower, Nashville, Tennessee, USA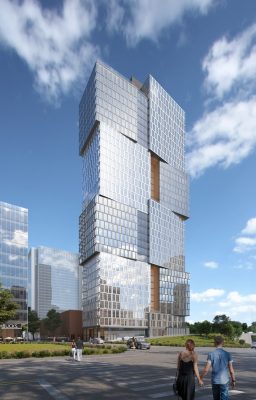 image courtesy of architects office
Alcove Residential Tower in Nashville
Alcove is a new residential tower in Nashville, Tennessee, developed by Giarratana LLC. Located at 900 Church Street, adjacent to the 17-acre, Amazon-anchored Nashville Yards development, the new 34-story, 416-foot-tall tower includes 356 units.
Feb 25, 2020
Poly 335 Financial Center, Guangzhou, China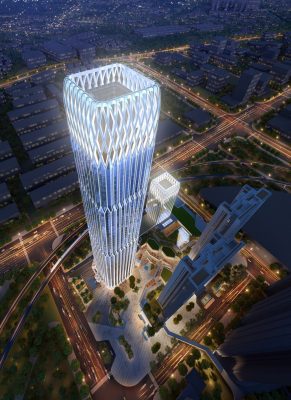 image courtesy of architects
Poly 335 Financial Center Guangzhou by Goettsch Partners
Developed by Poly Real Estate Group, the project is conceived as an ideal indoor-outdoor setting for a vibrant, commercially successful community with new residences, offices, shops and hospitality offerings.
Sep 13, 2019
Poly International Finance Center, Huadu central business district, Guangzhou, China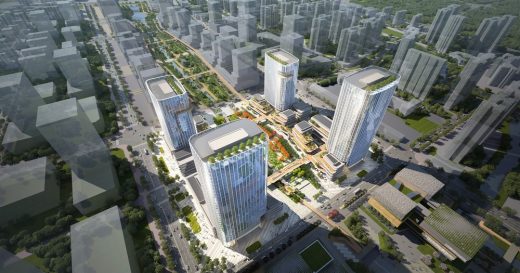 rendering from architects
Poly International Finance Center
start of construction for Poly International Finance Center (Poly IFC), a large-scale office development designed by the firm, spanning two parcels in the Huadu central business district (CBD) in Guangzhou, China.
20 Dec 2018
China Resources Changchun Center, Northeast China
China Resources Changchun Center
Construction starts on this tower building and entertainment-retail complex.
29 Nov 2018
Residential Tower in Bogotá, Colombia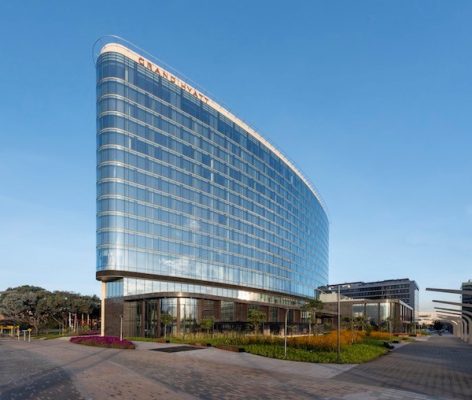 photo : James Steinkamp Photograph
Residential Tower in Bogota
The country's first Grand Hyatt, "positioned as the crown jewel" of an 18-building commercial complex between the historic center and airport, adds to Goettsch Partners' 30-plus hospitality works globally.
Apr 11, 2018
The Summit for Tishman Speyer, Suzhou, Jiangsu Province, China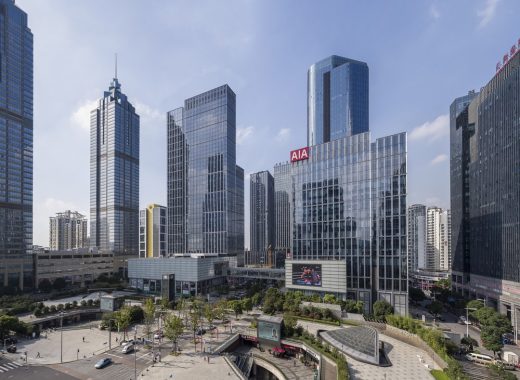 photo © Shen Zhonghai, 1st Image
Summit for Tishman Speyer
The opening of The Summit development in Suzhou, China, late last year marked the completion of the two-building mixed-use complex, designed by architecture firm Goettsch Partners (GP) and developed by Tishman Speyer. The 150,060-square-meter complex is the first major collaboration between GP and the leading international real estate company.
Mar 26, 2018
Viceroy Hotel, Chicago, Illinois, USA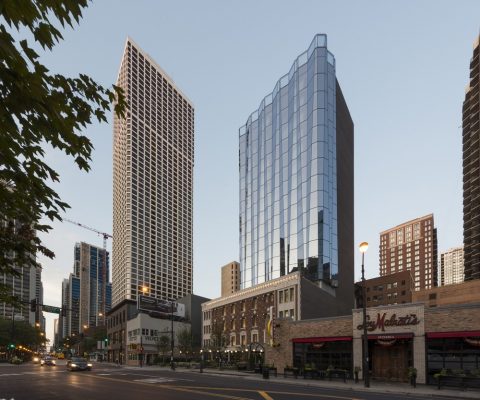 photograph © Christian Horan Photography
Viceroy Hotel Chicago Building
The new Viceroy Chicago that is currently being noted as a standout for architecture and design. Chicago-based developer Convexity Properties, along with architect GP and hospitality design firm TAL Studio, pay homage to the history of Chicago with thoughtfully curated architecture, design, art and style.
Feb 11, 2018
Rosewood Sanya and International Finance Forum, Hainan Island in Haitang Bay, Southern China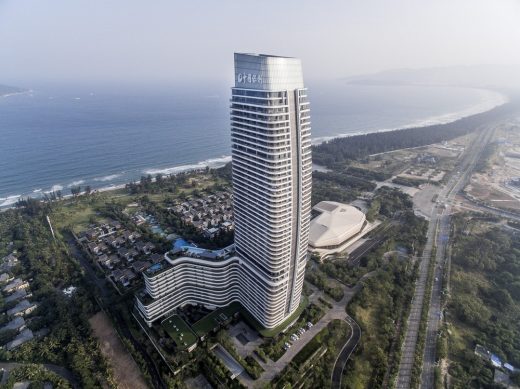 photograph © Shen Zhonghai, 1st image
Rosewood Sanya Hotel and Forum
With the opening of the Rosewood Sanya hotel late last year tjis architecture firm celebrated the debut of the final component of its new hospitality complex on Hainan Island in Sanya.
Apr 21, 2017
150 North Riverside Office Building, West Loop, Chicago, IL, USA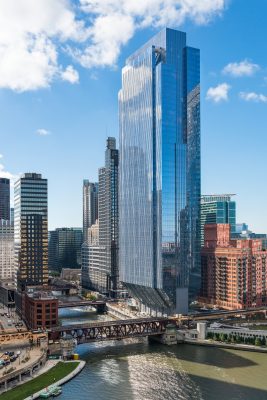 rendering from architects
150 North Riverside Office Building in Chicago by Goettsch Partners
Comprising 1.25 million rentable square feet, the building is located in Chicago's West Loop on one of the most prominent sites in the city, bounded by Randolph and Lake streets at the confluence of the north, south and main branches of the Chicago River.
Mar 16, 2017
110 North Wacker, Chicago, IL, USA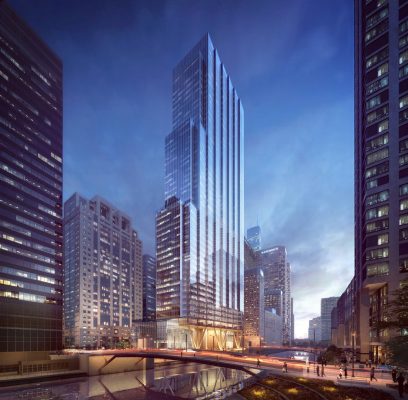 rendering from architects
110 North Wacker Office Development
New High-Rise Along the Chicago River Poised to Set New Standard for Office Development
The 51-story Class-A building is set between prestigious Wacker Drive and the Chicago River. The 1.35 million-square-foot tower is wrapped in a high-performance, aluminum-and-glass curtain wall and will feature sweeping views up and down the river, as well as of the Chicago skyline and Lake Michigan.
Sep 29, 2016
Zurich North America Headquarters, Schaumburg, Illinois, USA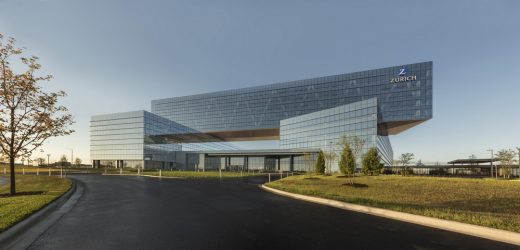 photo © Steinkamp Photography
Opening of a 783,800-sqft building that will be home to nearly 3,000 employees and contractors. It was designed with an emphasis on communication, collaboration and wellness.
Sep 9, 2016
China Horoy Qianhai Guanze Mixed-Use Development, Guangdong, southeast China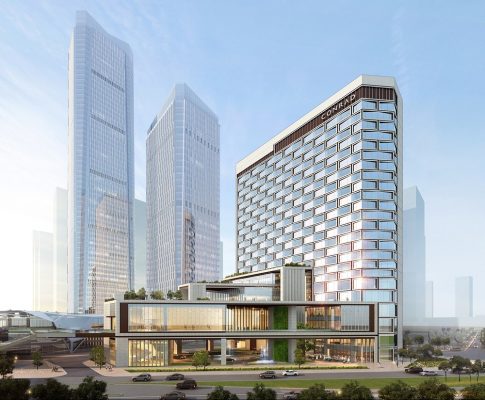 image from Goettsch Partners
Chicago-based architecture firm Goettsch Partners (GP) and Hong Kong-based multidisciplinary architecture and design studio Lead 8 have designed a five-building, 320,000-square-meter mixed-use complex in the Qianhai district of Shenzhen, China. The project is being developed by Horoy Qianhai International Holdings Limited and will be situated on a five-parcel site.
Sep 26, 2013
R&F Yingkai Square Mixed-Use Tower With Park Hyatt Hotel, China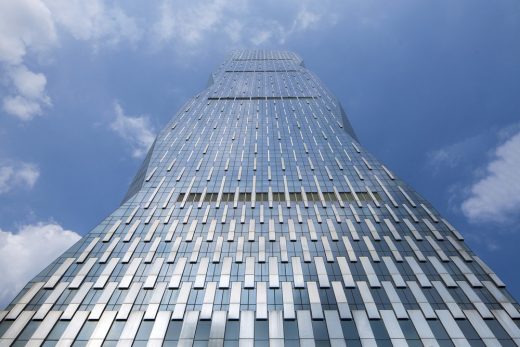 image from Goettsch Partners
Goettsch Partners (GP) recently completed this mixed-use tower, featuring the Park Hyatt Guangzhou hotel, in Guangzhou. Developed by R&F Properties Co. and located in the new city center of Zujiang, the 296-m tower totals 66 stories and 174,500 sqm. It is currently the 7th tallest completed building in Guangzhou, according to the CTBUH.
Sep 26, 2013
Chancheng Greenland Center, China



image from architects office
Projects in Foshan and Suzhou together total more than 650,000 sqm.
Architecture firm GP has won two recent design competitions in China for the Greenland Group, one of the country's largest real estate developers. Located in the cities of Foshan and Suzhou, the projects are both mixed-use, multi-building developments, together encompassing more than 650,000 square meters.
Goettsch Partners Architects
Architecture firm GP has appointed James Goettsch, FAIA, to the role of chairman and CEO, and named James Zheng, AIA, LEED AP, the new president. In their new roles, Goettsch and Zheng will work closely to manage the firm and to develop, expand and deliver business globally.
Recent GP Designs
Oct 31, 2012
Poly Office Tower Shunde, southern China



image from architects office
Poly Office Tower Shunde
200-meter-tall building will be a city landmark between Guangzhou and Hong Kong. Architecture firm GP has designed the new Poly Business Tower in Shunde, China. Totaling 110,000 square meters, the project is one of several current assignments between GP and leading Chinese developer Poly Real Estate (Group) Co., Ltd. Other office, hotel and mixed-use developments are located in the cities of Chengdu, Deyang and Guangzhou.
Sep 6, 2012
Al Hilal Bank, Al Maryah Island, Abu Dhabi, UAE



image from architect
Al Hilal Bank
Architecture firm Goettsch Partners has designed the flagship commercial development for Al Hilal Bank in the heart of Abu Dhabi's Al Maryah Island, formerly known as Sowwah Island. The new speculative office tower is located in the Emirate's developing new central business district, with direct access to three main island roads and the nearby Cleveland Clinic Abu Dhabi, Sowwah Square, the Abu Dhabi Securities Exchange headquarters, and the Rosewood Abu Dhabi hotel.
Jul 6, 2012
Grand Hyatt Hotel Bogotá, Colombia



image from architects
Grand Hyatt Hotel Bogotá
Architecture firm Goettsch Partners has been selected to design the new Grand Hyatt hotel in Bogotá, set to be the first Hyatt-branded hotel in the dynamic Latin American city. The new hotel will be a key component of the Ciudad Empresarial Sarmiento Angulo, a premier commercial mixed-use development planned for 18 buildings.
Apr 10, 2012
Bienen School of Music Northwestern University, Evanston Campus, Chicago, IL, USA



image from architects practice
Bienen School of Music Northwestern University
Design for the signature building that will be the new home of Northwestern University's Bienen School of Music and provide additional space for the School of Communication on Northwestern's Evanston campus. The university is planning to break ground and begin construction this spring. The building is located just south of the school's Pick-Staiger Concert Hall on the southeastern edge of campus.
Aug 26, 2011
Chicony Plaza – department store + Grand Hyatt Hotel, Chengdu, China


photo © 1st Image
Chicony Plaza Chengdu
A 37-story mixed-use complex in Chengdu, China, recently reached substantial completion and opened its first phase, the 111,500-square-meter Chicony Plaza department store. Occupying a full city block adjacent to a vibrant public square in the central business district of Chengdu, the complex is anchored by the 12-story department store, with a 25-story Grand Hyatt hotel above.
Pazhou District Masterplan, Guangzhou, China
2011-



picture from architects
Pazhou Masterplan design
Goettsch Partners – Key Projects
Buildings by Major Chicago Architects, alphabetical:
111 South Wacker, Chicago, USA
2005
155 North Wacker, Chicago, USA
–
China Diamond Exchange Center, Shanghai, China
2010



image from architect
China Diamond Exchange Center Building
Grand Hyatt Hotel Dalian, China
2009-



image from architect
Grand Hyatt Dalian Building
Grand Hyatt Guangzhou, China
2007-



image from architect
Park Hyatt Guangzhou : Chinese Building
Hyatt Regency Chengdu, Chicony Plaza, Chengdu, China
2007
37 storeys
Illinois Blue Cross HQ, Chicago, USA
2006
King Abdullah Financial District Hotel, Saudi Arabia
2009-



image from architect
King Abdullah Financial District Hotel Building
Office Tower, Chicago, USA
1997
Park Hyatt tower, Zhujiang development, Guangzhou, China
2007-10
Soochow Securities Headquarters, China
2009-



image from architect
Soochow Securities Headquarters Building
Sowwah Square, business center, Abu Dhabi, UAE
2008-



image from architect
Sowwah Square
More Goettsch Partners buildings online soon
Location: Chicago, Illinois, USA
Goettsch Partners Practice Information
Goettsch Partners – Chicago, Illinois architecture practice.
Goettsch Partners, through a succession of ownership and name changes, is the direct descendant of the architectural practice started by Mies van der Rohe in 1938.
Website: www.gpchicago.com
USA Architectural Designs
Goettsch Partners office origin : Mies van der Rohe
Buildings / photos for the Goettsch Partners Architecture page welcome