FAT Architects, London Design Studio, British Architectural Office, UK Practice Images
Fashion Architecture Taste : Architects
FAT : Fashion Architecture Taste, London Design Practice News
post updated 13 Apr 2021
Fashion Architecture Taste – Studio Information
FAT was a London-based practice with an international reputation for exceptional architecture. Founded in 1995, the practice works across a wide range of sectors including housing, education, offices, master planning, interior and exhibition design. FAT has a burgeoning portfolio of projects in the UK and Europe.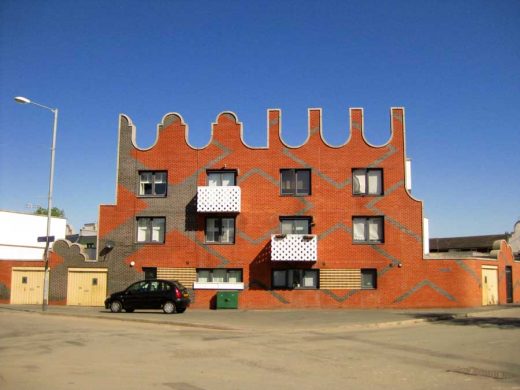 photo © Isabelle Lomholt
The work by FAT Architecture is characterised by an innovative and distinctive approach. FAT's design process directly engages with cultural, social and urban contexts to produce imaginative solutions to complex and challenging briefs. Completed projects demonstrate commitment to intelligent architectural solutions, carried through from idea to detail. Buildings by FAT Architects are rich, expressive, and engaging. In recognition of their achievements, FAT has just received the Next Generation Award 2006 from the Architecture Foundation.
Under the direction of Sean Griffiths, Charles Holland and Sam Jacob, FAT has a strong social component to its work and is involved in ongoing research relating to social and demographic aspects of architecture. Sustainability and regeneration are also high on FAT's agenda. Regarded as being at the forefront of innovation in architecture, FAT contributes to the current architectural debate and its work is widely published and exhibited across the world.
Info re FAT Architecture received 270606 from Stratton & Reekie
FAT Architects : main page with news + key projects
Information re event involving FAT Architects: The Future of Beauty
What will be the issues that determine what is "a beautiful building" twenty years from now? Should making buildings and environments beautiful be a priority for architects? Or is the idea of beauty itself living on borrowed time?
Speakers including Will Alsop, Sarah Wigglesworth, Patrick Keiller and Robert Adam, chaired by Sean Griffiths of FAT Architects, will explore these issues, their own ideas of architectural beauty and whether the idea of beauty remains relevant, on Thursday 29 June at 6.30pm at BDP, 16 Brewhouse Yard, London, EC1. The debate, The Future of Beauty, has been organised by Building Futures, the RIBA's 'thinktank'.
Speaking about The Future of Beauty, Sean Griffiths of FAT Architects and chair of the discussion said:
"During the latter part of the twentieth century and the early part of the twenty-first, architects and critics have found many ways to justify and give meaning to the design of buildings and environments. Reasons given range from, fitness for purpose to intellectual rigour, from grand social visions to obtuse pseudo philosophies. Almost never, do we hear a building's success discussed in terms of whether or not it is beautiful.
"Dealing with what things look like has becomes to be seen as frivolous and superficial, as anachronistic and irrelevant to modern culture. This event will question whether that should continue to be the case."
FAT Architects – studio information from S&R Jun 2006
London Exhibition
FAT exhibited black rubber 'folly' at RIBA, London, Spring 2006: 'In a Lonely Place'
The People's Playground Blackpool
FAT shortlisted for design competition to reinvent the Blackpool seafront for ReBlackpool, 2007
More projects by FAT Architecture online soon
Location: 49-59 Old St, London EC1V 9HX, UK
FAT architects Practice Information
FAT are based at Old Street in north east London, England, UK.
Brick Development Association Awards 2006
Islington Square : Best Public Housing Project
FAT Architects' Sint Lucas Art Academy, Holland + The Blue House, London nominated for European Union Prize for Contemporary Architecture: The Mies van der Rohe Award in 2003 & 2007
FAT Architecture: Winnners of Architecture Foundation Next Generation Award 2006
This British architectural studio won a RIBA European Award 2007 for Sint Lucas Art Academy
London Architecture
London Architecture : news + key projects
Buildings / photos for the Fashion Architecture Taste Architects page welcome
FAT architecture – Website: now offline