Elenberg Fraser, Australian Architectural Studio, Building Designers Images, Design Office Victoria News
Elenberg Fraser Architects, Melbourne
Contemporary Architecture Practice Victoria, Australia Design Studio Information + News
post updated 25 February 2023
Elenberg Fraser Architects News
Elenberg Fraser News
15 Jan 2019
Abode318 Apartments, Melbourne, Victoria, Australia
Design: Elenberg Fraser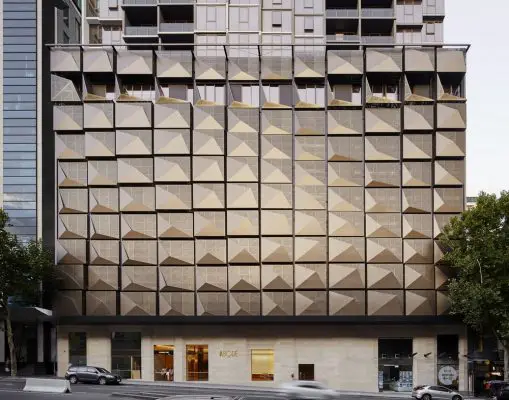 photograph : Peter Clarke
Abode318 Apartments
A new Melbourne CBD residential apartment tower building.
26 Mar 2018
Avenue Apartments, Melbourne, Victoria, Australia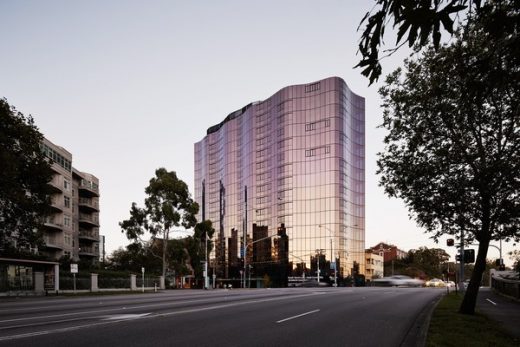 photograph : Peter Clarke
Avenue Apartments Building
This is a building of pure phenomena. Like the ripples that spread outwards from skipping stones across a creek, Avenue is a series of pillowy curtain walls that radiate out over the surface. This ripple effect helps the building turn the corner, giving it a picturesque planning outcome; the fluid surface reflects and refracts the sun's rays.
11 Nov 2017
380 Lonsdale in Melbourne, Victoria, Australia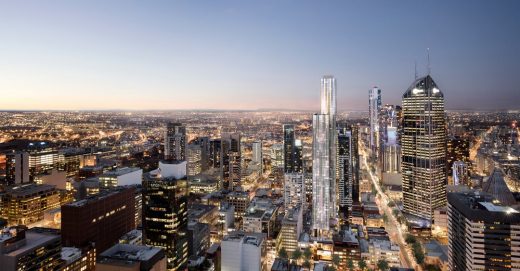 pictue : Binyan Studios
380 Lonsdale in Melbourne
Decidedly cosmopolitan, 380 Lonsdale Street seems to have everything that Melbourne needs. This new project puts the mixed in mixed-use, taking cues from our client to bring a bit of Singapore-style precinct urban planning and a tropical twist to this prominent site in the CBD.
6 Nov 2017
Ikebana Development, Melbourne, Victoria, Australia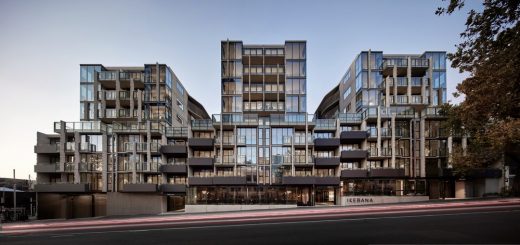 photograph : Peter Clarke
Ikebana in Melbourne Building
Ikebana's name gives you a hint at the story behind this new residential and retail project in West Melbourne. Yes it's Japanese-inspired, but without the cliché – you won't find any Hello Kitty here, although there is a karaoke room.
3 Nov 2017
Realm Apartments, Austin Street, CBD, Adelaide, Australia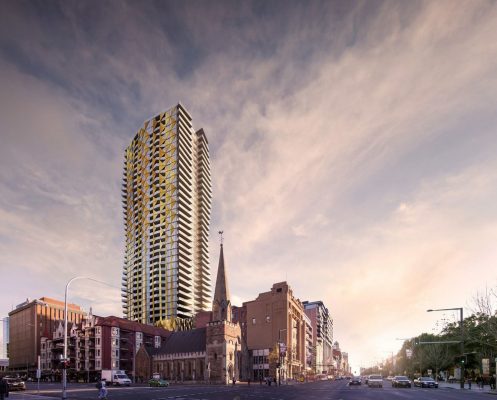 image : Pointilism Architectural Visualisation
Realm Apartments by Elenberg Fraser Architects
This 40 storey tower is 132 m high, making it the tallest residential building in the city. A folded, glowing gold lantern rising above the mass of historic buildings at its base. The form of the building is cinched at the waist, jutting in and reaching up with appealing angularity. The geometric arrangement of perforated gold screens across the east and west façades provide solar and wind protection for the apartments, and balcony activation behind (with the north and south sides reserved for balconies).
19 Sep 2017
Premier Tower, Melbourne, Victoria, Australia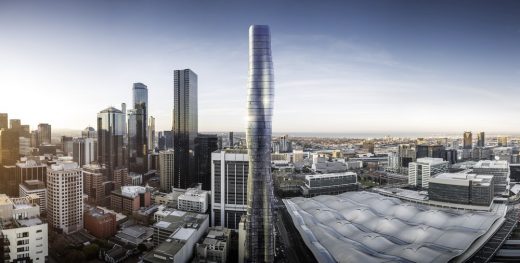 photograph : Peter Clarke
Premier Tower Melbourne
This might be the first time you've heard us say this but at our new mixed-use project at 134-160 Spencer Street there's actually less than meets the eye. Well, kind of. It's true that the responsive approach to precinct regeneration sets a new bar for mixed-use developments.
1 Apr 2014
Elenberg Fraser Award
The Elenberg Fraser Instagram Award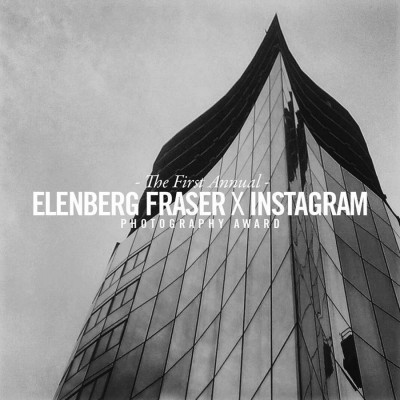 Instagram There's no denying architects are visual creatures – whether butterpaper sketches or 3D renders, we're all about feasting our eyes. With that in mind, you won't be surprised to hear we've developed quite an affection for Instagram – well, what doesn't look better with a vintage filter? Now we want you to join in the fun and unleash your visual creature by entering Elenberg Fraser's first annual Instagram competition.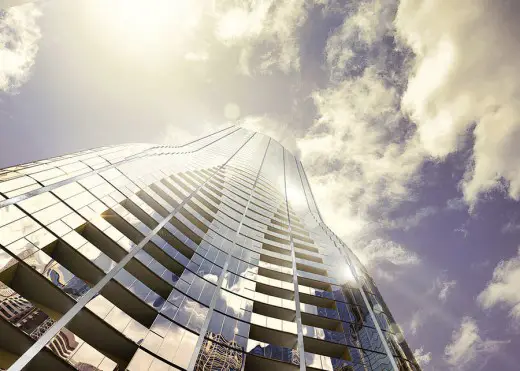 We want to see your original Instagram photos of Elenberg Fraser buildings and projects. To enter simply follow @Elenberg_Fraser, tag our account in the photo and use the #elenbergfraser hashtag for your photo to be eligible.
If you don't know where to start, click the 'read more' link below to visit the competition page on our website where you can download a map highlighting Elenberg Fraser's projects in the greater Melbourne area.
What's in it for you? Your efforts will not go unrewarded: the winner of the best original photograph (as chosen by Elenberg Fraser Director Callum Fraser) will receive a prize of a $500 dining voucher for Vue De Monde.
This architectural competition closes on 1st May 2014.
Elenberg Fraser News Archive
Architecture News – latest additions to this page, arranged chronologically:
EQ. Tower in Melbourne, Victoria, Australia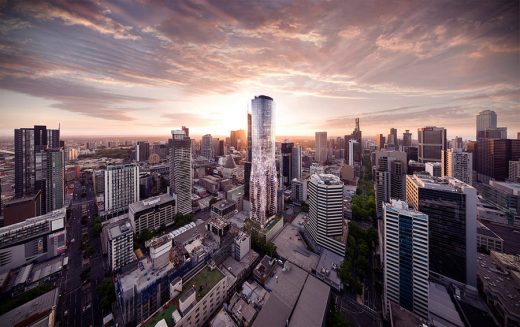 EQ. Tower – 21 Mar 2014
A while ago we introduced Igor Kebel, our new Design Director – the time has come to introduce his first project, which we're proud to announce represents a dramatic shift in the Elenberg Fraser design process into a completely parametric environment. Eq.Tower is a teaser for Melbourne's urban future – this city has the potential to be a glittering star in the galaxy of South-East Asian cities and this project will be a catalyst for regeneration in the currently under-utilised north-western corner of Melbourne.
Avenue Apartments, Melbourne, Australia
Design: Elenberg Fraser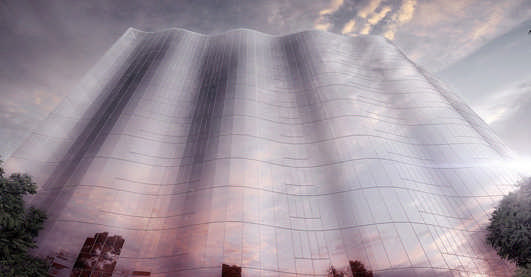 image from architect
We've all heard of a liquid lunch, but liquid architecture? Well, Elenberg Fraser have done it again with Avenue, their latest residential building for Fridcorp, situated on the corner site of Alexandra Avenue and Chapel Street.
33M Vertical Village, Melbourne, Australia
Design: Elenberg Fraser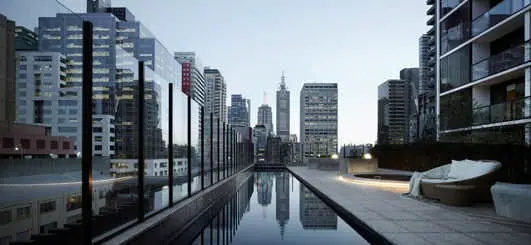 image from architect
Elenberg Fraser's new residential project, perfectly positioned at the edge of Melbourne's CBD, creates a vertical village that follows a story of ascendance and transcendence, inspired by the ancient myths of the angel Metatron (or Enoch, or Elijah) and Pandora's Box.
Tower Melbourne, Melbourne, Australia
Design: Elenberg Fraser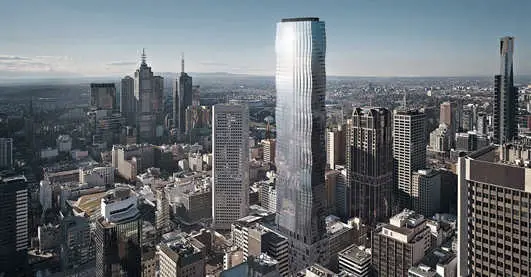 image from architect
Right at the top of the hill of the Western end of the CBD, our new residential tower for CEL Australia sits on a corner with pedigree – the great modernists Barry Patten and Hugh Banahan also grace the intersection with their presence and next door is Osborn McCutcheon.
Luna Apartments, Melbourne, Australia
Design: Elenberg Fraser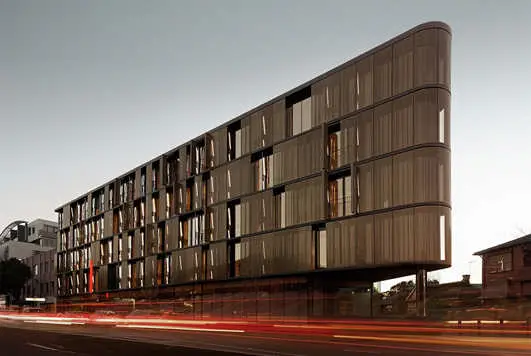 image from architect
Luna Apartments – 28 May 2013
It has inspired a dedicated fan web-site, generations of fancy-dress costumes and countless YouTube tribute videos, and now a building. That's right, Luna, Elenberg Fraser's new four storey residential project on Barkly St, St Kilda, is based on Princess Leia's infamous 'dancing girl' gold bikini, featured in Star Wars, Episode VI: Return of the Jedi.
Elenberg Fraser wins international hospitality design award for Vue de monde
Elenberg Fraser have won the 2012 Award for Design Excellence in Restaurants for the new Vue de monde restaurant in Rialto Tower, at the HA+D Hotel Management Asia Hospitality Awards announced at a ceremony in Mangkok, Hong Kong.


image © Elenberg Fraser Architects
The prestigious international awards run by HA+D Magazine recognise outstanding hospitality design projects in the Asia region, and are judged by a distinguished international panel as well as HA+D readers.
Vue de monde's design acknowledges the links between 'destination dining' and Australia's tourism and uses this to explore other Australian tourist attractions including the unique natural landscapes, which are brought to life through materials and features.
Director of Elenberg Fraser, Callum Fraser, says "Our design for Vue de monde is an investigation of the links between body, memory and ritual. We wanted to go beyond the clichés that dominate Australian tourism and create a connection with Melbourne's local natural environment – the river estuary."
Guests experience elements of this environment on their journey through the restaurant from the glowing lights of fireflies and the campfire, to the black basalt surface of the billabong and the stretched animal hides covering the tables.
Elenberg Fraser are currently working on a range of local and international hospitality and tourism projects.
Vue de monde
Level 55 Rialto, Melbourne, Victoria, Australia
Restaurant
Completed 2011
The overall concept of Shannon Bennett's flagship restaurant Vue de monde on the 55th floor of the Rialto is the abstract Australian landscape, in particular, the landscape of Melbourne and its waterways. The Yarra River, the reeds, the billabong, Australian animals and insects – the platypus, fireflies, frilled neck lizards and kangaroos – were all referenced for inspiration. The design celebrates Australiana in its true essence – its sense of wonder and its contradictions, possessing both wildness and sophistication.
Recent Elenberg Fraser Designs
New Buildings by Elenberg Fraser Architects
Abode, Melbourne, Victoria, Australia
2011-



image © Elenberg Fraser Architects
Abode by Elenberg Fraser, a new 55 storey residential building on Russell St, for PDG.
There is no bronze to be seen here, rather the becoming pink blush of the low emissivity glass covering Abode's undulating façade. On closer inspection, it becomes clear that the horizontal and vertical waves consist of individual rooms articulated as protrusions, meaning all of the apartments are literally rooms with a view.
Once you're inside, follow Ariadne's thread through the white and silver communal interiors up to your room. Look up and down Russell Street from any apartment in the building, and be secure in the knowledge that the benefits are not just visual – the wave form affects wind pressure, which determines the fluctuating amplitude and breaking up downdrafts to protect pedestrians. Abode has now gone to market.
308 City Road, Melbourne, Victoria, Australia
2011-



image © Elenberg Fraser Architects
H.G. Wells wrote in 1906 that he found himself 'agape, admiring a sky-scraper…ploughing up through the traffic of Broadway and Fifth Avenue in the afternoon light'. This, of course, was about New York's Flatiron Building, the landmark building that acts as a gateway to Manhattan.
With its planning permit awaiting approval, Melbourne may be set to get its equivalent – the new building 308 City Road by Elenberg Fraser for Ausgroup Property and Development. Forming a gateway to the South of the city, this 42 storey residential tower graces the corner site at the junction of City Rd and Clarendon St.
The curved façade flutters rhythmically – this is a sculpture that breathes, it literally has gills – the undulations channel the South-West prevailing breeze, protecting pedestrians from down-drafts. The feminine softness of the form is counteracted by the dark green and black glow that creates the inhabited landscape in the surface of the building.
601 Little Collins Street, Melbourne, Victoria, Australia
2011-



image © Elenberg Fraser Architects
The new building for Urban Inc. at 601 Little Collins Street by Elenberg Fraser looks skyward and transcends old into new. Elenberg Fraser have designed a suite of apartments to sit on top of the old MMBW building, a virtual nest. Like the classic image of Barbarella and her angel, at 601 Little Collins St, hard lines flow into feathery softness – the soft, billowing sheet facing the street is perforated aluminium mirrors, that reflect the sky and echo the materials of nearby Liberty Tower.
It's style plus substance though – the facade also provides passive solar protection from the harsh sun, as well as aero-dynamic drag. The roughness engages the wind ensuring pedestrian comfort below and improving natural ventilation to the apartments. The sides of the building are feathers, creating a nap and grain and matte relief to the street façade. The black line of Barbarella's boot continues inside – surrounded by white, feathery objects the overall impression is that you are wrapped within the arms of an angel. These apartments will be on the market soon.
Elenberg Fraser – Key Projects
Major Projects by Elenberg Fraser Architects, alphabetical:
401 St Kilda Road, Melbourne, Victoria, Australia
2009



image © Digital Fx
401 St Kilda Road
A'Beckett Tower, Melbourne, Victoria, Australia
2009-



image © Elenberg Fraser Architects
A'Beckett Tower
Clara, South Yarra, Melbourne, Victoria, Australia
2009-11



picture © Pointilism
Clara South Yarra
Goods Shed, Docklands, Melbourne, Victoria, Australia
2008



image © Anson Smart
Goods Shed Melbourne
St Falls, Falls Creek, Victoria, Australia
2009



picture from architect
St Falls Victoria
Site One, Bourke Street, Docklands, Melbourne, Victoria, Australia
2007



photo © Tony Miller
Site One Melbourne
More Elenberg Fraser projects online soon
Location: Melbourne, Victoria, Australia
Elenberg Fraser Architects Practice Information
Architect studio based in Melbourne, Victoria
Australian Architect contact details
Melbourne Architectural Designs
Buildings in Melbourne
New Melbourne Buildings : current, chronological list
Contemporary Melbourne Architecture Designs – architectural selection below:
Ocean 12
Architects: Cox Architecture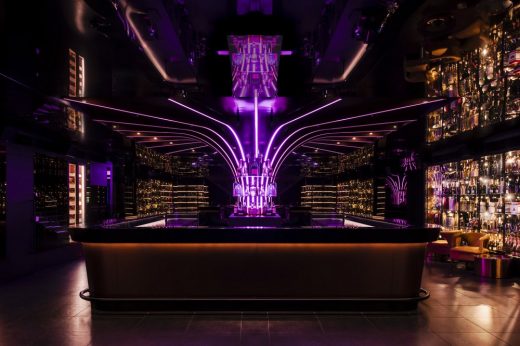 photograph © Tom Blachford
Ocean 12 Melbourne
Galleria
Design: Plus Architecture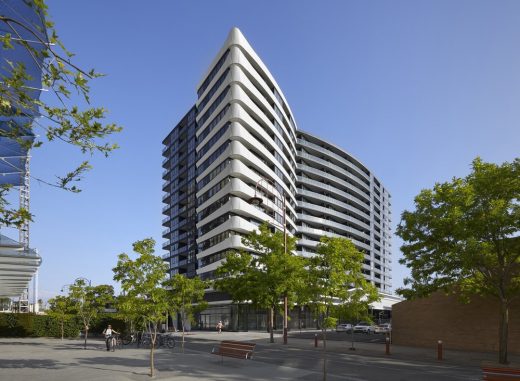 image : Tom Roe
Galleria Apartment Tower
Buildings / photos for the Elenberg Fraser page welcome
Website: www.e-f.com.au