GRAFT Architects, Buildings, USA, Berlin Architectural Practice, Projects, Info, Californian Design Studio
GRAFT Architecture / Design
Contemporary American + German Architects Practice
post updated 27 November 2022
GRAFT News
GRAFT Architecture – latest additions to this page, arranged chronologically:
26 Nov 2022
Eiswerk, Berlin, Germany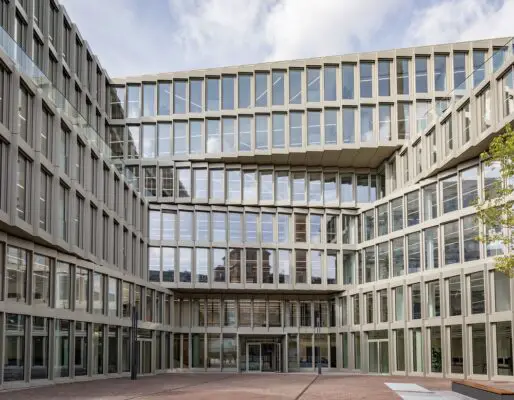 photography : Trockland, Noam Rosenthal
Eiswerk Building Berlin
5 Apr 2022
Old Mill, Old Belgrade, Serbia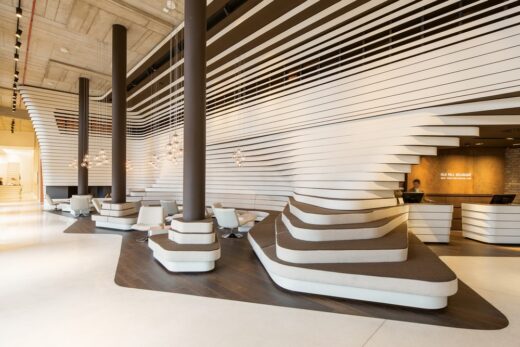 photo : Tobias Hein
Old Mill Hotel Belgrade
In the white city of Old Belgrade, near the banks of the River Sava, GRAFT transformed the historic building of the Old Mill into a 4-star hotel. The ambitious interior concept embraces the existing historical structure and enhances it with new materials, colors and shapes, bringing out its original qualities and creating a unique visual experience.
4 Mar 2022
Villa M, Grunewald, Berlin, Germany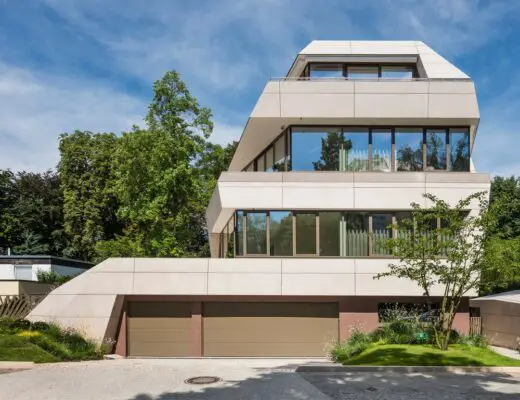 photos : Frank Herfort and Tobias Hein
Villa M, Grunewald, Berlin
GRAFT's design for Villa M – a private home in Berlin's venerable Grunewald quarter presents a striking, modern interpretation of comfortable living in the city. It's trapezoidal, sculptural form and modern architectural language symbolizes a boulder in a glacial landscape and differentiates it from its neighbours.
1 Dec 2020
E.ON Ultra-fast Charging Stations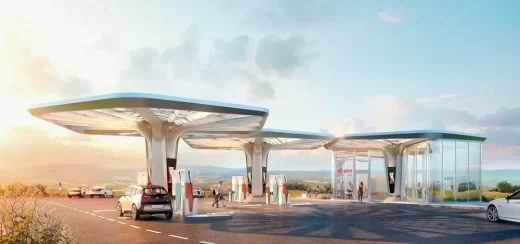 image courtesy of architects
E.ON Ultra-fast Charging Stations
With an elegant steel roof construction that extends up and over the user like a bright, airy canopy, the station's design creates a defined space that is protected from the elements, transforming the charging area into a place of rest.
19 Jun 2019
GRAFT Design for Mercedes-Benz: International Roll-out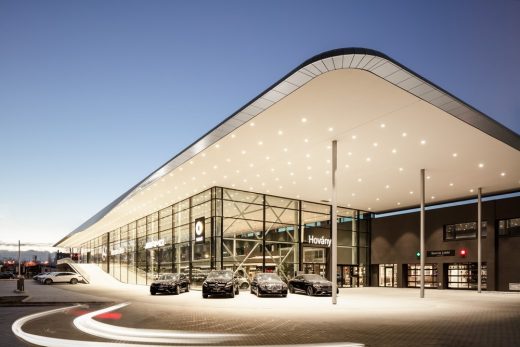 photo © Hiepler Brunier
GRAFT Design for Mercedes-Benz
The world's first retail outlets with Mercedes-Benz's new brand identity can already be seen in car dealerships in Hong Kong, Beijing, Budapest and Istanbul.
12 Feb 2019
Feuerstein Arena, Schierke, Harz district, Saxony-Anhalt, Germany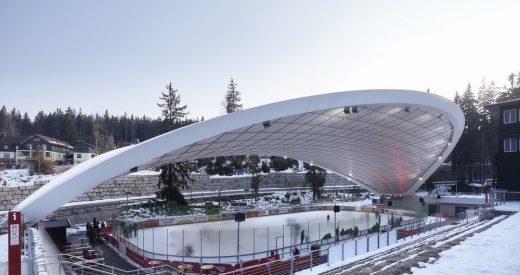 photo : Michael Moser
Feuerstein Arena Schierke
At the foot of the Harz Mountains a historic ice stadium has been renovated. In 2013, GRAFT won the European architecture tendering for the reactivation of the former natural ice stadium and convinced the jury with their unique roof construction.
23 May 2018
Pavilion of Germany at Venice Biennale 2018 – Unbuilding Walls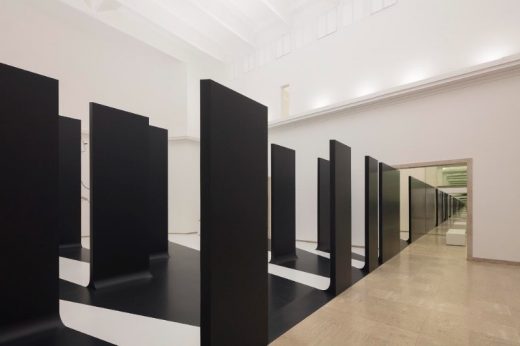 photo courtesy of architects
Pavilion of Germany at Venice Biennale 2018
The exhibition responds to current debates on nations, protectionism and division and explores the effects of division and the process of healing as a dynamic spatial phenomenon.
4 Dec 2017
German Art Museum in Berlin, Germany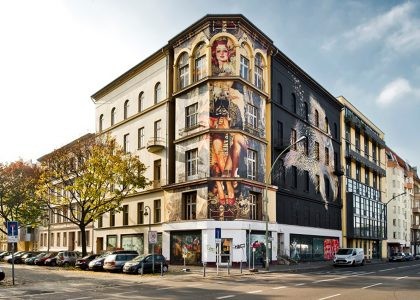 photograph © Benjamin Pritzkuleit
German Art Museum in Berlin Building
The URBAN NATION MUSEUM FOR URBAN CONTEMPORARY ART, in short Urban Nation Museum, is the first German museum for urban art, built in the Berlin quarter of Schöneberg.
11 Nov 2017
Hotel & Spa Seezeitlodge, Lake Bostalsee, Sarland, western Germany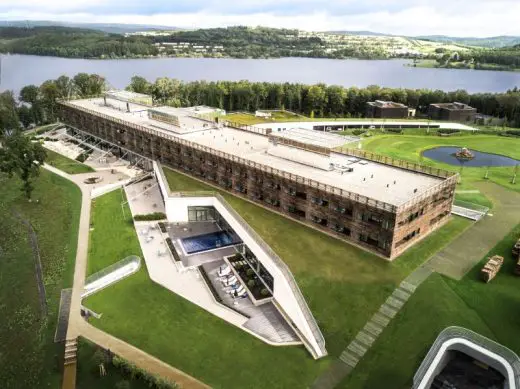 photo : Airteam
Hotel & Spa Seezeitlodge, Saarland
The Hotel occupies an advantageous position in its natural surroundings, overlooking a serene lake from a wooded promontory. GRAFT's design aims to build on and enrich the character of the location. The building figure is a product of the surrounding topography. The hotel connects the realm of the wood with the expanse of the lake, mediating between the land and the water.
4 Mar 2017
New Publication: GRAFT – Home. Story. New Residential and Hospitality Architecture
Covering over 500 pages, Birkhäuser's new book GRAFT – Home. Story. offers a broad insight into GRAFT's highly diverse "four walls", showcasing permanent and temporary dwellings from detached houses to tower blocks and ultimately mansions and luxury hotels. GRAFT's architecture reveals a sense of insatiable curiosity and eagerness to experiment – all the while foregrounding the unique aspects of each project and thus also the development of highly disparate spatial concepts.
See GRAFT architects for further details
9 Sep 2013
Platoon Kunsthalle, Berlin, Germany
Design: Graft Gesellschaft von Architekten mbH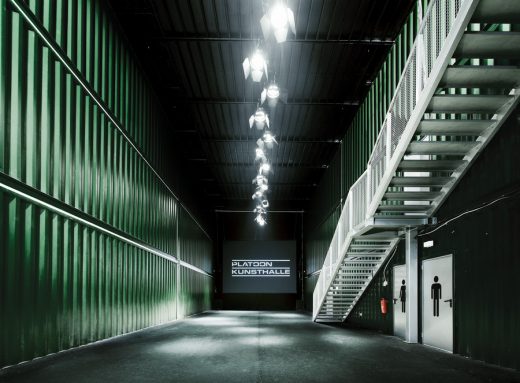 photo from architect studio
PLATOON KUNSTHALLE is designed as an experimental space for artists and creatives, and for the members of the PLATOON NETWORK. The KUNSTHALLE hosts art projects, workshops, and events. It also presents a multitude of creative and artistic projects that clash with the regular art-institutions.
6 Sep 2013
Heinemann Duty Free Shop, Frankfurt Airport, Germany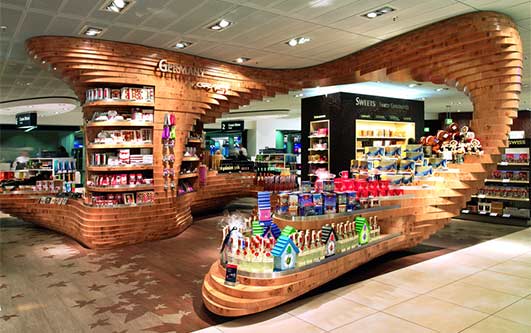 photo : Gebr. Heinemann
With more than 11 million hectares of woodland, Germany is one of the most forested countries in Europe. Now another tree has taken root in the Heinemann Duty Free shop in Frankfurt. The architect's office has brought a flavour of the forest to the regional products area – with an installation that is Made in Germany.
5 Sep 2013
VW Autostadt Roof and Service Pavilion, Wolfsburg, Germany
Design: Graft Gesellschaft von Architektem / landscape architect wes Landschaftsarchitektur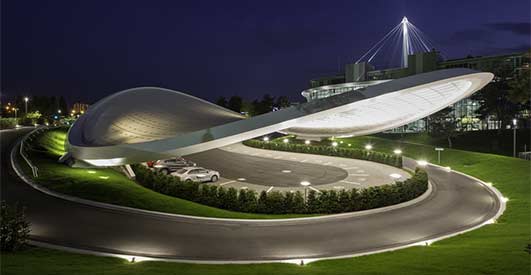 image from architects studio
The firm was commissioned to remodel a former parking area on the site of VW Autostadt in Wolfsburg, Germany. The task was to create a quiet area where the buyer of a new car could get familiar with all the functions in an almost private atmosphere. The space had to be protected from rain and direct sunlight, while allowing enough daylight to avoid the usage of energetically expensive and unnecessary artificial light.
GRAFT Architecture Exhibition – 2012
AIT Architektursalon, Hamburg, Germany



image © the architectural studio
GRAFT Architecture Exhibition
'GRAFT. DISTINCT AMBIGUITY' – ongoing travelling exhibition
Architecture must improve our lives, not just in a functionally or artistically precise way. While searching for quality and beauty, complex shape and ambiguity are part of the essence of architecture that transcends the accurate and the distinct.
GRAFT Architects – Recent Designs
Buildings / Projects by this international design studio, reverse chronological:
Aria Pool Deck, Las Vegas, Nevada, USA
Date built: 2010



photo : Ricardo Ridecos
Aria Pool Deck
City Center is a mixed use, 18 million square feet, development by MGM Mirage that features buildings by several world renowned architects. The unique seventy-six acre urban resort is located in the heart of the famed Las Vegas Strip and is a collection of luxury hotels, condominiums, casinos, shopping facilities, and entertainment venues. To date, it is the largest privately financed development in the history of the United States and is also the largest LEED Certified project in the world.
Radisson SAS Iveria Hotel, Georgia (not Georgia in USA)
Date built: 2009



photo by architects firm
Radisson SAS Iveria Hotel
Visionary Architecture Exhibition – GRAFT / 3deluxe, LUMAS Berlin, Germany
Date built: 2009
"Monster of Grace 3.1"



image © architects, www.lumas.com
Visionary Architecture Exhibition
MIR Camelback House, Lower 9th Ward, New Orleans, USA
Date built: 2009-



photo by architects studio
MIR Camelback House
By April 2009 a total of 6 houses have been finished as part of the Make It Right Program in the Lower 9th Ward, the owners were able to move back and enjoy the benefits of their new homes. Two of these houses were designed by this architecture firm and chosen by the homeowners, as the process at Make It Right is individual choice of the design. 9 more houses are currently under construction, one of them also designed agai by this studio, 10 houses are in the permit process.
Steel-Innovation Prize 2009 for GRAFT and KANERA
"Kanera 1 D" – Steel-Doublesink awarded



photo from architects practie
GRAFT design
GRAFT Architects – Key Projects
Buildings, alphabetical:
Chicago Union Station, Illinois, USA
Date built: 2008-



image from architects office
Chicago Union Station : Architecture Competition entry
GINGKO BACCHUS Restaurant, Chengdu, China
Date built: 2009-



image from architects
Gingko Restaurant
New Orleans Houses : Graftlab, Lower Ninth Ward, New Orleans, Louisiana, USA
Date built: 2008



image from architects
New Orleans Houses
New Orleans Houses, Lower Ninth Ward, New Orleans, Louisiana, USA
Date built: 2008-
Graft with Brad Pitt



photo : Megan Grant
Pink Houses
Louisiana Housing Development following Hurricane Katrina
For charity Make It Right – run by Brad Pitt, opened by Bill Clinton
Wuensdorf Kirche, Berlin, Germany
Date built: 2008-



image : graft
GRAFT Berlin : German church project – 1st Prize Competition
More architecture projects by GRAFT Architects online soon
Location: Berlin, Germany
Architecture Practice Information
Graft architecture studio based in Los Angeles, California, USA
Also, an office is located in Berlin, Germany
GRAFT is a full service architectural firm with the collective professional experience that encompasses a wide array of building types including Fine Arts, Educational, Institutional, Commercial and Residential facilities. The firm has won the Honor Award 2005 from the AIA in Los Angeles, the Contract World Award 2005 and 2004, the Hospitality Design Award 2005, along with numerous other international awards and prizes.
This architectural studio was conceived as a Label for Architecture, Urban Planning, Exhibition Design, Music and the "Pursuit of Happiness". Since the firm was established it has been commissioned to design and manage a wide range of projects in multiple disciplines and locations.
With the core of the firm's enterprises gravitating around the field of architecture and the built environment, the architecture studio has always maintained an interest in crossing the boundaries between disciplines and "grafting" the creative potentials and methodologies of different realities. This is reflected in the firm's expansion into the fields of music, car design, art installations, academic projects and "eventings" executed by their in house production department as well as in the variety of project locations throughout the globe.
"Architecture is a deliberate recreation of a new and special reality that grows from our response to life. It cannot be copied; it must be created."
Website: https://graftlab.com/
Contemporary Architectural Designs
Buildings / photos for the GRAFT Architecture page welcome