Gramazio & Kohler Architekten, Swiss Design Practice, Zurich Studio, Building Project News
Gramazio & Kohler Architecture
Contemporary Swiss Architectural Studio, Europe Design Firm
post updated 3 May 2021
Featured Design by Gramazio & Kohler
The Sequential Wall, Tiergarten, Berlin, Germany
Switzerland
Design : Gramazio & Kohler, Architektur und Digitale Fabrikation, ETH Zürich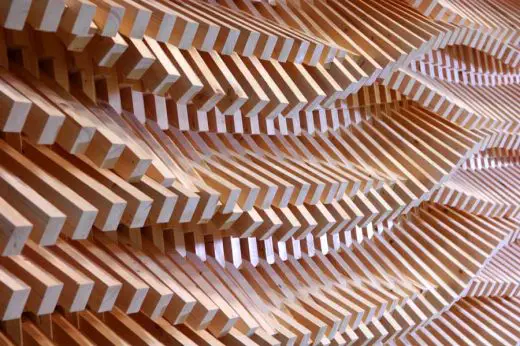 image © Gramazio & Kohler, ETH Zurich
Location: ETH Zürich
Project: Jun 2008 – Jul 2008
Elective Course: Spring Semester 2008
In the follow-up course the students were challenged to integrate the functional requirements to an external timber wall – for example its loadbearing and insulating behaviour as well as its constructive waterproofing – into their designs systems as generative parameters. Functional and formal characteristics were so tightly intertwined that they became mutually dependent. Individual wooden slats that protruded outwards and face down, for example, were used not just as a strongly expressive design element, but also to shield the structural parts from water by channelling it away from the facade, much as pine needles or shingles do.
Gramazio & Kohler – Exhibition
Flight Assembled Architecture
2 Dec 2011 – 19 Feb 2012
FRAC Centre, Orléans, France
Exhibition:
Gramazio & Kohler and Raffaello D'Andrea
in collaboration with ETH Zurich
The authors
In 2011, Gramazio & Kohler and Raffaello D'Andrea started to develop a pioneering approach on dynamic material formation and machine behaviour. Belonging to the generation of young architects aiming at using the full potential of digital design and fabrication, Gramazio & Kohler joined with Raffaello D'Andrea whose work addresses ground-breaking autonomous systems design and algorithms. Together, they started to explore the possibilities of a revolutionary assembly apparatus and reveal with their collaboration unseen spatial and structural articulations based on the innovation of Flight Assembled Architecture.
A unique installation, co-produced by FRAC Centre
Flight Assembled Architecture is the first installation to be built by flying machines. Conceived as an architectural structure at a scale of a 600 m high "vertical village", the installation addresses radical new ways of thinking and materializing architecture as a physical process of dynamic formation. Gramazio & Kohler and Raffaello D'Andrea developed a powerful expression of cutting-edge innovation that uses a multitude of mobile agents working in parallel and acting together as scalable production means. Those are programmed to interact, lift, transport and assemble small modules in order to erect a building structure that synthesizes a rigorous architectural approach by Gramazio & Kohler and a visionary autonomous system design by Raffaello D'Andrea. The FRAC Centre chose to associate with their approach. The aim was to initiate a unique installation and be able to include the result in its collection of experimental architecture. Moreover, this is the first collaborative project by Gramazio & Kohler and Raffaello D'Andrea and will be exclusively exhibited at the FRAC Centre, Orléans.
The exhibition
Following an initial phase lasting several days and dedicated to the assembly by flying machines of a model standing 6 m high and 3 m in diameter – made up of 1200 prefabricated polyurethane foam modules –, the exhibition will feature a "megastructure" in its completed form, along with a film documenting the airborne assembly and all aspects of the exhibition.
Publication
An exhibition catalogue (English/French bilingual), Flight Assembled Architecture by Gramazio & Kohler and Raffaello D'Andrea, FRAC Centre coll., will be published by HYX, Orléans in February 2012.
Raffaello D'Andrea
Raffaello D'Andrea is professor of Dynamic Systems and Control at the Swiss Federal Institute of Technology in Zurich. He also is technical co-founder and chief technology advisor for Kiva Systems, a Boston area high-tech company that has developed a revolutionary material handling system utilizing hundreds of fully autonomous mobile robots. He was the faculty advisor and system architect of the Cornell Robot Soccer Team, four-time world champions at the international RoboCup competition in Sweden, Australia, Italy, and Japan. In addition, he has exhibited his work at various international venues, including the Venice Biennale, Ars Electronica, the Smithsonian, and the Spoleto Festival; two of his collaborative projects – The Robotic Chair and The Table – are in the permanent collection of the National Gallery of Canada. D'Andrea is a recipient of the Invention and Entrepreneurship in Robotics and Automation Award, the United States Presidential Early Career Award for Science and Engineering, the National Science Foundation Career Award, and best paper awards from the American Automatic Control Council, the Institute of Electrical and Electronics Engineers, and the International Federation of Automatic Control.
Links
http://www.dfab.arch.ethz.ch
http://www.idsc.ethz.ch
Conference
Additional conference on the architecture of Gramazio & Kohler, in collaboration with the Swiss Cultural Centre, at the Pompidou Centre in Paris: December 2, 2011 at 7pm.
Exhibition Details
FRAC Centre – 12 rue de la Tour Neuve – 45000 Orléans
Free admission
Le FRAC Centre est principalement financé par la Région Centre et le Ministère de la Culture et de la Communication (Direction Régionale des Affaires Culturelles du Centre).
More design projects by Gramazio & Kohler online soon
Location: Wasserwerkstrasse 129, CH-8037 Zurich, Switzerland, central Europe
Gramazio & Kohler Architektur und Städtebau Practice Information
Architect office based in Zurich, Switzerland
Gramazio & Kohler GmbH – Architektur und Städtebau
Fabio Gramazio and Matthias Kohler are architects with multi-disciplinary interests ranging from computational design and robotic fabrication to material innovation.
In 2000, they founded the architecture practice Gramazio & Kohler where numerous award-wining designs have been realized, integrating novel architectural designs into a contemporary building culture.
Their work includes such notable pieces as the Gantenbein vineyard façade, the Christmas lights for the Bahnhofstrasse in Zurich, the sWISH* Pavilion at the Swiss National Exposition Expo.02 and the Private House in Riedikon.
Founding also the world's first architectural robotic laboratory at the Swiss Federal Institute of Technology in Zurich, their pioneering research concentrates on a multi-disciplinary practice between computational design, robotic fabrication and material innovation. This ranges from 1:1 prototypical installations to the design of robotically fabricated high-rise buildings. Their work has been published in a large number of academic journals, further contributing to numerous exhibitions around the world such as the 2008 Architectural Biennial in Venice or the Storefront Gallery for Art and Architecture in New York 2009.
Website: www.gramaziokohler.com
Swiss Architectural Designs
Swiss Architecture Designs – architectural selection below:
Swiss Architecture Designs – chronological list
Zurich Architecture Walking Tours – bespoke city walks by e-architect guides
Weltpostpark site buildings, Bern
Design: SSA Architekten, Basel, Switzerland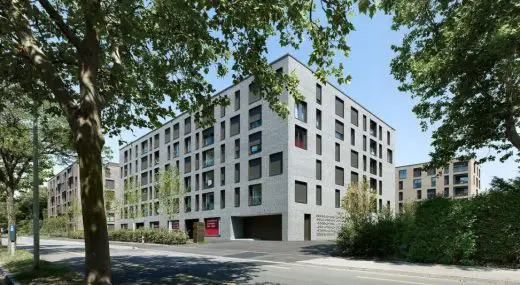 photograph © Ruedi Walti
Weltpostpark residential buildings Bern
Chenot Palace Weggis Health Wellness Hotel, Weggis, Canton Lucerne
Design: Davide Macullo Architects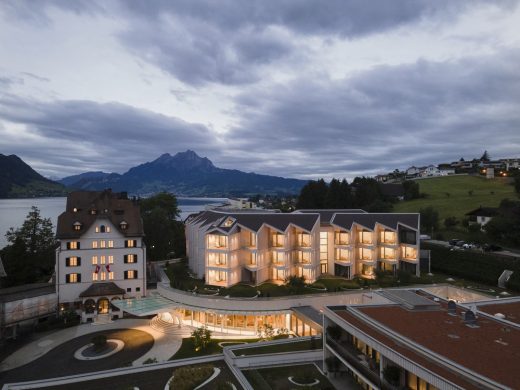 photograph : Roberto Pellegrini
Chenot Palace Weggis Health Wellness Hotel
Comments / photos for the Gramazio & Kohler – Swiss Design Studio page welcome