Gillespie Kidd & Coia Architects, 20th C Scottish Architecture Practice, Modern Buildings Scotland
Gillespie Kidd & Coia – Scottish Architects
GK&C : Glasgow Buildings, Scotland: UK Modern Architecture
post updated 3 May 2022 with new photos
Gillespie Kidd & Coia Building News
Gillespie Kidd & Coia Building Photos
20 July 2020
We visited another church, from the Second World War period, designed by architect Jack Coia:
St Columba of Iona RC Church, Woodside, Glasgow
Architects: Gillespie, Kidd & Coia
Date built: 1941
Style: Italian Romanesque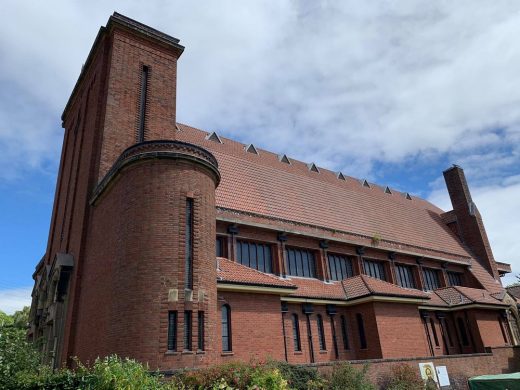 all photos © Adrian Welch
The design has an unusually dominant hammerhead plan, with symmetrical stair towers either side of the western entry facade. A concrete portal frame is clad in medium-red coloured brickwork. The dominant mansard roof is tiled in red tiles to match the brickwork below.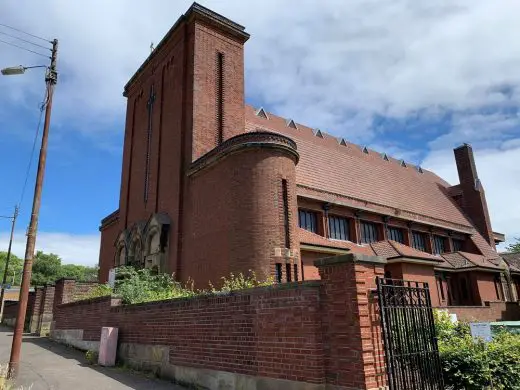 It is a category A listed building. The cost was met by the families of the area, each of whom paid 6d per brick. The high parapets to conceal hidden gutters are not visually successful in our view.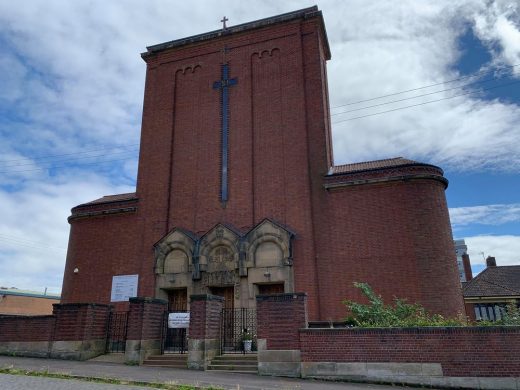 St Columba of Iona RC Church was the only church to be completed in Glasgow during World War II.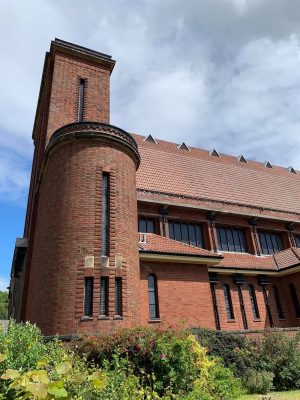 More images here – Glasgow Architecture Photos
9 July 2020
We visited another church today, but this time much older, from the 1930s, designed by architect Jack Coia: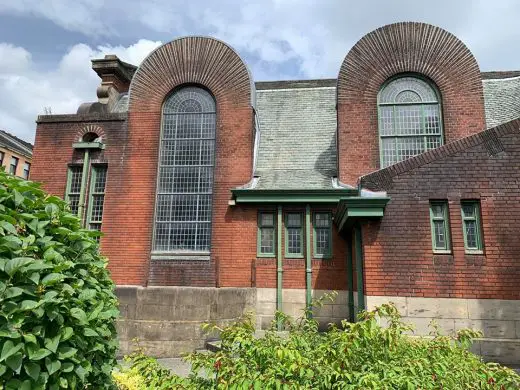 all photos © Adrian Welch
St. Anne (Dennistoun) – Archdiocese of Glasgow, 21 Whitevale St, Glasgow, Scotland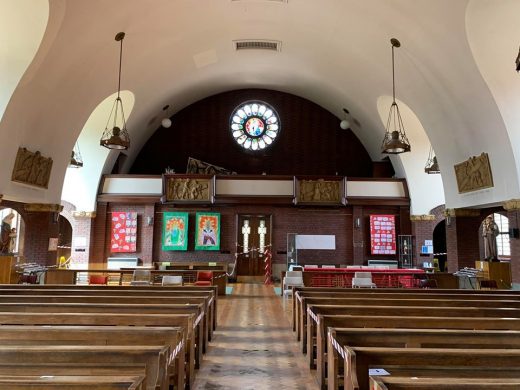 Jack Coia designed the church in a mixture of Romanesque and Byzantine Revival styles.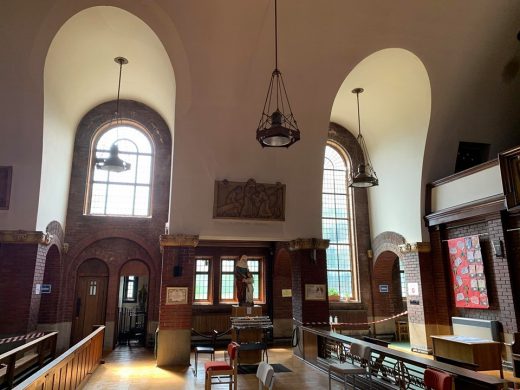 He designed around thirty buildings for the Catholic Church.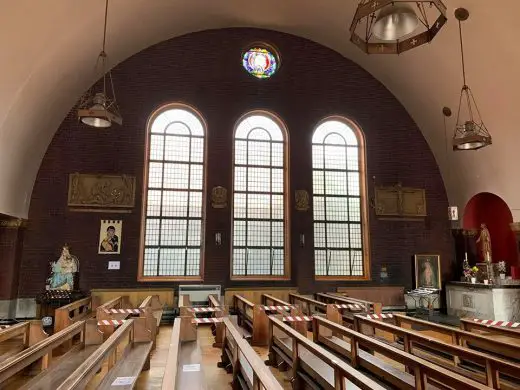 The church takes its cruciform shape from a series of semi-circular reinforced concrete portals converging on a central apex.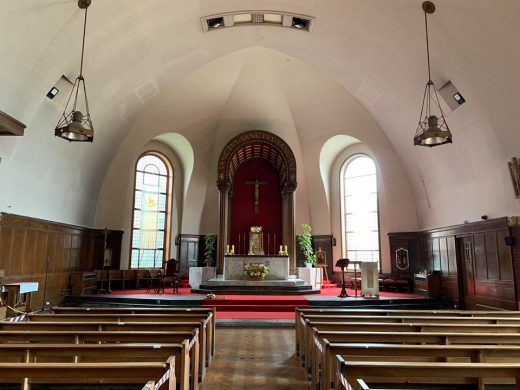 Status: Category A listed building
Style: Romanesque, Byzantine
Groundbreaking: 1932
Completed: 1933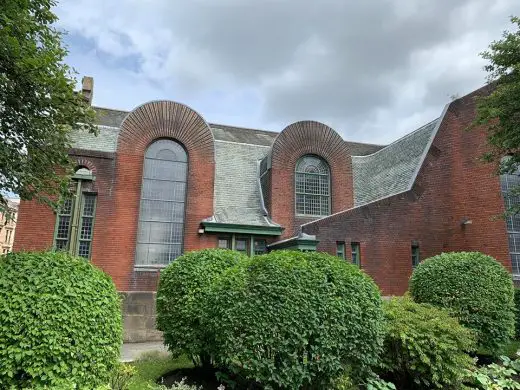 More photos here – Glasgow Building Photos
6 July 2020
St Charles Borromeo Church, North Kelvinside, Glasgow, Scotland
Photos taken on the 5th of July 2020 by founding editor Adrian Welch: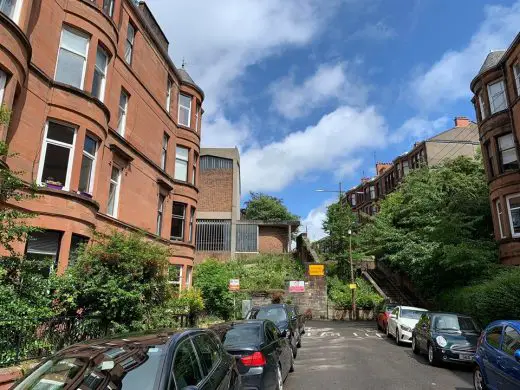 Another visit to St Charles Borromeo Church in North Kelvinside, this time with my architecture student son.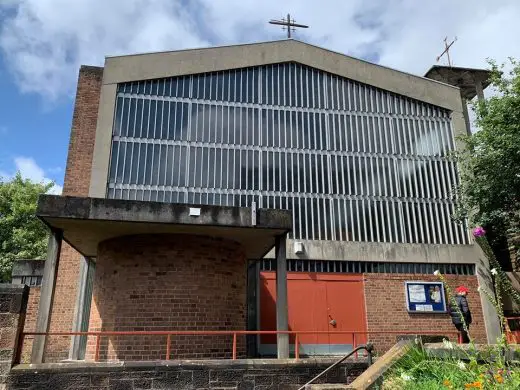 The rather austere building dates from 1959/60, using a reinforced concrete skeletal frame.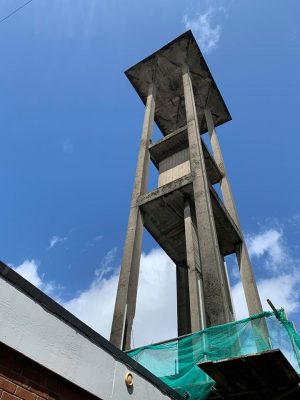 The Roman Catholic church is listed Category B, and located at 1 Kelvinside Gardens, Glasgow, G20 6BG.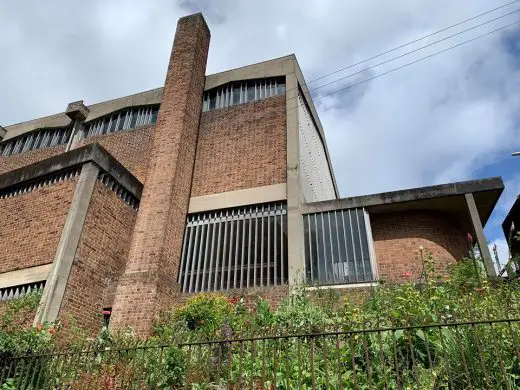 The main body of the church was formed from seven concrete portals, infilled with red rustic brickwork.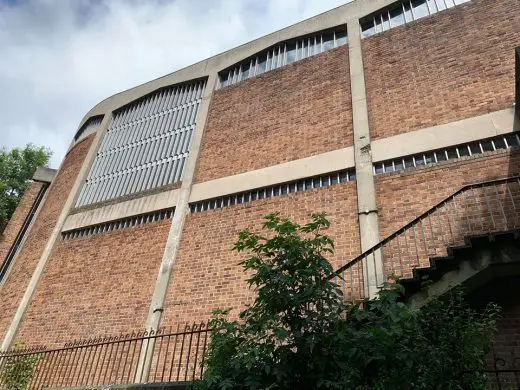 It is an interesting GK&C building design, but the East gable (pictured) is a little flat, and the 'bell' tower with three underslung speakers is too heavy.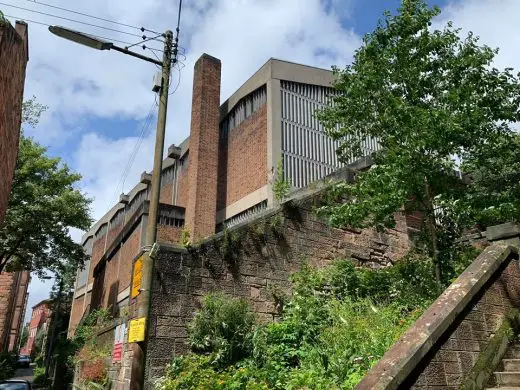 The church was closed but post-pandemic it will be good to revisit and enjoy the interior.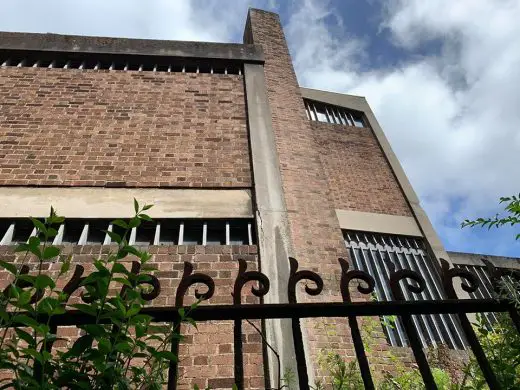 St Charles Borromeo Church in North Kelvinside has a highly original fanned vaulted roof over the apse, supported by a circular series of columns.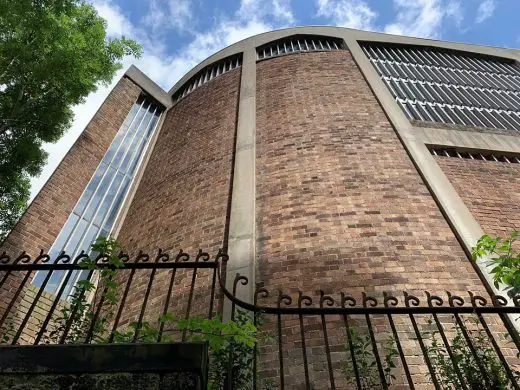 The original plan by Jack Coia was fleshed out by Andy MacMillan, producing a highly original completed building.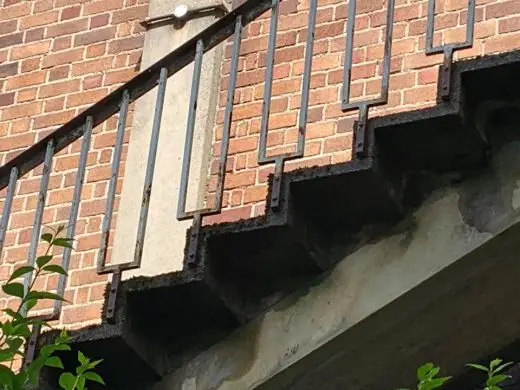 The Stations of the Cross were created with terracotta figures encircling the church by the celebrated sculptor Benno Schotz, in one of his final commissions before his retirement in 1961.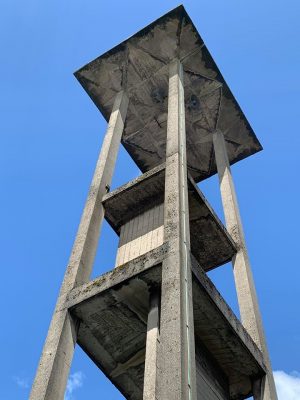 The altar and pulpit were formed with Mexican onyx, a material favoured by Jack Coia. He also used this stone in the neighbouring St Columba's Church, Woodside, which we aim to photograph and publish next weekend.
11 Apr 2020 with new info ; 21 Mar 2016
Hinterland Review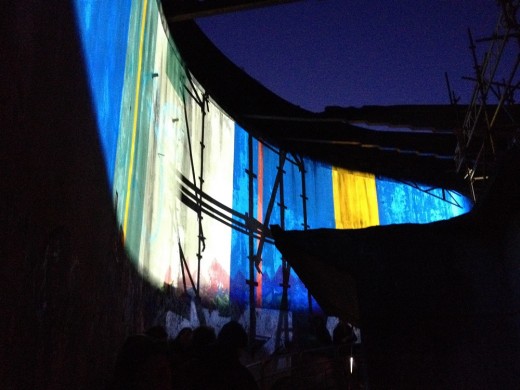 So we enjoyed our evening visit to Hinterland at St Peter's Seminary, but felt slightly underwhelmed, the show seems too reliant on the architecture. We were looking to be moved, but the visuals and music was all fairly background and a light touch.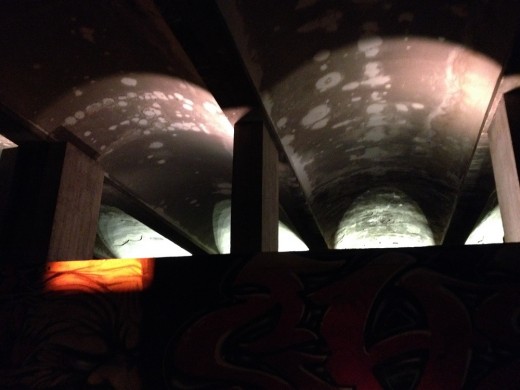 The visceral feeling of say a nightclub or a football stadium wasn't felt here, but if you were after intellectual or artistic vitamins instead of emotional upheaval there was also little to stimulate. It didn't pull at the heart as say their Storr (Skye) event. There are narratives relative to the Catholic church, Modern architecture, the woods (think of how Twin Peaks developed deeper layered themes such as the owls) which seemed under-exploited.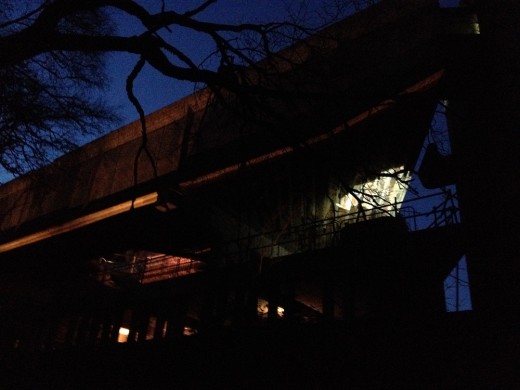 Overall it was a pleasant experience and interesting to revisit this stunning architecture at night-time, and NVA are to be thoroughly congratulated on their efforts both recent and forthcoming in making positive change at this important building.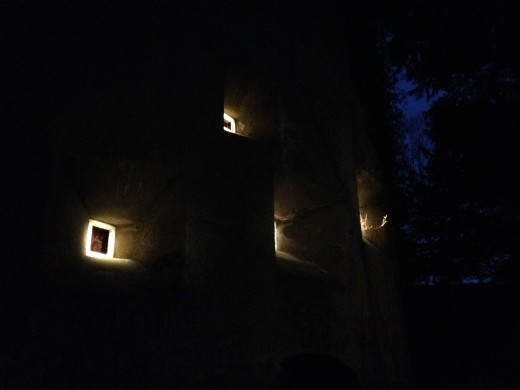 You got the feeling the organisers had enjoyed developing the route and the staging and we got the impression people enjoyed it but weren't blown away by it. However we only spoke to a handful of people so would love to hear from people who have different views!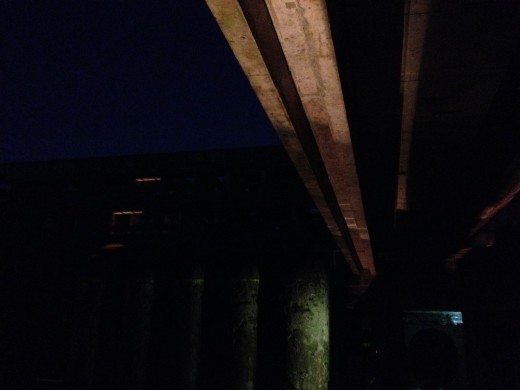 The Hinterland Music Commission Cardross Seminary is being staged 50 years after the college for Catholic priests opened near Helensburgh.
We hope to add some more photos soon, here is a link to one on The Guardian:
Hinterland photo – the main space, looking north
19 + 18 Mar 2016
Hinterland at St Peter's Seminary, Cardross, Helensburgh, western Scotland
Scotland's Festival of Architecture launched on Friday night with a sound and light performance at one of the country's most famous modernist ruins.
Isabelle and Adrian from e-architect will be attending Hinterland – we'll file a brief report online soon!
St Peter's Seminary in Cardross hosts the first of 10 shows to mark the start of the eight-month long Scottish architecture festival.
The show uses a subtle composition of lighting, projection and choral music combined with the powerful architectural and landscape setting, deep in the woods on a sloping site in western Scotland.
This headline event has sold out, with audiences coming from across the UK and Europe.
Now an A-listed ruin, arts groups hope to transform the building into a viable venue for music and theatre performances.
St Peter's Seminary in Cardross
Hinterland – NVA page
St Peter's College, Cardross, Helensburgh, Scotland
Date built: 1968
Heritage Lottery Fund award to resuscitate one of Europe's greatest modernist buildings, Cardross Seminary: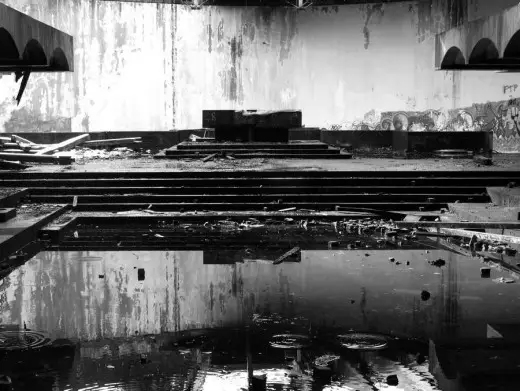 photograph © James Johnson, March 2008
Leading public arts organisation NVA's ambitious campaign to raise £7.5 million to resuscitate one of Europe's greatest modernist buildings, St Peters Seminary, has been given a substantial boost, with a first-round pass from the Heritage Lottery Fund.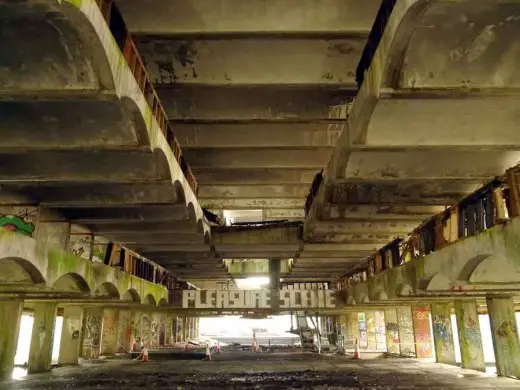 photo © Niels Lomholt
The award will release £565k development funding leading to a second stage submission for £3 million in 2015.
New photos online 3 Apr 2012:


photo © Niels Lomholt
Cardross Seminary by Gillespie Kidd & Coia building : 'Shock Horror' – article by e-architect Editor, Adrian Welch
Gillespie Kidd & Coia Architect – Isi Metzstein
Isi Metzstein, Glasgow, Scotland
1928-2012
Gillespie Kidd & Coia – Latest Buildings Added
Church of St Paul the Apostle, Glasgow, Scotland
1959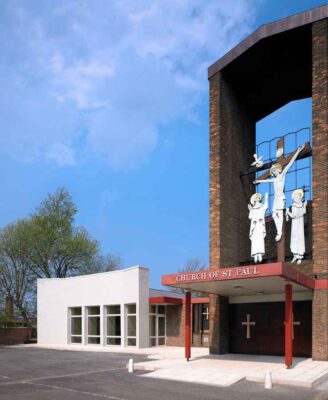 photograph © Andrew Lee
The category B-listed Church of St Paul the Apostle stands on the busy Shettleston Road two miles east of Glasgow City Centre. Jack Coia, of Glasgow architects Gillespie Kidd and Coia, designed the church in an Italian Baroque style, and it was built from 1957 to 1959. The Cube – design by Page Park Architects. 22 Nov 2011
News Update – 2011
Refurbishment by Paul Stallan _ Studio, RMJM






images from Paul Stallan _Studio, RMJM
Gillespie Kidd & Coia – Major Building
St Peter's College, Cardross, Helensburgh, Scotland
1968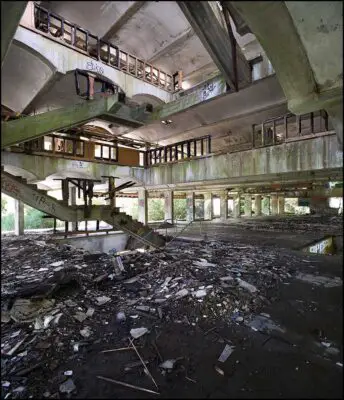 photo © Neale Smith
This building was bought by NVA in May 2011.
Major Gillespie Kidd & Coia building : Catholic Seminary Arts charity NVA purchased St Peter's Seminary at Cardross in Spring 2011 as part of £10 million plans for its redevelopment. The charity plans to convert the Cardross Seminary building into an 'intentional Modernist ruin'.
Gillespie Kidd & Coia (GK&C) Projects in Glasgow
Bellshill Hospital
1962
85 Buchanan St
1970
Buchanan Street (scroll down the page for the Gillespie Kidd & Coia building)
Cardross Seminary, Helensburgh (actually aprox. 1 hour from the city)
1958-66
King's Park Secondary School
–
Our Lady & St Francis School, 58-60 Charlotte St
1964
Our Lady & St Francis School
Our Lady of Good Counsel, Craigpark St, Dennistoun, Glasgow
1966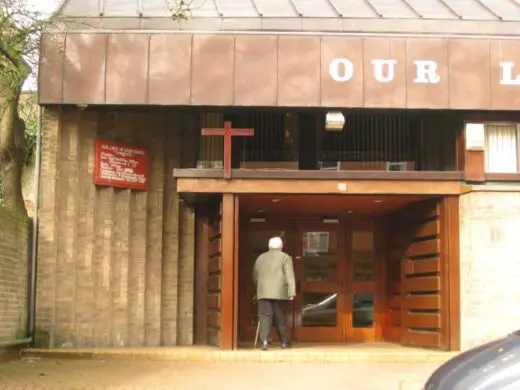 photograph © Adrian Welch
Our Lady of Good Counsel
St Anne's Roman Catholic Church, Whitevale St
1931
St Benedict's Church, Easterhouse, Glasgow
1965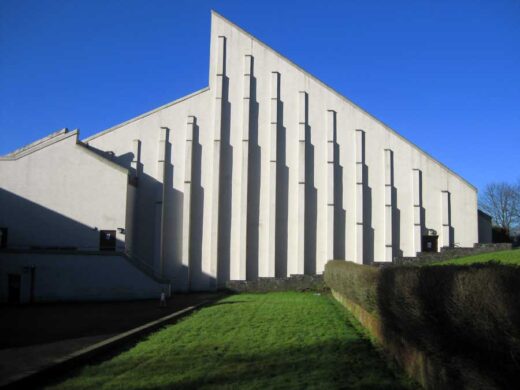 photograph © Adrian Welch
St Benedict's Glasgow
St Charles RC Church, Hillside, Glasgow, Scotland – northwest of city centre
1960



photograph © Adrian Welch
St Charles of Borromeo Church
St Columba, Hopehill Rd
1937
Gillespie Kidd & Coia – Projects in Scotland outwith Glasgow
Kildrum Primary School
1961
severe concrete buildings
St Paul's Roman Catholic Church, Glenrothes
1957
First major collaboration by Isi Metzstein & Andy MacMillan
St Kevin's Church, Rosebank Terrace, Bargeddie, Coatbridge
1950
Long-plan church with austere exterior
St David's Church, Meadowhead Road, Plains
1950
Low-budget post-war Catholic church, one of ten long-plan churches by GK&C, early and not one of the best
St Bride's Kirk, East Kilbride, South Lanarkshire, Scotland
1962 / 63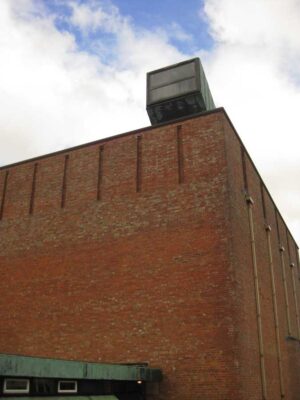 photo © Isabelle Lomholt, 2011
St Bride's Kirk East Kilbride : Modern church building
Bonar Hall, Park Place, Dundee
1975
St Benedict's, Drumchapel
demolished 1991
Gillespie Kidd & Coia – Projects outwith Scotland
Halls of Residence, University of Hull, Kingston-upon-Hull
1963
Gillespie Kidd & Coia with Leslie Martin
Wadham College, University of Oxford, Oxford
1977
Robinson College, University of Cambridge, central-west Cambridge
1980



English GK&C building : image © Adrian Welch
Gillespie Kidd and Coia Exhibition
Lighthouse, Glasgow
2007
Curator: Mark Baines, Mackintosh School of Art
by Ewan Imrie / Collective Architecture
Roses Design Awards 2008 Architecture Chairman's Award
Graphics: ISO
Contractor: Touchwood Design Build
Photographer: Andrew Lee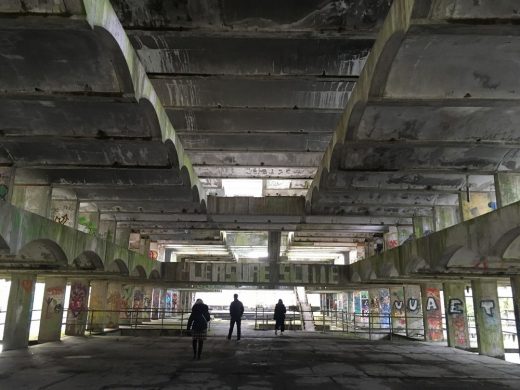 Cardoss Seminary photo by Daniel Lomholt-Welch
More buildings by Gillespie Kidd & Coia online soon
Location: Glasgow, Scotland
Gillespie Kidd & Coia Practice Information
Architects studio formerly based in Glasgow, Scotland
Jack Coia was the Winner of the RIBA Gold Medal 1969
GSA Honour Andy + Isi
Andy MacMillan and Isi Metzstein to be awarded honorary degrees by the University of Glasgow on behalf of The Glasgow School of Art. Apr 2008
GK&C Summary + Some Thoughts
St Charles of Borromeo Church, Glasgow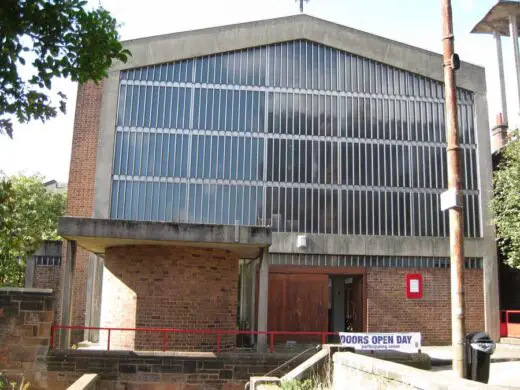 photo : Paul Weston
St.Charles' R.C. Oratory – Catholic church
Address: 1 Kelvinside Gardens, Glasgow G20 6BG ; Phone: 07761 764996
I first read about Gillespie Kidd & Coia in architecture textbooks prior to leaving school, not being aware they hailed from Scotland. The project that features in most standard texts on Modern Architecture or 20th Century Architecture is Robinson College, University of Cambridge. This building's stark brick,w ith little other material relief, may be off-putting for some but its cranked 'street' spine inspired many, including my own student work.
Cardross Building – Seminary in Scotland
In Scotland Gillespie Kidd & Coia are principally known for their Glasgow churches and tend to be viewed through key later architects Isi Metzstein & Andy MacMillan. If one building is key, it has to be Cardross Seminary. Sadly ruinous I strongly support its being saved. Clearly a monolithic concrete building in a ruinous state is not terribly attractive to developers, so some lateral thinking and inventiveness inherent in the building itself are required. The furniture and fittings are almost all lost but the structure is still mostly there.
Some will argue that the dilapidation should be arrested so the building is preserved as a ruin. Others will argue for reuse with functions dictated by the market. Alternatively the Seminary could be recreated as a shrine to Gillespie Kidd & Coia. Lastly, some might argue for demolition, for Scottish architects to record the building and move on.
I have always been a firm believer in recording buildings for use by future generations – rather than blanket listing – but, for key buildings such as this, saving them (not the same as 'listing' them) is important. Why? However good the animation, pictures or 3d models, with great works you absolutely have to physically engage with them in order to fully understand them.
You don't have to do this with every ruinous Scottish Castle but with key works which exhibit major innovation it is worth a level of investment to not only save a great building per se, but to allow future generations of architects and Clients to experience an exemplar.
Scotland has so few great Modern buildings – just look through the standard canons, eg Watkin's History of Western Architecture includes but two – so when we have one it should be suitably retained.
Thoughts welcome on this key issue facing Glasgow, and Scottish, Architecture. Photos of Gillespie Kidd & Coia buildings also welcome.
Adrian Welch, Architect
Relevant Links:
Glasgow School of Art, Scotland
Information on Gillespie Kidd & Coia buildings welcome
Comments / photos for the Gillespie Kidd & Coia Architects page welcome
Website: www.gillespiekiddandcoia.com