Gustafson Porter + Bowman Landscape Architecture Office, Building, Design Studio, Photos
Gustafson Porter + Bowman
Landscape Architects Practice: Office News – Public Space & Garden Architecture
24 Oct 2017
Gustafson Porter + Bowman News
National Holocaust Memorial and Learning Centre, London, England, UK
Winning Design: Adjaye Associates / Ron Arad Architects / Gustafson Porter + Bowman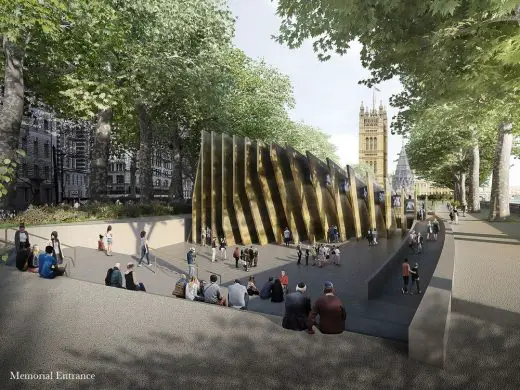 image © Adjaye Associates and Ron Arad Architects
National Holocaust Memorial and Learning Centre in London Winners
Adjaye Associates, Ron Arad Architects and the landscape architects Gustafson Porter + Bowman have been selected to design the UK's new Holocaust Memorial and Learning Centre.
26 May 2017
Central Courtyard Space at London Metropolitan University
Design of a new public square within the Holloway campus.
The design will transform the site and become a notable addition to the local area, providing the campus with a heightened sense of place. The Camden-based practice will work with University students, staff and the local community to create an engaging community space which will become a landmark within Islington.

Central Courtyard Space at London Metropolitan University by Gustafson Porter + Bowman
30 + 29 Jan 2017
HK Public Space Design by Gustafson Porter + Bowman
Gustafson Porter + Bowman unveil plans for ambitious public space in Hong Kong.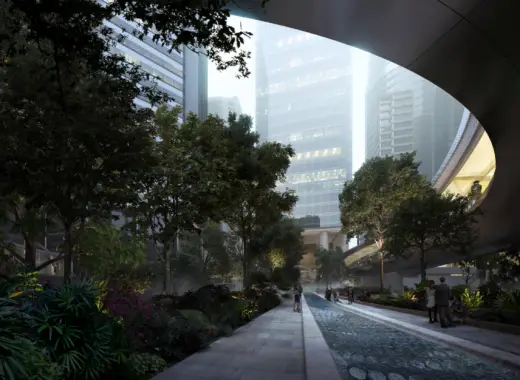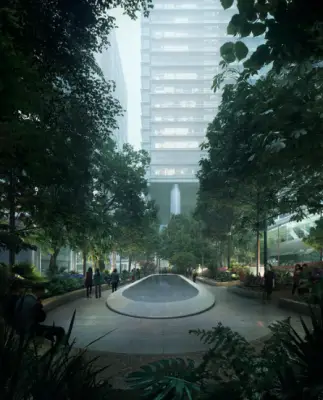 Taikoo Place will create an inclusive open space which includes lush native vegetation and sculptural water features.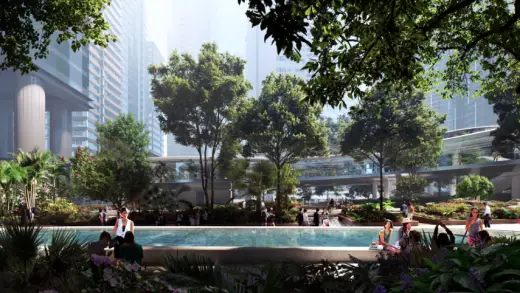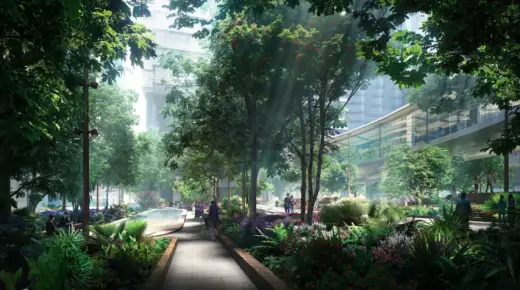 Encompassing 69,000 square feet, the landscape project will feature a variety of spaces, from small, intimate areas for conversation, to larger open areas suitable for special events like concerts and outdoor markets.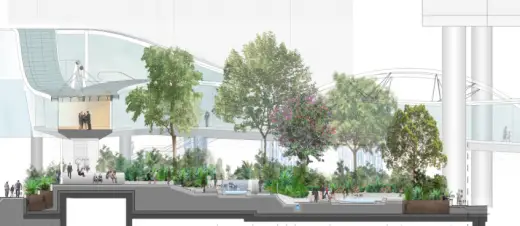 The redevelopment of Taikoo Place will additionally include two office towers and an elevated walkway. The entire project is expected to be completed in 2021.
27 Jan 2017
Shortlisted designs for National Holocaust Memorial
Gustafson Porter + Bowman have worked on the landscape concept design and development of two National Holocaust Memorial designs in London, England:
– Adjaye Associates with Ron Arad Associates, DHA, All Clear, Accept & Proceed, Abigail Morris, and Jonathan Safran Foer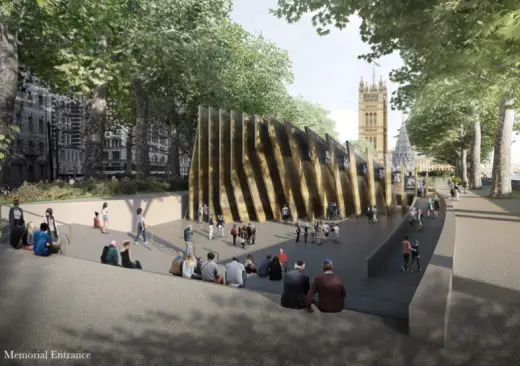 – Heneghan Peng Architects with Event, Bruce Mau Design, BuroHappold Engineering, Bartenbach, and Duncan Boddy (PFB Construction)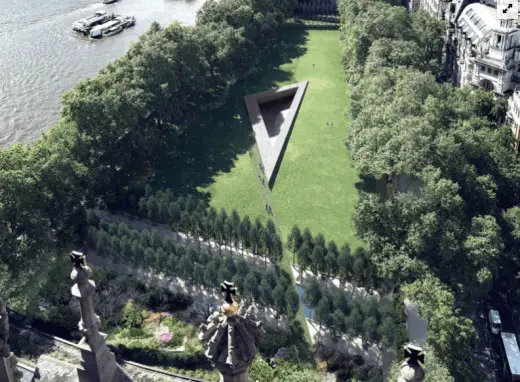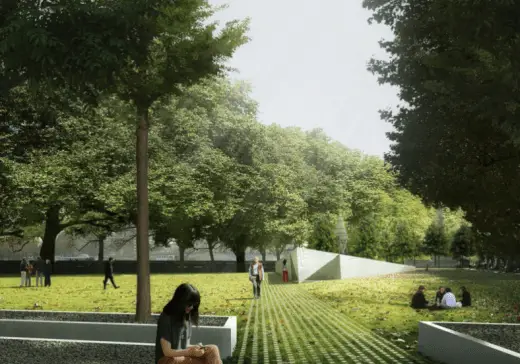 Images courtesy of designers
19 Jan 2017
Marina One
The Marina One project (designed with Ingenhoven architects) tops out in Singapore.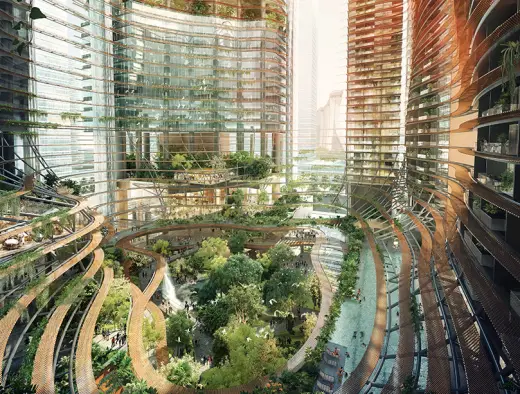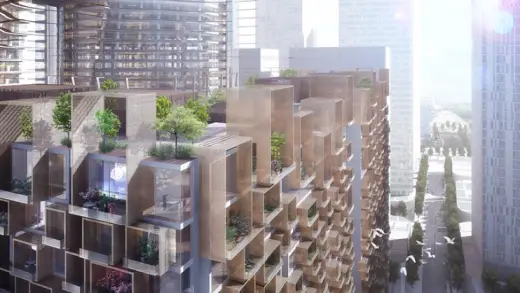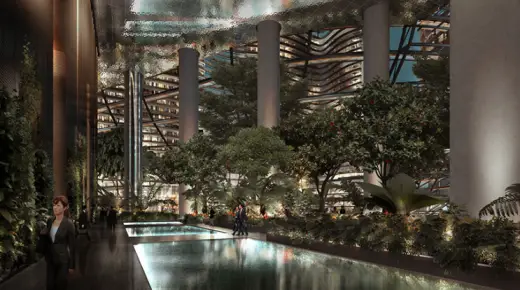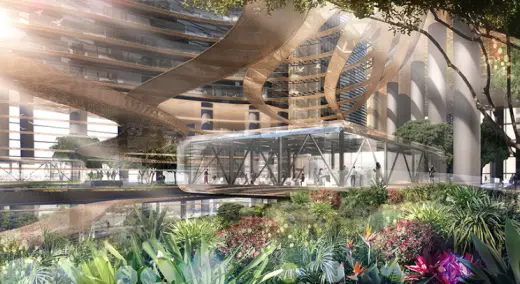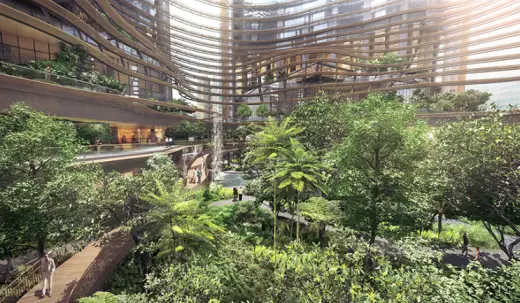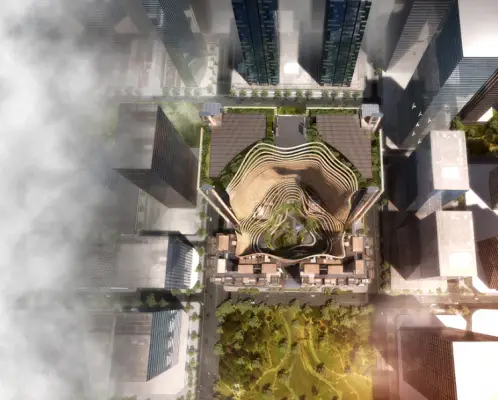 11 + 9 Jan 2017
Introducing Gustafson Porter + Bowman
Photos added on 11 Jan 2017
Award-winning landscape practice which has designed projects including the Diana, Princess of Wales Memorial Fountain and Old Market Square, Nottingham recognises the role of Mary Bowman
Diana, Princess of Wales Memorial Fountain © Jason Hawkes: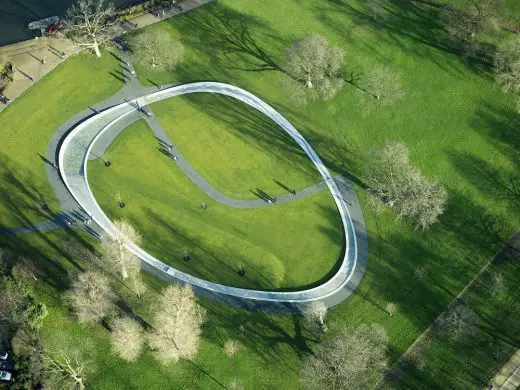 Gustafson Porter becomes Gustafson Porter + Bowman in January 2017. The change of name reflects the evolving nature of the growing practice and the pivotal role Mary Bowman has played in its development since joining in 2002. It also reflects the wider ownership of the practice by its partners: Kathryn Gustafson, Neil Porter, Mary Bowman, Sibylla Hartel and Donncha O Shea.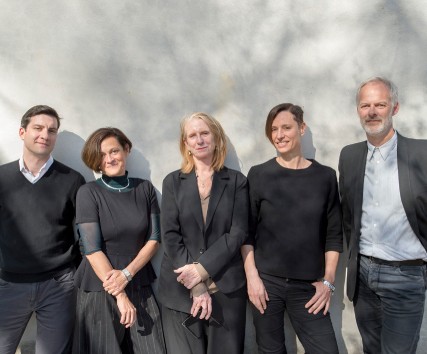 The innovative landscape architecture practice was established in 1997 when the acclaimed landscape architect Kathryn Gustafson opened an office with architect Neil Porter. The design work the partnership produces continuously pushes the boundaries of landscape design, and is known for its sensual and sculptural features.
Cultuurpark Westergasfabriek © Thomas Schiljper: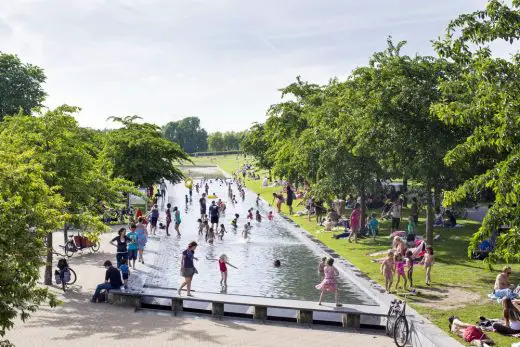 Spanning climate zones, geographical characters, historical and cultural backgrounds, the partnership's exciting and varied projects include the Diana, Princess of Wales Memorial in Hyde Park, Cultuurpark Westergasfabriek in Amsterdam, Old Market Square in Nottingham, Zeytouneh Square and Harbour Square in Beirut, and the first ever landscape installation at the 11th Venice Architecture Biennale in 2008.
The 34-strong practice is currently working on projects in the UK including International Quarter London in Stratford for Lend Lease, Rathbone Square in Central London for Great Portland Estates, Chelsea Barracks for Qatari Diar and projects overseas including Europea Neo Brussels, Museumpark Rotterdam, Marina One in Singapore and Taikoo Place in Hong Kong.
Mary Bowman adds:
"The growing leadership of the practice recognises the valuable contribution made by all Partners who are in turn supported by our talented team of architects and landscape architects.
In our twentieth anniversary year, I'd also like to thank all our clients and consultants who have supported the practice and worked with us to champion the discipline of landscape architecture so successfully."
Kathryn Gustafson and Neil Porter are Founding Partners of Gustafson Porter + Bowman and work alongside three other Partners:
Woolwich Squares © Chris Mansfield: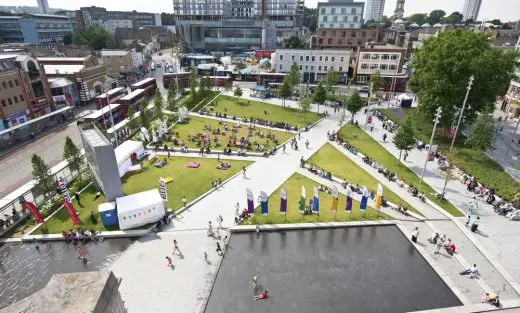 MARY BOWMAN | PARTNER
Mary studied architecture at the University of Virginia and the Architectural Association in London, graduating in 1988. She worked for Foster + Partners for over a decade, where she was one of the first female associates, and led the design teams for the Bilbao Metro, the Duisburg Microelectronic Centre, a private house in the US and several masterplans. In 1999 Mary joined architects Walters & Cohen as a Director, working on a luxury spa and residential scheme in Canary Wharf. In 2002, intrigued by the relationship between landscape architecture and the built environment, Mary joined Gustafson Porter.
Mary currently leads projects with complex client and consultant groups, including International Quarter London, Stratford, Rathbone Square in central London, Marina One in Singapore, Seef Lusail in Doha, Taikoo Lobbies in Hong Kong and Valencia Parque Central. Her particular interest is in the integration of landscape and architecture and the vital role landscape architecture can play in meeting today's global challenges. Each scheme is designed to respond to its location and surrounding townscape, giving the space a character of their own. She has also worked on high-profile projects ranging from the Diana, Princess of Wales Memorial Fountain to HM Treasury Courtyards.
Mary has lectured on landscape architecture at universities in London, Manchester, Stockholm, Talinn, and Valencia. She has sat on the end-of-year jury for the Mackintosh School of Architecture, Glasgow as well as judging the RIBA Awards.
She is an external examiner for the Architectural Association, having tutored for a number of years. She was a member of the AA Council 2005-2009 and served as Vice President 2005-2007. Mary chaired the Landscape jury at 2017's World Architecture Festival and she contributes annually to the 10×10 Drawing the City event for Article 25.
Zeytouneh Square © Walid Rashid: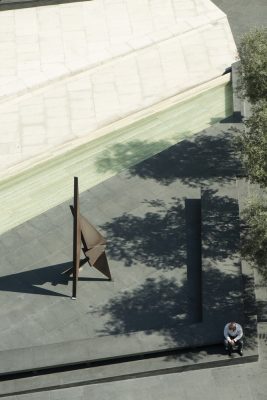 SIBYLLA HARTEL | PARTNER
Since joining Gustafson Porter + Bowman in 2000, Sibylla has worked on projects including HM Treasury Courtyards, CityLife Park in Milan and led the team which designed the award-winning Swiss Cottage Open Space in Camden. She is currently working on the design and implementation of Taikoo Place in Hong Kong, Seef Lusail in Doha, Buckingham Green in London and a hospitality site at the Cultuurpark Westergasfabriek site in Amsterdam.
Sibylla's work harnesses a wide range of different geographical regions and she has an extensive botanical knowledge which supports planting programmes in some of the most challenging climates. This work includes natural habitat restoration, planting on polluted soils, urban woodland creation and complex urban planting schemes.
Old Market Square, Nottingham © Dom Henry: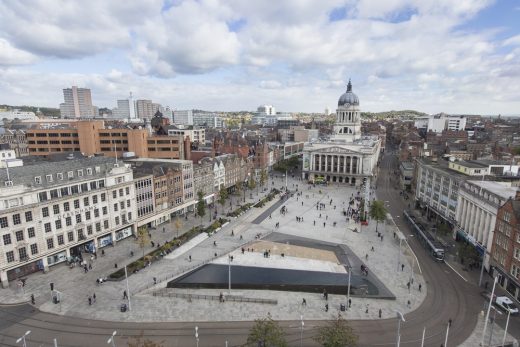 DONNCHA O SHEA | PARTNER
Donncha manages several project teams at Gustafson Porter + Bowman on a range of exciting and
multi-faceted projects. He has an interest in sustainable landscape development and works closely with clients to deliver high-quality schemes, often within complex urban sites.
He has worked on projects such as Marina One in Singapore and the award-winning Woolwich Squares project in London. He is currently leading teams on high-profile competitions as well as ongoing projects including Rathbone Square in London, the Museum of Science Industry, Manchester and Phases 1-4 of the Chelsea Barracks scheme in West London.
Gustafson Porter – previous projects under former practice title
More architecture design projects online soon
Location: International
Landscape Architecture
Contemporary Landscape Architecture Designs
West Kowloon Cultural District Art-themed Park, SAR, China
One of 7 Shortlisted Design Teams news



photo from West Kowloon Cultural District Authority
West Kowloon Cultural District Art-themed Park
60 Ludgate Hill and 30 Old Bailey, London, England, UK
Fletcher Priest Architects / Sauerbruch Hutton



image © GMJ and Fletcher Priest Architects
Gustafson Porter : 60 Ludgate Hill and 30 Old Bailey
Old Market Square, Nottingham, England



photo : Dom Henry www.domhenry.com
Gustafson Porter : English square
Singapore Waterfront Competition, Singapore



photo from Gustafson Porter Sep 2006
Gustafson Porter : Singapore Gardens Competition
Swiss Cottage Park, London, UK



photo from Gustafson Porter Apr 2006
Gustafson Porter : Swiss Cottage landscape
Venice Biennale Installation, Italy



image from the architect
Venice Biennale installation
Comments / photos for the Gustafson Porter + Bowman Landscape Architects page welcome
Website: Gustafson Porter + Bowman