Gunnar Asplund Architect, Buildings in Sweden, Swedish Design Studio, Image, Projects News
Gunnar Asplund Architecture
20th Century Swedish Architect, Europe
post updated 13 Apr 2021
Gunnar Asplund – Key Projects
Major Building by the architect
Chapel of the Resurrection, Woodland Cemetery, Enskede, Stockholm, Sweden
Date built: 1914-34
Swedish Architecture competition : 1914
collaboration with fellow Swedish architect Sigurd Lewerentz
One of the great buildings of the 20th century.
Asplund Buildings
Lister County Courthouse, Solvesborg, Sweden
Date built: 1917-21
Stockholm Library, Sveavägen 73, Stockholm, Sweden
Date built: 1918-27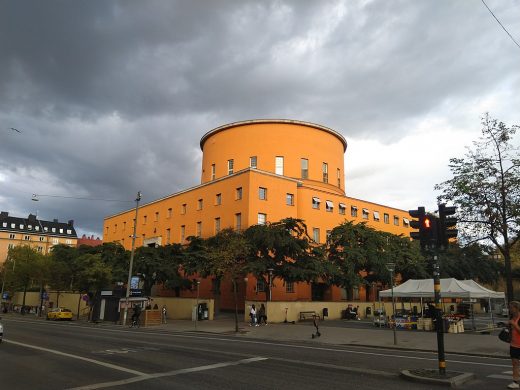 ESM, CC BY-SA 4.0 , via Wikimedia Commons
Villa in Djursholmen, Djursholm, Stockholm
Date built: 1917-18
Woodland Chapel, Stockholm
Date built: 1918-20
ref. Chapel of Resurrection further up page
Woodland Crematorium, Stockholm
Date built: 1935-40
More projects online soon
Key Gunnar Asplund Project
Stockholm Exhibition, Stockholm, Sweden
Date built: 1930
Asplund Library – competition



picture from architect
Location: Stockholm, Sweden, north east Europe
Gunnar Asplund Practice Information
Gunnar Asplund Architect
1885-1940
Gunnar was born and died in Stockholm, Sweden. Gunnar Asplund and Sigurd Lewerentz are generally recognised as two of the greatest Swedish architects of the 20th Century in Sweden, and came to worldwide attention. Most histories of World Architecture reference them and their collaboration – the Woodland Cemetery.
Work by Gunnar is not the Modernism of Mies or Corbusier but a softer style much influenced by Classical architecture. Just as with the National Romantic Style popular in neighboruing Finland so Gunnar fused the International Style with more traditional and more Swedish forms. Asplund worked initially for Tengrom, Westman & Ostberg Architects in Sweden.
Asplund collaborated with architect Sigurd Lewerentz in the design of Skogskyrkogården, a cemetery which is a UNESCO world heritage site, created in 1914-40. They were also the main architects for the temporary Stockholm International Exhibition in 1930. Although temporary, the Modernist Entry Pavilion at the fair was internationally influential. It influenceed the much smaller Turku Fair in Finland, designed by Alvar Aalto and Erik Bryggman, who had travelled to Stockholm to see its construction.
Gunnar is considered perhaps the most important Swedish Modernist architect and has had a major influence on later generations of Swedish and Nordic architects.
The lecture "Our architectonic concept of space" was delivered in 1931 on the occasion of Asplund being appointed professor of architecture at the Royal Institute of Technology in Stockholm. Gunnar published few theoretical texts. The lecture was later regarded as an important contribution to the attitudes of Asplund, as well as others of his generation, towards the architectural problems of the time. The lecture has its background in the then well known 2-volume book by German philosopher Oswald Spengler "The decline of the West" (1918 and 1922).
source: wikipedia
Swedish Architecture
Related 20th Century Swedish Architect:
Sigurd Lewerentz
Asplund Library Competition : Six designs shortlisted Feb 2007, over 1,100 entries, images released Nov 2007
Modern Architecture
Comments / photos for the 20th Century Swedish Architect Gunnar Asplund page welcome
Website: Building